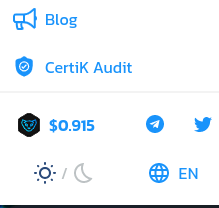 At the end of the day, if you don't cash out, you don't lose money.
Cub was one of those projects that I was so excited over that I suggested Real Life people invest in.
I took the cash in my hands myself, bought the bitcoin, and took the steps to transfer the money in.
Each time I see the price drop, I see my credibility dropping with it.
As my dreams of making my monthly student loan payment with the interest flies out the window.
I start planning on what to do next.
The answer of course is:
Keep collecting CUB
And paying attention.
I have a set amount of CUB that I want, and after that, I WILL be using the interest to fund other crypto wallets.
The price fluctuating doesn't really matter, if at the end of the day, you are building crypto wallets with the funds.
Mind the ratios, keep stacking accordingly
The price is just a reminder that I am here for the long term
I am here while we tinker away and figure out how to make things better.
I am here while I patiently wait for my investments to come to fruition
I am here while the paper hands get shaken out
I am here while the FUD is spread and the things keep growing.
And if the project tanks. It is ok.
Because you never invest more than you can lose.
Are your hand still diamond hands?
Posted Using LeoFinance Beta