Listnerds is the in-house Hive E-mail System.
It has a complicated payout system, that can be real easily simplified.
Simple Version
Read some emails, get rewarded.
Complicated Version
the listnerds tokenomics system is a second layer hive system that lets you transact without using your RC, and allows you to upvote without using your HivePower
The system allows you to earn three types of tokens.
Mail Token - which is earned by reading mail, and allows you to send out mail. This token is a pure action token and although you can purchase it with FIAT, it can only use it to send mail.

CTP - The Native token of the community who runs the listnerds token

The Listnerd Token - which is the token of the system.
When I first learned about the community, the token was worth 2 Hive Each.
The price of that is quickly dwindling.
Although the listnerds site states the token is worth 1.738 Hive Each.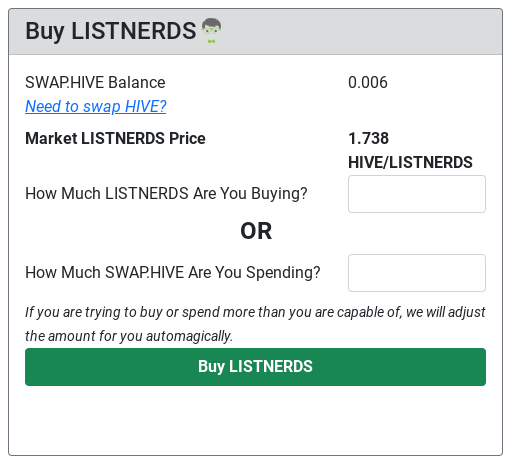 The Hive Engine Prices say something different

I've watched a lot of second layer projects, and this quite unfortunately normal
I recently wrote about SIM too
When a project first starts, there is an investment made from the team, and the buy walls are set at a certain rate.
Once the users of the token start selling, the buy wall does, well, whatever it is going to do.
Unfortunately for many of the HIVE projects, the tokens are usually used by HIVE users as "tags" and then whatever token is earned is drip sold for HIVE.
Many of the projects either have a dedicated buyer and/or team who believes in the longevity of the project.
They have some sort of development plan for growth they believe in, and they are going for it.
Eventually the token is distributed and the HODLers have more say in distribution, and a sort of stasis occurs.
What we are seeing now, is the popularity of the project getting bigger
And the constant drip income takers who have started their work.
I was one of them. I clearly saw this as an opportunity to power down some earned credits, to pay for a month or two of the basic project.
With listnerds its easy to pay for upgrades with FIAT.
The price today tells me that my take was definitely not a long term thing... yet.
There is plenty for them to draw from.
There is a steady income of people paying for the service.
And they know how to build value
Which is why I implore you to look at the project from beyond the guise of the listnerds price.
Which, I'm kind of sad tanked cause I really thought I was going to get 200 HIVE in a few weeks. Ok, I knew I wasn't but I was still letting myself live in the energy of soooooooo much abundance.
The project is still amazing
Everyday people can join by clicking the "join" button, and they have an account and a community ready to onboard them to CTP and HIVE.
It sounds like a given, but, those like me who had to wait three days for their account, and then got started with zero knowledge of crypto and zero community, KNOW this is big for the whole blockchain.
You can mail a bunch of people
Think beyond HIVE here for a moment.
Do you have an Etsy Shop? Do you have affilliate links? Do you work for a different crypto on a different blockchain and want lots of crypto friendly people to read it?
People are literally getting paid to read your emails.
Telemarketers and other salespeople tell you to speak to 100 people so that nine say maybe and one say yes.
How many people can you reach with just the click of a button? About 1200-1500 was my experience.
So yes, the price of listnerds is probably going to drop some more
And then it will grow.
And the team will feed it somehow (my assumption, no promises here)
And then we will see where it stands.
And the point of the Listnerds system will continue to be
To pay people to read emails and onboard newbies.
Posted Using LeoFinance Beta