My four and a half years of Hiving have taught me the following about the current HIVE Prices.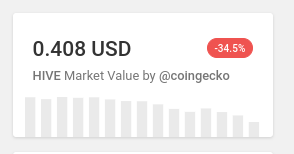 1) It can Get Worse
A whole lot worse, catastrophicaly worse
2) The worse it gets, the better it gets
You'd be surprised how many people lose interest in blogging when they payouts are worth pennies.
And you'd be surprised by the tight knit community of die hards who are going to keep blogging.
This is when you become "one of the oldies"
3) Which means its a great time to learn
People who Hive through the bear markets are financial geniuses. And trying your hand at some of the projects they suggest you invest in suddenly becomes affordable.
Ever felt like being a rising star millionaire so you can benefit from one daily mission per day that pays 10,000 starbits per day?
Now is the time to buy in "cheap"
Want to try your hand at email marketing on the blockchain? Now is the time to buy CTP and stake in their community.
Whatever it is you want to try your hand at, it costs less to do it.
4) Token prices are going to go wonky
Because people panic sell and cash out, or because the ratios are all over the place, or because of a plethora of other reasons.
So pick your horses (the token you want to accumulate), watch the ratios, and make your purchases.
5) Some projects that are dying will completely fall off
And that's ok, try not to spend too much time trying to revive a dead community.
Sorry, they don't all make it :(
If you stick around, you will see the value even if the price is tanked.
And. The price will come back up next bull cycle.
You won't lose any money you invested, unless you cash out. Keep the money there, and the value will eventually come back.
Unless it doesn't. Because, well, its crypto and some projects die.
This is of course financial advice.
And I really hope you take me up on my offer to stick around, keep blogging, keep BUILDING, and keep going.
Posted Using LeoFinance Beta