Background
With the new reward system, I have started a new Splinterlands journey with an alt account starting from scratch to see how far it can progress.
Day 6
Usually I will split the gaming for the day into 2 parts.
Day 6 Part 1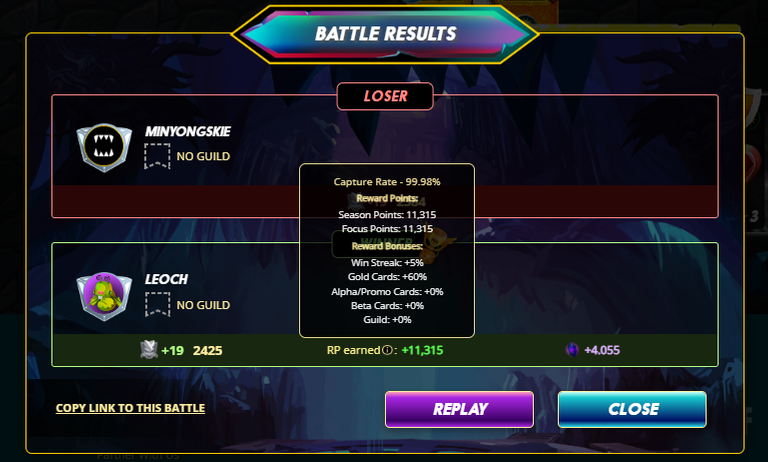 Off to a good start, with one win, I am earning 11k RP, quite stable now as I no longer increasing my league.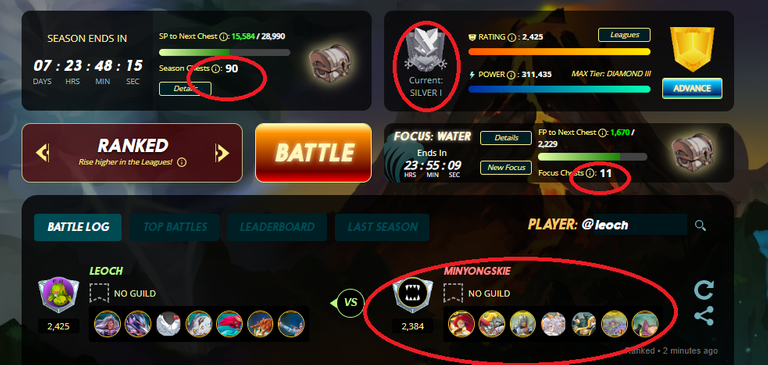 And with just 1 match, I am able to get 11 bronze chests for the daily. So far my End of Season chest start of at 90, see how many I can get by today. Do take note that I dont have intention to go to gold league, so I will continue to remain at silver. And another thing to emphasis is that I am getting stronger opponent. You can see that just now, my opponent is using lorna(top tier life summoner for low mana) and it is almost a full team of gold foil.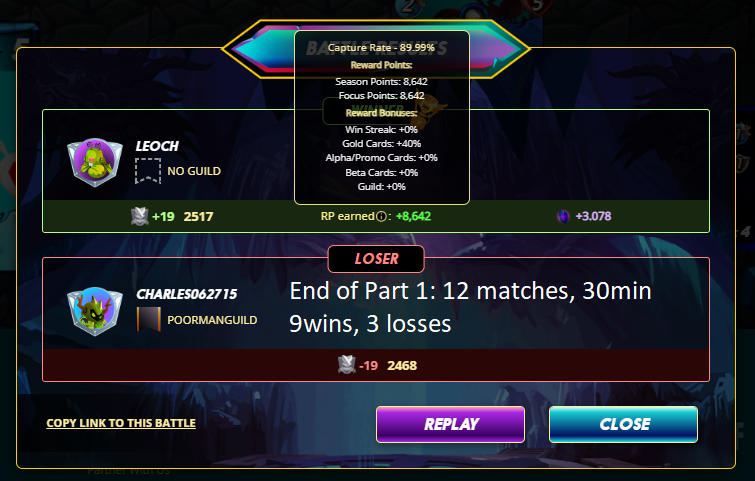 With the end of Part 1, I played a total of 12 matches within 30min, I managed to get 9 wins and 3 losses.


At the end of Part 1, I have managed to get 22 bronze chests, my rating is now 2.5k+ and my EOS chests become 93. Not bad for EOS chests as I think it will get more and more difficult to accumulate as it goes higher.
Day 6 Part 2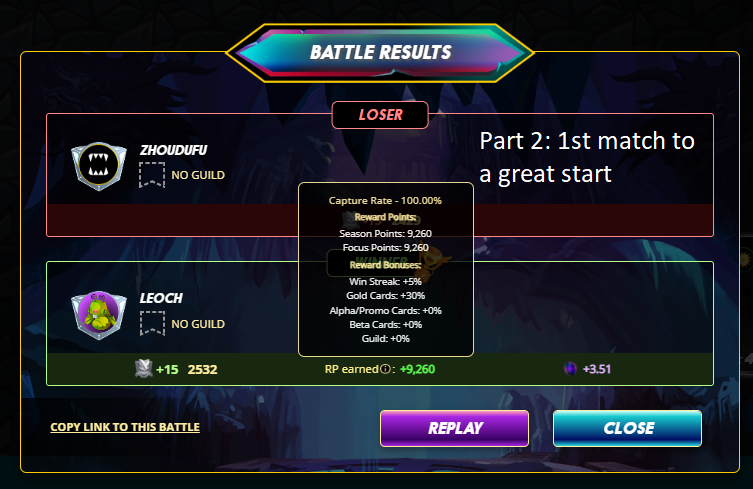 1st match to a good start of part 2. Manage to get 9k RP due to lesser gold cards being used and restart win streak.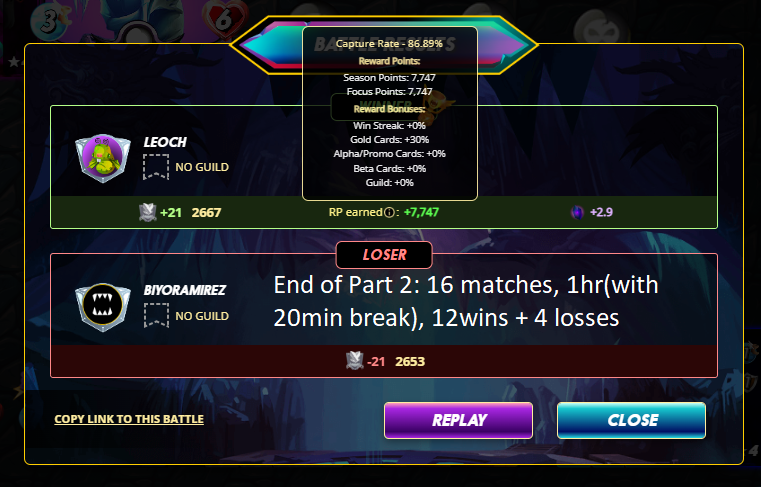 For part 2, I played a total of 16 matches for 1hour with a 20min break in between. Out of the 16 matches, I won 12 of them and suffered 4 losses.



I also want to highlight that the opponents are getting more and more pro. For example, 13 mana match, the opponent definitely knew that lorna will have a huge advantage. I am lucky that my focus is water with keyla gives a shield, otherwise it can be very difficult to win.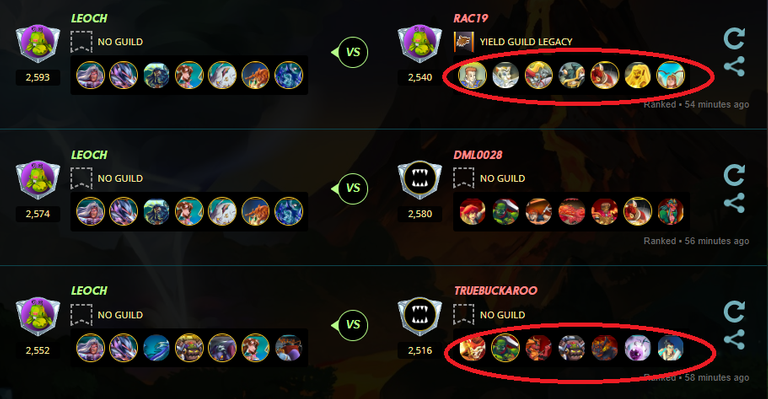 You also can see that my other opponents are using very powerful monsters too. Rac19 user has a lineup of Kralus, with heavy dealers like sandworm, double strike silvershield assassin and arbalest with even an inspire boost for the team. Another opponent even has yodin with all the top tier heavy weight(high mana) monsters like cornleaus and golic mech.



Today I over extend the number of matches a bit to get the 27th chests. I am happy that despite my win rate is the lowest of only 75%, 28 matches with 7 losses, I am still able to climb my rating from 2.5k to 2.6k. My EOS also improved from 90 to 96 today which is still quite a good amount, way more than I expected.
Daily Rewards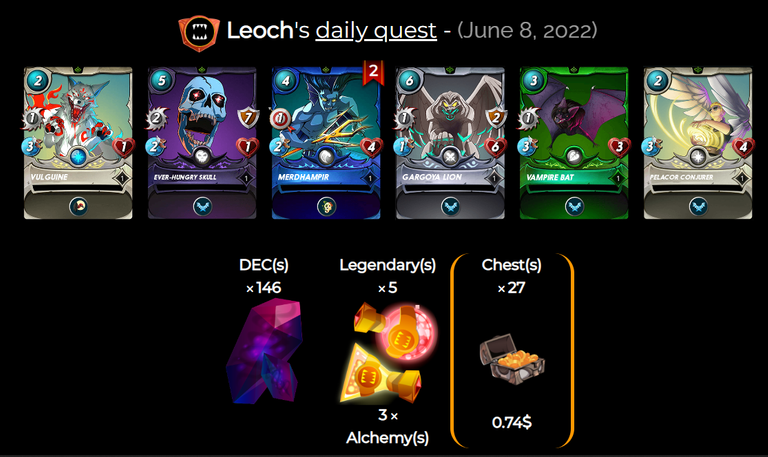 Day 6 Rewards: 27 chests worth about $0.74.
6 common, 1 rare, 5 legendary potion, 3 alchemy potion, 146 DEC
Past Rewards
| Day | Number of Chest | Common | Rare | Legendary Potion | Alchemy Potion | DEC | Other | Link |
| --- | --- | --- | --- | --- | --- | --- | --- | --- |
| 1 | 1 | 0 | 0 | 0 | 0 | 1 | 0 | Here |
| 2 | 12 | 2 | 1 | 3 | 4 | 9 | 0 | Here |
| 3 | 23 | 3 | 0 | 2 | 4 | 157 | 2Epic | Here |
| 4 | 28 | 12 | 1 | 5 | 2 | 46 | - | Here |
| 5 | 26 | 6 | 2 | 7 | 3 | 196 | - | Here |
If you are interested to join Splinterlands, feel free to use my referral:
https://splinterlands.com?ref=namelessnameless
Posted Using LeoFinance Beta