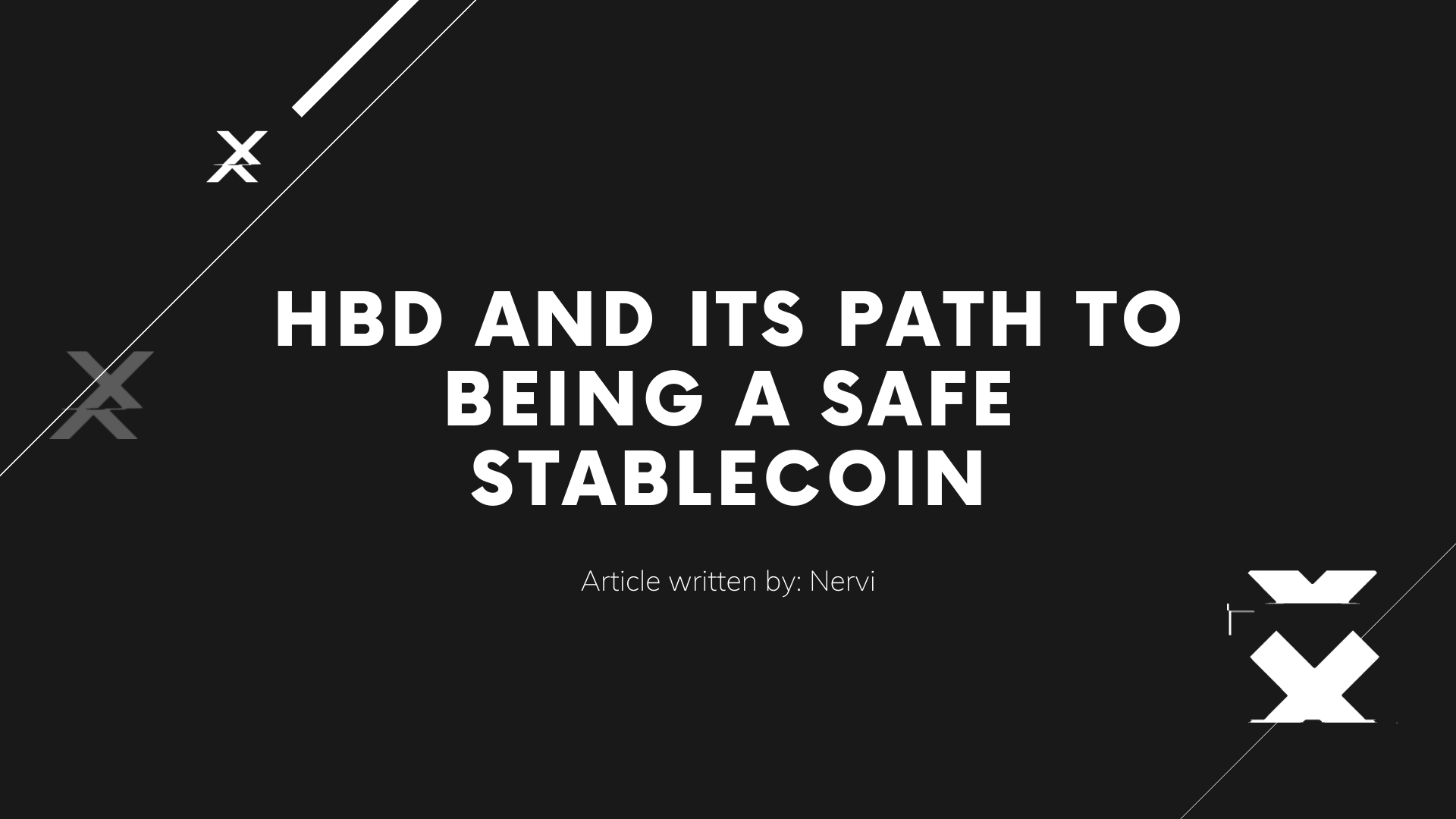 More than once I have touched on the issue of Hive Backed Dollars (HBD). For the last weeks and the last Hardfork HBD proved that it can oscillate within one dollar and managed to convince many people to invest in it.
Since users started to invest a lot in Savings HBD you can (at least in my opinion) call Hive Backed Dollars stablecoin. I am not a fan of the theory or statement that stablecoin must mean a given value. However, stability in a name does not mean surgical precision and this my +-5% dollar price range is a reason to call HBD stablecoin.
I've read a lot of posts from @dalz and @taskmaster4450 regarding HBD and I practically 100% agree with them. HBD is sort of designed to be worth one dollar in #HIVE. That is, if HIVE costs half a dollar then there should be a ratio of 1 HBD to 2 HIVE when exchanging. Having this at the blockchain level makes HBD unique and worthwhile. On popular DeFi programs staking USDT or other tokens often yields a few percent per year. HBD currently offers 10% which makes it one of the better stablecoin investments in the long term. By the way, in DeFi programs you give your money to the project, which can rob you, while on Hive when you invest your HBD it stays on your wallet/account.
Two weeks ago I read a summary about the transfer of HBD to the Savings account and the results are really impressive. Several hundred thousand HBD have been transferred to Savings accounts in the Hive ecosystem to raise people's awareness about HBD and of course, earn interest.
These aspects are in my opinion very important when we talk about stablecoin, especially, decentralised stablecoin. These solutions, unique as they are today, will in my opinion make more people aware of HBD in the near future which will only make the value of the Hive network increase.
If this article has interested you in any way, please leave an upvote or comment, thank you.
Thank you and until the next one, Nervi.
---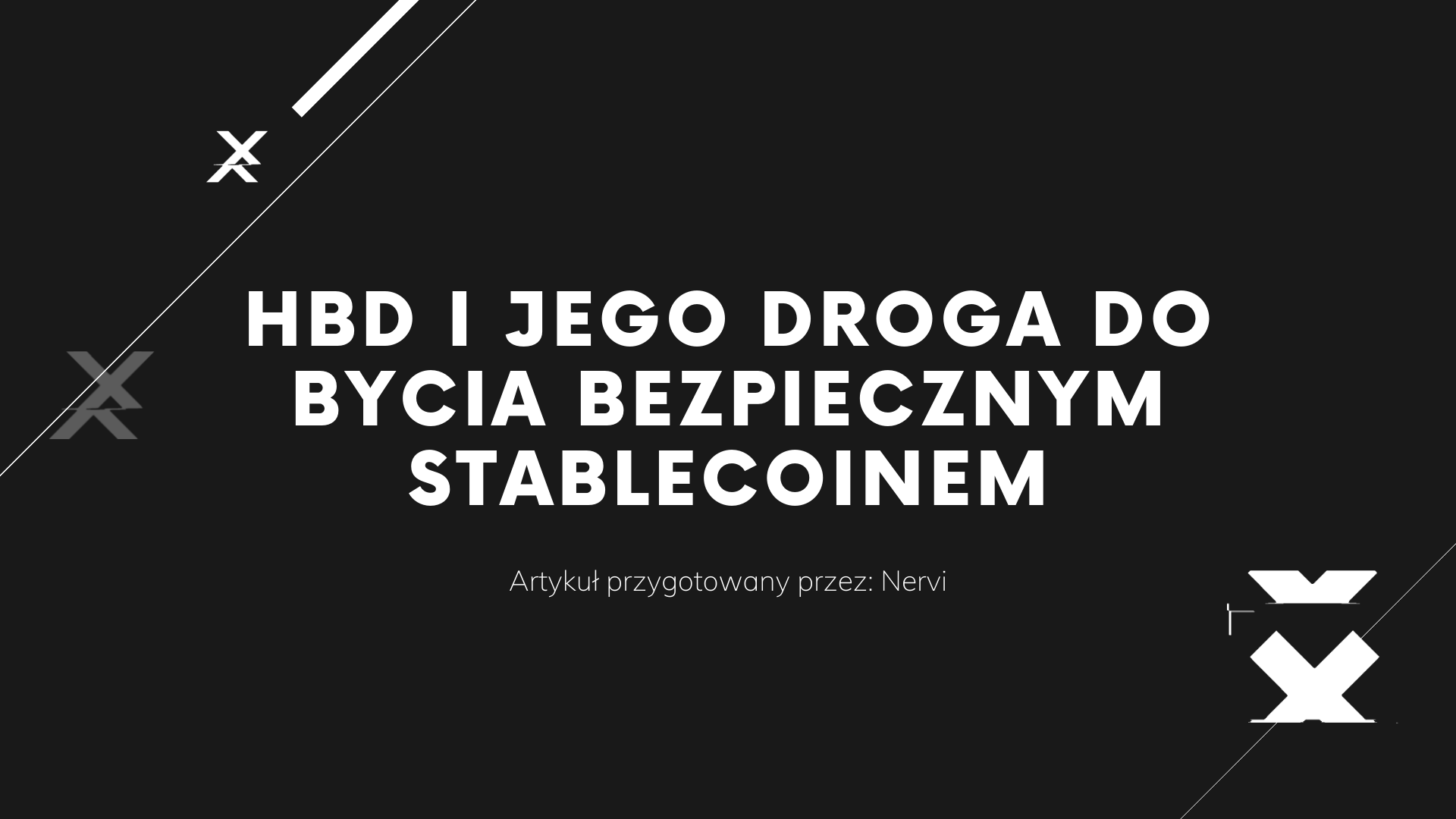 Nie raz poruszałem kwestię Hive Backed Dollars (HBD). Ostatnie tygodnie i ostatni Hardfork HBD udowodnił, że potrafi oscylować w granicach jednego dolara i zdążył przekonać wiele osób aby w niego zainwestować.
Od kiedy użytkownicy zaczęli dużo inwestować w Savings HBD można (przynajmniej moim zdaniem) nazywać Hive Backed Dollars stablecoinem. Nie jestem zwolennikiem teorii bądź stwierdzenia, że stablecoin musi oznaczać daną wartość. Jednak stabilność w nazwie nie oznacza chirurgicznej precyzji i ten mój zasięg cenowy +-5% dolara to jest powód aby HBD stablecoinem nazywać.
Wiele czytałem postów od @dalz i @taskmaster4450 odnośnie HBD i praktycznie w stu procentach się z nimi zgadzam. HBD jest jakby zaprojektowany w taki sposób aby był warty jednego dolara w #HIVE. Czyli jeżeli HIVE kosztuje pół dolara to przy wymianie powinien być stosunek 1 HBD do 2 HIVE. Posiadanie takiego rozwiązania na poziomie blockchainu sprawia, że HBD jest unikalne i warto się nim zainteresować. Na popularnych programach DeFi staking USDT czy innych tokenów daje często kilka procent w skali roku. HBD oferuje aktualnie 10% co czyni go jedną z lepszych inwestycji w stablecoiny długoterminowo. Dodam tak na marginesie, że w programach DeFi pieniądze oddajesz projektowi, który może Cię okraść a na Hive gdy lokujesz swoje HBD to one zostają na Twoim portfelu/koncie.
Dwa tygodnie czytałem podsumowanie odnośnie transferu HBD do konta Savings i wyniki są naprawdę imponujące. Kilkaset tysięcy HBD zostało przetransferowane na konta oszczędnościowe w ekosystemie Hive aby zwiększyć świadomość osób o HBD i oczywiście, zarobić na odsetkach.
Te aspekty są moim zdaniem bardzo ważne kiedy rozmawiamy o stablecoinie, szczególnie, zdecentralizowanym stablecoinie. Te unikalne jak na dzisiaj rozwiązania moim zdaniem sprawią, że w niedalekiej przyszłości więcej osób będzie wiedziało o HBD co sprawi, że wartość sieci Hive tylko wzrośnie.
Jeżeli ten artykuł zainteresował Cię w jakiś sposób, proszę zostaw swój ślad w postaci like'a czy komentarza, dziękuję.
Dziękuję i do następnego, Nervi.
Posted Using LeoFinance Beta