Ethereum's TPS has improved significantly in the recent time but still, it's not equipped to handle high traffic. Ethereum 2.0 is going to address a lot of issues regarding the base layer scalability but we need to wait for a long time. This is the reason many projects are working on Layer 2 solutions to make Ethereum scalable. Loopring Protocol is using ZK-Rollup Layer 2 solution to offer the same security guarantees of Ethereum mainnet but with a boost to its scalability. Loopring earlier launched Loopring Exchange V1 with notable success. Recently they've launched Loopring Exchange v2 based on Loopring Protocol 3.6. The exchange is in beta mode now. Loopring's ZK-Rollup reduces the cost to just 0.1% of L1 and increases throughput by 1000X.
Time to get Layer 2 liquid
With the advancement of DeFi or decentralized finance, Ethereum has established itself as the value settlement blockchain. Taking some transactions off-chain will release the pressure on the main chain. Loopring's ZK-Rollup is user friendly and less resource-intensive. It bundles multiple transactions into a single transaction and uses 'zero knowledge proof' approach to record the validity of the block on the main chain. Loopring already had an Android App (beta) and AMM swap was integrated natively to it. As per their blog post, to encourage the Ethereum community to move to layer 2, they're planning to initiate multiple mining programs around the end of December 2020 - L2 AMM Liquidity Mining, AMM Swap Tournament and Orderbook Liquidity Mining. It's important to note that Loopring maintained liquidity mining on V1 for 6 months but that was on order books and not on AMMs.
Loopring AMM vs. Uniswap
Uniswap not only changed the game for Ethereum DEXs but also changed the fundamental market structure. Automated Market Making Protocol of Uniswap received path-breaking success. Loopring wants to provide the same service on layer 2. Due to the use of ZK-Rollup, swap speed and efficacy of the platform is higher than Uniswap naturally. The swaps are performed and settled on L2 on a real-time basis. Uniswap charges 0.3% fee but Loopring has 0.25% fee. 0.15% is earned by the liquidity providers and 0.1% is the trading fee (it goes to Loopring relayer).
What's happening on V2?
At present, several pools have been opened for providing liquidity. AMM liquidity mining is also working to reward the liquidity providers. The AMM fund pool needs to reach the desired level to open the related order book trading. Loopring V2 exchange was launched just a few days ago but already $29.4M is locked now. Userbase and transactions are growing steadily.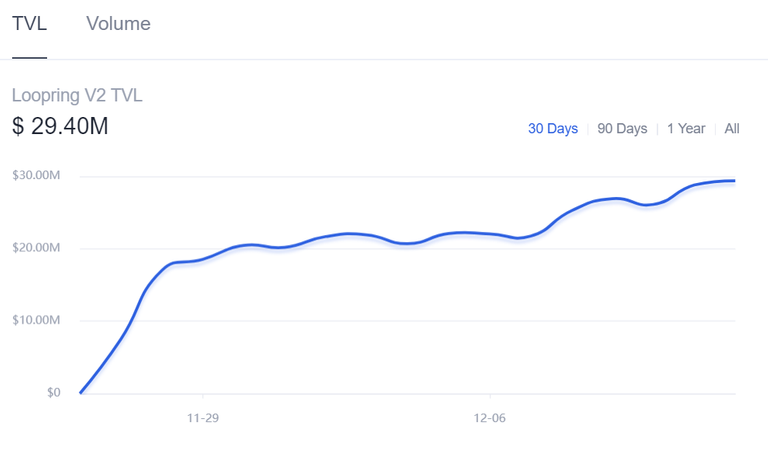 Image Source - TVL, users, transactions growth on the recently launched Loopring V2 Exchange
Loopring has an easy onboarding process. With a deposit of just 64K gas, you can experience fast and scalable ZK-Rollup. Loopring seems to be quite committed to their product innovation. Their recently launched mobile Ethereum smart contract wallet is getting rave reviews. You can select people, institutions or trusted hardware as the guardians of that wallet. If you lose access to your mobile, the guardians help you to recover your assets. The wallet makes you say goodbye to seed phrases/paper back-ups and already integrates Loopring's layer 2 scaling protocol. It is possible to imagine DeFi on Ethereum without being worried about arbitrary and high gas fee. Loopring is gearing up for the next level DeFi game on Ethereum. Yes, the next level is layer 2!
Cheers!
[paragism]
Posted Using LeoFinance Beta