Alternative title: "The demise of Uptrennd..."
Not as catchy but factually correct.
For those who do not know Uptrennd is a centralized Social Media platform that paid users in their native $Eth token $1UP.
For a while, it went great since they have moderators and although you could give as many votes as you like the model did cap it, so that even higher levels would have to engage to keep earning.
I like capping vote values, and moderators are ok. I do not mind centralized...until it goes wrong.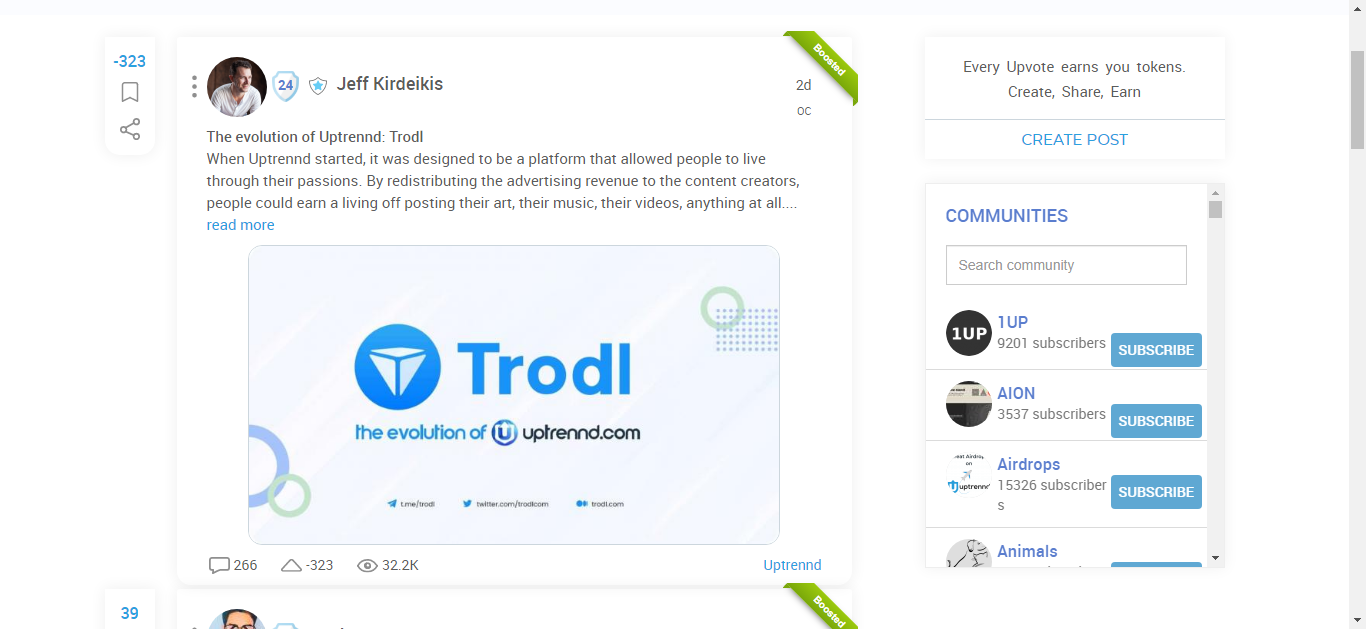 You can read Jeff the previous owner of Uptrennds announcement here
The big thing with Centralized is, they can sell your ass at any time. As Jeff Kirdeikis did with Uptrennd, and if you ask him he just gave it away "free".
Fair enough, mergers and thingies make tokens go up most of the time. The problem is he gave the token $1UP to Trodl and will be completely scrapping the Uptrennd website.

I wanted to tell you what Trodl is but fucked if I know. Why $1UP dropped from 0.01 to 0.002 though does make it clear that Trodl is not exactly aligned with the Uptrennd demographic.
The announcement of Trodl taking over the $1UP token would make a person think that they have been working very hard to rectify the ecosystem of Uptrennd. But it is the first direct communication from Jeff Kirdeikis apart from a 2 minute monologue in a random video chat that he has given about Uptrennds future in months.
Although I think Trodl realise that 95% of the people on Uptrennd will not be using their site, and fair enough a big percentage of those are scammers and spammers. There is a big percentage that just won't make the pivot from social media to crypto centric fluff... Like Torum.
Trodl however apart from getting a slightly raw deal considering the demographic of users and being thrown into the hornets' nest due to Jeff's incompetence. They are offering a 10:1 airdrop of sorts and supposedly a similar swap option no matter the value of the tokens.
Trodl also intend on using $1UP as an internal tipping currency and offering to stake it in return for farming TRO tokens...
So placation all around, and frankly they do not need to do that so kudos that they are.
---
Downtrennd
With the closure of Uptrennd end of the month at the very least Hive and friends will be gaining a few new users. As surprising as it might be but with a few thousand (Peak) active users on Uptrennd a big chunk of them have never used Hive.
Obviously, there are better options for a quick buck and easier to integrate with communities but I think with Uptrennd being shut down due to gross negligence that those who have to move and sincerely wish to keep earning from their content will be far more likely to grind it out in a place like this than put all their eggs in a basket on a centralized site.
For now, I have 400,000 1UP , the snapshot was taken without being announced so I do not get an airdrop but fucked if I am selling at 0.002 when I went through a peak of 0.03.
Posted Using LeoFinance Beta