I've been holding back some Splinterlands assets for several months now, watching and waiting as the market prices of cards gradually declines.
But I'm thinking that around now is a good time to start putting in some bids for some summoners, and there's two main reasons for this...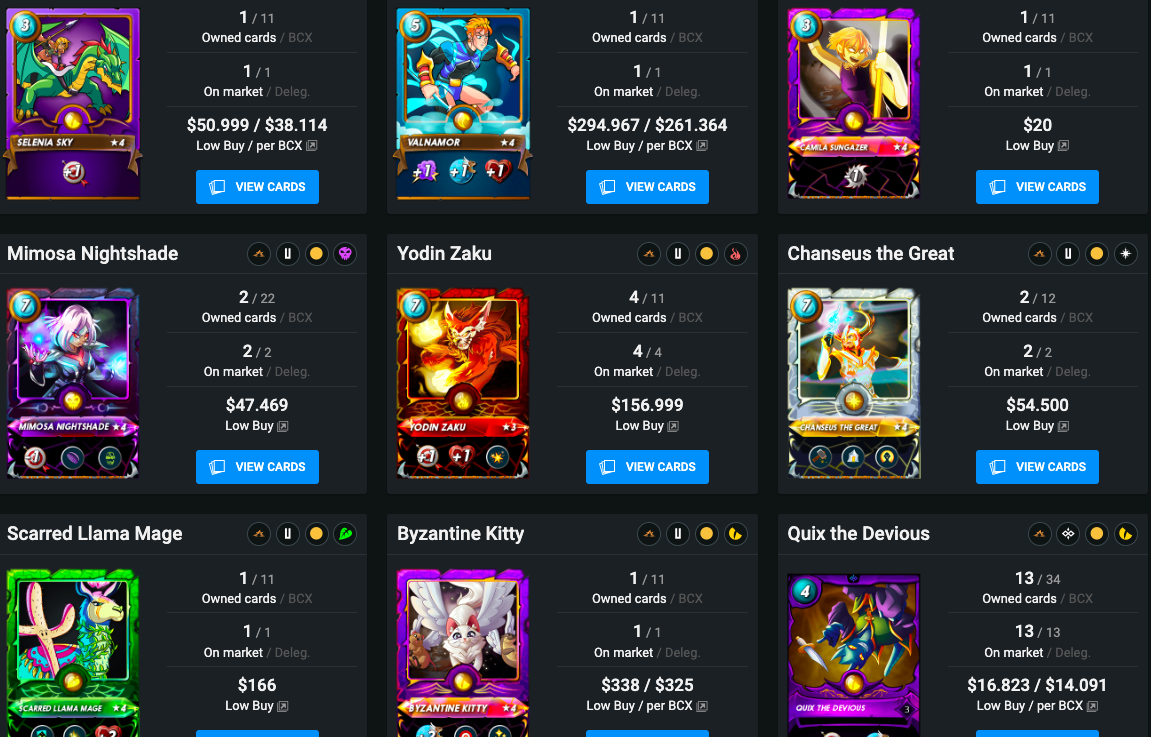 Firstly the team have recently admitted that they printed too many CHAOS packs for the current demand levels and so have started the burn process, meaning there's a definite end date on when all the CHAOS packs are finally gone.
And they've also announced the land reveal is going to happen sometime next year and so there's a possibility we may able to actually start doing something with land before the end of 2023.
Both of these events are likely to increase demand for summoners.
Obviously burning packs = less summoners and summoners are, as far as I am aware at time of writing, going to be essential for getting land to work for you.
And even if LAND isn't useable for months down the line, people are going to be thinking about making sure they've got sufficient summoners, I know I am!
My summoner situation...
I've got 110 plots, 100 of which are in the form of a tract - the 10 individual ones I'm just going to sell at some point, and the max I will keep will be 100.
I currently have 33 maxed summoners to work these plots. I did a spreadsheet recently...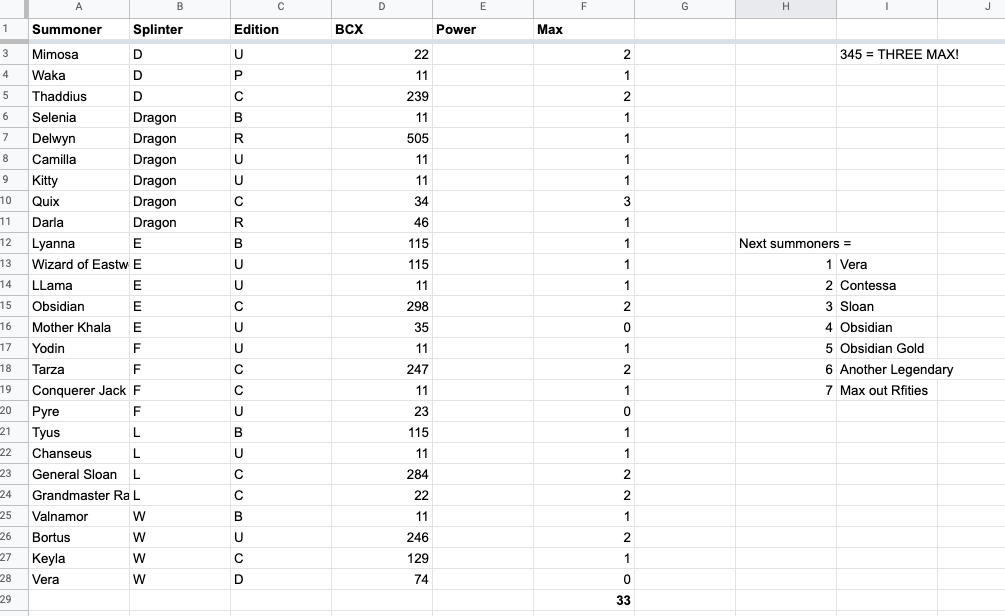 I have a nice spread across all the splinters, so I don't need to worry too much about making up the numbers in any one splinter, I just need to make sure future purchases are balanced.
I'm also well on the way to maxing out my 6 Riftwatcher summoners, I'll get there eventually, little by little, so that will give me 39 summoners maxed in total.
And then there's a few cheaper summoners I'm buying more of which aren't that far off being maxed - another 5 I'm on track with so that gives me... 44 maxed summoners that I should have within a couple of months.
NB these are only maxed in potential terms summoners, many of these I've got at L6 or L4 or even L3, so I've actually got well over 100 summoners at L3 and above and around 70 at L6 and above, so I've got 100 plots covered to bring me in something.
Or an alternative might be...
50 plots working at max = a reasonable target....?
I've got 50 covered already at max level, so it might be an idea to keep 50 buy to sell into what's hopefully gonna be a demand frenzy... and then use those funds to build on the 50 I keep.
I'll do this gradually, of course, certainly selling the 10 individual plots I've got is going to help, but I've got the option of selling of a few here and there to fund the ones I keep for a yield going forwards.
And selling into the frenzy might not be a bad idea - you know how these things works - Individual plots could well end up going for $1000 or more, but then easily drop back to $100 a piece as the interest dies off....
But for now I can't see how one can go wrong with accumulating summoners, they are going to be SCARCE.
As to monsters to work the land, I'm pretty sure I've got enough of those to cover at least 50 plots, probably more, I've been stacking legendaries and golds for ages now.
Posted Using LeoFinance Beta