It seems like we go through this each time there is a pullback. The markets throw a fit, causing prices to drop, and people get nervous. It is as if each tick in the market means something.
Either way, we saw a significant drop in the price of Hive. This actually filled some of my buy orders that were posted. Nevertheless, there are so many who depend upon price for validation of their choice with Hive.
For that reason, let us look at what is going to enhance the value of Hive over the long term. There are a few factors we can presume will really alter the demand side of things.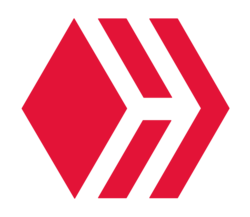 Hive Available
The first thing we need to do is to get an idea of what is available out there.
@penguinpablo does a wonderful report each week about the Hive stored on exchanges. Here is the image from the latest one.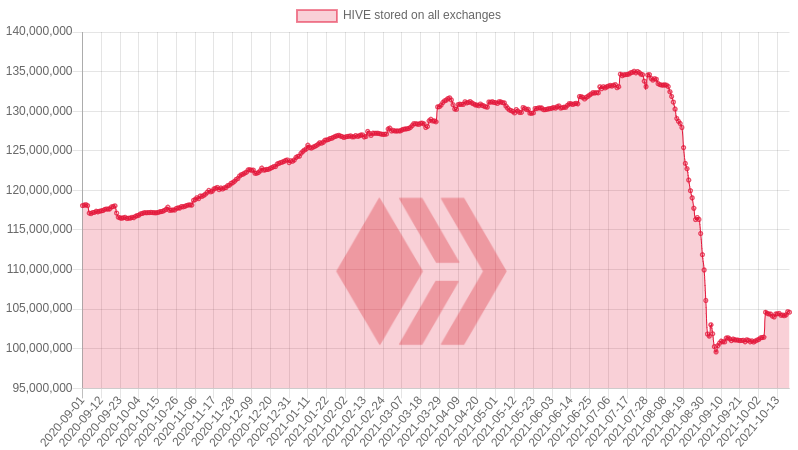 As we can see, the amount of Hive stored on exchanges decreased rapidly. This is due, in part, to the amount of Hive Backed Dollars (HBD) that was created through the conversion mechanism.
Later in the same report, we get a full breakdown.

There are, at the time of this calculation, just over 212 million Hive that is not vested. With the present price of the coin, that is only $154 million.
SpkNetwork: Service Infrastructure Pool (SIP)
This is something that is in development and will not be available until the middle of 2022 (estimated). Therefore, we are projecting a fair bit into the future on this one.
However, it is one of the most important additions to Hive that we will see. The demand side impact will be incredible. This is something that everyone associated with Hive should be excited about. We cannot stress the importance of it enough.
Check out the SpkNetwork Light Paper for further details about what we will cover here. This will be a general overview of some of the applicable features.
The SIP can be thought of as a giant liquidity pool. It will have the different tokens associated with the SpkNetwork. They are the LARYNX, BROCA, and SPEAK tokens. All of these are going to be part of the liquidity pool (SIP).
There is a fourth token that is going to be part of it. That is Hive.
Here is the key: Hive is the external token that is the basis for the platform. Anything that is done in terms of transacting at the base layer, requires Hive. This means the starting point, the purchase of LARYNX mining tokens, begins with Hive .
At the same time, BROCA is the gas fee for the system. Guess what is required to acquire that. Therefore, to upload videos or images, one needs a bit of BROCA for those operations. If that person has none, better have some Hive.
Finally, all advertising on the network is paid for with, you guessed it, Hive. This can be a powerful sink if the network grows in usage. We know there are some popular video creators out there who have large followings. Advertisers naturally want to access this.
There is a unique twist to this concept. On SpkNetwork, the plan is to reward people who watch ads with some tokens. This means that advertisements cease to be a hindrance. Instead, they are welcomed by the community since they are another avenue to earn rewards.
As we can see, if there are hundreds of active communities on the SpkNetwork, the amount of Hive required to buy the advertising will add up.
Another key factor in all of this, the SIP is akin to a lockbox. In other words, the Hive that enters via the purchase of LARNYX and advertising is for the liquidity pool. The value is always contained there. What this does is keeps the tokens working yet, for the most part, removes a chunk of them from the free float. Active liquidity pools tend to lock assets up since they are required for the swapping that takes place.
From what we know about this project, if it has any degree of success, a lot of Hive will end up in the SIP.
Resource Credits
The main "gas" on Hive is the Resource Credit. This is a unit of measure that is associated with the amount of Hive Power an account has (actually it is MVests but we will keep it simple). A simple rule of thumb: the more HP, the greater amount of RCs one has available.
Keep in mind, these recharge throughout the day. Therefore, an individual can use up to 20 percent daily and it will replenish. This point is key because Hive uses a fee-less system. Even though one "spends" Resource Credits on transacting, they are not lost since they come back with the passage of time.
Naturally, the demand for HP increases as more activity is taking place on chain. We recently got a dose of that with the multi-month run of @splinterlands.
Again, going to the latest report from @penguinpablo, this is what we see: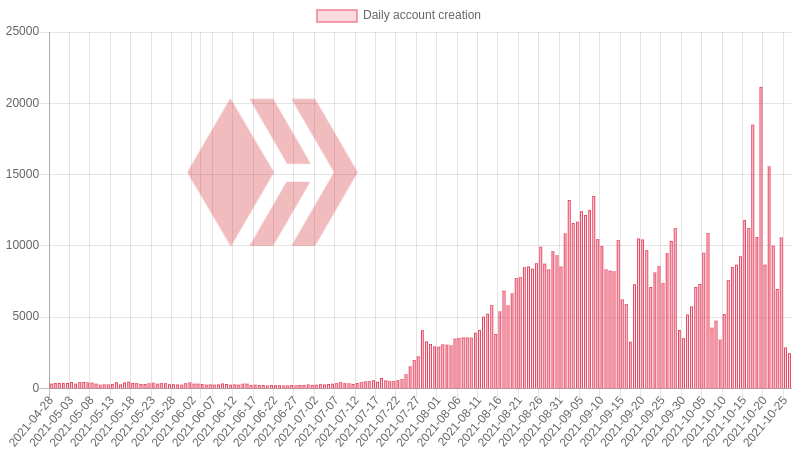 This is the new accounts signed up. To start, we must point out that most of those cost 3 Hive apiece. Since the team was not claiming enough free accounts each day, they had to purchase Hive accounts which cost 3 Hive. This means there was 30K-40K being burned some days.
More importantly, each of those accounts that wants to transact require a bit of HP. For a game like this, the amount is minimal since only Custom JSONs are being posted on-chain. This transaction requires the least amount of Resource Credits. Nevertheless, when the numbers start to get bigger, we see how even small amounts can add up.
It is important to keep in mind that this is just one game. The tendency might be to point out that we see only a few million Hive being required for these people to operate. And that would be true. If there are 300K daily players, the might only need 10 HP each, or 3 million. Not a huge amount when compared to the total Hive outstanding.
However, consider the offshoot of this, an application such as @PeakMonsters. With more people playing the game, there is a lot more activity with regards to the market for the cards. Guess what is required to handle this activity.
Are we starting to see a trend here?
What we need to concentrate on is the potential numbers. Splinterlands showed us how quickly things can grow. What happens if there are 3 games/applications with similar results as that game? We can easily see how this can move higher very quickly.
ProjectBlank
This is something that we need to toss in, especially after the discussion about Resource Credits. Certainly, it is easy to roll out eyes since we heard about this application since the beginning of the year. Perhaps this is like the Loch Ness Monster; many talk about it existing yet there is no actual proof.
Nevertheless, there is a reason to include this.
Here is a recent Tweet put out by the @leofinance team: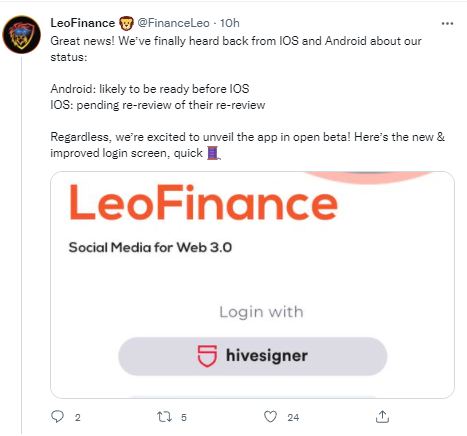 This is an important development for more than just bringing a mobile application to Leofinance. It certainly is a crucial step considering that more than half of all Internet traffic comes from mobile.
From the perspective of this article, we see a more vital role. This is the application that will be forked to create #ProjectBlank. Therefore, getting the app on the market and being tested will allow for the rapid removal of bugs. It is a phase that will help to transition to the later much easier.
Revolving back to the Resource Credits, we can easily see how an application such as this can have a "Splinterlands-like" impact. Over the next year, it is like there will be hundreds of thousands of users for this application. After all, we know how successful Twitter is. That platform has more than 180 million monthly users. Therefore, the idea of getting a small handful over to this new application is not outlandish, especially since they will be able to simultaneously post to Twitter through the application.
What needs to be pointed out is the fact that this application will not use Custom JSONs. This means the overall impact, from the RC perspective, could be greater than Splinterlands. From my understanding, much of the activity through the application will be registered as comments. Thus, the RC cost is far greater.
Here again, we get into the numbers games. Instead of 10 HP, perhaps the average user of this application requires 25 HP. Just running some back of the napkin numbers, it is likely that some of the more active users will need 100 HP. This would pull the average much higher.
In closing, these are a couple of this projects that are going to have an impact upon the price of Hive in the future. While it is easy to fall prey of the market drop, look at what is taking place. All that is described here is in development. There are teams working on code to bring it to reality. We have to be patient a bit longer as we are not going to see it next week or month. Yet it is in the pipeline.
Cryptocurrency is a marathon, not a sprint. We are still very early in this game. A lot of development is still required. This is something to keep in mind.
Instead of getting upset about the price drops, get excited about the development potential. Spend some time looking and you will realize it is not difficult to uncover.
It is happening all over the place on Hive.
---
If you found this article informative, please give an upvote and rehive.

gif by @doze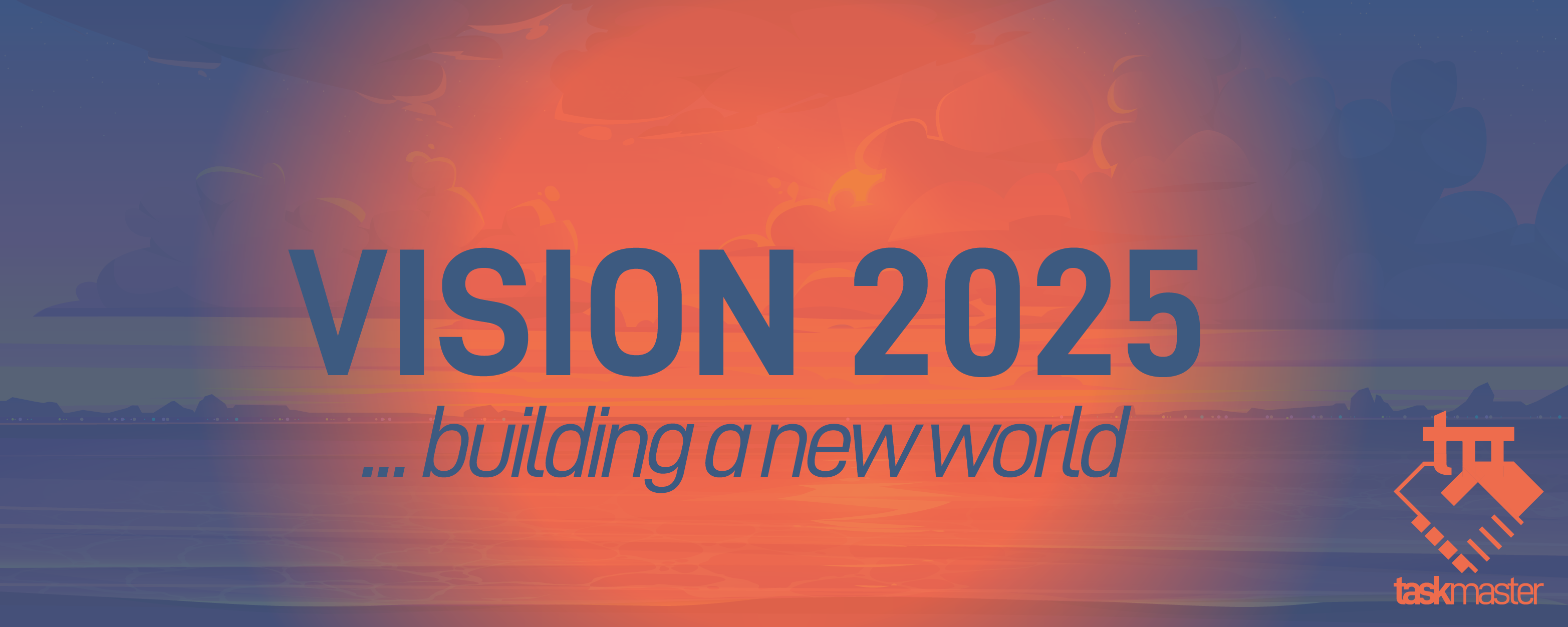 logo by @st8z
Posted Using LeoFinance Beta