This is something that I was mulling over for a while. Now, it is being unleashed to the Leofinance community in an effort to help advance the entire platform.
What is LeoGlossary?
Basically it is using the immutable text storage feature of the Hive blockchain to help create a database of financial and cryptocurrency terms.
While this might not seem that exciting, by the end of this article everyone will understand the importance of what is being designed.
Article Optimization
Over the last few months, we saw a lot of discussion on Leofinance about optimizing articles in an effort to generate organic traffic. @hitmeasap does a weekly report detailing the progress the site is making in that area.
There are many aspects to this, most of which are outside the scope of this article. However, one key feature is the idea of providing links in one's article. Of course, the goal is to do that with other Leofinance content.
When we delve into this realm, we quickly find out there is a lot to it. Search engines (Google) have gotten adept at stopping people from rigging the system. Thus, generating organic traffic truly is a process.
Nevertheless, as content ages and is cited, it becomes the "expert" on that topic. This is how reaching the first page is achieved.
Time is something that we can do nothing about. Yet, with Leofinance, we have a lot of articles going up each day. Here is where the potential resides to really do some damage.
LeoGlossary is designed to help with this endeavor.
Key Terms
Leofinance is a financial and cryptocurrency site. This is the general focus of most of the posts. For this reason, we have a huge opportunity to leverage our posts for higher search engine rankings.
Here is a result from Google when typing in "interest rate swaps":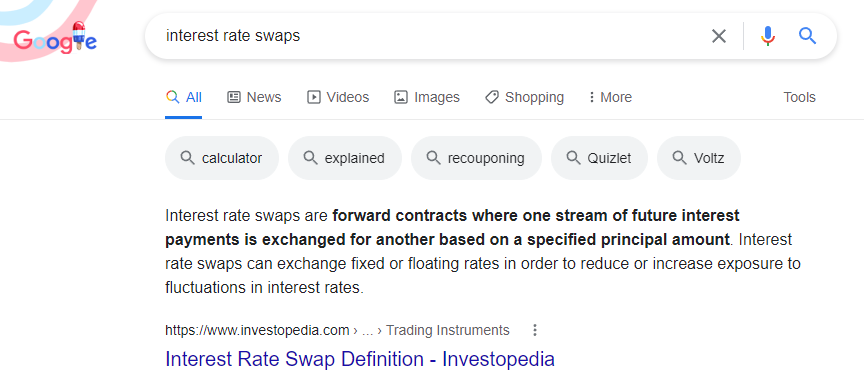 Here is what came up when stock options was typed in: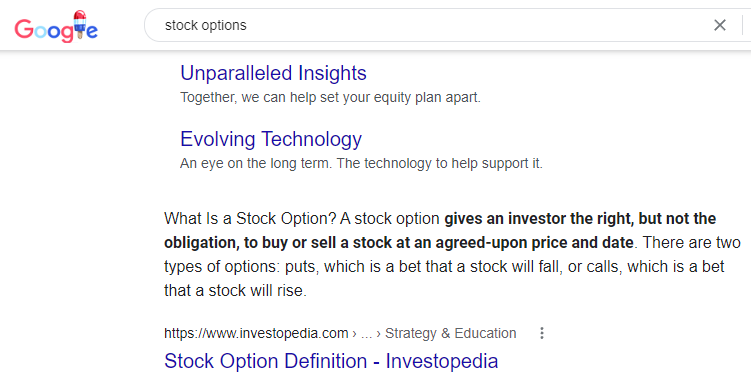 Notice how Investopedia comes up as the #1 ranking for each. According to Similarweb.com, this site is rank #1,111 globally and #502 in the US.
The idea behind LeoGlossary is to get some of the key terms ranking by focusing on definitions. Over time, as these are linked in other articles, we can see the ranking of Leofinance move up across the board.
LeoGlossary
It all starts with the "Main Menu". This is a page that everyone is going to want to bookmark. Essentially, it is the epicenter of all that we are doing.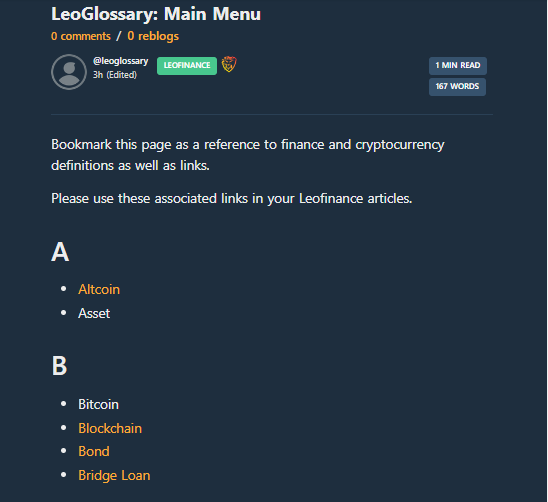 As we can see, it is a simple page with a glossary of terms. The key is each will have a link to another page.
Here we open up the Cryptocurrency page: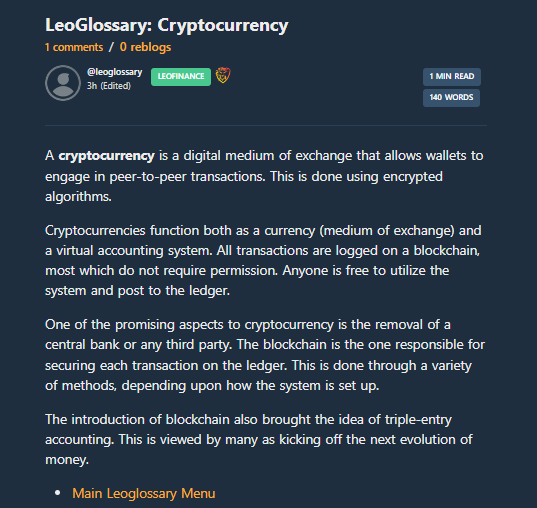 There is a short definition on the topic along with a link back to the Main Menu.
Please note that each term has its own URL that can be linked in any article on Leofinance. We can use it both in the body or the comment section.
Reference Center
It is important to get a section of Leofinance operating as a reference center. We need a place where people return on a regular basis.
Obviously, the long-term goal of this project is to get words ranking so that when people do organic searches, Leofinance is on the first page. As we all know, this will take a while.
However, anyone who followed the work of @hitmeasap, @finguru, and @forexbrokr, know the tips for optimization they put forth. Hopefully, LeoGlossary is another feature that can add in this effort.
Over time, there will be more definitions added to the Main Menu. As it fills in, most articles on Leofinance can have at least one link to the LeoGlossary. Remember, this has a Leofinance.io address, so it is helping the ranking of the main site.
Just think of the number of articles each person wrote with the word "Cryptocurrency" in it. What will happen if a couple dozen of us go back through them and link to this page? Over time, we will start the process of moving this up the rankings.
We will also be adding to some of the definitions as time allows. For the moment, it is most important to get a host of links available and ready for use.
How You Can Help
Like most things on Leofinance, this is a community initiative. For that reason, there are a few things that would be helpful:
Start using the LeoGlossary list to get links for your articles. Go back through older ones and update.

The default for the @leoglossary account is set to decline rewards yet I am not sure how well that is working. That said, do not upvote the LeoGlossary content. It is not meant to be a money maker but rather use Hive's permissionless, immutable decentralized database as the basis for our storage.

Send out whatever links you can on other social media platforms. If you are reading an article with a comment section, drop a link to one of the terms on LeoGlossary.

If someone wants to create an image that we can use for the profile pic, that would be great also.
Let us know in the comment section how useful you think this will be for you.
---
If you found this article informative, please give an upvote and rehive.

gif by @doze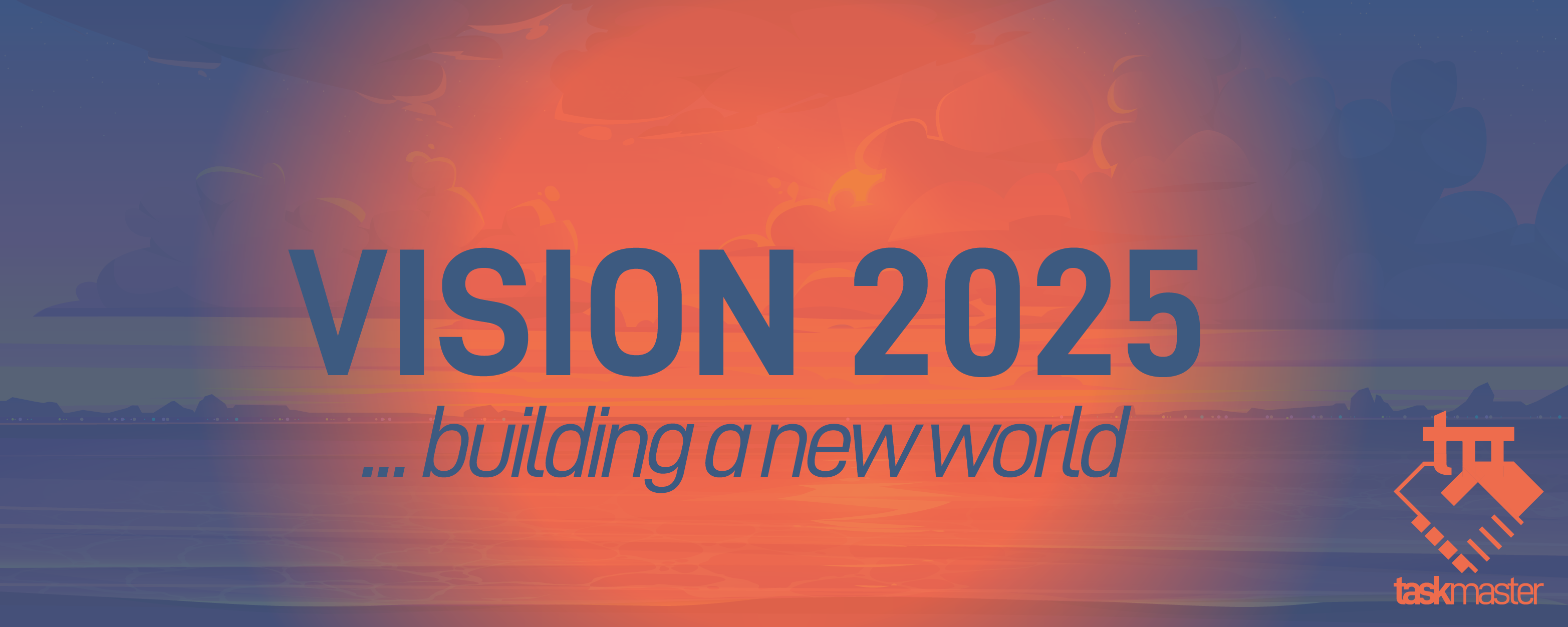 logo by @st8z
Posted Using LeoFinance Beta