Hello everyone!
We are thrilled to announce that TMAC V2 version is now live as before the beta version was going on but after the new hardfork the TMAC V2 version is live and the whole interface of TipMeACoffee has been changed according to the new hardfork and TMAC V2 update.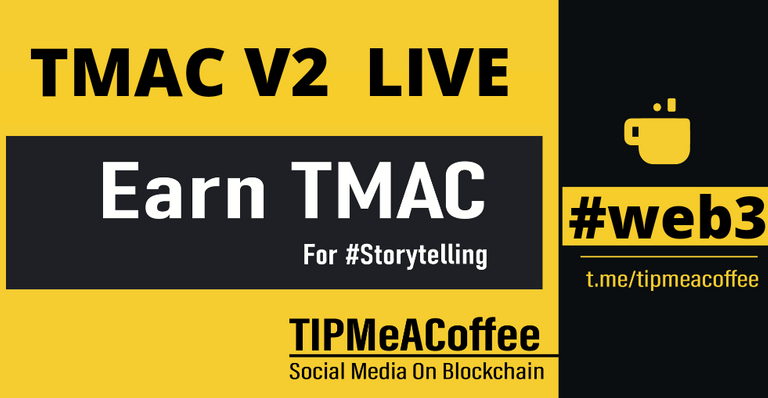 TMAC V2 Update
The unique features of TMAC V2 are given as follows:
No voting system
Every post earns TMAC tokens
Every post earns equal rewards
Rain of $TMAC tokens is being run and then it rains on all the posters equally
But the number of posts decide the reward for each user
The more posts you will make the more you will earn
There is no wait of 7 days for the payout
Rewards are paid out instantly
You can withdraw at any time
Currently at the TMAC V2 version each block is producing 0.15 TMAC tokens and it is producing the maximum 4320 TMAC tokens in 24 hours.
Rewards Distribution
According to the TMAC V2 version the rewards distribution of TMAC tokens is as follows:
| Reward Category | Percentage % |
| --- | --- |
| Authors | 12% |
| Tips(Airdrop) | 8% |
| Affiliates / Airdrop | 2% |
| Staking | 20% |
| LP Mining | 40% |
| Witnesses | 15% |
| DAF | 2% |
| Charity | 1% |
| Foundation (DAO) | 10% |
So it is how the TMAC tokens produced in each block are distributed.
Microblogging / Storytelling
TMAC V2 version has brought #storytelling feature where you will publish the updated news and stories to earn TMAC tokens. You just have to write 60 characters with two built in hashtags.
Use the hashtags in between your posts to highlight the important words.
Avoid spamming and always make meaningful posts and the updates news and updates. Do not publish posts like the personal messages otherwise your account can be banned.
So why are you waiting guys, join TipMeACoffee right now and start earning TMAC tokens and each post is rewarded equally.
TMAC V2 DeFi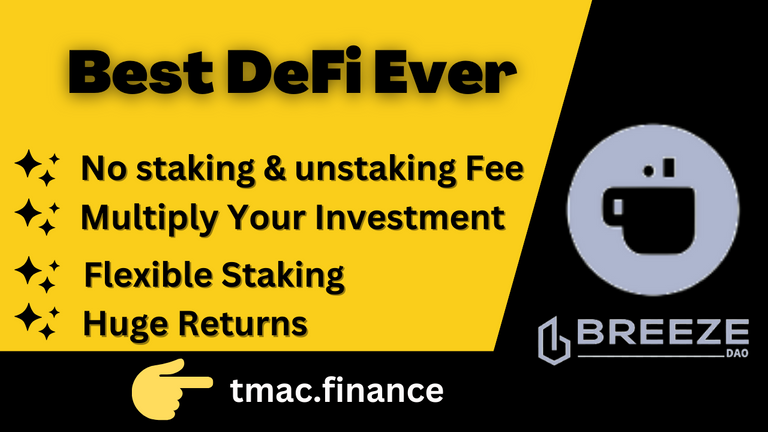 TMAC had its own wonderful DeFi project where you can grow your tmac tokens at a great rate. As 20% of all the produced tokens are being allocated to the DeFi reward pool. Amazing features of TMAC DeFi are given below:
👉 Try our one of the best defi offered on the BNB chain
🔥 No staking fee
🔥 No unstaking fee
🔥 Flexible Staking & Huge returns
🔥 You can enter and exit at any time
🔥 Withdrawal at any time
🔥 No any condition
👉 Try this wonderful staking and if you find any problem you can ask freely.
Useful Links
Breeze Foundation | Tip Me A Coffee | Tmac.finance | Breeze Explorer | Submit Proposals | Forum | Help Desk
---
Social Media Handles
Twitter | Telegram | Discord | Medium
---
All the pictures are the authority of the @tipmeacoffee otherwise stated
Posted Using LeoFinance Beta