Hello @everyone We are excited to announce that 100 $TBREEZE tokens have been transferred to all the followers of @tipmeacoffee at other social media platforms like hive.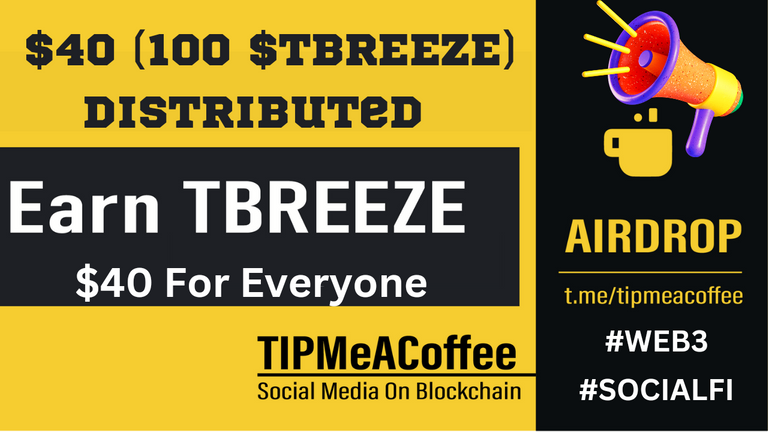 As we announced a contest for following @tipmeacoffee at hive and everyone who will complete the task will receive 100 $BREEZE tokens worth of $40, so here is a list of those who completed their tasks:
@piya3
@bearbear613
@walarhein
@alexairways
@penyaircyber
@deltasteem
@bitandi
@mango-juice
@bechibenner
@e-mc2
@dragonballfan
@golddiggernrw
@mein-senf-dazu
@hironakamura
@lancang
@phoenixwren
@monica-ene
@treasuree
@actordontee
@royalevidence
@offgridlife
@steemadi
@glorydee
@bearmol
@ynwa.andree
@new-spirit
@viviehardika
@lionsuit
@tin.aung.soe
@devyswan1
@uthantzin
@ansoe
@ministerwalley
@kaungsett8388
@naythan
@suhlaing
@milaan
@redna
@sanjamkapoors
@queenstarr
@th4488
@pregosauce
@dmilliz
@temmylade
@asterkame
@princekham
@nyinyiwin
@myothuzar
@kaunglay2
@egistar
@abirkhondokar0
@iyanpol12
@sentimento
@suhag001
@shati
@shazara
@babulkhan9
@cleanenergygarro
Details Sheet
https://docs.google.com/spreadsheets/d/1rcw0ZCIa0uHaDeSVM_88NMDjmzy_l-pmO6jgieP5fy8/edit?usp=drivesdk
We asked users to submit their bsc addresses to receive their rewards and those who submitted have finally received their rewards.
Check Here:
https://bscscan.com/tx/0x10ca981e0386cf4b66bfb60cd86d43d1d3bee706f9c469665f4cdfbaf0cd5466
All the users who submitted their bsc addresses after completing the tasks have received their $40 worth of 100 $TBREEZE tokens. Check everyone and confirm if you have received or if you have been missed and let us know about this.
Add $TBREEZE to your wallet
In order to see your rewards in your wallet you have to add $TBREEZE token in your wallet using the BSC network.
Contract Address: 0x35f58e6573531657E056bBb6c53e81C95E64013F
So add and check your rewards. Boom Boom Tmac 🔥🥳🎈 Tmac is strong.
Guys tell your friends and family and join TipMeACoffee
A new contest is coming soon guys we are going to announce that shortly in a few hours, so stay tuned
---
Useful Links
Breeze Foundation | Tip Me A Coffee | Tmac.finance | Breeze Explorer | Submit Proposals | Forum | Help Desk
---
Social Media Handles
Twitter | Telegram | Discord | Medium
---

All the pictures are the authority of the @tipmeacoffee otherwise stated
Posted Using LeoFinance Beta