So, some of us want to be James Bond, and the others just wanna be with him...
I can't help you become Mr Bond but, I can help you feel like you are him, by giving you advice on getting a car like his. Bond cars vary massively in the price range. Here is a first in my series.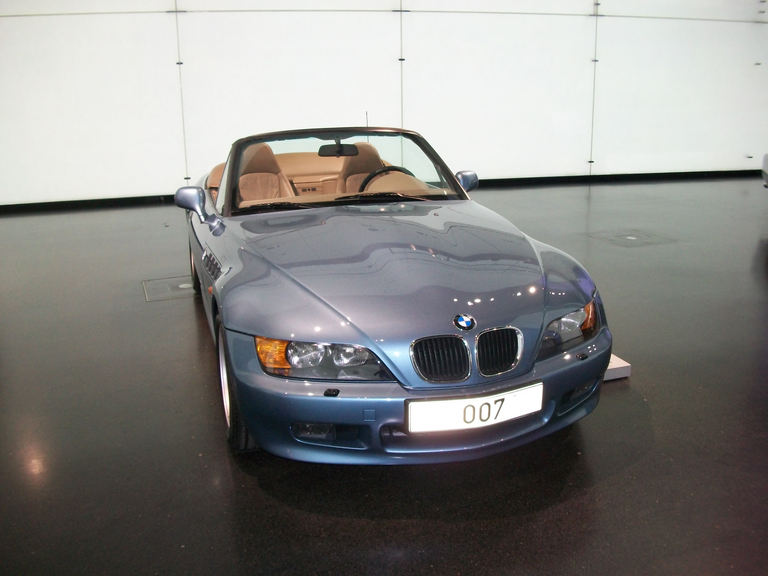 1995 BMW Z3 from the James Bond film "GoldenEye" in BMW Welt museum,Munich
Author: Viggen~commonswiki
Link:
Bmw Z3
In 1995 BMW came the choice of transport for James. In the film Goldeneye, James had a brand spanking new BMW Z3, before they were on sale to the public. The product placement of the Z3, really helped BMW, as I think they could not keep up with the orders. I think they had 15000 ordered before they went on sale, and it took a year to catch up with the orders.
Bonds car, was only a 1.9 4 pot known as the M44. It only had 138hp a top speed of 116mph and 0-60 in 8.3 seconds. Ok, so the 4 pots didn't set the world on fire, but they had plenty of straight 6s to choose from.
Bonds car was finished in Atlanta Blue Metallic and had Beige Nappa Leather interior.

How much can I buy A Z3 for?
Cheapest
Well the cheapest on the Autotrader, is a 1997 Z3 1.9 manual with 137K miles on the clock, for just £1,800. It's finished in silver, with black leather seats. It has non Z3 Alloys. It also needs some attention to mak it in great shape.
It seems the prices on the Z3 are going up again, because eback in 2012, I almost bought a 1997 2.8 Z3 for £1000.
Cheapest 6 Cylinder Z3
The cheapest 6 Cylinder Z3 for sale at the moment is £3,495 for a 2002 Z3 2.2. Its finished in silver with red and black interior. Its done about 80,000 miles, full service history and a years MOT. It is a stunner!!!

Cheapest Bond spec, but with a engine that matches the looks
This car here looks just like bonds on the outside, the interior is a different colour, not that anyone would notice. The advantage of this once over the Bond car is, its got the engine to match. It just lacks the weapons.
Its up for £3,500.

Would you be happy driving about in a Mr Bond Z3 look alike. I know I would.