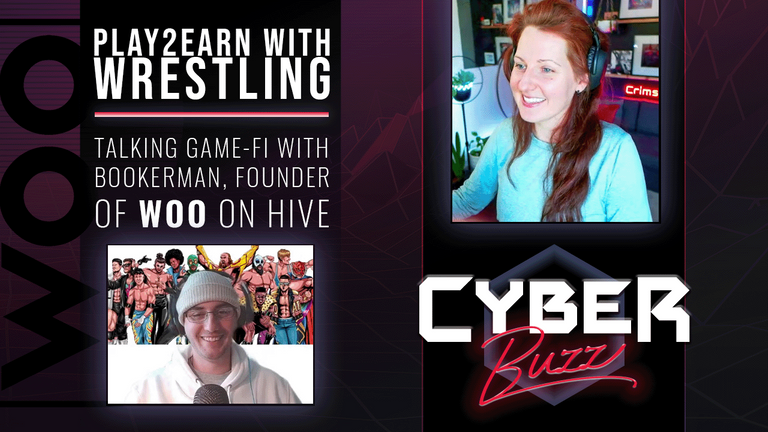 Livestream (Category): Podcast/Radio Show

Please consider subscribing while you're there to help me spread the word and the game and lure in more normies!
---
CyberBuzz Radio is a love affair with neon drenched disruptive tech and great synthwave music
I livestream every week with new music and artists to share, do Q&A about the Hive blockchain and beyond, with great discussions and dance parties around some of the changing aspects of our world, the crypto space, blockchain, and community. Have fun, learn a little, chat a lot, ponder whether or not we're all just replicants... what are you waiting for? Come join me in the neon~
We're just normal friends with abnormal everything else🖤
【In this episode...】
I'm so excited to have been able to talk about wrasslin', the Hive Blockchain, and play2earn gamefi with BookerMan from WOO: Wrestling Organization Online! (follow them here on hive @WrestOrgOnline) We went live for two hours to chat about building on Hive, why this game is so important to wrestling fans and entertainers alike, talking about the glory days, and exploring how tech is changing the way we think about the evolution of wrestling. Did you come ̶g̶e̶t̶ ̶c̶h̶o̶k̶e̶s̶l̶a̶m̶m̶e̶d̶ hang out in live chat with us? LET'S GET READY TO RUMBLEEEEEEEEE!
We originally had some crazy sound issues because of my Discord attempting to hijack my devices, but we solved it all live (and a bit of comedy ensued, which I have magically disappeared through the power of the video editor after the fact. Unfortunately, because it was a livestream I'm not able to edit anything in, only do a bit of judicious trimming.) Despite having to skip some of the planned coverage of technical aspects of showing things off, this livestream is a great introduction to how WOO's pre-sales, upcoming gameplay, blockchain interconnectivity, and big dreams for the sport all align with an incredible team to create something that I feel is truly special and is made even better by being powered by Hive.
You should be able to own your game assets, and you should be able to contribute directly to the athletes and community who make this entertainment possible. Pair that with the ability to earn some crypto while you play an awesome territory wrestling management game, and you'll see why I'm so excited to share this project overview with you. A big thanks to BookerMan for being patient and gracious as the most put-upon guest of my half a decade of interviews in what felt like a Saturday comedy of errors. The stream is 1000% worth a listen and I encourage you to check it out now that it's fit for human consumption.
TikTok: https://www.tiktok.com/@wrestlingorgonline
Facebook: https://www.facebook.com/wrestlingorganizationonline/
I hope you have as much fun attending, participating in, or rewatching these Cyberbuzz Radio shows as I do creating them for you. 🖤
If you have questions, comments, or a topic or project you want me to feature on the show, shoot me a message! The idea of a combination livestream/podcast/live radio show is a bit confusing, but I'm so proud of what we're creating. If you want to find more amazing shows by cool people from around the Hive blockchain community, check out all of the djs from @mspwaves and the full schedule at mspwaves.com.
Catch you out there in the flickering neon sometime?
This episode post was generated from the original episode live stream on Vimm.tv: a portion of the rewards go to Vimm and helping support an awesome Hive dApp. It's been updated to include the replay for you to enjoy, but to get the full experience, you should absolutely head over to Vimm and join me live each week!