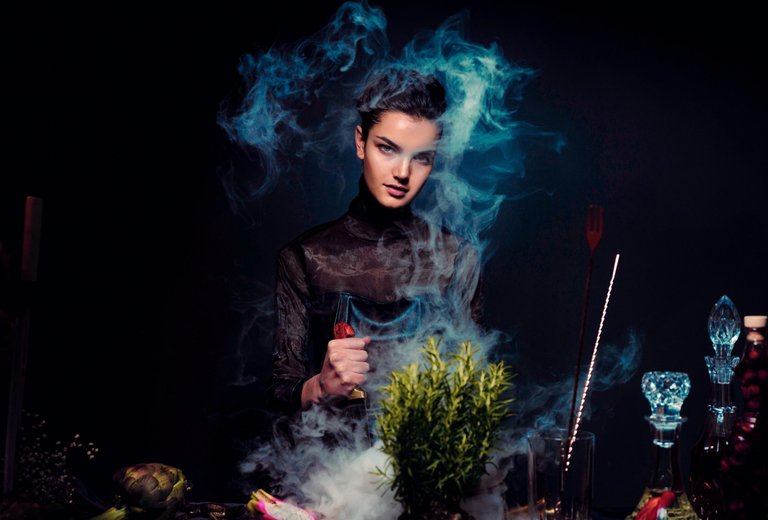 **
How long has it been?
Two days?
A month?
Has it been years?
Waking up not seeing concrete jungles still amuses me to this day. I've been in isolation for as long as I can remember. But why do I feel empty? Isn't this what I terribly wanted? To be alone, so no one could bother me? Why do I long to see my family and genuine friends?
Even filling my lungs with air doesn't satisfy me. And when I put my hand to my left chest, nothing's beating. My ribcage feels lifeless. I'm not breathing air—I'm breathing the silent agony of an empty yearning. Yearning for things and people I could no longer have and see.
"Callassi?"
Menard's deep but sweet voice rings inside the bleak room. I haven't even heard footsteps coming in.
"Yes?" My voice comes out shaky and disturbed though I try to conceal how erratic my heart is. Oh! I almost forgot. I no longer have one. If I do, it might've been rotten by now.
"The ceremony is about to start. Are you ready?"
He floats towards me. One second his voice is distant as if he is standing by the entrance a few meters away from where I stand. The next second he is hugging me from behind, tucking his nose in my neck.
"I can't wait for this ceremony to be over," he said.
Melodious, but poignant, violin tune harmonizes with the humming of the blackbirds and the bellow of the glow-in-the-dark whales, swimming in mid-air. Murmurs, coming from various strange creatures, filled the hallway as I walk down the aisle.
'How did I end up marrying a non-human?'
Tears gently kiss my gaunt cheeks as memories of being alive flood my half-expired brain.
**
I was twenty-three, and a 'darling' as most people would say, well, except me. I didn't believe the compliments I received even when I was still a child.
"Don't go out at midnight, or they'll come after you," my grandma reminded me. "Your pretty face could attract humans and other entities."
"Grandma, the latter doesn't exist."
Every time she said that I would shrug and giggle, thinking her advice was a joke. Until I had proven it wasn't.
One night while the crickets hummed with the warm breeze, I saw a light posse of fireflies, gliding swiftly with the wind and turning into various shapes. I followed them without a second thought until my feet brought me to the end of the village no one had been to.
My heart almost leaped out of my chest when a child's scream echoed from a distance.
"Hello?! Where are you kid?" I called in a nervous voice, pretending not to mind the blood-curdling howl of the night dogs in our area.
"Ahh!"
The scream percolated in the icy air, adding to my racing heartbeat again. Only the second time it was closer.
"Where are you?"
The drumming organ in my chest deafened me, making me numb as some vines began to scrape my arms and legs while walking through the dense forest. Someone needed my help—and it was a child, so I hurried.
As I struggled with the vines and thick bushes, my chest tightened because of oxygen deprivation. My lungs could explode at any moment if I remained in this place. I kept searching until I saw a protruding hand. I kept my pace disregarding the burning sensation of scratches and scrapes from the spikes of some—
Wait! Was I running or swimming?
Why were there stones instead of bushes?
"Callassi!!!"
Was that mom calling me? It was her voice.
I was about to swim to the surface to answer Mom's call, but I remembered the child who was… gone!
Where did the child go?
I need to—
But everything went blank.
**
"Callassi?" Menard whispers to me with a nudge on my side. "The priestess is asking you a question."
I haven't noticed that I spaced out. Never thought that my half-rotten brain is still capable of imagining my previous life as a human.
"Darling," the priestess whose bulging eyes scare the hell out of me calls my attention. "Do you wish to see what really happened before you land here in the world that you once thought wasn't existing?" Though scary, her stare ironically gives off some sense of warmth—the same warmth I felt when I was still alive.
"Would that be okay?"
"Of course, dear. In your soulless, somber eyes, I see that you seek comfort from getting the answer."
"Yes, please. Thank you."
A lump of cloud descends from nowhere and, it projects me swimming in a river with a strong current tossing me like a ball. I can also see my mother who was crying by the river bank. I was indeed saving a child from drowning. I had saved the child, but no one could save me.
"I—I wasn't in the forest then?"
"Yes, dear," the priestess said.
"But what's with the illusion of being in the forest? Who did that?"
"Menard has his eyes on you ever since you were a child. He waited for years to get you."
I glare at the faceless guy standing beside me. "Really?! You resort to luring me with your hallucinating power just to kill me?"
It takes several minutes for his cherry-red lips to appear. Then his nose, his eyes, and his eyebrows become vivid, too. "I'm sorry. I couldn't help it. It was the only way for you to be mine."
"You're just being selfish!"
"Callassi."
A familiar voice cuts the other words I have to say. From the sea of attendees, a silhouette so dear to me steps out.
"Grandma? Wh—what are you doing here?"
She takes a few steps closer and hugs me. "I'm one of them. You're one of them, too. I'm sorry you have to live a life filled with lies. I'm sorry I kept this from you. When our human body dies, we return to what we really are… except your father who is a real human."
"How about mom?"
"She'll be with us soon."
Hearing that from one of the most important people in my life washes away all the uncertainty and confusion. Grandma's confession has given me comfort, and I guess I don't have a choice but to embrace the truth and get used to my new home.