Deadline for submitting your #CashForTricks August contest entry is over and we are still stoked about what happened.
Tons of clips, lots of crypto distributed to skaters and the level of tricks just kept going up and up. Combos, gaps, flatbars, flatground,manuals so much creativity and hype.
Vote For #CashForTricks August Grand Winner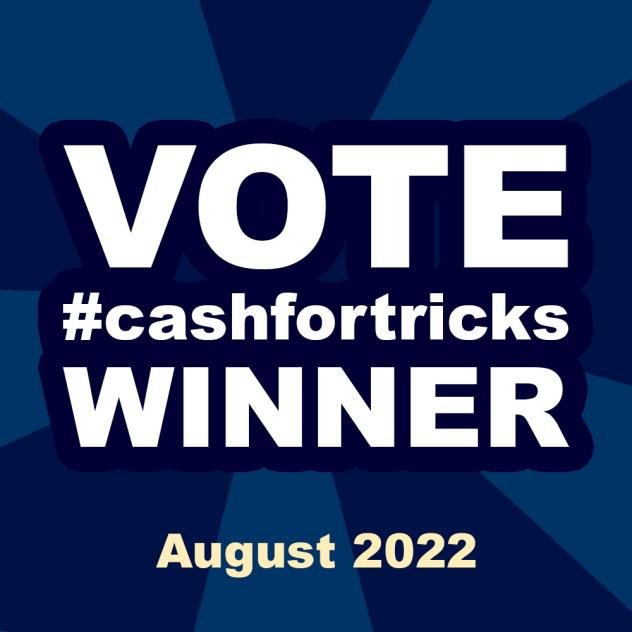 Ready to help us pick the "CashForTricks Grand Winner" for the month of August?
After carefully watching all clips, we picked our 8 favourites for the finals night. What we were looking for was level of trick, style, filming, creativity, editing and exclusive Skate Hype content.
Check out the Finalists Playlist here 👈
Contest winner will be decided by a Poll on Skatehype.com and anyone with a Skate Hype Account is eligible to vote as long as they are registered on Skate Hype at least 7 days before Poll begun.
Voting will end on Septepber 8 and winner(s) will take home 100 HBD (worth $100). In case of a tie, winners will split the price!
Price will be distributed to the winner(s) Hive wallet until September 14.
Vote For The Winner : https://www.skatehype.com/p/cash-for-tricks-winner-poll-august-2022/13929.htm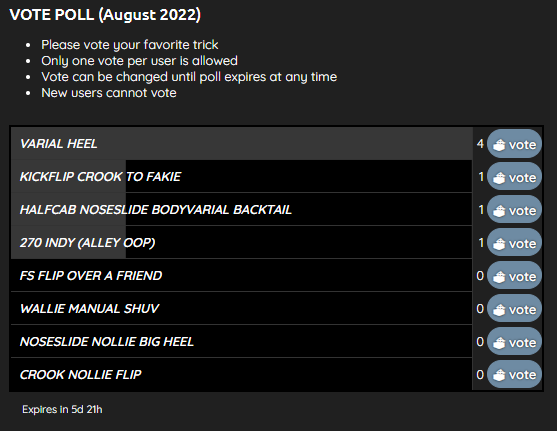 Thank you all for participating and we hope you had lots of fun filming your entry. Everyone is welcomed and encouraged to participate regardless the level of skills, it's all about having fun skateboarding.
---
CashForTricks September has already begun and a few people already uploaded their entries so grab your board, meet your homies, film some new tricks, upload them on Skate Hype and earn crypto! And who knows, maybe you'll be the Grand Winner of this month...Or your homies...
Official contest post here : CASH FOR TRICKS - A monthly skateboarding online contest

Cheers to everyone and #Skatehive4Life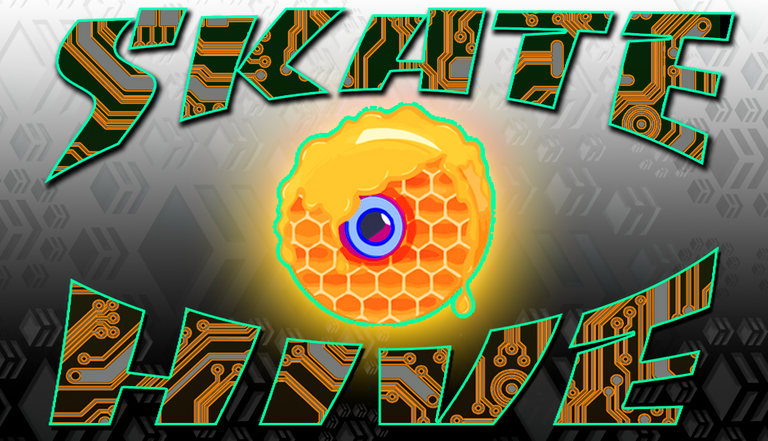 ---
About Skatehive
SkateHive is the house of Web 3.0 skateboarders and our goal is to onboard skaters and "extreme" artists in the blockchain world.
SkateHive is built on top of decentralized platforms that allow us to own our accounts, our communities, which means that instead of allowing others to advertise on our content to generate value, we tokenize interactions, allowing us to retain value generated by our content, to be sold on the free market in the form of cryptocurrency.
Useful Links 👇
Join the Skatehive Discord to learn more about Skatehive, our goals, partners and of course connect with the community 👇