What's up Skatehivers worldwide?
This is a really important update regarding our future plans and growth as a HUGE delegation of 50,000 Hive Power was removed from our curation account (@steemskate).
We'll talk about our delegation plans later in this post but first things first, Skatehive community would like to thank @liondani for trusting and delegating us 50,000 Hive Power for over 1 year.
This helped us grow our community's curation account (@steemskate) up to 5,500 Hive Power and all that just by voting skateboarding content on Hive blockchain.
Thanks for the trust and love you showed us @liondani ❤️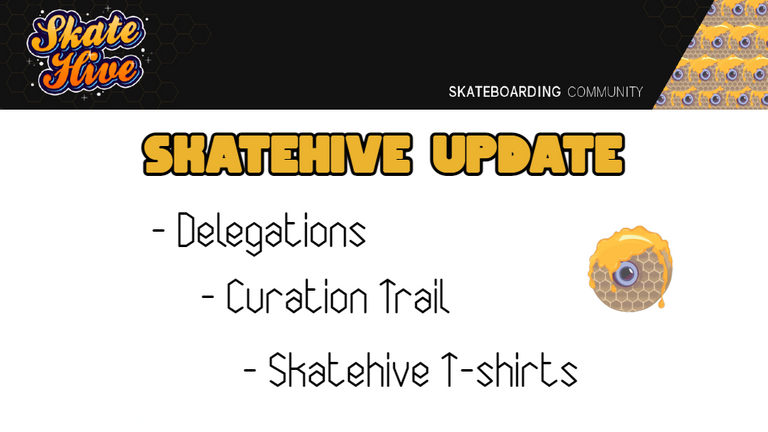 Delegation Updates
Unfortunately we can no longer reward our delegators with a such a fat daily upvote BUT....
We are gonna keep voting your posts with 10,000 Hive Power and keep growing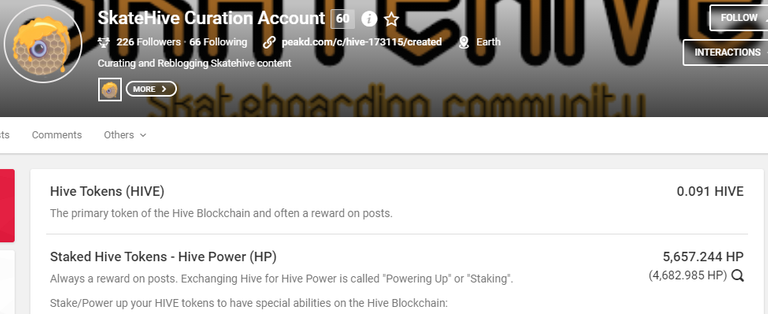 Nothing changes. We are gonna maintain the delegation tiers as they were and we're gonna keep voting on your posts every day.
Delegation Tiers
Keep in mind that our curation trail will also vote on your post so this means more votes and rewards for you if you decide to delegate your Hive Power to our curation account (@steemskate).
We are tagging our delegators so they can know what's up
@ervin-lemark @ganjafarmer @knowhow92 @streetstyle @nicolcron @cmplxty @nicksmitley @da-dawn @mami.sheh7 @stickchumpion @patricktebble @bitandi @monsterbuster
Support Our Skateboarding Community with your Delegation
By delegating to our curation account (@steemskate) you are actively supporting the skate scene on Hive and helping a niche community grow.
To delegate (via Peakd.com) : Click on "Interactions" at the top right corner of our curation's account channel (https://peakd.com/@steemskate), click on "Delegate", choose the amount of HP you want to delegate and click on "Continue".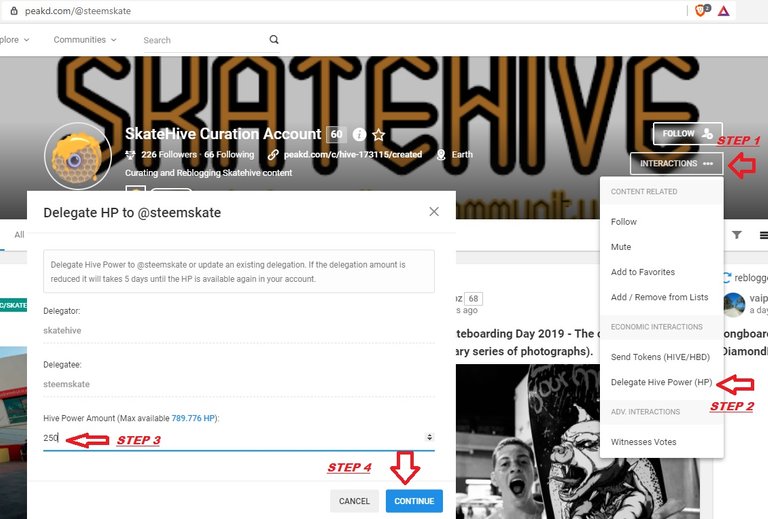 Delegate to us because...
We are a very active worldwide niche community and have achieved so much in one year. You can check some of our Milestones and achievements bellow
---
Follow our Curation Trail
Here's one more cool way to support Skatehive
Join our curation trail and automaticaly vote on every skateboarding content on Hive. This way we can support skateboarders with a much bigger collectible upvote and those who follow our curation trail will earn some really sweet curation rewards.
As mentioned above, Skatehive is included in @ocd's community incubation program and this means that every high quality skateboarding post receives a fat OCD upvote. If you follow our curation trail you are guaranteed to be one of the first to vote on skateboarding content so more curation rewards for you.
Here's how Skatehive Community "Trending" page looks like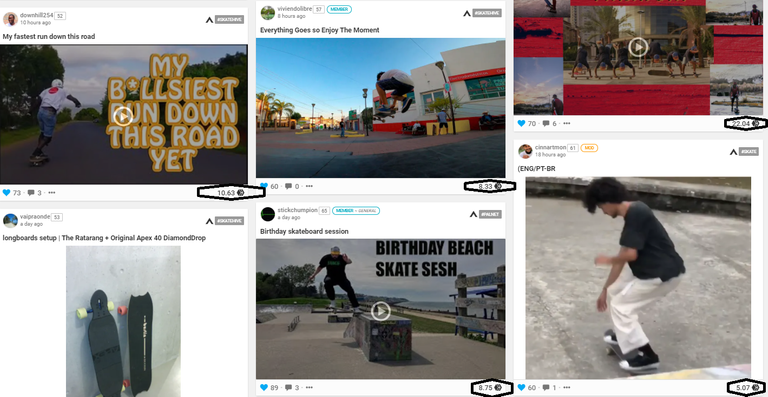 How to join our curation Trail
First of all, joining our curation trail means that you'll automatically cast a vote on every post our curation account (@steemskate) votes for.
To join our curation trail, all you have to do is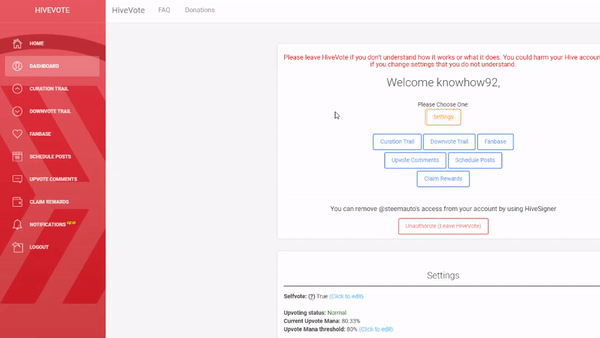 22 people are already following our curation trail and are helping us in our mission of supporting every skateboarder on Hive.
The bigger our curation trail gets, the more rewards will be distributed to skateboarders and to all those who follow our trail so follow us and show us some skate love!
---
Skatehive T-shirts
Our first-ever Skatehive t-shirts are ready and some of our community members already got theirs.
@Dikayskate wearing our "Tiny Bee" Skatehive Tee.
Photo taken by @skydrown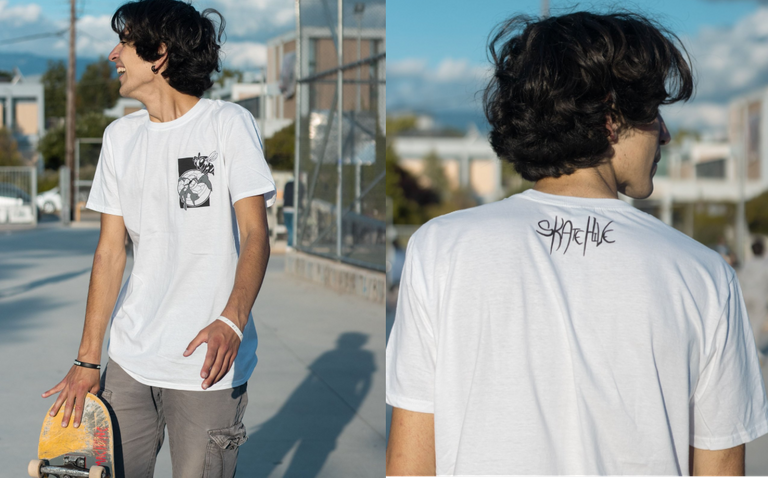 @Dikayskate wearing our "Big Bee" Skatehive Tee (blank front side).
Photo taken by @skydrown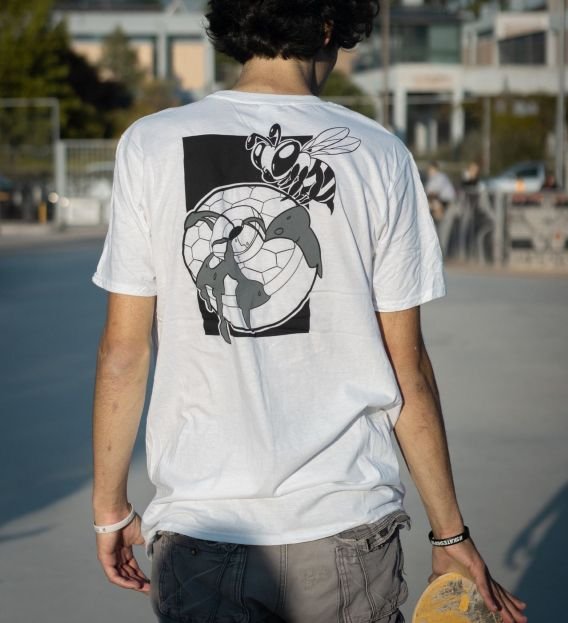 We are currently shipping only in Europe and the cost is 15 Euros/tee + shipping (depends on which country you live in). Tees are 100% cotton, sizes start from Small up to XL and of course you can pay with Hive, HBD and LBC.
If you want to get your hands on a Skatehive tee let us know at the comment section bellow and we can arrange the shipping details via DM on Discord. Get them before they run out!
All HIVE earned from T-shirts will be Powered Up so we can support our community members even more
---
Our plans
Loosing such a big delegation is definitely a serious "wound" but we at Skatehive find this a great opportunity to see how tight-bonded our community is as well as an extra motivation to focus on delivering what we are working on the past few months even faster.
HUGE things are coming for Skatehive Skateboarding Community and those who are active in our Discord channel know what we are talking about.
Stay tuned for our next update cause it's gonna be lit 🔥
Catch up with the latest Skatehive news and updates
Skatehive is sponsored by LBRY Foundation inc. Thanks for the love LBRY fam
SKATEHIVE FOR LIFE

What's Skatehive
SkateHive is based on the anarchist roots of skateboarding, and is working at taking back control of our sport from the social media giants, who profit off the monopoly of our content. SkateHive is build on top of decentralized platforms that allows us to own our accounts, own our communities, which means rather than advertising on our content to generate value, we tokenize the likes, allowing us to retain the value generated by our content, for it to be sold on the free market in the form of a cryptocurrency.
This has allowed this humble community to self fund huge online games of S.K.A.T.E , giveaways, rewards for contests, events, and even help skaters buy new equipment! Everyone is welcome in this community, so long as you are respectful to others.
If you need help understanding more about Skatehive, feel free to ask for help in our Discord, and one of the many longtime SkateHive members will help you out!
We are skateboarders, we seek for change
Join SkateHive Server :

Join SkateHive on LBRY server :