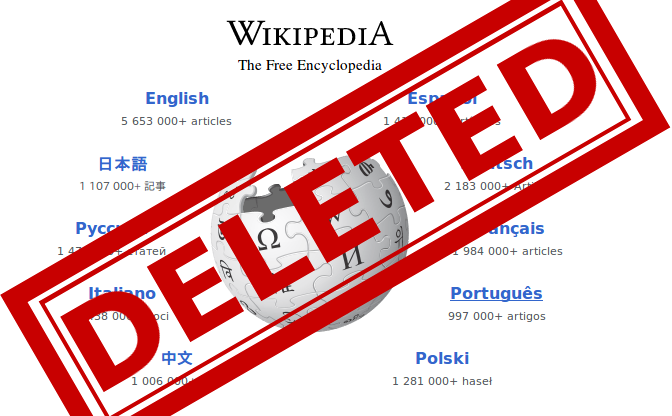 My last post asked a question about the use of screenshots on Hive.
I created the image above by taking a screen shot of the Wikipedia home page. I then imposed a huge red stamp that says "DELETED" on the image. The purpose of the image is to talk about the important issue of censorship on popular web sites.
Wikipedia is a group edited site that is considered by many to be an authority on a variety of historical topics. A group edited site will necessarily reflect the biases of the group doing the editing. A discussion of the group's bias is in order.
In my case I've been researching business history. I have discovered numerous occasions of Wikipedia editors deleting pages that I considered to be important. This often happens companies changes their name. The Wikipedia editors will delete the page for the old name and create a new page for the new name.
This practice is problematic. Lets say there was a huge corporate scandal. The scandal is related to the old new. Deleting the old page allows the corporation to distance itself from its scandal.
Because Wikipedia goes through an open-editing process, it often has good information. They usually spell the names correctly and have the correct dates for events. I dislike that Wikipedia has grown to dominate the field of online research.
But lets get back to the image: I think that the image falls squarely in the realm of fair use. I could be wrong. Fortunately, Wikipedia publishes using the Creative Commons License .
Anyway, I created the Review the World community as a place to write web site reviews. I would like to make use of screenshots. I haven't published any reviews because I haven't figured out it screenshots are considered "fair use."