Hey everyone!
Just wanted to drop by a quick update in the community as I'm seeing a lot of users misunderstanding what this community is about or the end goal of the questions and what kind of answers we'd be looking for to raise when asking.
As I've mentioned in the introduction post of the community it is inspired by the famous subreddit askreddit. The goal would be for this community to be a place where you can go and be entertained by a lot of different answers from Hivers to open ended questions. If you want to get a direct example of it then I suggest you take a look at the subreddit and browse through a couple questions. Without further ado take a look at some of the rules I added just now: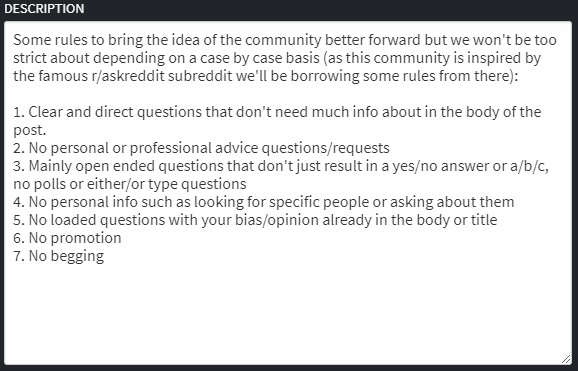 While I understand that there's a need for general questions about Hive and questions that require direct answers as something like Quora (there's a project starting similar to this called @quello) it is important to keep the community guidelines a bit more strict so they are specific about a certain thing. Right now this may mean way less activity and a lot more muting/filtering out posts but once we have a lot more active daily users it will be a much nicer place. The community itself is of course one that requires a big userbase and I'll be starting more posts myself while continuously curating those who ask and answer in the correct manner in the spirit of the community but until we get that userbase let's do the best we can to turn this place into the best it can be with the rather small community we have so far.
Let me know what you think of these rules!
Burning half of the post rewards due to autovotes.