The tokens have been distributed! You can see the richlist here. You can interact with this token on the market here.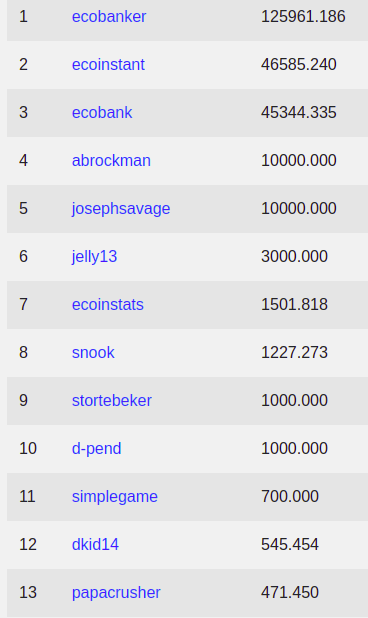 The market will slowly begin to fill out as more people notice that the tokens have now been distributed. Remember, markets work by certain rules, buy and sell order books, I should probably review my old posts and do a deep dive about how markets like these work, but be careful.
Here is the market at the time of posting:

The @ecobank account is being used as a deposit for 3 participants who have not yet confirmed with me their wallets. I will be working with them to get them into their own wallets in the future. The deposits can be seen here: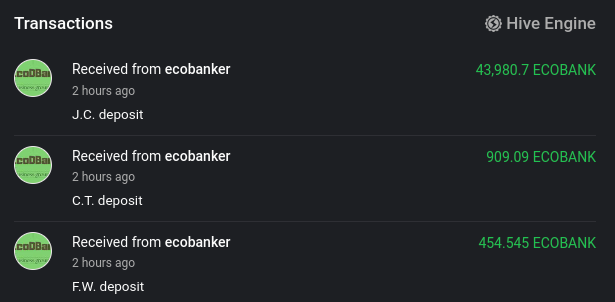 I did all of this manually, taking my time and going very slow - manually checking account names against their blogs - knowing full well that mistakes are hard to fix.
Alas - I did make one mistake. @bil.prag was sent 70 ECOBANK tokens instead of the 63.636 tokens he should have gotten for the 70 HBD he sent. Bil, if you want to send back 6.364 tokens to @ecobanker, this would be the cleanest solution and I can shower you with some prizes. If not, I will consider my options to make right my error. Luckily it was a small one.
The future
The ECOBANK is now officially launched. As far as I know its the first 'CryptoStock' in the world, at least its the first one built on HIVE, and its the first one in Colombia.
If you are reading this, you probably agree with me that these new technologies represent the future, but the future depends on what we build with these new technologies. Keep that in mind as people around the world make opinions about, and governments attempt to regulate, these things that aren't even built yet.
Phase 2
Recently we met with the founding members of the ECOBANK, to talk through the end of the Presale and move into the next phase. Nothing is confirmed yet, but one of the members made a very good case for valuing our project at $1.65 dollars or 6250 colombian pesos per token; based on this preliminary discussion, this is looking like it will be price we will be offering shares (tokens) during phase 2.
The nature of the market based in SWAP.HIVE adds an additional challenge, but let's give it a few days and see what happens.
Leave all your feedback for me here, I will be back in a few days with a current accounting of the assets and liabilities within the ECOBANK.
Freedom and Friendship