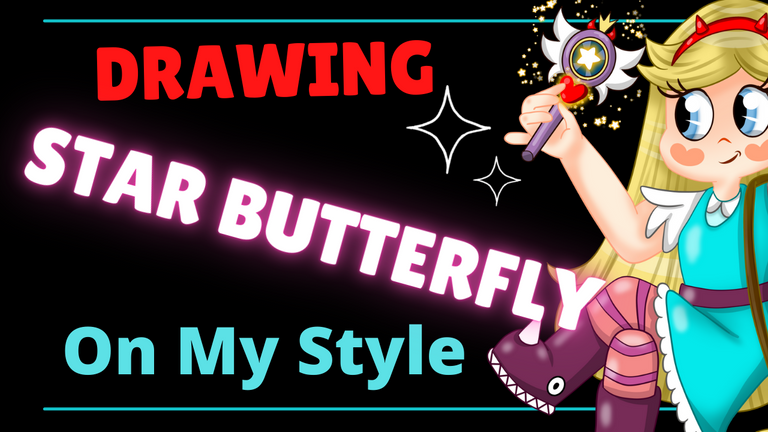 Greetings guys, Happy start of the week!
It's been days since I've posted... It's a struggle now, but here I am.
I like to please my followers, especially those who show me their support in a direct way by commenting, one of them asked me if I could draw in my style the character Star Butterfly, I usually characterize myself for making original characters (OC) but I also enjoy this activity.
Many people like my particular style of drawing and are curious to see something recreated in my style, if you are one of them, let me know, I will gladly try to do it. I hope you like my fan art today.
Saludos chicos. ¡Feliz inicio de semana!
Hace días que no publico... Ahora es una lucha, pero aquí estoy.
Me gusta complacer a mis seguidores, especialmente los que me muestra su apoyo de manera directa comentando, una de ellas me preguntó si podría dibujar a mi estilo al personaje Star Butterfly, generalmente me caracterizo por hacer personajes originales (OC) pero también disfruto de esta actividad.
Muchas personas les gusta mi estilo particular de dibujar y se llenan de curiosidad de ver algo recreado a mi estilo, si eres uno de ellos, déjamelo saber, yo con gusto intentaré hacerlo. Espero que mi fan art de hoy sea de tu agrado.
---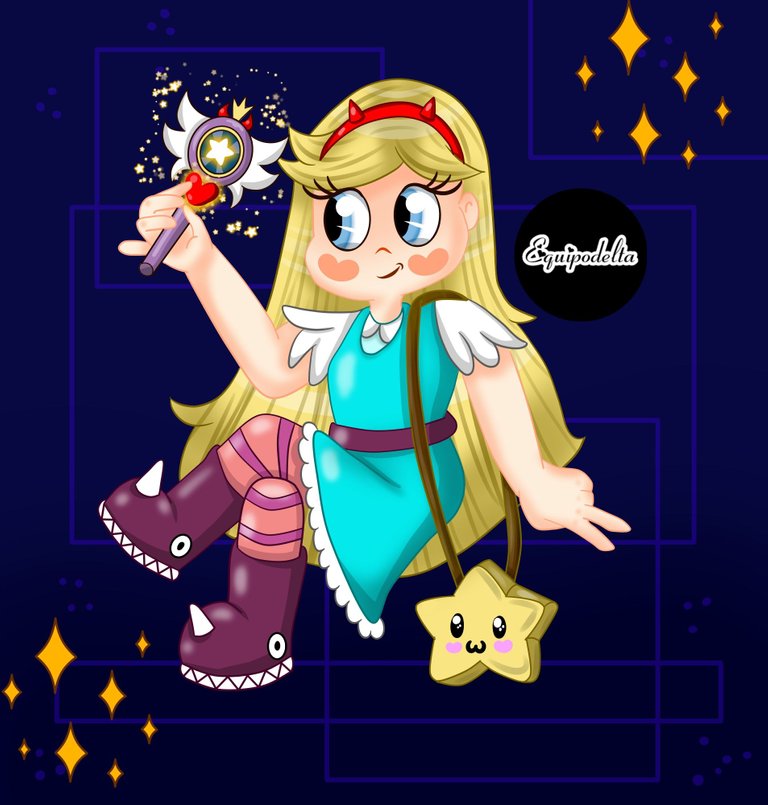 I love this character, I don't watch TV but sometimes my youngest son is watching it and I sit next to him just watching his gestures, we both end up laughing. He really is an adorable character.
When my youngest son saw that I drew her, he freaked out, and guess what? he already asked me for her fan art which of course I will take care of.
It's an activity that is giving me a lot of well-being, joy and as I make the videos step by step in a relaxing way, I also relax and at the same time I try to make everyone enjoy this little moment with me. Thank you for being here.
At the end of the post I will leave the step by step video.
Me encanta este personaje, no veo televisión pero a veces mi hijo menor la está viendo y me siento al lado de él no más viendo sus gestos, terminamos riendo los dos. Realmente es un personaje adorable.
Cuando mi hijo menor vio que la dibujé, se flipó, y ¿Adivinen qué? ya me pidió su fan art que por supuesto atenderé.
Es una actividad que me está produciendo mucho bienestar, alegría y como hago los vídeos paso a paso a modo relajación, me relajo también y al mismo tiempo intento que todos disfrutemos de este ratico conmigo. Gracias por estar.
Al final del post dejare el paso a paso en vídeo.
---

Paso a paso. / Step by Step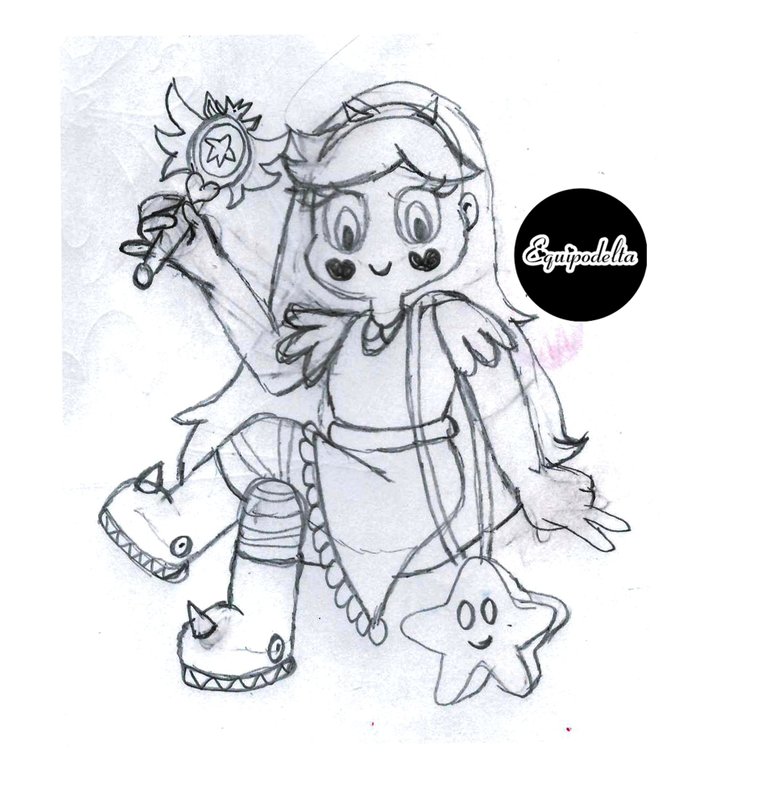 Boceto / Sketch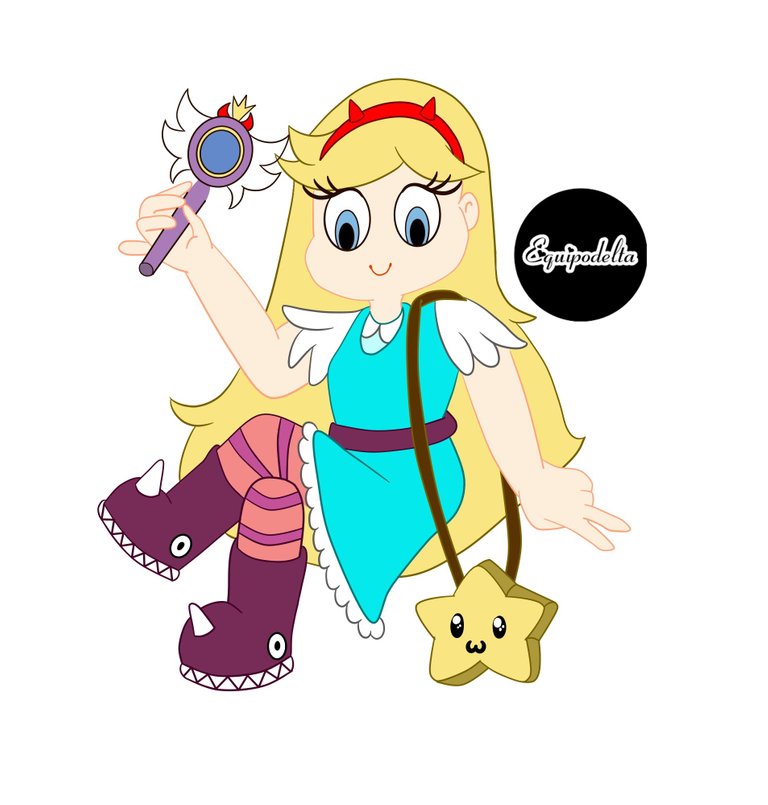 Base Color.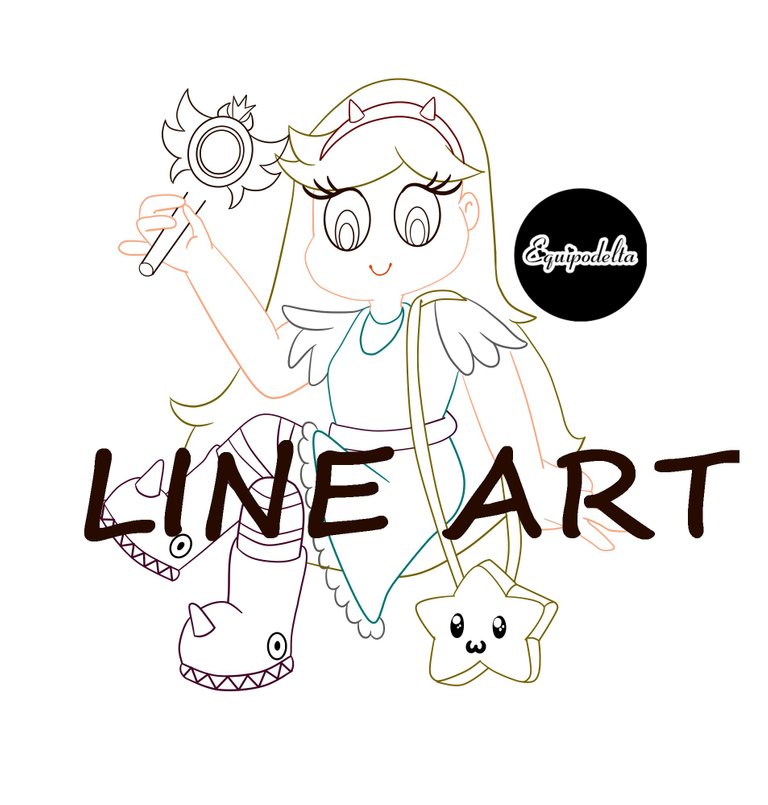 Line art.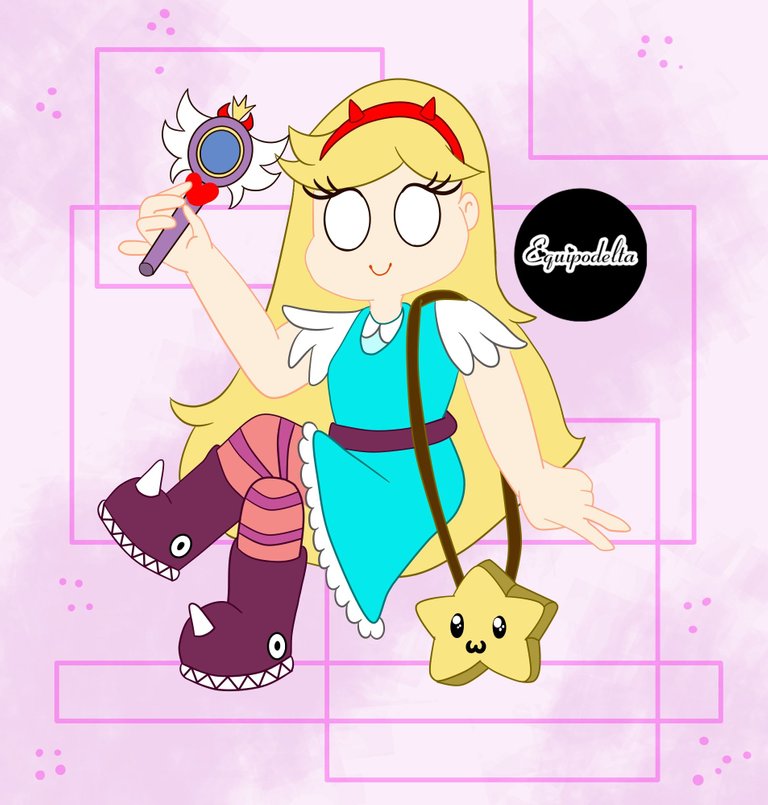 Fondo / Background
---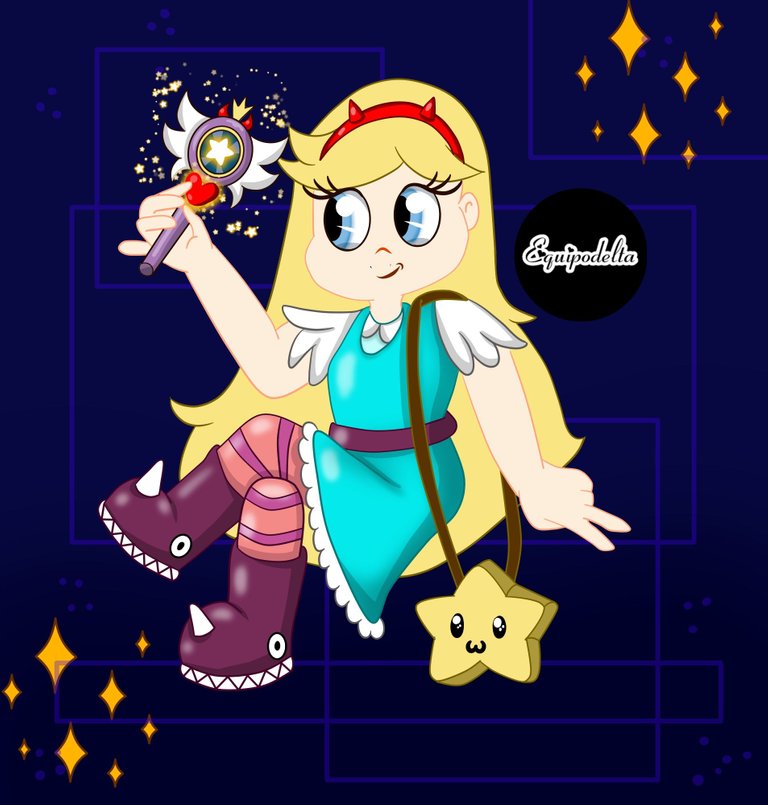 I am not comfortable with a light-colored background. Since it does not enhance my designs. So I changed it to the shade of almost always. I also realized that the eyes looked weird and decided to save them for last, to see what I could come up with to better them.
No me encuentro cómoda con un fondo de color claro. Siendo que no realza mis diseños. Así que lo cambié a la tonalidad de casi siempre. También me di cuenta que los ojos se veían raros y decidí dejarlos para el final, a ver qué se me podría ocurrir para mejorarlos.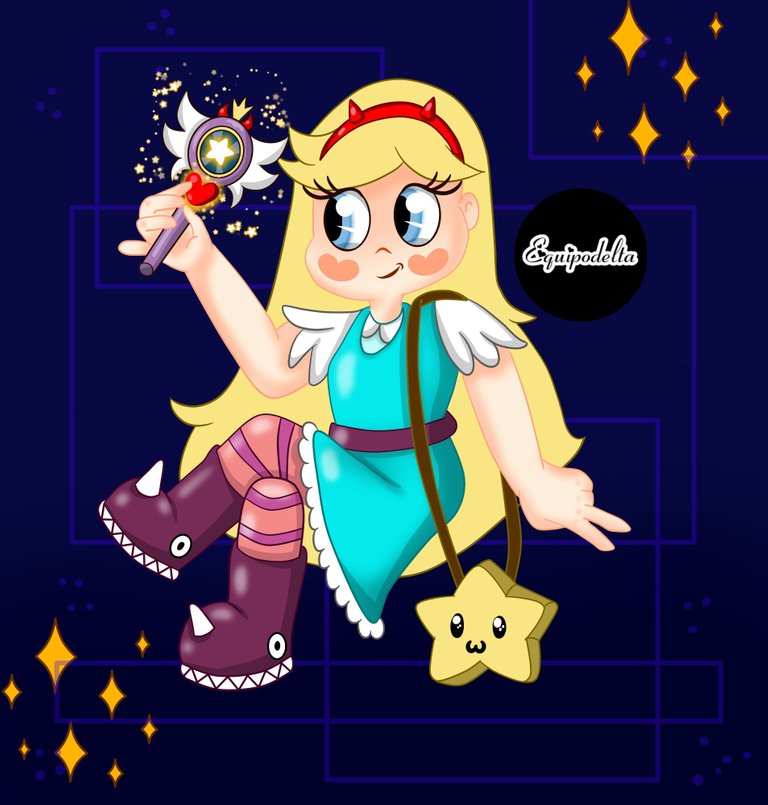 Of the whole design what I loved the most were the shoes and the scepter. I don't understand much but sometimes we see him with devil horns and sometimes we don't, someone explain it to me.
De todo el diseño lo que más amé fueron los zapatos y el cetro. No entiendo mucho pero a veces lo vemos con unos cuernos de diablito y a veces no, que alguien me explique.
Star Butterfly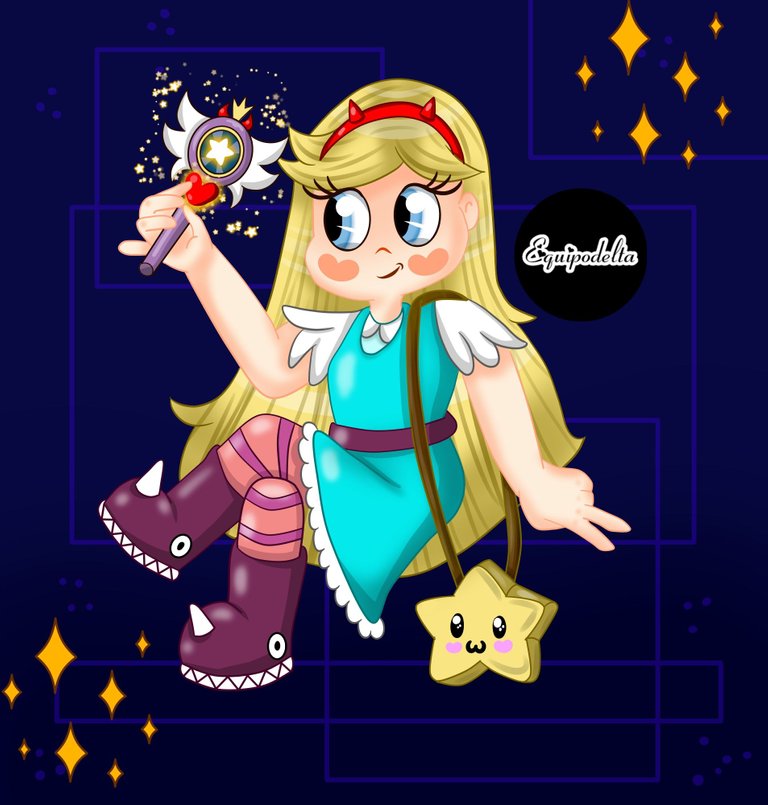 Detalles Técnicos / Technical Details

Time lapse: 7 Hours
Program: MediBang Paint Pro.
Graphics tablet: Huion (Usb Pen Tablet). Model 420.
Used Medibang brushes:
Aerógrafo.
Pluma (gruesa).
Pluma.
Pluma tinta.
Pluma con contorno.
Star.
Pincel personalizado Stars.
Used Medibang tools:
Borrador.
Texto.
Línea curva
Herramienta relleno.
Carpetas / recorte.
Ajuste entrecruzado.
Linea curva (elipse, curva)
Opciones de capas: Carpetas, recorte.
For the sketch: 2HB pencil, red marker and eraser.
Sources:
Music video
––––––––––––––––––––––––––––––
No More by Sapajou
Creative Commons — Attribution 3.0 Unported — CC BY 3.0
Music promoted by Audio Library
––––––––––––––––––––––––––––––

PNG Format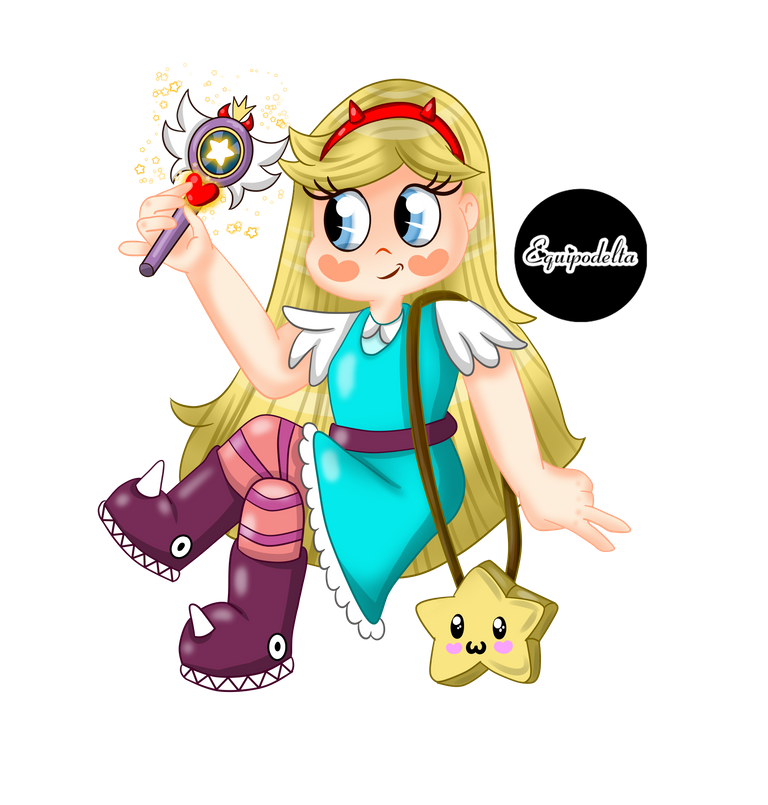 Video process

Mi canal Youtube, tiene un montón de tutoriales muy útiles para ti.
My Youtube channel, has a lot of very useful tutorials for you.

Hacks, DIY, Crafts, handmade arts Community