Wow, that took a lot more time than I expected to copypaste all entries' names into a random name picker for the winners. Wish we had a tool on Hive for that sort of like dpoll but to pick eligible winners.
Anyway, here's the recording of the drawing, everyone who commented their hive username on Twitter and in the Hive post were added except one account who's only comment was the entry in his full hive history. I even made the effort to track down some users hive accounts who hadn't commented it by going through their twitter profiles and checking for some POSH tweets.
What I do in the video is check for their usernames again to see if they prefered a certain punk, but none of the winners mentioned anyone in particular so will be randomizing that as well. Other than that I just double-checked that they already don't own a punk or have bought one since the giveaway started (there was one case who wasn't added to the giveaway).
Proof of transfers: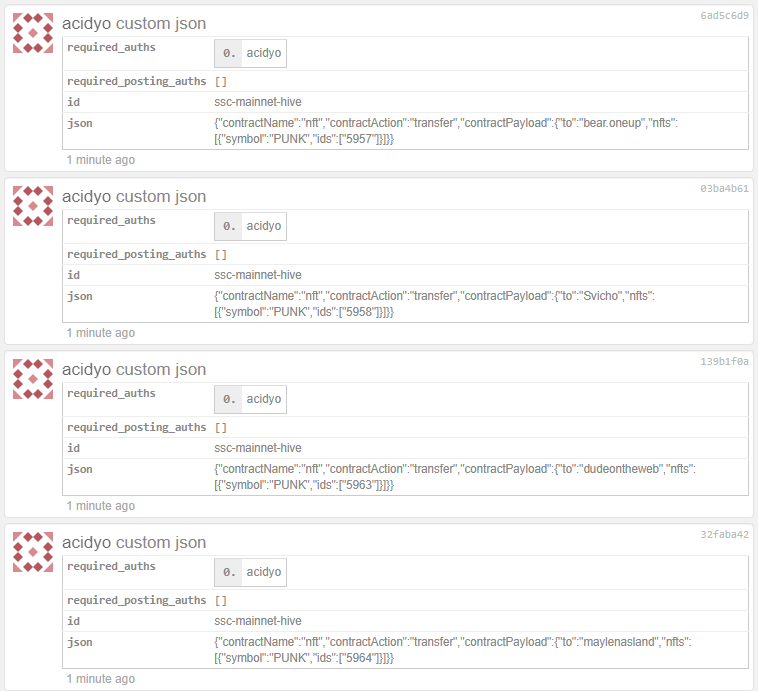 I want to thank everyone who participated, shows how much Hive is growing and it's awesome to see. I don't usually spam tag people but since I went through all the effort to copypaste their names into the randomizer I have them ready here so will do so for once.
@seckorama, @shirahoshi, @arlettemsalase, @johnspalding, @franzzonline, @codingdefined, @lunaticpandora, @lareinareya, @fortheloveofsl, @zangano, @aimee.tariq, @nathyortiz, @LionSuit, @shmoogleosukami, @ace108, @cmmndrbawang, @yahia-lababidi, @rmsadkri, @jaraumoses, @meanbees, @pastrane, @davedickeyyall, @nahupuku, @theonlywalker, @Dobro2020, @igormuba, @demotruk, @sgbonus, @Padom2020, @gentleshaid, @hivelander, @carlgnash, @jcrodriguez, @urun, @royalsam, @Javyeslava.photo, @kawsar8035, @Lordbutterfly, @ezmilly2, @surrealpete, @jonsnow1983, @onspired, @ehizgabriel, @gabolegends, @QSETT, @thecbp-hiver, @pharaoh1, @fatherfaith, @Chrislybear, @nobutsd1974, @b0s, @jesuschristo, @CoquiCoin, @Joserk, @alexa.art, @kendewitt, @xykorlz, @Oceanbee, @deniskj, @howweroll, @yonilkar, @dudeontheweb, @kensmith, @jomarbym, @Tcpaikano, @fragozar01, @wolven-znz, @dora381, @bitcoinflood, @medussart, @nelthari, @redeculous, @evernoticethat, @cmmemes, @tsnaks, @lorddanpies, @lizzyblueart, @charsdesign, @cpol, @jenina619, @tengolotodo, @iFarmGirl, @young-boss-karin, @vikisecrets, @tonyz, @lisbethseijas, @bearone, @Zenitsu12, @dante31, @lynnnguyen, @Insaneworks, @samsmith1971, @splatts, @jhonasanagon, @trippymane, @jaydr, @iamsgr, @vancouverpics, @niallon11, @matheusggr, @harlowjourney, @x-rain, @misterabaddon, @revo, @seckorama, @carrinm, @takuris, @luizeba, @matt-archy, @Moquero, @libertycrypto27, @jude.villarta, @maylenasland, @rubido, @gr33nm4ster, @mikiad.visuals, @soychalbed, @itsostylish, @l337m45732, @ilazramusic, @beardoin, @bear.oneup, @paolobeneforti, @astrocreator, @zoltarian, @helengutier2, @brataka, @danielvehe, @djlethalskillz, @cmplxty, @theabsolute, @kuronokenshi, @ykroys, @pandaparker, @johannpiber, @josueprime, @nenio, @kaerpediem, @nameless16, @marybellrg, @gorayii, @sgerhart, @fredfettmeister, @fixie, @syarrf, @josuemonterola, @scienceblocks, @franz54, @boboman, @neopch, @yanga, @mercadosaway, @cjlugo, @txmek, @odensfather, @nyche, @fermionico, @bencwarmer, @bodhi.rio, @felander, @definethedollar, @mineopoly, @emeka4, @Thales7, @zhoten, @cetb2008, @sunnyvo, @rufans, @daniel2001.@SanderJansenArt, @Jhoancp, @Axiemoron, @horustoro, @dwayne16, @jesuslnrs, @mawit07, @Svicho, @Sacra97, @heartofdarkness, @bammbuss, @traciyork, @r00sj3, @ayopeju, @marvinix, @junebride, @leaky20, @beautifulwreck
---
$posh giveaway
In an effort to get more people to sign up for https://hiveposh.com/ (since many are sharing hive links correctly but their posh rewards are being sent to @null since they aren't registered) I'll be doing a Posh giveaway as well!
All you need to do is:
It's easy to do with a Twitter authentication and hivesigner or hive keychain!
Once you've done that, input a screenshot of your connected accounts in a comment here for a chance to win $posh!
Example: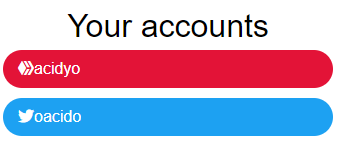 I'll be giving away 1000 POSH of mine to 20 lucky winners!
The posh will be drawn similarly to the punks and sent directly to your hive-engine wallet!
---