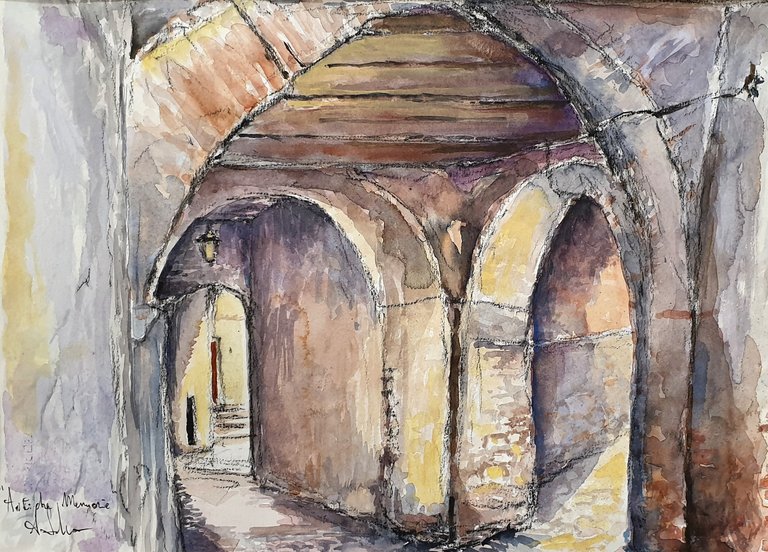 The beauty of the arches


2  0  2 0 
watercolor on paper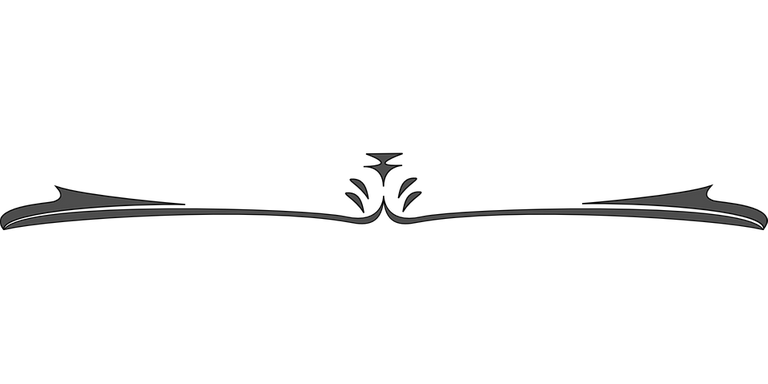 The beauty of the arches
Hello to all dear friends and welcome back to my blog.
Today I return to share with you one of my watercolor paintings accompanied by a series of other watercolors and photographs.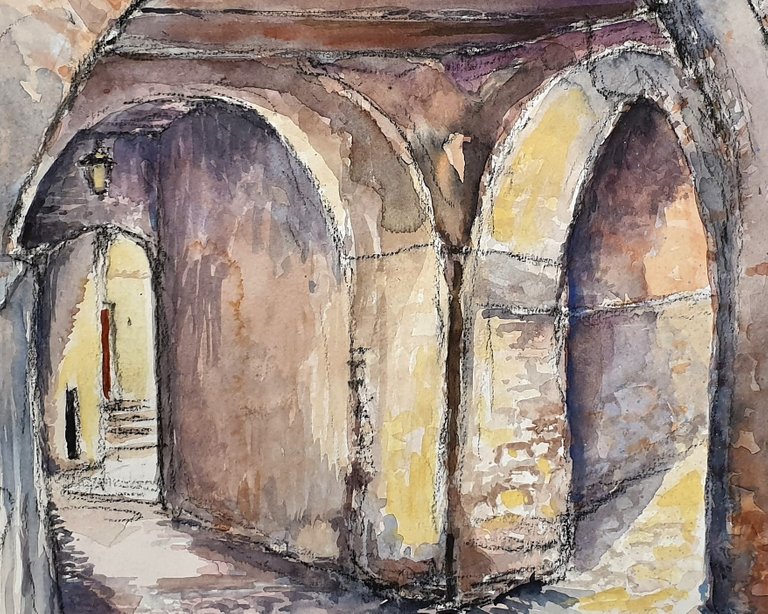 detail
This painting is the last one I made, under a large Roman vault which serves as a support for the large buildings above it.
They are subjects that I love very much and that I have portrayed on several occasions, during the trips.
An ancient arch, a series of aligned arches, a portico, a barrel vault, are worthy and austere representatives of our past.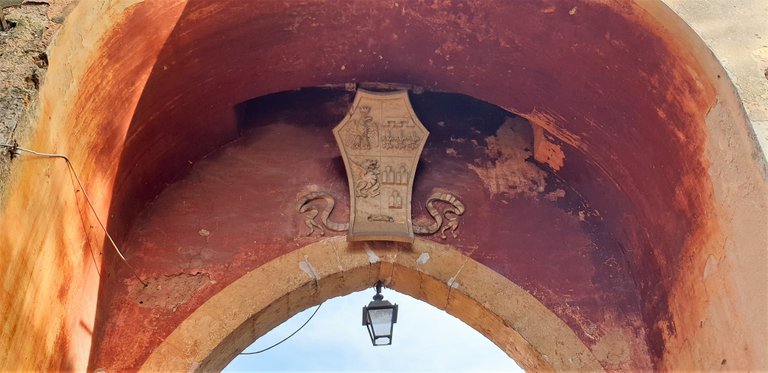 We remain enchanted to look at them, we admire them in their aesthetic elegance.
Can we talk about beauty for architecture?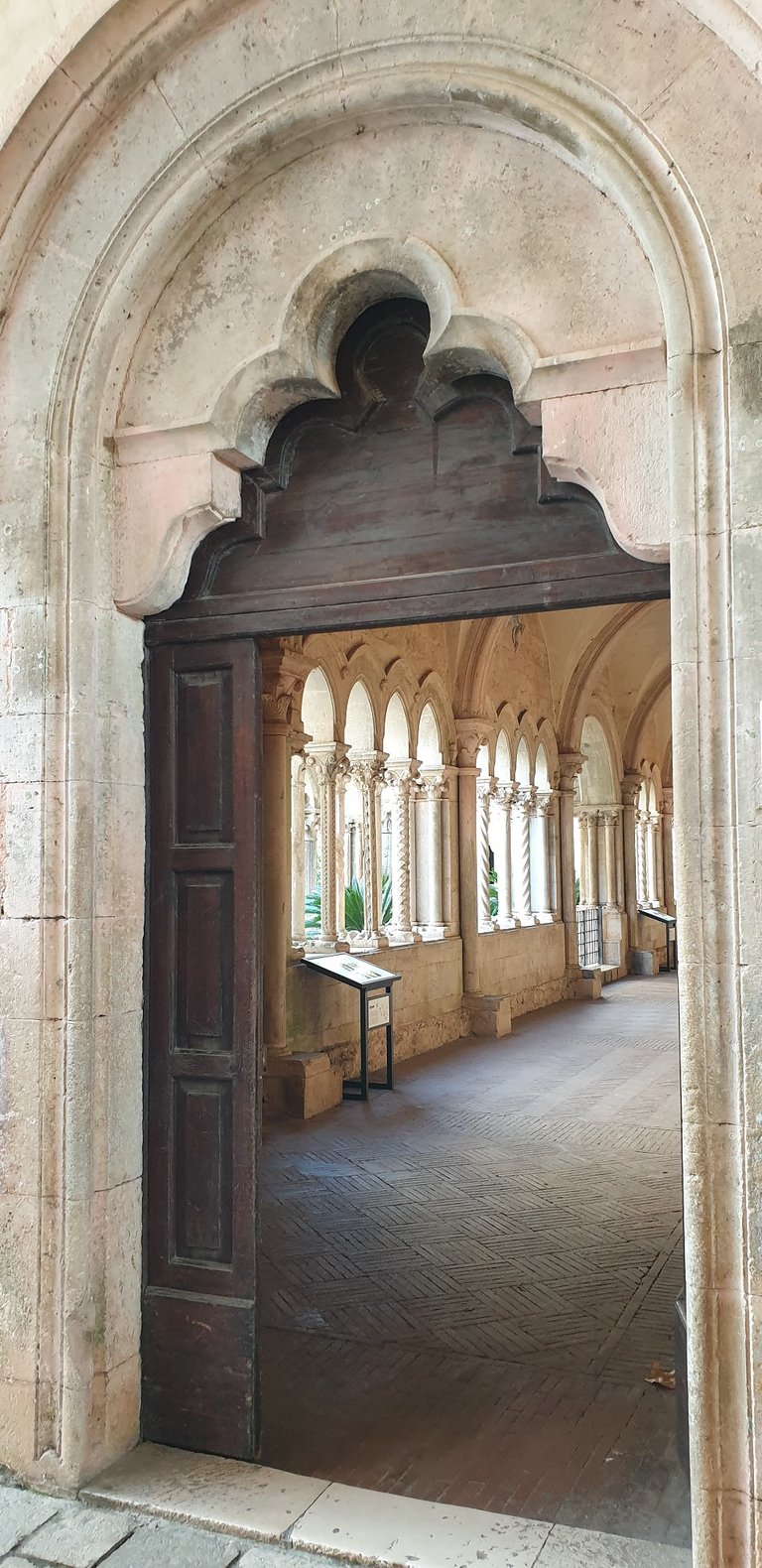 Yes, without a doubt!
Many art experts share the concept, especially when the aesthetic function coincides with the structural and intended one.
In this case we also speak of beauty!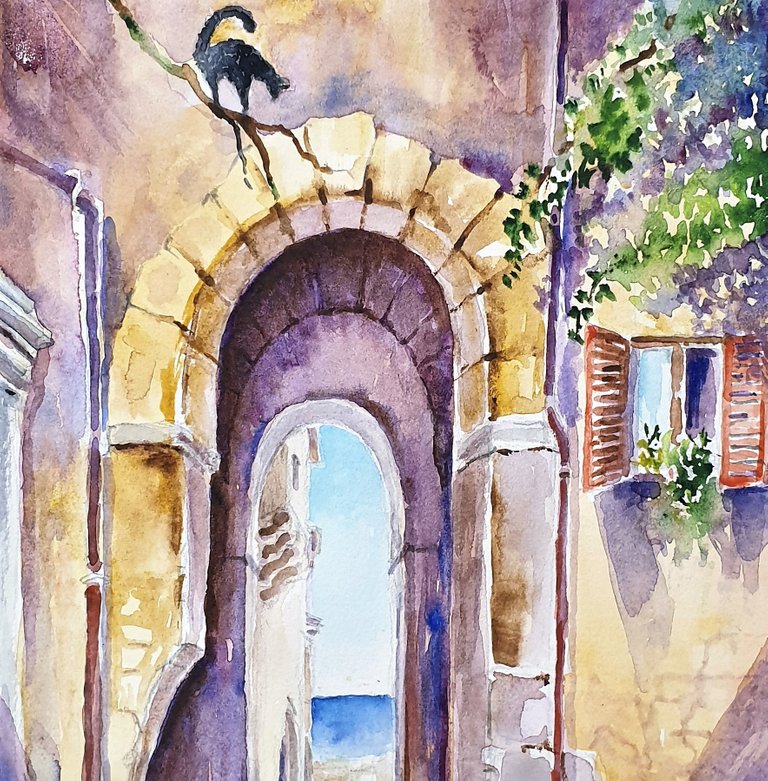 Roman arch and cat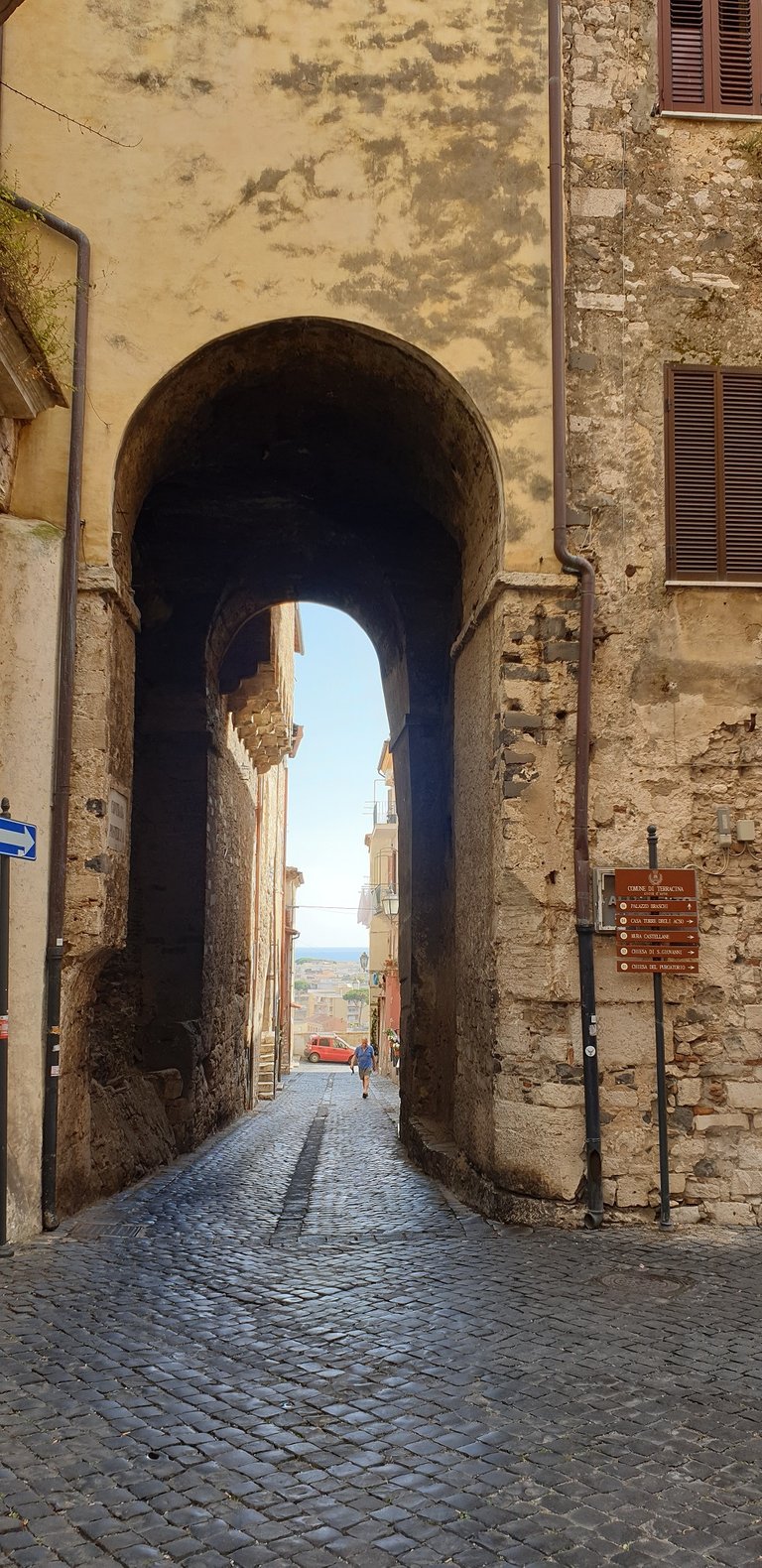 They are the solid testimony of our history and culture.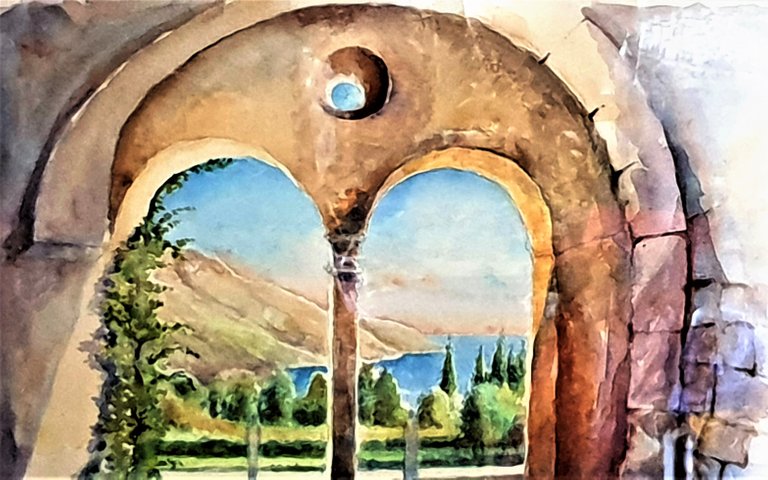 The arch is a construction element of Etruscan origin that the Romans brought to the maximum constructive expression.
With the use of the round arch, the Roman Empire created the most impressive engineering works in history.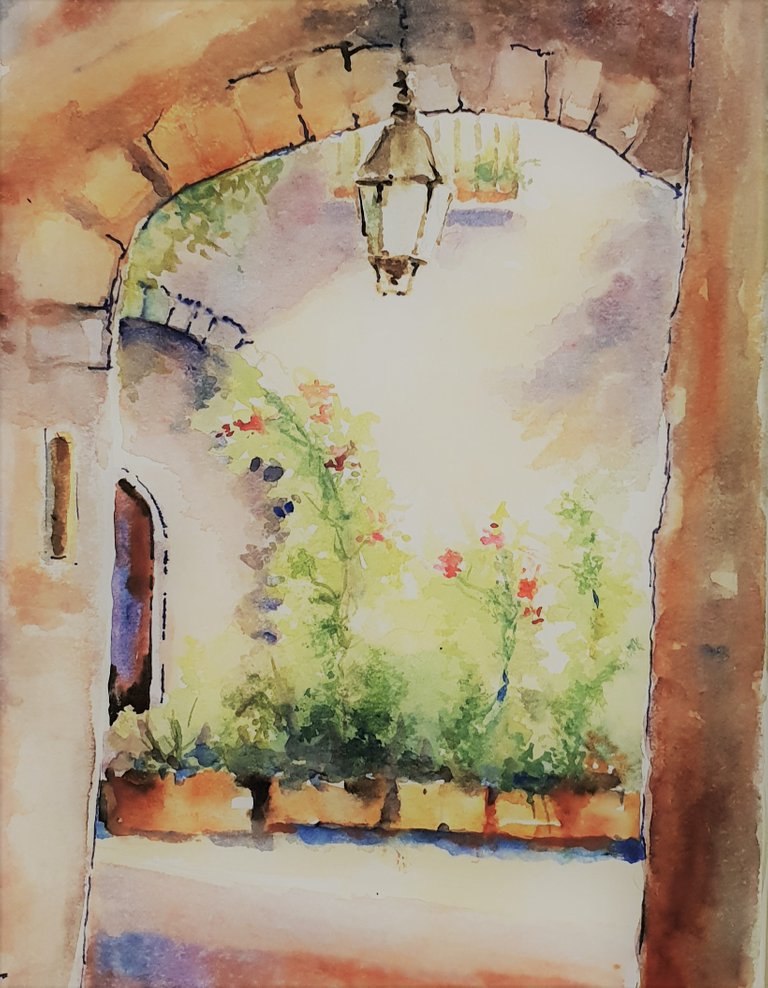 Bridges, aqueducts, amphitheatres, galleries, public buildings, arcades and temples are works of extraordinary historical and urban value.
I remember that the Romans used the arched and vaulted construction system also for large foundations as the basis of huge squares and majestic buildings.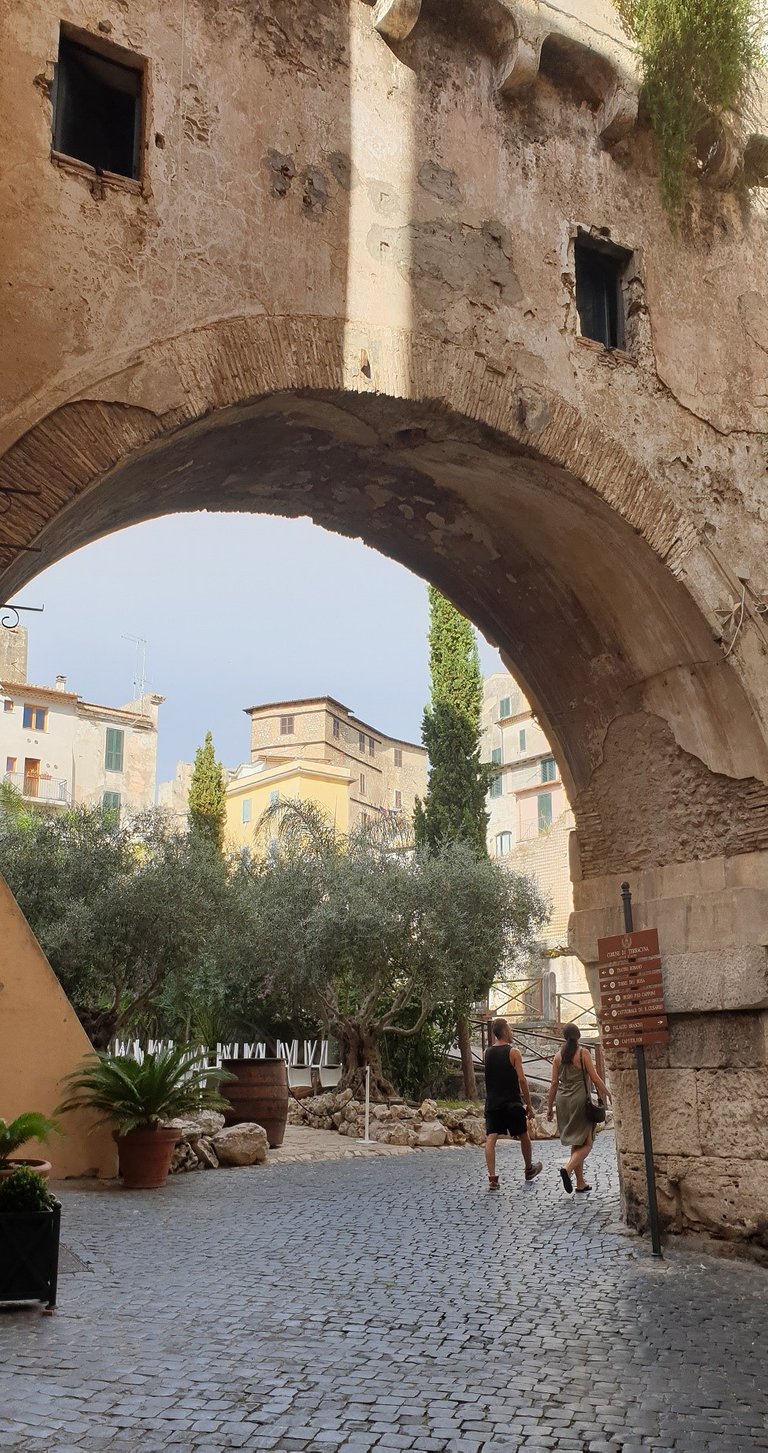 They are examples of construction techniques that have remained intact over the centuries, resisting time and natural disasters.
Many Roman bridges are crossed by thousands of cars along the busy roads in Italy and Europe.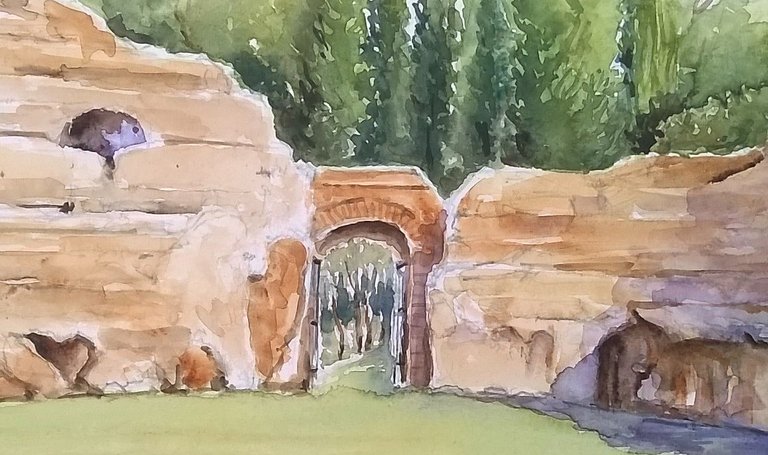 Today I share with you dear friends, some characteristic views that we can find in many historical centers in Italy, are magical places, very suggestive and remained unchanged over time.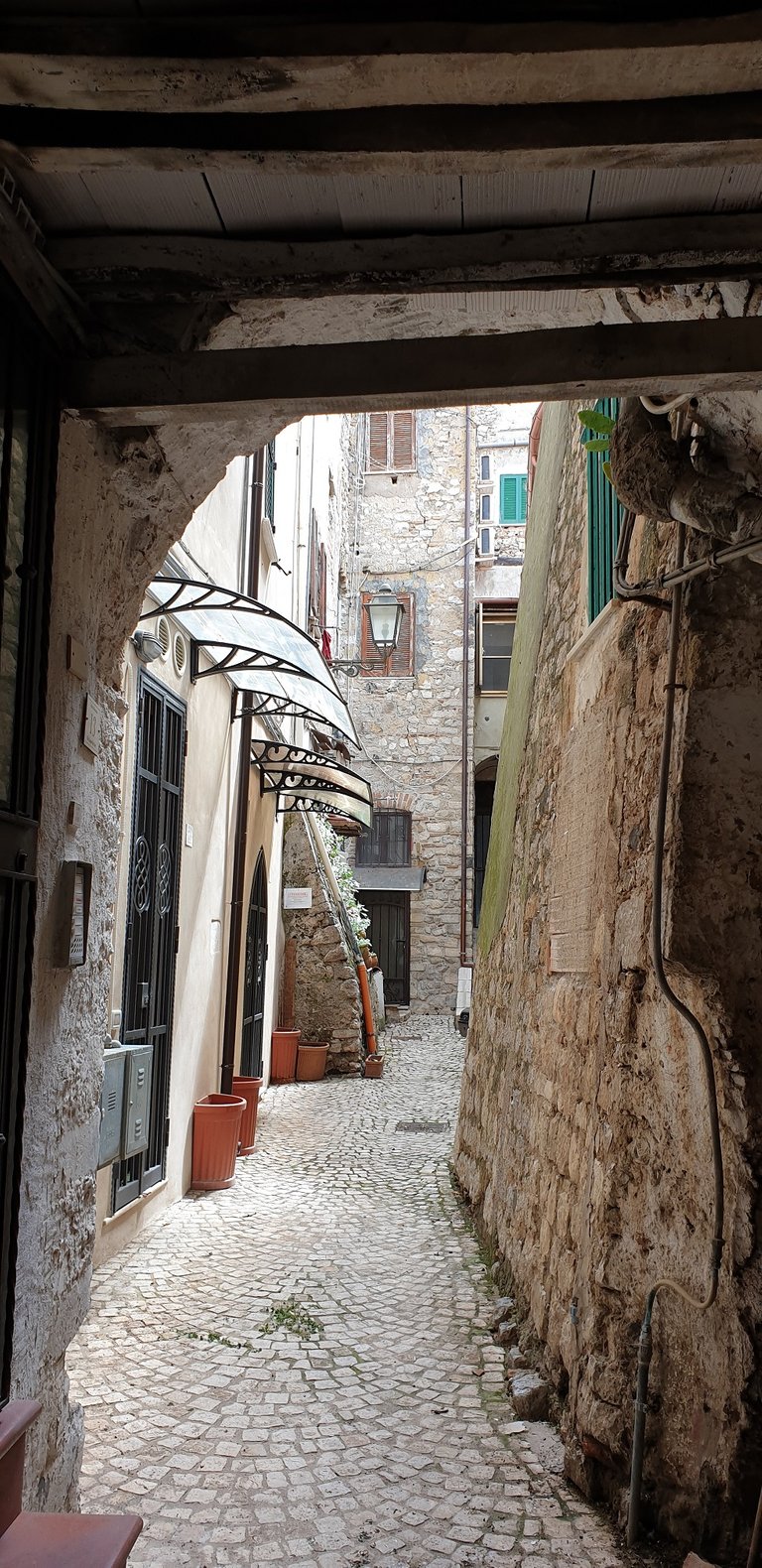 Places of silence, history and tradition that have told stories for over a thousand years.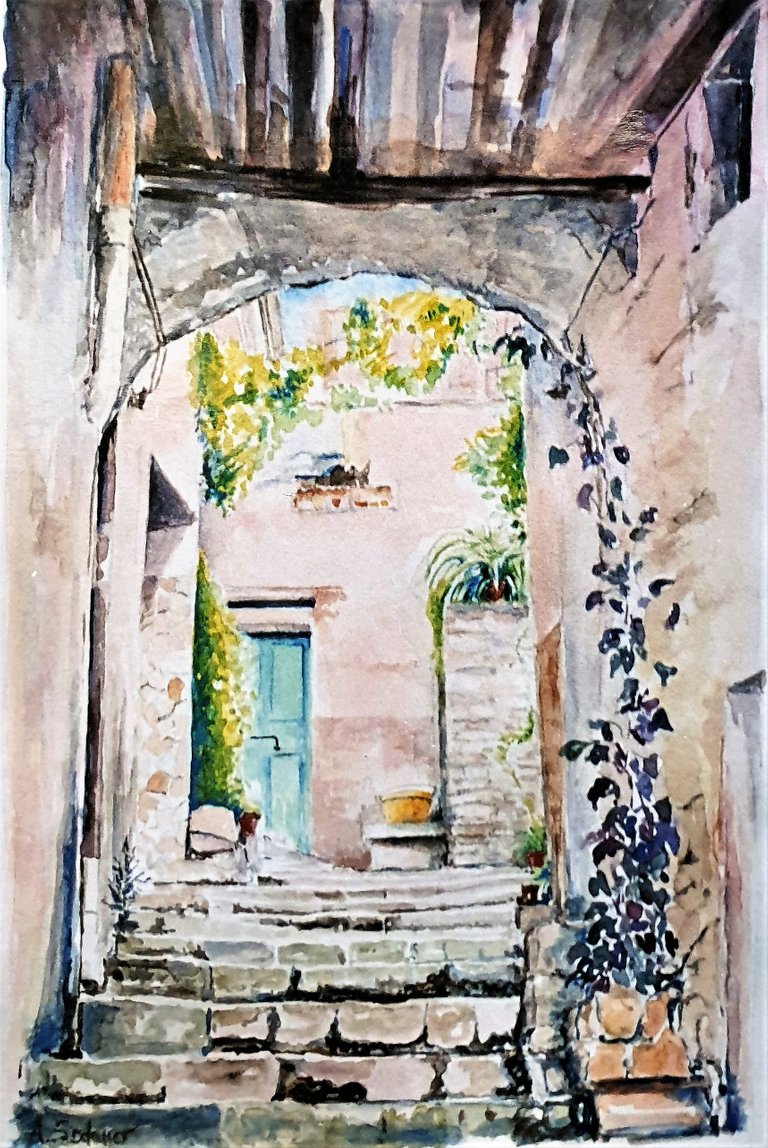 A huge hug.
Armando.
STEEM ON!!!
Photographs and paintings are my property.

La bellezza degli archi
Ciao a tutti cari amici e ben tornati sul mio blog.
Oggi torno a condividere con voi un mio dipinto ad acquarello accompagnato da una serie di altri acquarelli e fotografie.
Questo dipinto è l'ultimo che ho realizzato, sotto una grande volta romana che ha la funzione di sostegno dei grandi palazzi sopra di essa.
Un antico arco, una serie di archi allineato, un porticato, una volta a botte, sono degni e austeri rappresentanti del nostro passato.
Restiamo incantati a guardarli, li ammiriamo nella loro eleganza estetica.
Si può parlare di bellezza per delle architetture?
Si senza dubbio.
Molti esperti dell'arte condividono il concetto, soprattutto quando la funzione estetica coincide con quella strutturale e di destinazione.
In questo caso si parla anche di bellezza!
Sono soggetti che amo molto e che ho ritratto in diverse occasioni, durante le gite.
Essi sono la solida testimonianza della nostra storia e della nostra cultura.
L'arco è un elemento costruttivo di origine etrusca che i romani portarono alla massima espressione costruttiva.
Con l'uso dell'arco a tutto sesto l'impero Romano realizzò le più imponenti opere ingegneristiche della storia.
Sono opere di straordinario valore storico e urbanistico i ponti, gli acquedotti, gli anfiteatri, gallerie, i palazzi pubblici, i porticati e i templi.
Ricordo che i romani usarono il sistema costruttivo ad arco e a volta anche per le grandi fondamenta come base di enormi piazze e maestosi edifici.
Essi sono degli esempi di tecniche costruttive che sono rimasti intatti nei secoli, resistendo al tempo e alle calamità naturali.
Molti ponti romani sono percorsi da migliaia di automobili lungo le strade di grande traffico, in Italia e in Europa.
Oggi condivido con voi cari amici, alcuni scorci caratteristici che possiamo trovare in numerosi centri storici in Italia, sono dei luoghi magici, molto suggestivi e rimasti inalterati nel tempo.
Luoghi di silenzio, storia e tradizione che raccontano storie da oltre mille anni.
Un enorme abbraccio.
Armando.
STEEM ON!!!

my Facebook page: https://www.facebook.com/armando.sodano


Art teacher
Curator of cultural activities
Artistic director and President of the Cultural Association "I Colori della Vita"
https://www.icoloridellavita.life/
and "Fuori Controllo" Festival
https://www.facebook.com/fuoricontrollofestival/