Dear Hivians, welcome to my new blog, which is about visual artists and their works. While I have been writing in detail about art and culture on my main account
@vieanna
for three years now, I would like to focus here on one single work at a time, which I introduce briefly. Thereby the concept of art is broadly defined and includes painting, graphics, architecture, sculpture, photography and handicrafts, as well as everyday art, or as in the present case, street art.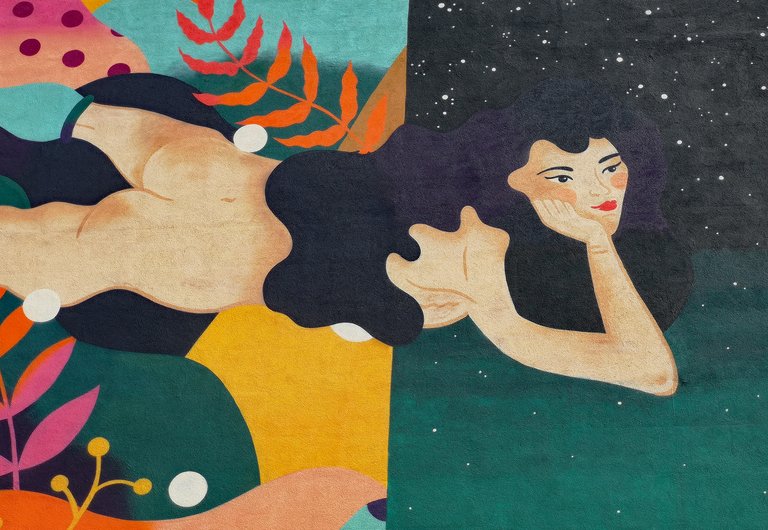 Kruella D'Enfer: Mural (Street Art )
Kruella D'Enfer
is a Portuguese visual artist and illustrator who has been presenting her work to the public since 2010.
The photo above shows a section of a wall painting on a building, located in the 4th district of Vienna (Wiedner Hauptstraße 78). The large-scale work was created in August 2018 as part of the street festival "Calle Libre". It can be seen as a homage to Egon Schiele on the occasion of the 100th anniversary of his death. The artist interprets Schiele's painting "Am Bauch liegender weiblicher Akt"" (Female Nude Lying on Her Stomach) from the year 1917, the original can be seen at the Albertina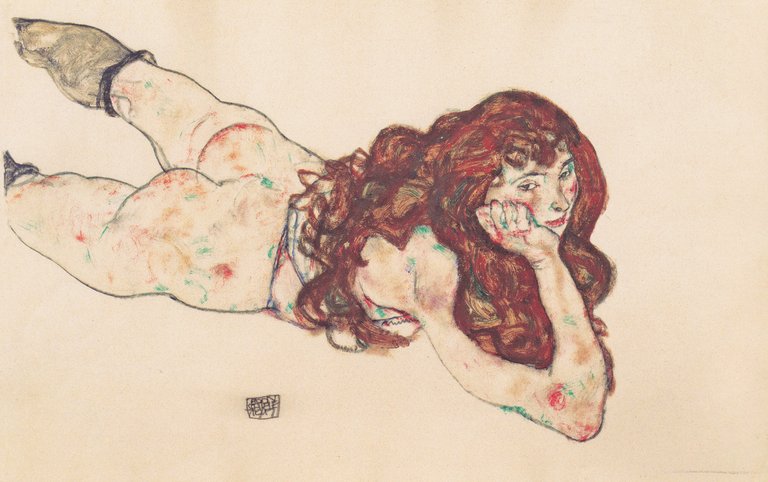 Egon Schiele: Auf dem Bauch liegender weiblicher Akt, 1917 (Source)
Liebe Hivianer,
herzlich willkommen auf meinem neuen Blog, in dem es um Künstler und ihre Werke geht. Während ich auf meinem Hauptaccount @vieanna bereits seit drei Jahren ausführlich über Kunst und Kultur berichte, soll an dieser Stelle jeweils ein einzelnes Werk im Fokus stehen, welches ich kurz vorstellen möchte. Dabei wird der Kunstbegriff weit gefasst und schließt neben Malerei, Grafik, Architektur, Bildhauerei, Fotografie und Kunsthandwerk auch Alltagskunst, oder wie im vorliegenden Fall, Street Art, ein.
Kruella D'Enfer

ist eine portugiesische bildende Künstlerin und Illustratorin, die ihre Werke seit 2010 in Einzel- oder Gemeinschaftsausstellungen präsentiert.
Das obige Foto zeigt einen Ausschnitt aus einer Wandmalerei auf einem Gebäude im 4. Wiener Gemeindebezirk (Wiedner Hauptstraße 78). Das großflächige Werk ist im August 2018 im Rahmen des Straßenfestivals "Calle Libre" entstanden. Es kann als Hommage an Egon Schiele anlässlich seines 100. Todestages gesehen werden. Die Künstlerin interpretiert Schieles Gemälde "Am Bauch liegender weiblicher Akt" aus dem Jahr 1917. Das Original ist in der
Albertina
zu sehen.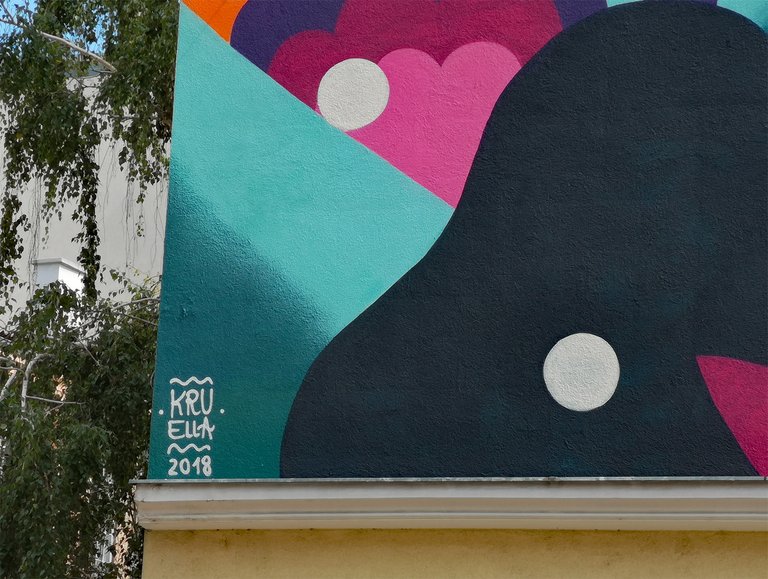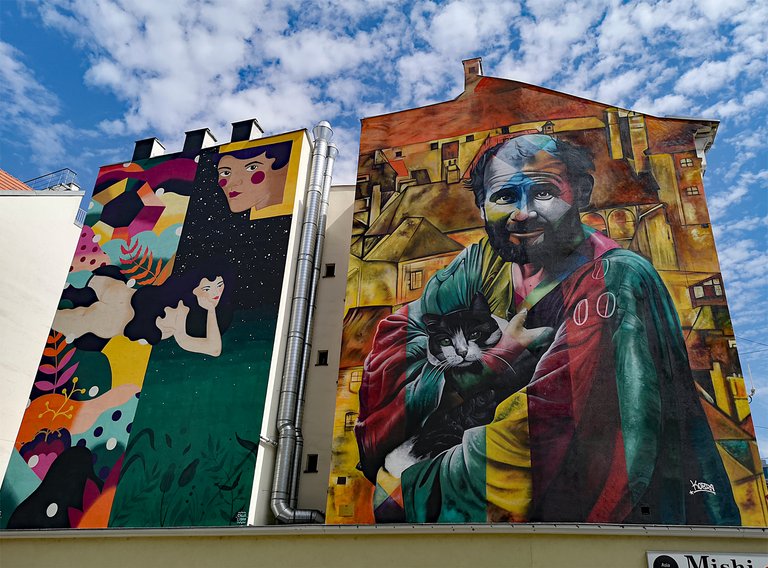 Photos: @vieanna