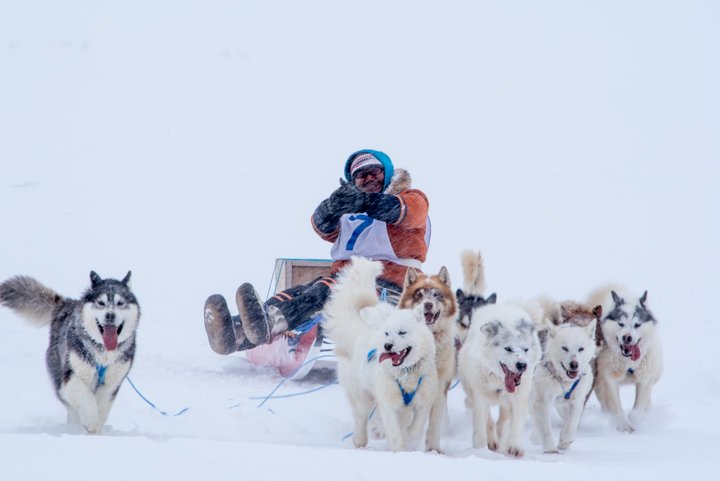 Time to share some more photos from the Nunavut Quest finishing line in Igloolik, Nunavut. Traditional Inuit sleds known as a "Qamutik" are dragged by Canadian Sled Dogs across a daunting 500 mile trek through frozen sea ice and tundra.
Nowadays, Qamutiq's see more action being pulled behind modern Snowmobiles, but dog teams pulling a man across the tundra is not an uncommon sight. Nunavut Quest allows Inuit unable to keep their own dog teams to reconnect with their cultural roots.
The dogs of Nunavut mushers are not to be confused with your family pets. These creatures work for their living and their traits for survival are still relevant in the modern age, unlike most urban breeds. (No offense!) They are not just a beast of burden but also a fierce protector who will gladly face down a full grown Polar Bear for the protection of its pack.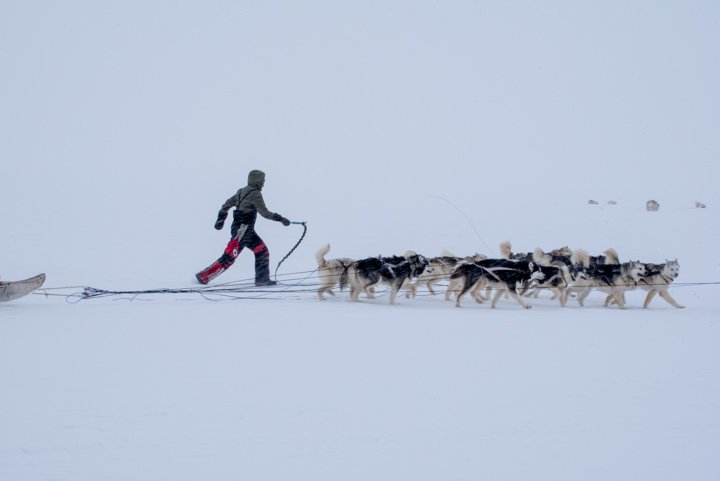 After a long 50-kilometre run across the rough tundra and sea ice around Igloolik island, the dogs were more than happy to lie down and rest. Some ate snow, others rolled on the ground to scrape and rub off the ice built up in their fur. After a few moments of content rest most dogs succumbed to the annoyance pestering them and began feverent cleaning between their paw pads to remove snow and ice debris that had built up.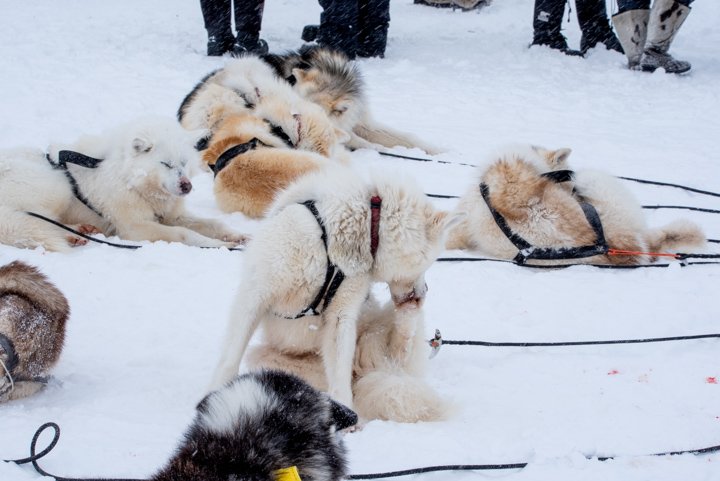 Jonah Qaunaq (not pictured in blog) took home his 3rd-straight Nunavut Quest victory. Koonoo Oyukuluk, of Arctic Bay, finished in second place with a time of 29:43:45, Pond Inlet's Lee Inuarak came in third with a time of 29:57:25, Igloolik's Terry Uyarak was fourth, coming in at 30:23:20, and Pond Inlet's Michael Inuarak placed fifth, with a time of 34:19:30.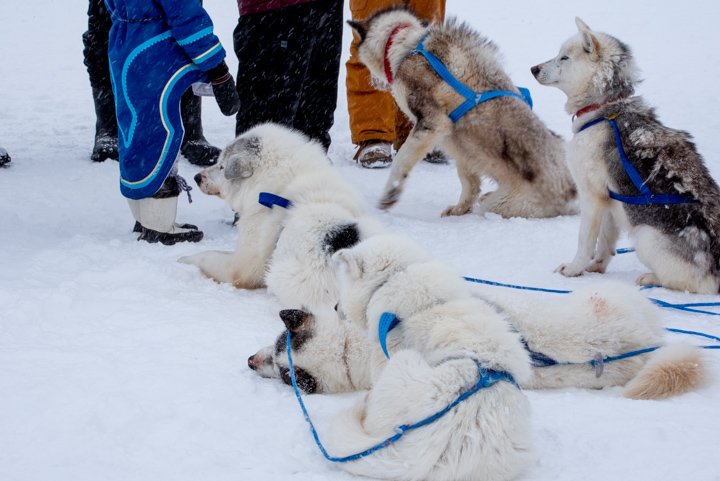 13 mushers left Arctic bay 10 days prior to Wednesday afternoon's arrival in Igloolik, with only 12 completing the race. Musher Owen Willie unfortunately was forced to retire from the race after his dog team chewed and destroyed their harnesses overnight. Competition rules dictate that mushers must make their own harnesses for the dogs to participate in the race.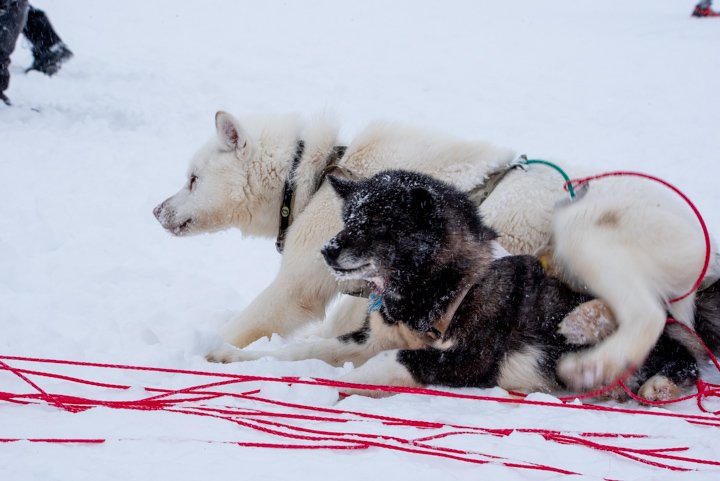 Next year's race will take place running in the opposite direction, Igloolik to Arctic Bay.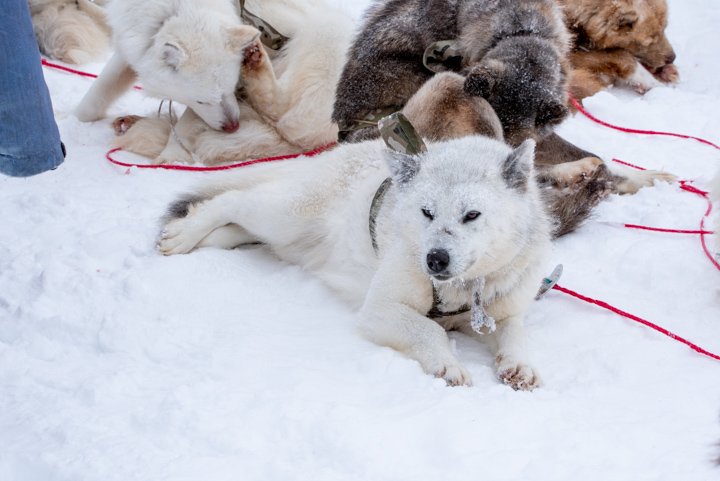 All photos were taken with a Nikon D750
Tamron 150-600mm lens
Various settings. White on white makes for FUN photography! Said no-one. Ever.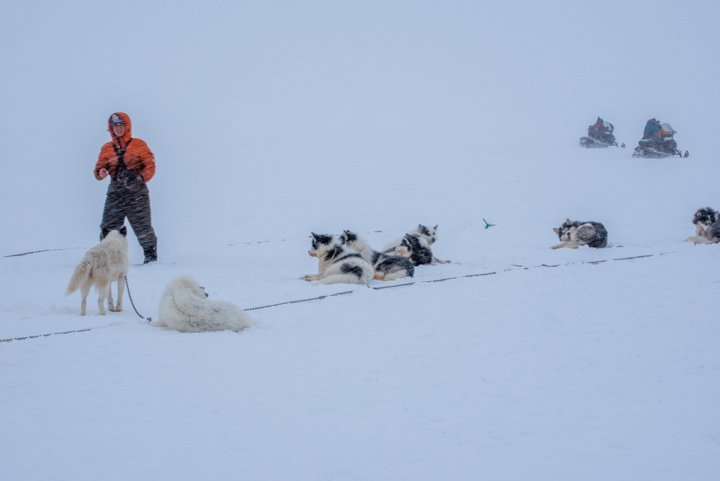 Find my artwork for sale exclusively on NFTShowroom.com
Find my photographs of Nunavut scenery and Wildlife on Lensy.io
Follow me on twitter here: Hive Related Account / Photography and Art Account
I am also on Instagram: But only Photography and Art