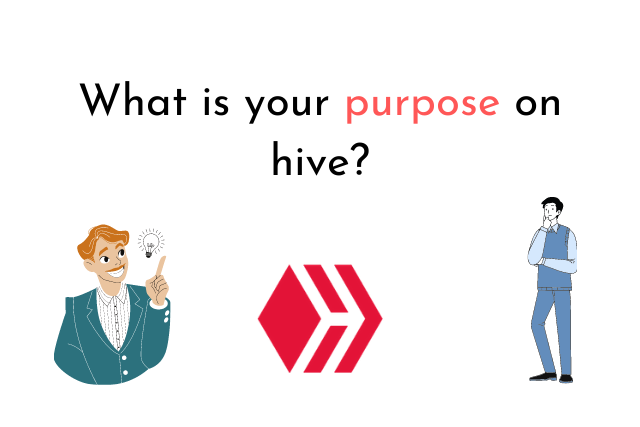 I often ask myself, "What is the goal of writing on hive?"
If I don't have a purpose, I cannot possibly put my 100% here.
When people hear the word purpose, they often think in terms of money, or life changing goals. But it can be small thing, a small goal.
I try to achieve things through purpose. If I have the purpose to do something, I will put all my energy into it.
Purpose is what drives you. It is the passion towards fulfilling your goals that helps you sustain in a field.
When I joined hive, I had a small goal. To write daily. To improve my writing skills. And I achieved it. In the last three months, I have written more than 100 posts on hive.
I am consistent, and I have improved my writing skills as well.
So, in order to progress now, I need to find a new purpose. And that purpose is to reach the trending page.
If I want to reach the trending page, I have to become better content creator, a better writer. And I have to grow a lot to do that.
But first, I need to Stop comparing myself with others
I used to compare myself with others. And every time I did it, I would feel bad about it.
If you compare yourself with others, it all spiral down to excuses and justifications.
Some people have more money than you. Some have more connections, and some have more talent, more hardworking.
So, if you think about all of this, you stand absolutely no chance.
This might all sound like self-help, but it is simple truth.
When you compare yourself with others, you will justify why others will succeed and you won't. So, you will put less efforts into your work, and those less efforts will represent less quality work.
The best way is to compare yourself with yourself only. You will have same money, same connections and same talent. The only difference will be the amount of efforts you have put yesterday and today.
If you want to have better results today, then just ask yourself, "What have you done more today so that you deserve better results?"
Why you should have something more today than what you had yesterday?
Keep coming back with more— sustainibility
No matter what, you just keep coming back— with better content. Everytime you push, you push yourself a little further.
And you build the discipline to show up daily. I think it all comes down to showing up daily. Once you are showing up daily, you will start producing better content without any extra effort.
Hundreds of posts are published daily on hive. There are more content creators than consumers. To standout, you need to deliver better content consistently. You need to go an extra mile to deliver the better content.
Because if you don't, chances are that all your work will go unnoticed.
With such a small network, you have to be really good at your content, be connected with some people or a whale in order to gain attention for your content.
Having connections and being a whale is not in your hand. But putting more efforts to create better content is in your hands.
Sometimes it may feel challenging, but everything worth achieving is always challenging.
For you to rise above that pool of content creators, you need to make extra effort in every piece of content you produce.
Your efforts is an amplifier of your effectiveness.
Don't just hope for the best, put some more efforts in it to stand out. If you make extra efforts on something, it will reflect on your work.
The more efforts you put, the greater the reward. But reward is mostly your satisfaction for your work not piles of money as most people would expect.
Change the way you see money
For some people, money is all about buying things. Like a house or a car.
For some people, money is all about survival. They need to pay bills, so they have to earn money. It's just a way to make ends meet.
For some people, money is all about power. The power to achieve what you want. The power to be free from expectations, and pursue your own goals.
The way you see money, is the way you earn it. I see all my rewards on my posts as a result of my efforts, my quality.
In the last 3-4 months, I have posted a lot of stuff on hive. And I have barely made $100 here.
My personal growth, and the growth of my writing skills excite me more than the rewards of my posts. It means, I am working good enough for myself, but not for other people.
How you think about money, is how you earn it.
Everything in life comes down to how you choose to think.
If I am getting more rewards, it means I am producing better content. But if my content is going unnoticed, if I am not getting any rewards, I am putting mediocre content.
So, unless I am getting good rewards on my posts, I will believe that my content is not valuable enough, and I have to work on that.
Finding a way to be valuable to others
You will be paid for your efforts, for your content. So, its better to find a way to be helpful to others through your content.
In the short term, money can be made from anything, any type of content. But if you want to survive long term, you need to do something that has more intrinsic value in it. Something that helps others. Something that has demand in the market.
Most people have one area that they know more about than others. It could be anything. It could be about marketing, coding, writing, travelling, the country you live in, the places you could travel to, etc.
Once you start sharing content in the area of your expertise, you will create a community of your interest around you. You will start creating value around you.
There are endless opportunities out there. If you are actively trying to achieve something, you will get it, one way or the other.