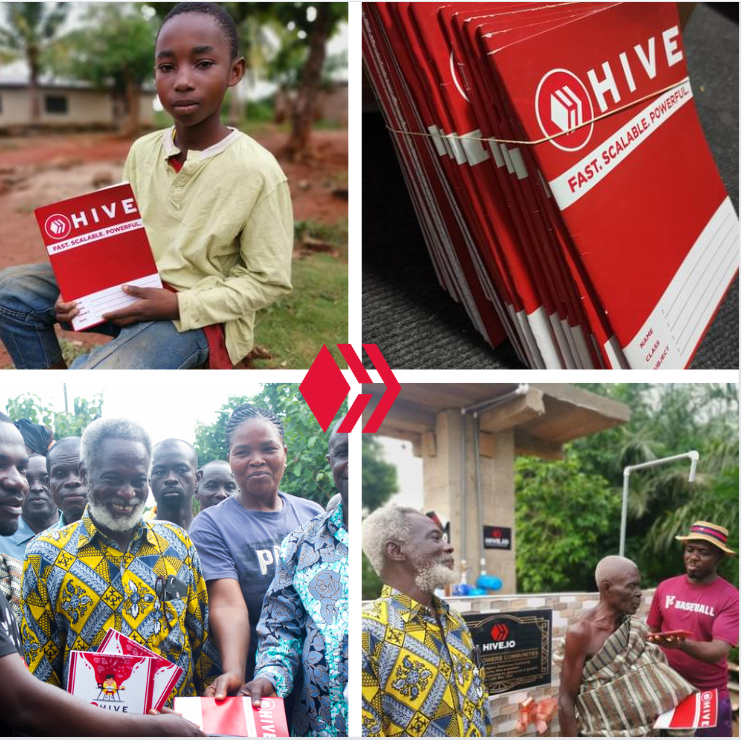 Introduction
For the longest time, I had hoped in my heart that the hive printed books and other materials would be handed to students who could not afford to purchase books. There are places in Ghana where families cannot afford to buy these writing tools for their children. I've always pictured this circumstance to happen in remote areas of the nation where electricity would be an issue. I had no idea that many of the places surrounding us had similar circumstances where pupils had difficulty finding writing resources for their school careers.
During the recently completed inauguration of hive borehole water project in Ghana, it was clearly shown how beneficial these writing materials would be to the development of educational activities. This is in response to a presentation made by @collinz to give off some hive branded stationery to the chief of Agona Bedomase and other town authorities. They were overjoyed to acquire these writing supplies.
The Agona Bedomase people has only known hive to supply potable drinking water to them. They had no idea that hive had created writing booklets to be distributed to the community in order to promote the academic activities of schoolchildren. During the inauguration, the chief said that he is overjoyed to see that hive has produced exercise books to be distributed to his people, in addition to the borehole supplied by hive.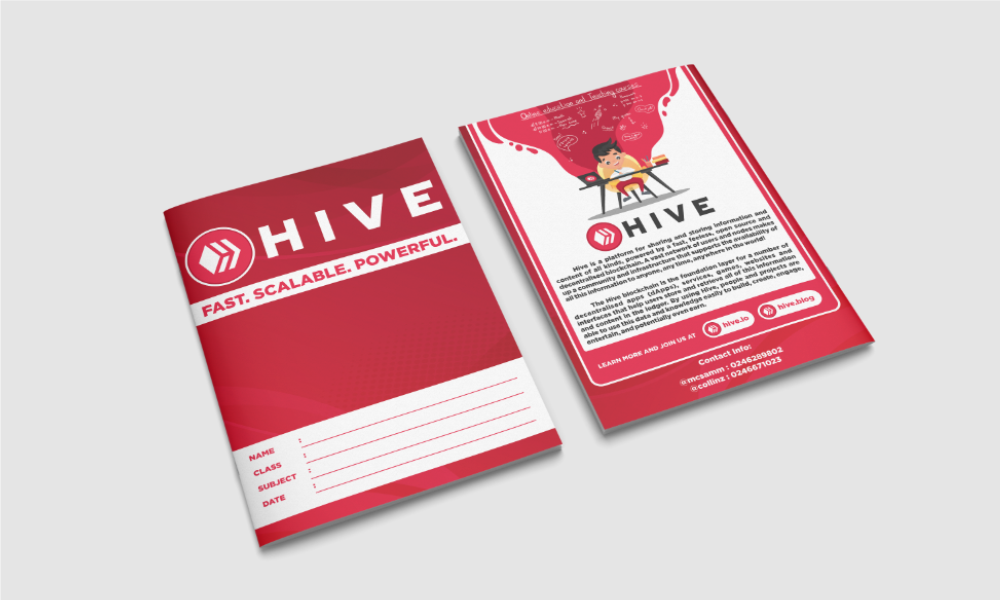 Significance of hive stationeries
Nana Obeng, the chief of Agona Bedomase, declared unequivocally that this is one of the town's primary issues. Because farming has been his township's major and only employment, it might be difficult for community members to buy all the writing and reading supplies for their kids in school. Hive is surely doing the correct decision by bringing these writing books to be distributed to schoolchildren in their area.
However, I was ecstatic to notice that the hive-branded stationery we created had a significant effect even before distribution. They are intended to be given in regions where we feel educational resources are lacking. Doing so in Agona bedomase has shown that there are other towns nearby where parents cannot afford even a single copy of a book for their child.
The objective of the hive branded books
Essentially, the hive branded stationeries are intended to assist parents and communities that are unable to acquire these resources for their school-aged children. The #offlinehive activities need that we transfer the hive to the real world in order to have some use cases. These are some of the activities that will help people understand the true effect of the hive ecosystem.
Schoolchildren who get these writing resources are supposed to boost their academic performance. Every agricultural community in Ghana, including Agona Bedomase, has a difficulty since poverty seems to be a part of it. We are delighted to make such a significant difference in people's lives.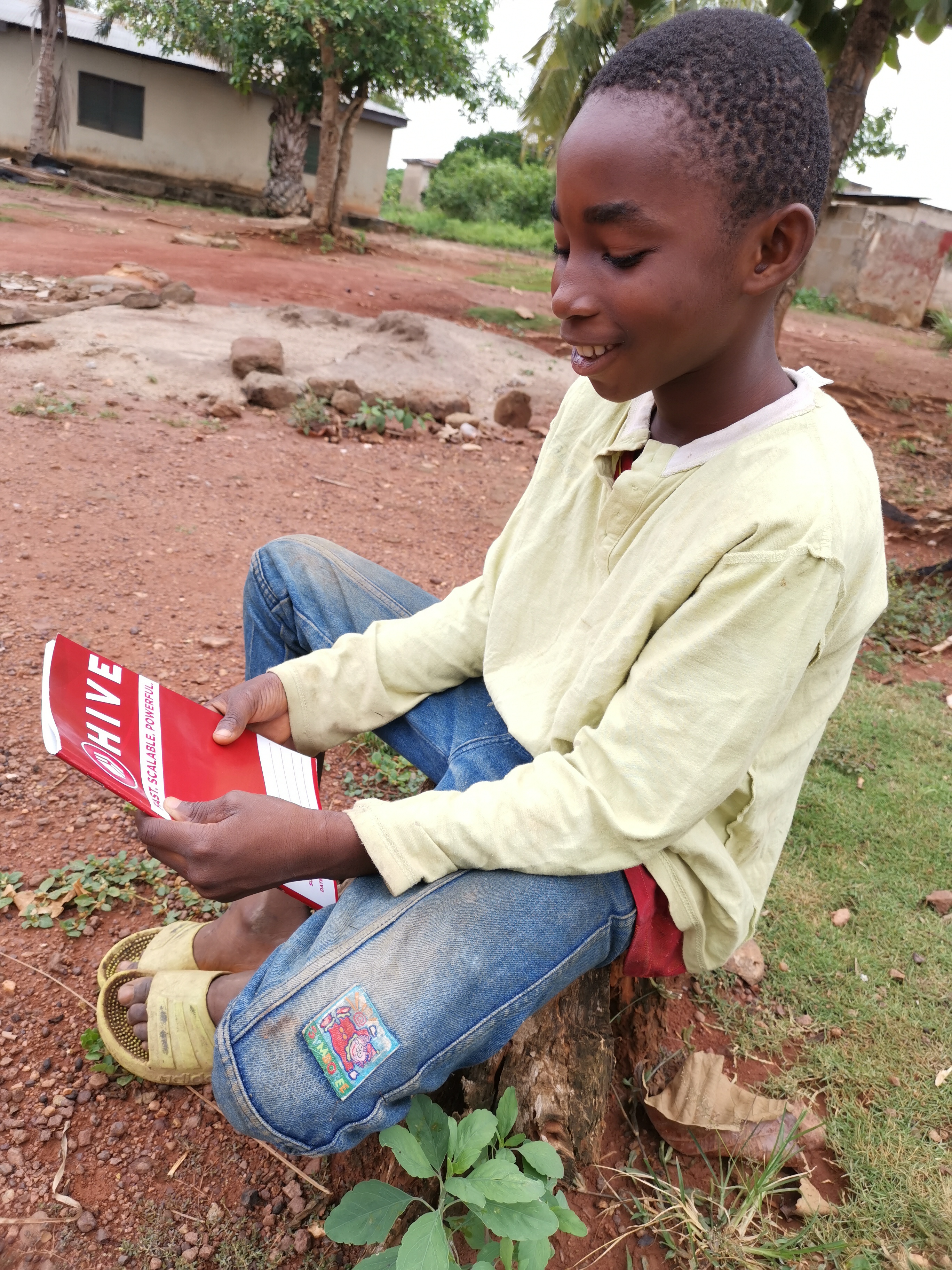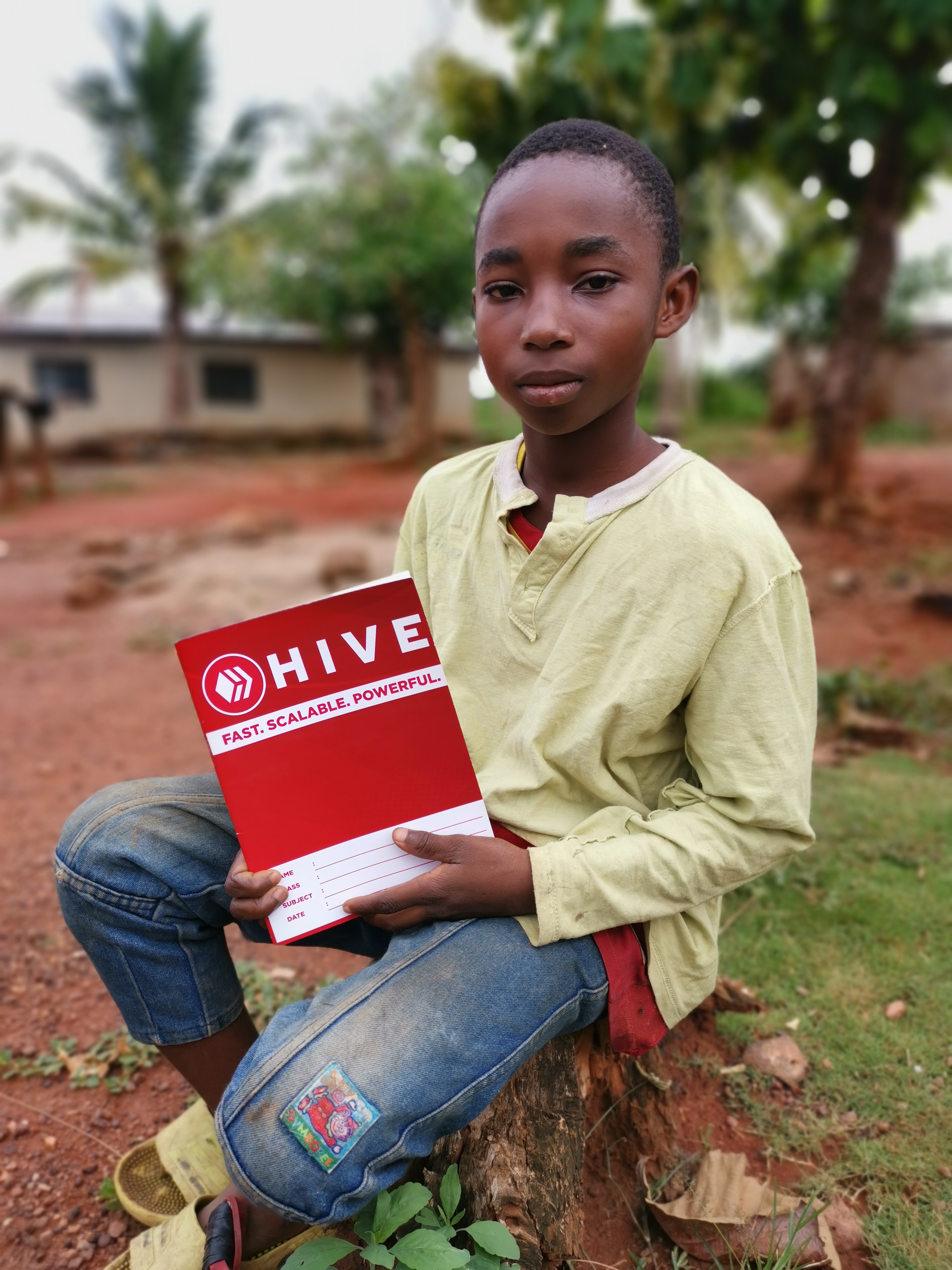 a student who received hive book with joy.

Promotional value
Despite the fact that the hive branded stationery is intended to assist students in their studies, it is also intended to make hive known to the rest of the globe. It is expected that whoever gets these hive components will learn more about the hive ecosystem from the books than we will. The hive-branded books are intended to reach a large number of individuals who will not be reached by our promotional message. Hive promotion is important, but it must also serve to alleviate people's fundamental necessities.
Let me add that we (@mcsamm @collinz @anaman @awuahbenjmain) guaranteed the chief of Agona Bedomase that we would provide adequate branded writing materials to the community when the borehole was inaugurated. It is critical that we provide enhanced supplies to communities like this while also promoting the hive ecosystem. The texts are intended to accommodate students' comprehension. It includes an inscription with the hive ecosystem's web URL as well as different logos and designs for advertising purposes.
The inclusion of these branded products has made hive marketing so appealing. I'm hoping that the many individuals who acquire these books will link with the hive blockchain by simply following the instructions on this stationery. At the back of the books, there is a brief explanation of what hive blockchain is all about. Contact information for @mcsamm and @collinz is also provided for anybody who want to contact us for further information, particularly on how to join up for and participate in the blockchain.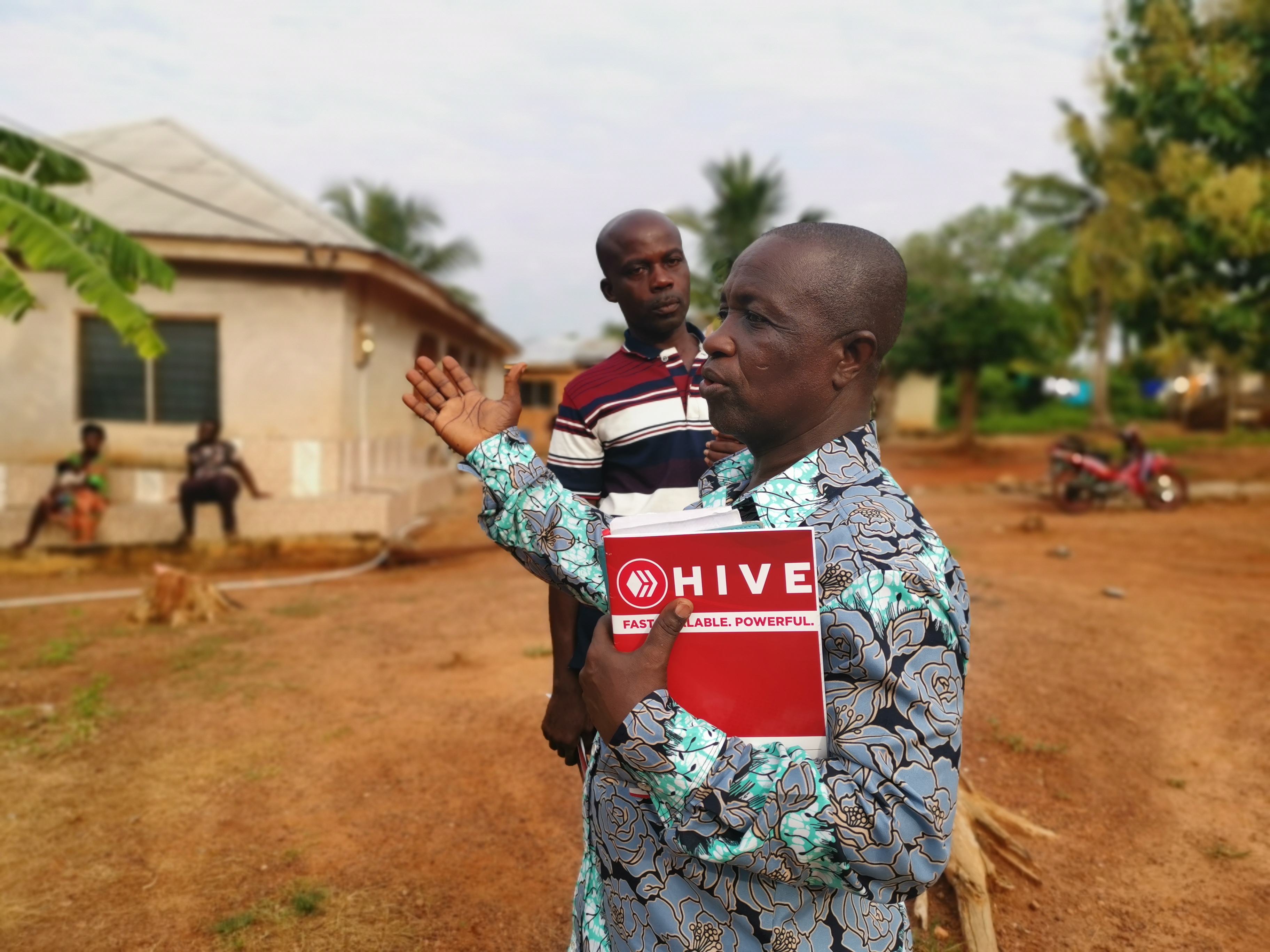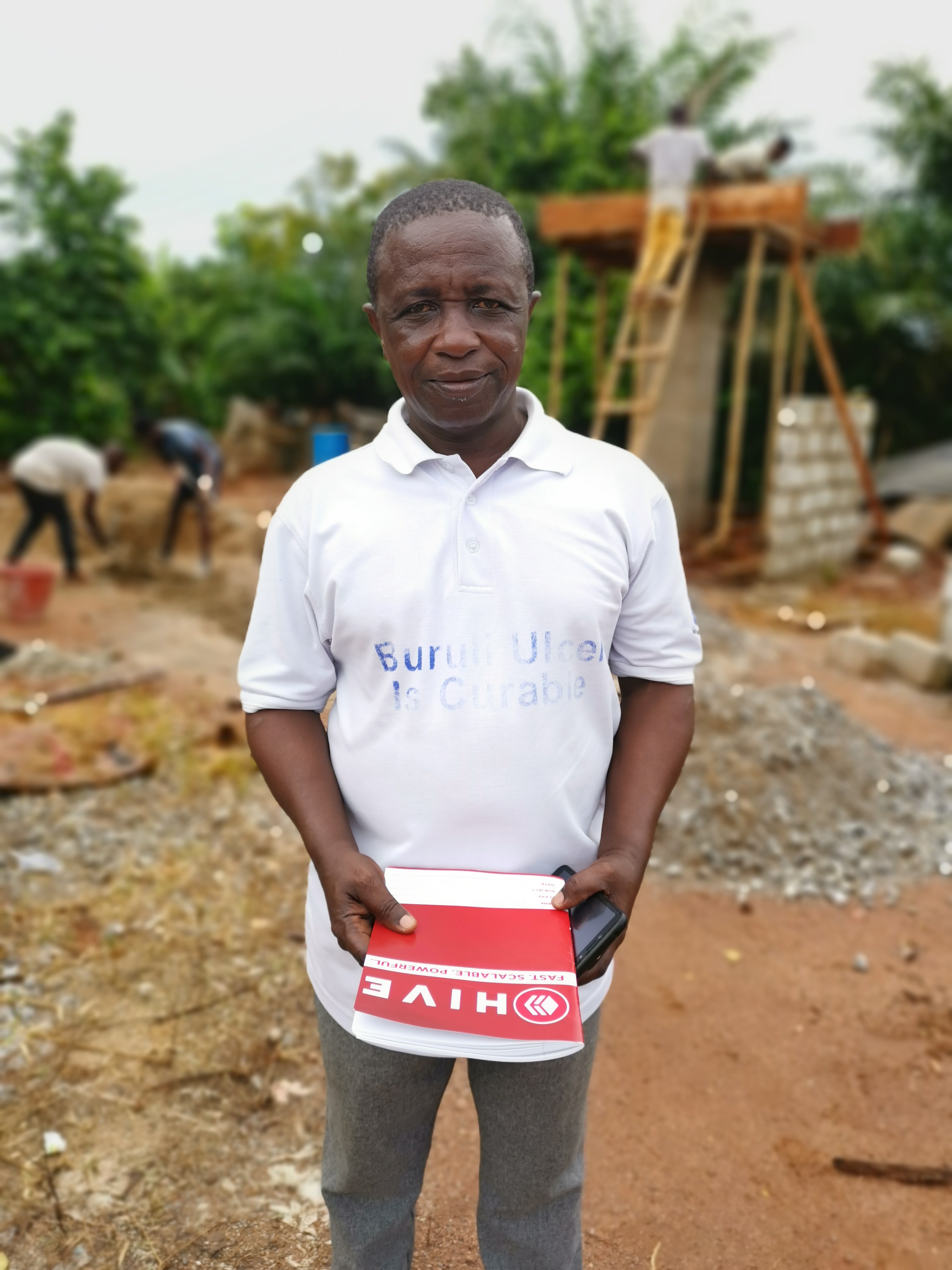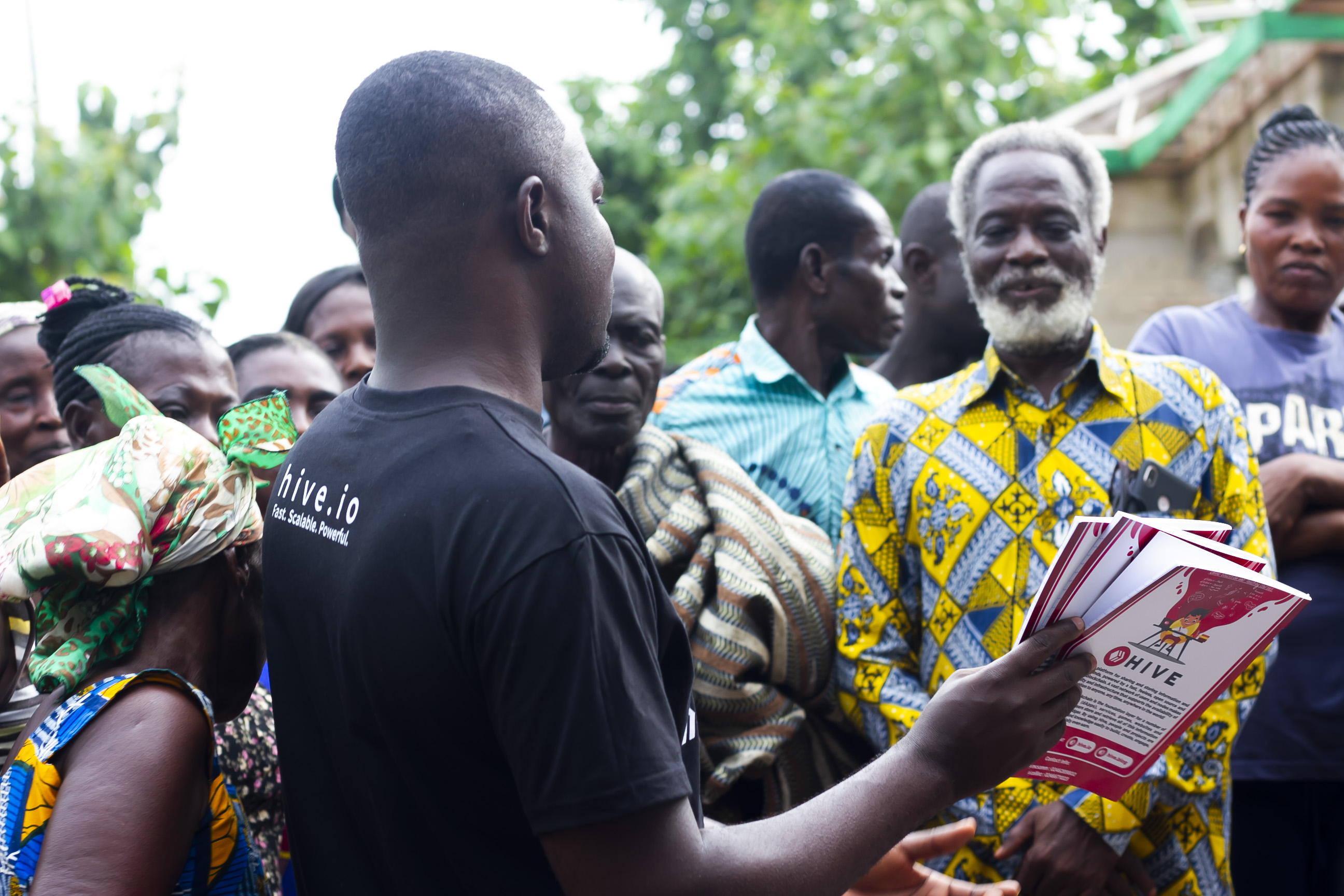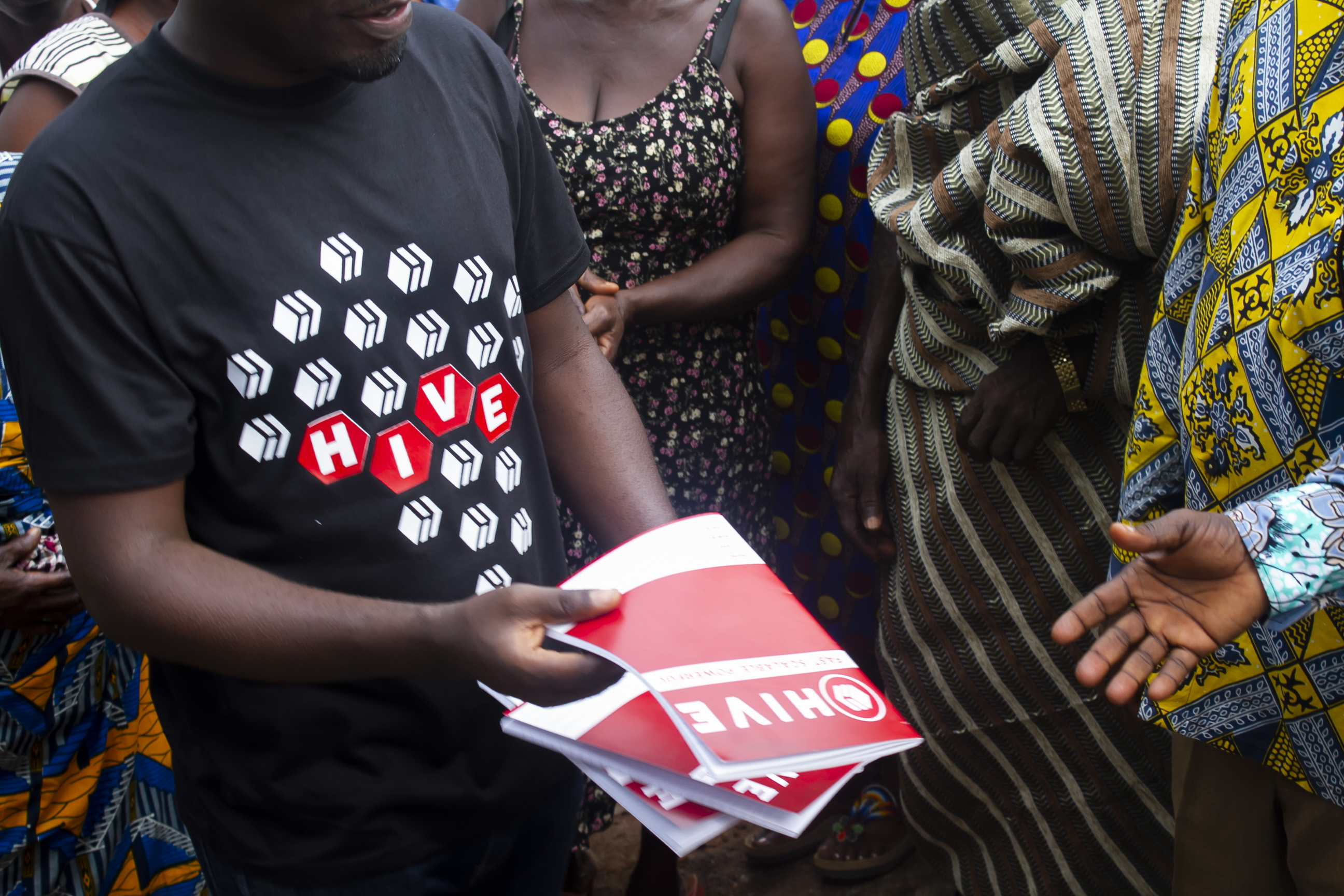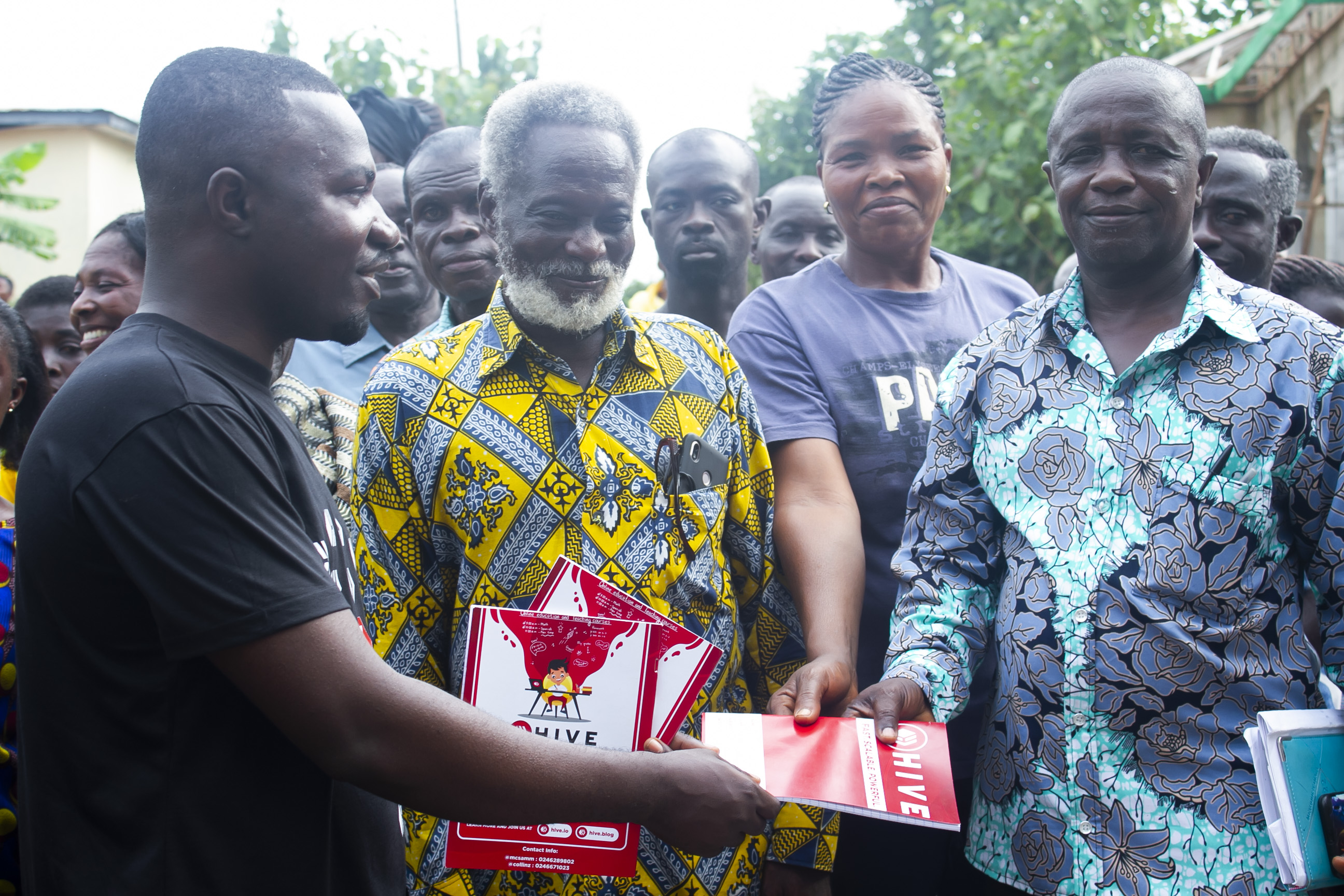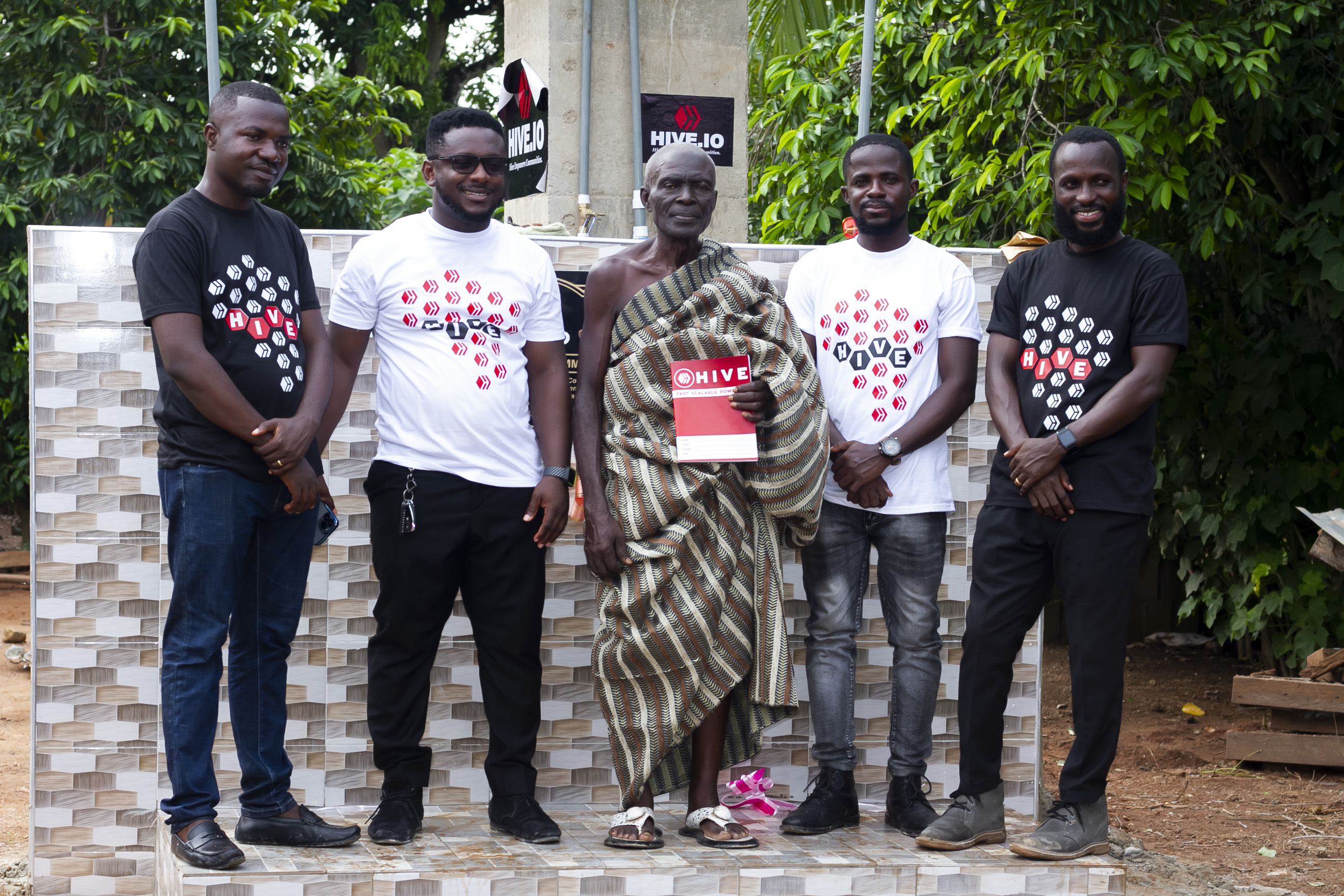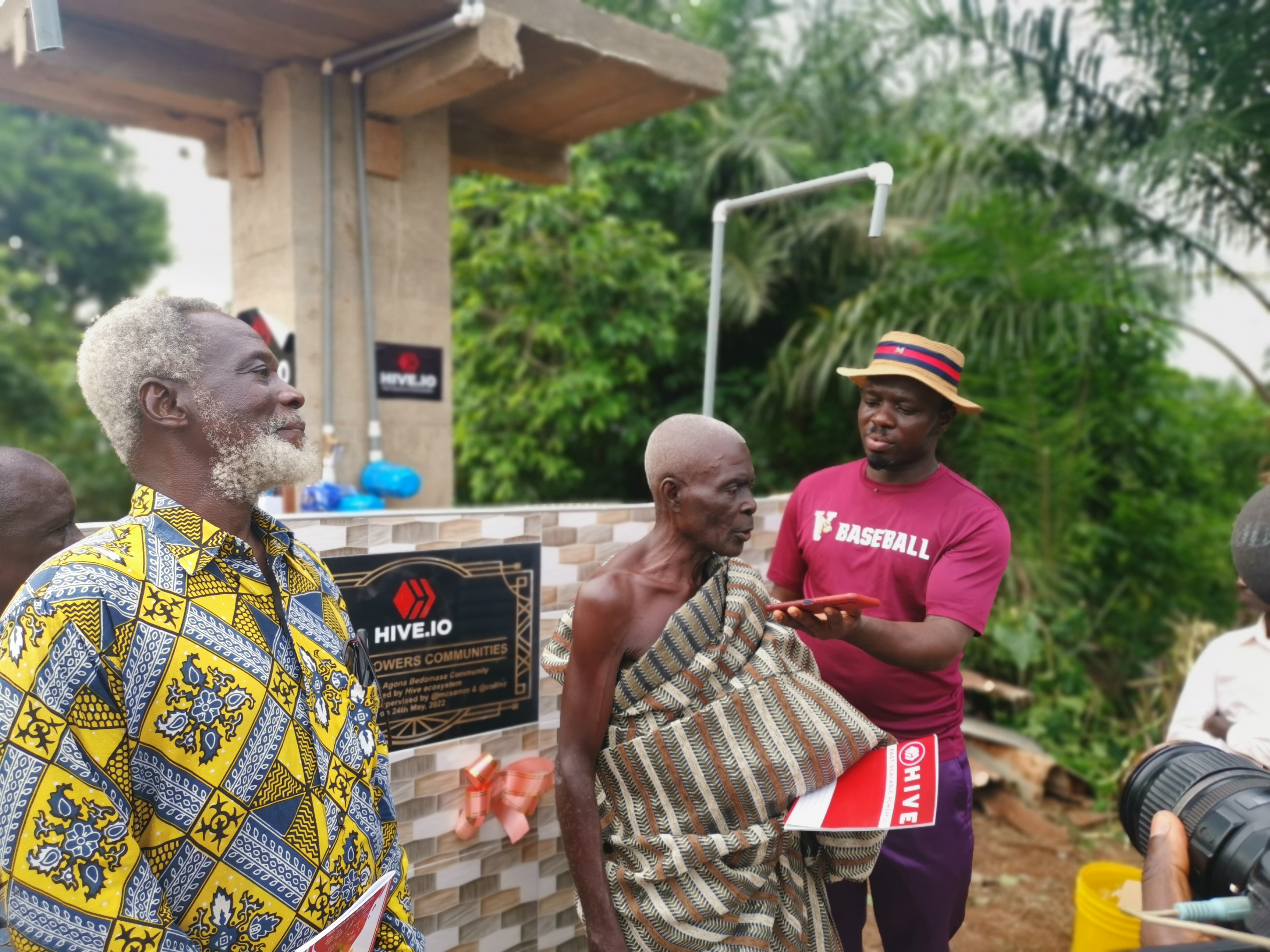 a media personality interviewing the chief about hive books.

What comes next?
As previously mentioned, we are dedicated to fostering the hive ecology by meeting fundamental community requirements. It's an incredible privilege to see individuals energized by the hive ecosystem. We aim to acquire enough support and funds to produce and distribute more of these hive-branded stationeries to Ghanaian kids. Only 40 copies of these books were produced for distribution prior to the opening of the hive bore at Agona Bedomase.
We plan to visit a variety of towns and places where these items are most needed. It is one of our top responsibilities to go to the orphanage and provide these supplies to some of the youngsters who are in school. However, there is a strong evidence that our aim and goal for producing these items are in the correct sequence. We'd like to thank everyone who has helped us promote our efforts to empower communities. If you didn't believe in the hive ecosystem before, this should be a decent starting point. Every day, hive has an influence on people's lives.