Some years ago, people weren't aware of cryptocurrency at all. Only a few people were trading and holding crypto coins. Nowadays, even my grandmother knows about cryptocurrency, mainly about Bitcoin. Of course, because of its excessive price and people are always attracted to valuable things. They wonder how to earn cryptocurrency without investment because they are still afraid of staking their hard-earned money in the blockchain.
I totally respect that, as investing in crypto is like investing your money on the stock market. There is no guarantee that you'll earn or lose. The market is constantly moving up and down fast, but it will benefit you if you are a long-time holder.
Let's stick to the point. I won't suggest a beginner invest in the crypto market without proper knowledge. At first, earn cryptocurrency without investment.
Yes, it's possible! But don't fall for some scam sites where you may lose your valuable time trying to earn some coin. Here I will share some legit ways to earn cryptocurrency without spending a single penny.
Some of my favorite ways to earn cryptocurrency without investment -
By posting content on sites like Hive Blog, Leofinance, Publish0x, etc.
By browsing on Brave browser.
By searching on search engines like Presearch.
By joining the learning course at Coinbase.
By promoting ICO
Earn Cryptocurrency by Blogging
Look at my profile here! I earned some decent money by posting my articles on the Hive Blog. And I am not even a good writer. You can make it from day one if you have the talent and know some basic tricks.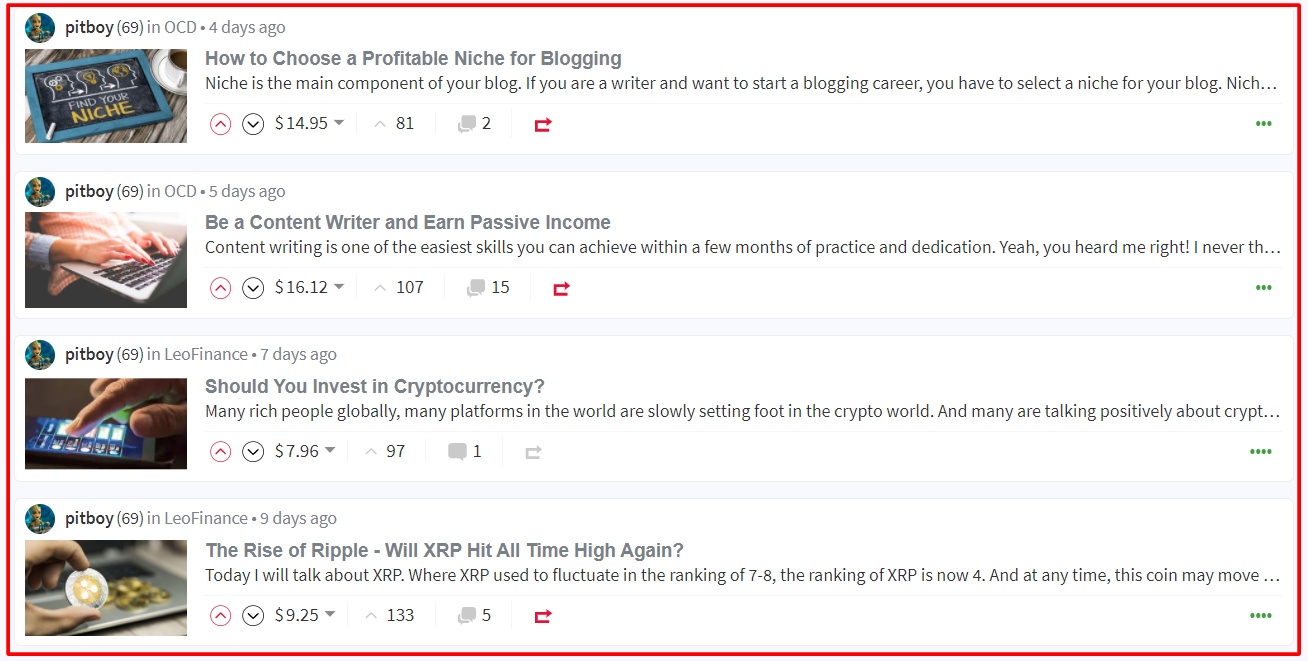 By posting in this blog, you will earn Hive Token and Hive Dollar, which are cryptocurrencies. According to Coinmarketcap, the Hive coin's current rank is 264, which is good because thousands of cryptocurrencies are in the market. And Hive and HBD (Hive Dollar) are already listed on exchanges like Bittrex, Upbit, etc. That means you can withdraw your earnings anytime you want.
You can also earn a curation reward by voting on other users' posts. There is a way to earn by delegating voting power as well.
I have already written a detailed guide on this topic which may help you out - What are the different ways to earn Hive?
If you are a beginner, my suggestion is to earn some crypto by posting content at first. Then, you may focus on other earning ways.
There are some other decentralized blogs or social media sites where you can earn coins, just like the Hive Blog. For example - LeoFinance, Publish0x, etc.
Earn Cryptocurrency by Learning
Learning is more fun when there is earning! And the most promising crypto exchange Coinbase will give you that opportunity.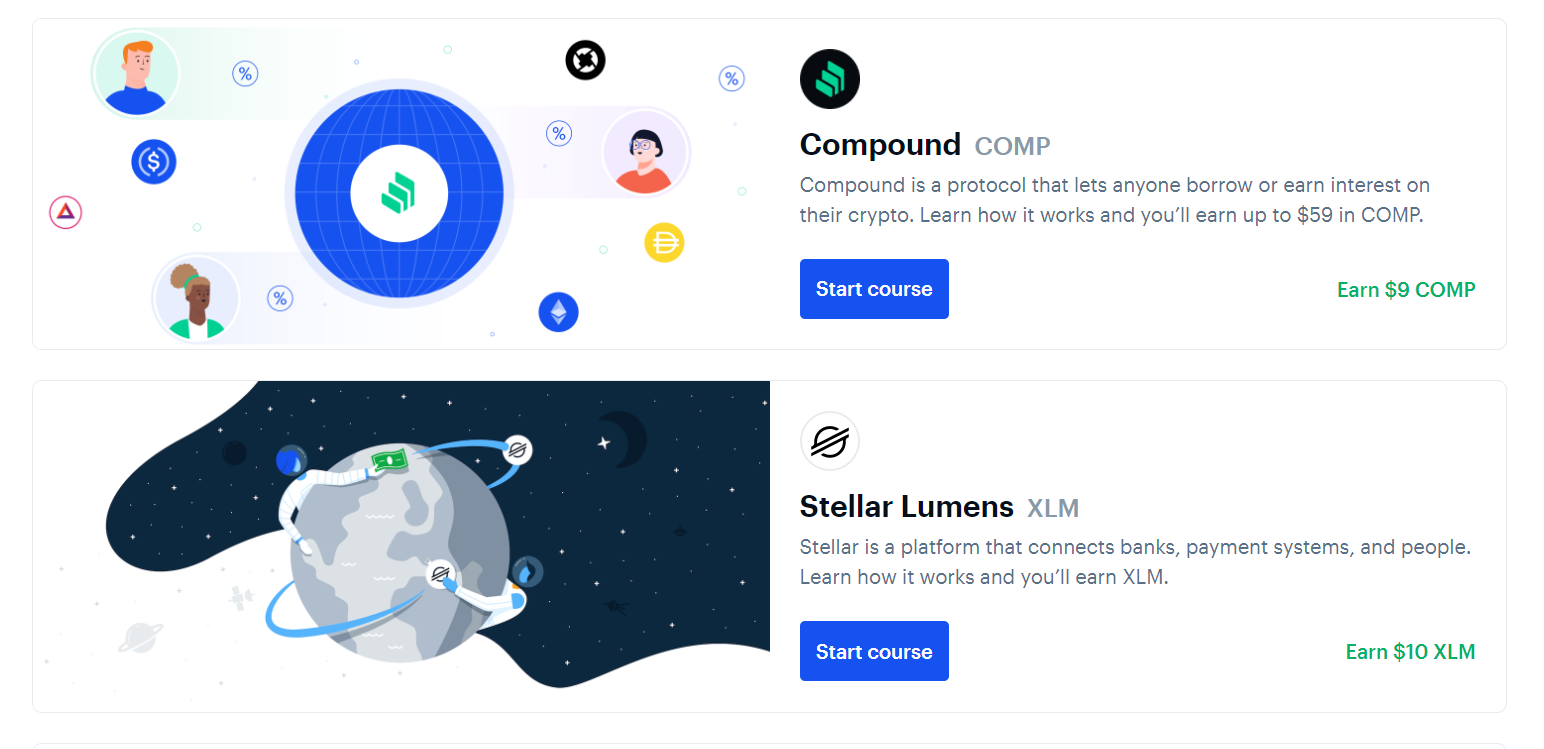 Coinbase will help you to learn about any specific cryptocurrency and earn that crypto at the same moment. All the work you have to do is watch some videos and then answer some simple questions based on those videos. In this way, you are earning and learning at the same time. You will get some good insights if you are a newbie and some coins as well to start your journey in the world of blockchain and cryptocurrency.
Earning while learning on Coinbase - Click Here
At this moment, you may earn coins like Stellar(XLM), Filecoin (FIL), Compound (COMP), etc. New coins are being listed every day. Earning options are increasing in the same way. Supplies for these coins are limited, so be hurry to grab this opportunity.
Earn Cryptocurrency while Browsing
If you're looking for how to earn cryptocurrency without investment, this will be the best way. You don't have to put any extra effort here like other methods which I mentioned before. You will just browse the internet as you do on the web browsers like Mozilla Firefox or Google Chrome.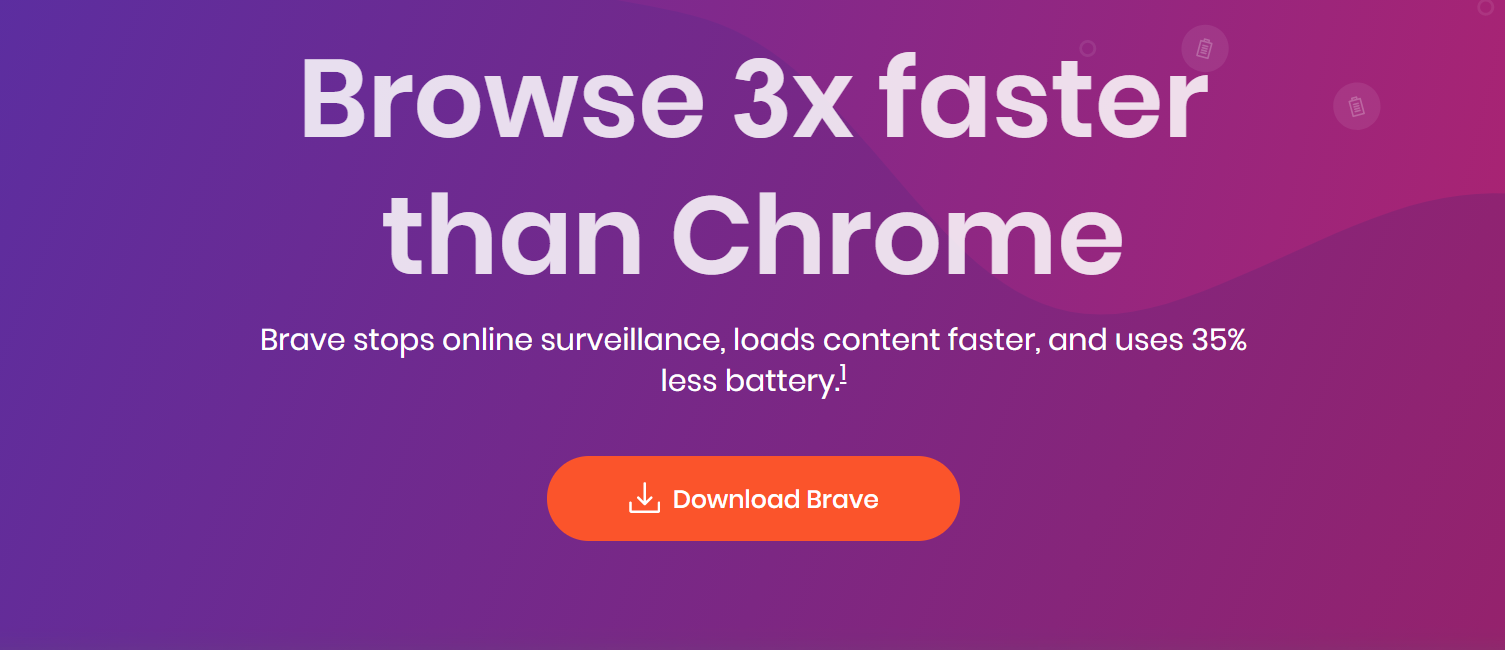 And that's it! You will be eligible to earn some Basic Attention Token(BAT). Sound fun, right?
Nobody is going to give you a single penny for browsing. Some scam-like sites tell they are giving money for browsing. But don't fall into a trap! It will cost you almost a month to earn a buck!

On the other hand, from Brave, I earned almost $300 over a year. I wasn't even a regular Brave Browser user. Usually, brave pays out to the Uphold wallet. From there, I transferred some balances to my Poloniex account for holding for a long time. And at last, it's giving some fruits to my account.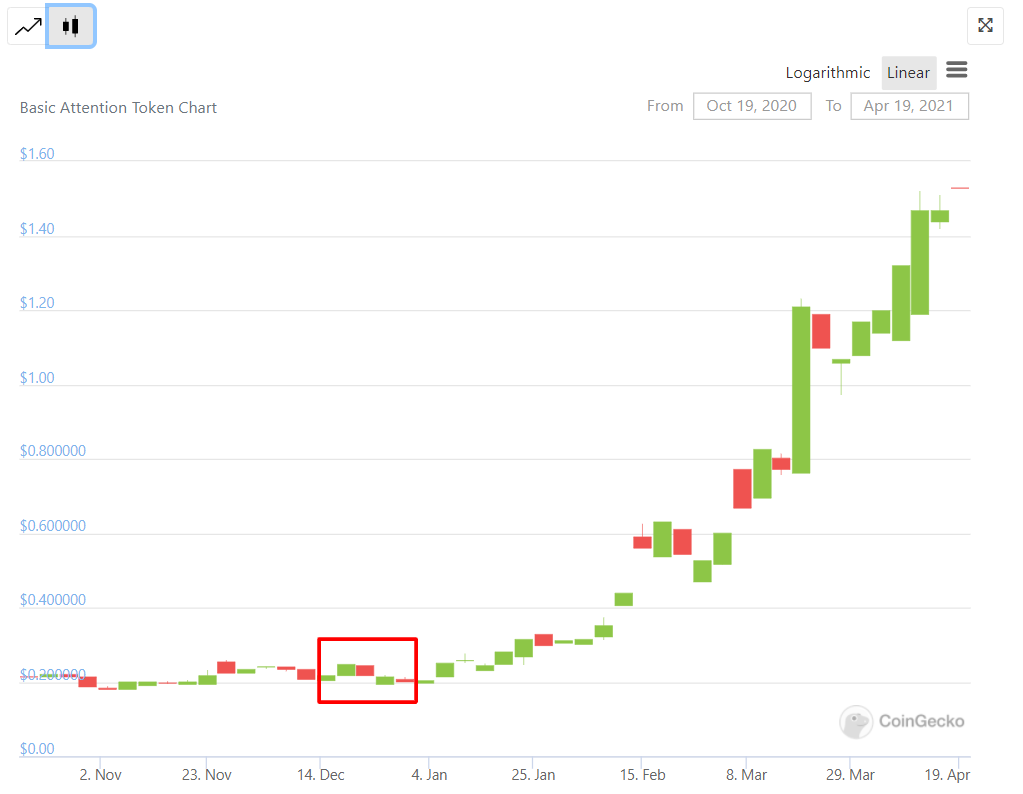 I transferred this balance when the price of BAT was $0.20. Now, look at the price! It's around $1.49! So you see, I earned some extra by holding these coins.
Earn Cryptocurrency by Searching
Presearch is a search engine like Google, Bing, or Yahoo. But the difference is Presearch will give you some crypto named PRE for searching.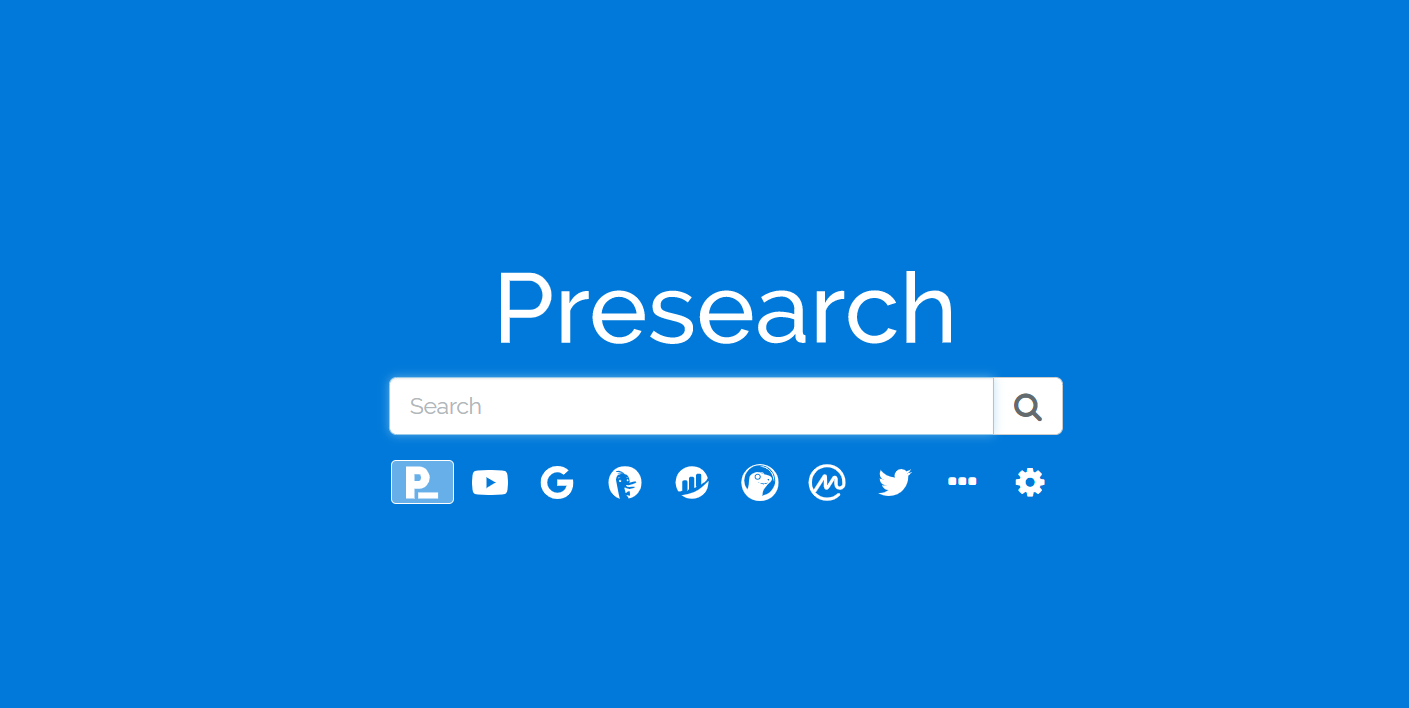 At this moment, you will get 0.12 PRE coins for every search. And PRE coin's current market price is around $0.09. So you see, you will get some good money just by searching, precisely what you do on Google search.
Join at Presearch now - Click Here
I suggest you use it as your regular search engine. Don't just use it as a money-making machine because it's not going to make you rich. But yeah, at the end of the day, you will get some coins.
Remember, You will just earn for the first 30 searches per day! You can search after you crossed your limit, but they won't pay you for those searches.

Presearch is already listed on some major exchanges. So you can trust this blockchain-based search engine blindly.
Earn by promoting ICO
Lots of cryptocurrencies are joining the world of blockchain every day. They are gaining funds by initial coin offering (ICO), equivalent to IPO in the stock market.
Some companies offer some coins at the beginning for promoting their ICO. And some companies even share some coins for free just for opening an account. I can remember that day when I earn a lot of Sellar coin(XLM) just by opening an account and a referral program! Ah, those golden days!
But analyze the company's background and other aspects fast before joining any program. There are a lot of scam coins also. You won't lose money as you're not investing, but you may lose your precious time.
---
There are lots of other ways to earn cryptocurrency without investment. I just mentioned a few, which I personally follow. I don't want to misguide anyone by sharing the thing which I didn't try.
Let me know if you know about other more ways to earn crypto without spending a single penny.