Hi guys, Sid here. I hope and wish you are doing great. We have left behind July and entered August. Seven months have gone. And only five more left. So let's make each day count. 👏

With this thought, let us explore this week's newsletter with 13 bite-sized updates. As always, we have several victories to share.
Note:
If you didn't know yet, you can sign up by
clicking here
. Just enter your email address to receive future newsletters in your inbox. You will receive it every Sunday. With love. ❤️
---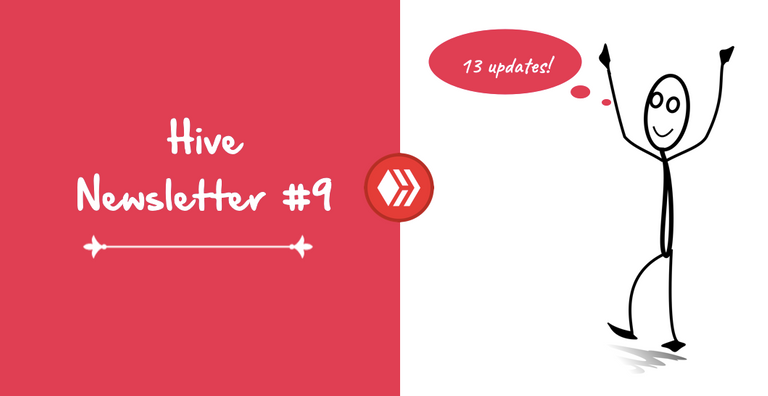 ---
#1: HardFork24 Update: Testing and development of the next hardfork continues. As per the update, we are one week behind the planned schedule. Though the momentum continues. 
---
#2: Good news: Hive gets listed on Binance's margin trading platform with a 5X leverage. Meaning you can trade upto 5 times the initial amount. Go to this link and select Isolated 5X. [Details 1, 2] 💰

Note: Trade safely.
---
#3: For Hive developers: There is a curated list of Hive frameworks, libraries, applications uploaded on Github. This is the link. [Details] 👌
---
#4: Based on Blocktivity's activity data, Hive was ranked #9. If you didn't know, Blocktivity believes a blockchain project should be measured through its activity. Therefore nine is a good tiny victory. [Chart]
---
#5: Hivesearcher.com is an open source search engine for Hive. Even though in development, the engine indexes Hive content and ranks them based on popularity, relevancy, and freshness. Give it a try. 
---
#6: Earlier we saw Hive cotton bags. Now? Check out this Hive bicycle (1, 2). This bicycle never received the attention it deserved though. Perhaps because it is priced at $500. 💸
---
#7: Not too long ago, we discussed about claiming your Hive rewards automatically for a tiny fee. This fee is no longer valid. Everyone can now enjoy the AutoClaim service for free. [Details] ✔️
---
#8: Dapp.Review updated its website recently. They also updated their Hive page — which has now listed 46 dapps. Check it out here.
---
#9: In an effort to promote Hive, Twitter user Nathan has made a video for new users. On YouTube, we also have another 11 min review of Hive. Good to see the community's involvement.
---
#10: After Leo, ClickTrackProfit now completes one year this week. If you didn't know, ClickTrackProfit is a blogging platform built on the Hive blockchain — covering mostly topics around marketing.  🎉
---
#11: Would you like to export your entire transaction history? Here's Hivebit.io — a free service to extract your Hive data. Enter your Hive username and email address. Once done, you will receive the data in your email. Then you can upload it to other websites like Koinly. [Details]
---
#12: Recently, I saw someone accepting donations. The service called CoinTree allows you to add multiple cryptocurrencies (including Hive). Then you can send the CoinTree link to request donation. Looks pretty cool.
---
#13: Tweets of the week: See if you can find people from your country under this tweet. Next tweet: Hive is a mindset, says Jaynielea. Lastly, for fun, why not watch Nathan shouting Hive? 🙌
---
Tip of this week:

Can't make a decision? Then flip a coin — or say yes or no — or roll a dice with this simple website. Also check out Hipstersound that plays familiar sounds of cafes and bistros. 
And we are done!

That's it for this week! Hope you are enjoying your Sunday.

See you in the next! 🎉

Cheers,
Sid