Dear Hivers,
Discussing internal and external links in our earlier SEO guide, we also brushed through backlinks. In this article, we will explore backlinks in detail.
You will see why backlinks matter — and then various ways to create powerful backlinks. It will only take a couple of minutes. So if you are interested in SEO and influencing Hive in your own way? You will enjoy this article.
But before we get started, let us recap what backlinks really are and then discuss further.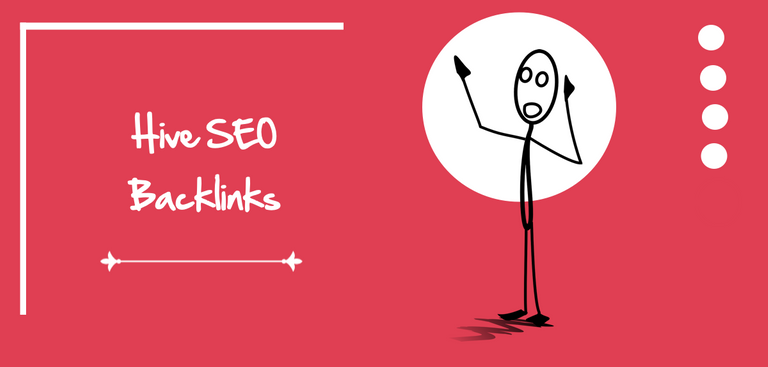 Links from the "outside" world pointing to your website are considered backlinks. They link back to you. Hence the term backlinks. In this case, they link to Hive. As you can see from the example below, CoinTelegraph and Facebook are linking back to Hive.

Search engine spider (a bot) loves backlinks. It sees a backlink and gives the website a score. This is how search engine thinks. And really, it tries to think like a human.
Therefore it is important to discuss backlinks in detail.
---

---
Check out this tweet from Ellen — it was one of the most retweeted tweet in 2017. Many experts believe the tweet was popular because of one reason:
The photo doesn't have one but many celebrities.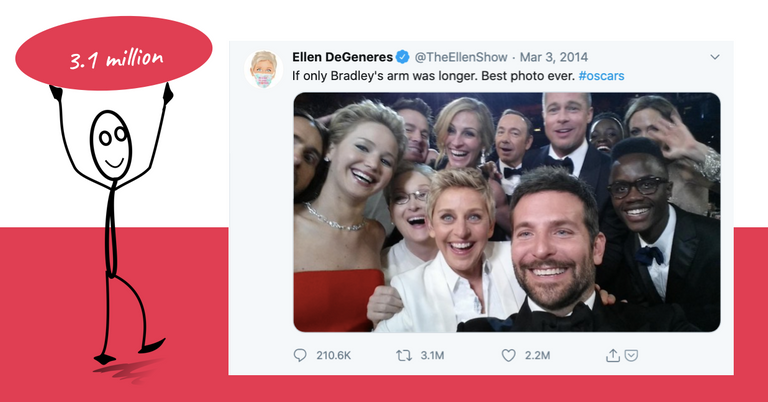 Similarly, backlinks are powerful when there isn't just one but many backlinks. Thousand is more powerful than one. It captures the attention of search engine. That is why a viral article also ranks higher — as it is shared on social media and linked by hundreds of other websites.
The conclusion is: more backlinks are always good.
When it comes Hive? The first step is to check the number of backlinks we have. Let's take Hive.blog. I am using this tool to analyse our backlinks.
As you can see from the image below, Hive has a total of 657,000+ backlinks. That's 0.65 million. As per the tool, we also have around 33,000 organic visitors every month. That's pretty good, right? Especially for a four month new blockchain platform.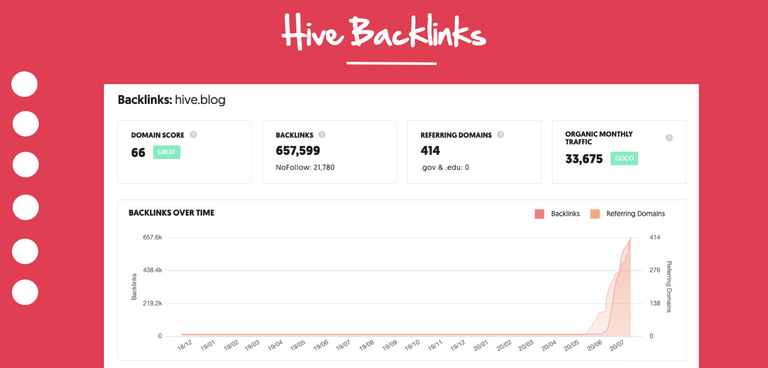 Let's take another example. Steemit has been around for 4 years now and it has a whopping 60+ million backlinks. Almost 100 times more than Hive.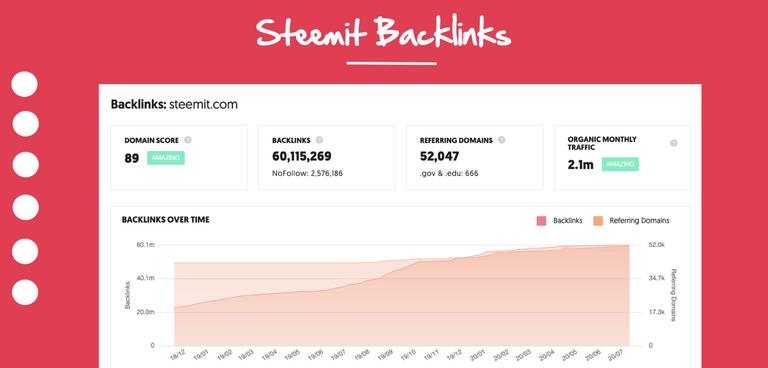 What about Reddit? Not in millions. It has 2.5 billion backlinks. And Facebook beats everyone with 25 billion backlinks.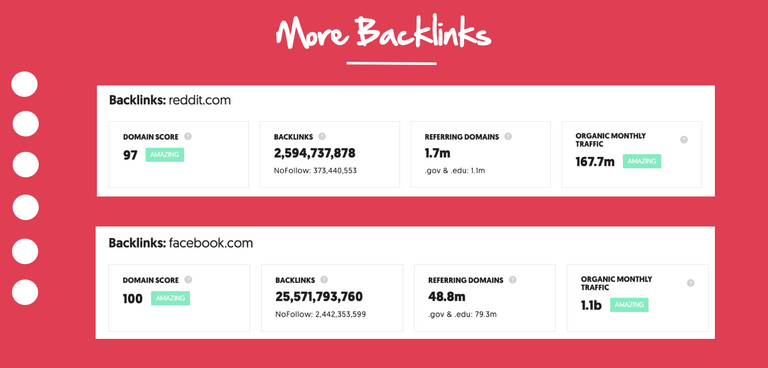 Coming back to Hive, we have 0.65 million backlinks. Not a lot compared to others, right? We definitely have a long road ahead of us.
But the good news is:
Backlinks grow with time. We can also grow them naturally and manually.
Note: If you have observed, there is an untold relationship between backlinks and traffic. More backlinks lead to more traffic. And more traffic also leads to more backlinks. They both work together.
---

---
The biggest question is: What can we do to increase the number of backlinks on Hive? We have two ways:
---
Method 1: Building backlinks organically
---
In this scenario, most of the links are created organically (naturally). Non-Hive platforms link to us. How to make this happen? We have two ways:
Writing kickass content on Hive. When kickass content is created on the Hive.blog platform, people will naturally link to it from the external platforms. Also, by kickass content, it doesn't mean just text. One can also create infographics, sketches, photos, and so on.

Build dapps / games. This is limited to developers but anytime a dapp is built on Hive blockchain? It receives media attention. For example: Every time people refer to Splinterlands, they may also talk about the Hive blockchain.
Example: Dapp, Dappradar, StateoftheDapps are websites regularly linking to Hive because of the Hive dapps.
These are the two ways Hive organically generates backlinks. Of course, we have little control over it. Just knowing this helps though.
---
Method 2: Building backlinks manually
---
This is something we can control.
In fact, because we are a community, we have tremendous power. Manually building backlinks can do wonders. For example: If I told you to share your Hive.blog URL on Twitter, then you are generating one backlink.
Because we are in hundreds and thousands, we can manually generate hundreds and thousands of backlinks. Some of the ways are:
Share your Hive post on social media. Be it Facebook, Twitter, or any social media platform. Moment you publish your article, you can share it on these platforms.

Write a guest post: Here's an example on Hackernoon. The article was published by 3Speak's founder Dan and it links to Hive.io blockchain. Writing a guest post and linking back to Hive is a great way to increase the domain authority score as well. Some free platforms to write on: Medium and Publish0x.

Add Hive profile URL. You can add your Hive profile URL on any platform including Twitter, Steemit, and Medium.
Example: Here's my Twitter account:

You see where we are going with this? From YouTube to forums — you are free to use any active or inactive accounts you own. As long as you are comfortable, add the Hive URL (your post or your profile link).
The bottomline is: Whenever an opportunity presents itself? Add the link. Every backlink counts.
---

---
Good backlinks are the key ingredients for long-term growth. With enough time, these backlinks continue to add up — they grow like new plants. Especially on a platform like Hive where we have hundreds and thousands of users.
Some are already sharing and talking about Hive on Twitter. Others on Facebook. And a tiny percentage of them are sharing Hive links on Reddit.
Overtime, these backlinks accumulate and empower the platform. Luckily, as a community, we can also take tiny steps to generate backlinks.
In fact, we already saw the two methods to add backlinks: one organically and the other manually. Let's explore today's exercise with the focus on manual backlinks:
This week's exercise:
---
Exercise 1: Add Your Hive profile
Find a platform where you can add links
Add your Hive profile as the URL
Example: Add Hive URL in the bio of your Twitter, Medium, and Steemit account.

Exercise 2: Share your published post
After you hit the publish button, share your Hive post on any social media website.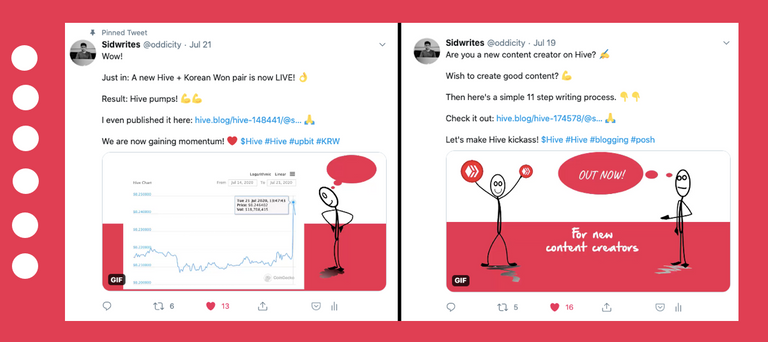 Bonus tip: If you are using Reddit, you can share on Hivenetwork (run by @acidyo) or any other relevant subreddit (see the list here).
That's it for now. 🔥
Most people scale and monitor backlinks but we don't have to. All we have to do is share as much as possible. It not only helps Hive but also impacts your own profile — and you get to build your audience too.
That is why I created the exercises above. Perhaps give it a try if you haven't done it already. Like each drop filling the ocean, each link counts. This way, we can truly lock Hive's growth through our effort.
After all, we are a community. Let's empower each other!
With this thought, I hope and wish this article was useful. Do let me know your thoughts in the comment section. I would love to hear from you. See you in the next guide!
Cheers,
Sid
---
Liked this article? Feel free to comment and upvote and reblog.