Dear Hivers,
On my birthday, I used to receive magic books. No one paid attention to them until I started performing the tricks. And then everyone enjoyed it.
Tags are like that.
Most of us never pay attention to them. But when performed? They are incredibly powerful. That is why I am writing this article. We will discover every important details around these tags. I hope you will enjoy them.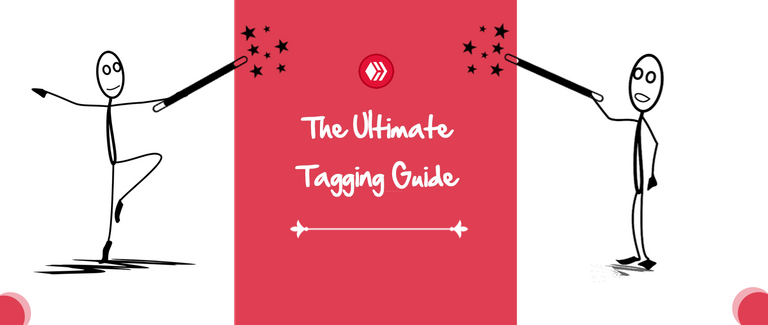 Note: You don't have to study tags religiously. All you have to do is scan through this guide — remember tags that are important to you — and then start applying. I will also show you an easy way to discover relevant tags.
But before we go there, it is important to take a step back and explore the basics. We will be dividing this article into three simple parts:
Part 1: How tags benefit us
Part 2: Discovering new tags
Part 3: Organizing and adding tags
Let's start with the first part:
---

---
#1: Think in terms of a content creator.
When you use the right tag, your content can be easily discovered. Say you are writing about pizza. It is a recipe.
Moment you mention the #recipe tag, your content can be found by readers and curators. Therefore it benefits content creators.
---
#2: Think in terms of a bot.
If you remember, I discussed about the Google bot — which is a spider crawling the Internet. As it crawls Hive, it also finds tags. And then it starts ranking these tags on the search engine.
In short: Spiders love tags. And tags are good for SEO.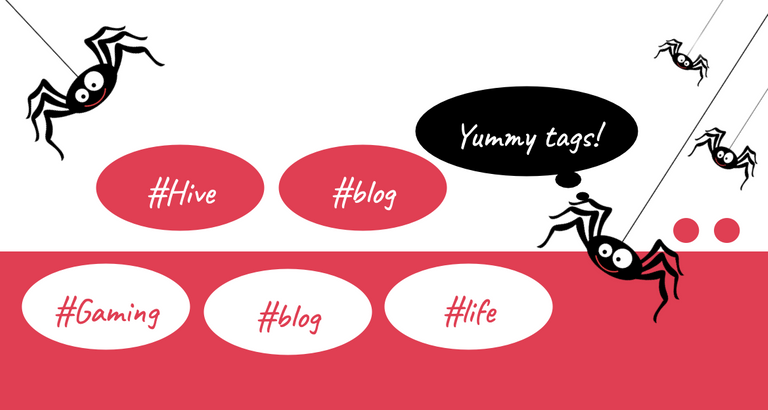 ---
#3: And finally, think in terms of a reader.
If you are a reader, you can simply browse through any tag to find relevant content. For example: The most popular tag is #introduceyourself — I go through it once in a while to find new users. Without such a tag, I would be lost.
So in a nutshell:
Tags organise content. They offer multiple benefits. For content creators. For bots. And for readers. They make the content searchable and indexable.
Perhaps most of you already know this foundational knowledge. Now we take this knowledge and start searching for tags.
---

---
How do you find tags? Good question. There are several ways. I am sharing five:
#1: Look at the Hive homepage
One of the easiest way to discover new tags is through homepage. Here you will find trending articles. Click on any article — scroll to the bottom to discover tags.
This is the most basic way.
---
#2: Check the profile page
Use @Peakd to visit anyone's profile. On the right side you will discover all the tags they use: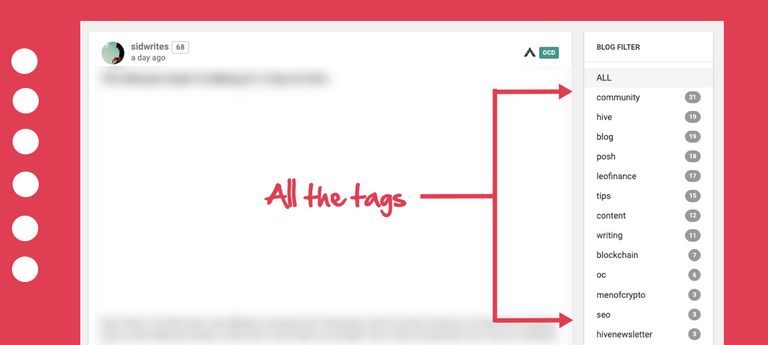 ---
#3: Use apps like Esteem
Both tags and categories are displayed on the @Esteemapp's homepage. You can find it on the left side: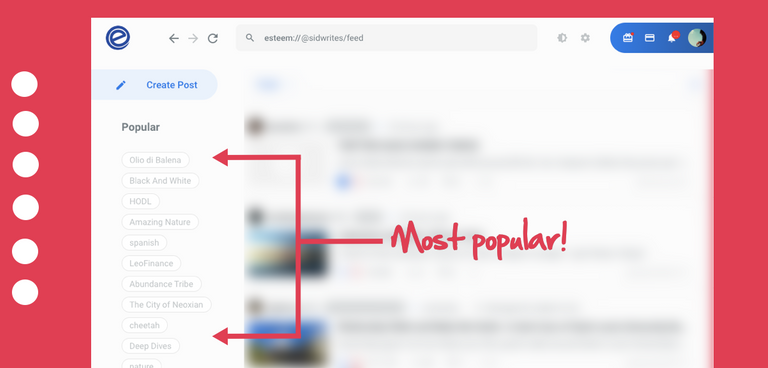 ---
#4: Find the entire tag cloud
One of the new tool I discovered was Hyperion. It is another minimalistic front-end featuring tag clouds. It shows almost every tag (too big to share here).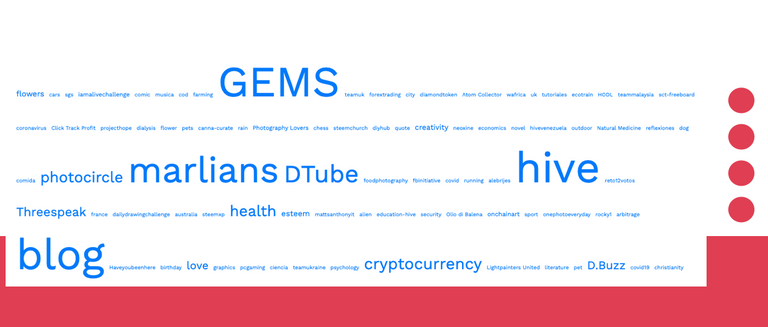 ---
#5: Look for articles talking about tags
You can also look for new posts that talks about tags. I found one article showcasing the top 30 tags: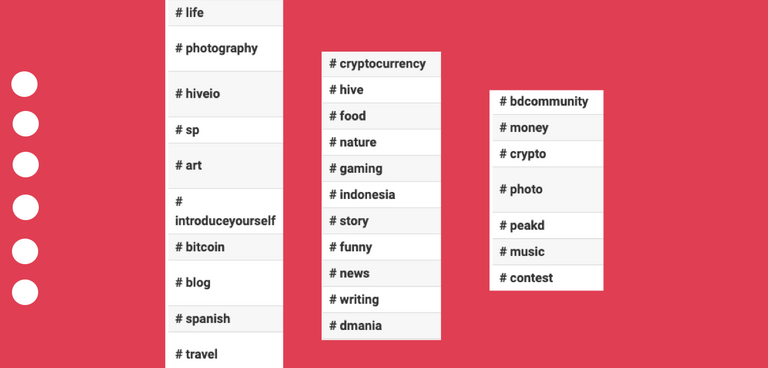 You may want to glance through these tags and save them.
The idea of all these — these 5 tips and ways — is to help you find the tags that are relevant to you. Feel free to pick any of these methods, play with it, and discover tags. Once you do that, it is time to add tags.
---

---
Organizing and adding tags should be simple. But I want to explain this in detail. You see, most people will add most popular tags. After all, popular is good, right?
Don't do it.
As mentioned in one of my article, a newbie I onboarded abused the tags — perhaps accidentally — by using #introduceyourself in every post.
The end result?
He earned a big fat downvote!
So it is not just about using the most popular tags. In fact, it is all about using the right tags. And let me explain what right tags actually mean:
The first tag is the most important. It is considered as a category. Let me explain this with one of my SEO article. Here is an example with the first tag as SEO. This is considered the category now.

What about the rest of the tags? Some of them are relevant tags. For that particular article, these 3 were relevant:

And the rest are popular tags.
One can also use community tags. If you are part of the communities, then you will know how they work. Some community tags are #OCD #Palnet #bdcommunity #Neoxian #GEMS #Mancave.
The list goes on and on. Again, you can discover more tags by following the 5 ways we discussed earlier.
In short: a tag contains:
First tag (extremely important)
Relevant tags
Popular tags
Community tags
Should you use all of them? It depends. This is where your own thought process is important. You can add more or less tags. You can mix tags. Or even create new ones.
The choice is always yours. Just remember that Hive.blog allows you to add upto 8 tags. Therefore pick your tags carefully.
---

---
Tags are important. They give shape and form to your content. Initially, tags require your attention. Then it becomes a mental process. Only takes a couple of your seconds.
For content creators, remember that tags will help you gain visibility. You can also use them in your own blogs.
In fact, as we discussed, there are several benefits of using tags. It creates a cluster that is easily indexable by the bots. Plus, people can browse though tags to find relevant content.
Then we also saw 5 simple yet effective ways to find fresh and juicy tags. If that wasn't enough, the last section revealed a simple example on adding tags.
I would like to end this article with some more bonus tips.
More bonus tips:
Use at least 3 tags in your post
Don't create extremely specific tags (see next point)
Anytime you are creating a series, consider creating your own tag. For example: I have created #Hivenewsletter. It contains all the newsletters I publish.
Always save your preferred tags somewhere (I save in a document).
Peakd allows you to add upto 10 tags. (They call it Topics. 1-5 topics are considered categories)
Don't be afraid of experimenting with new tags
Anything else I missed? Do let me know.
The goal is to implement tags in your next post — if you are not doing it already. And with this, we complete the article. Do let me know your thoughts in the comment section. I would love to hear from you.
Hope this article was useful.
Cheers,
Sid
---
Liked this article? Feel free to comment and upvote and reblog.
Credit: @innerhive @hivewatchers for additional resources.