Dear Hivers,
To really understand what makes Hive different from other cryptos, we have to explore these "other" cryptos.
If you think about any blockchain project out there, you will observe a trend. It feels like entering a room with 3 players in 3 different corners.
In the first corner, you will notice the owners — the CEOs and venture capital firms. Then the second corner shows you the internal departments. These are departments involved in development, marketing, and operations.
The last corner is dedicated to the community — the end user who has no clue what is going on.
The problem is: All these corners are disconnected as you can see in this image: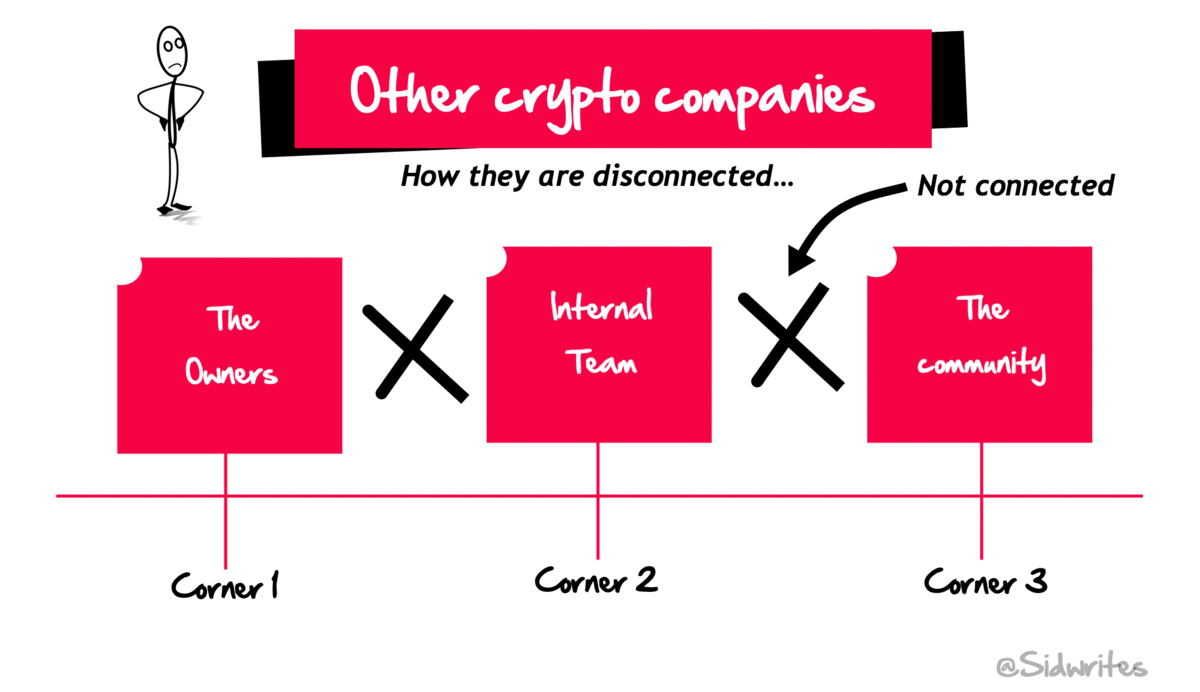 Almost every centralised or decentralised company operates this way. This is why there are unrealistic expectations, uncertain activities, and untold truth buried.
The owners perform certain duties for the company to grow. The internal department has its own goals. And the end users — the clueless investors — rely on information — through Telegram, blog posts, and other announcements to safeguard their investments.
This is the traditional way most crypto companies work. And now, when you look at Hive, you can spot the difference.
There is no owner.
There is no internal department
All we have? Just a community.
This is what makes Hive really different from every other projects out there.
There is no king — yet we are building the kingdom.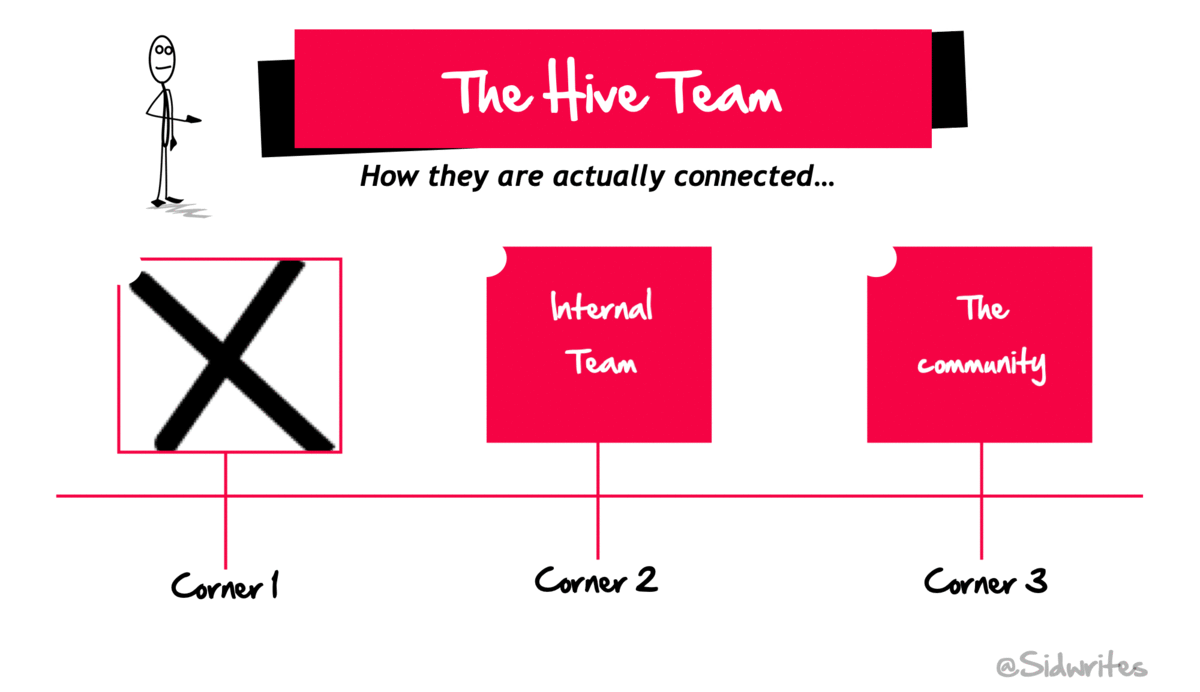 A community like this also faces the challenge that has been tackled very well in the last 3 months. From listing on exchanges to reaching out to media websites — everyone was achieved through the power of community.
In fact, Hive runs on the community because:
#1: There's a unique mechanism
The community follows a unique system built around the attention economy model and DPos mechanism. One who is invested in the platform the most has the most power.
---
#2: Community fund
The community follows a unique fund (DAO) that is executed to help developers continue supporting the ecosystem and maintain the existing network.
---
#3: Multiple entry points
The community has worked together to create multiple entry points for other users to join. One can enter Hive through various ways. You can get in through Hive.blog, or through games like Splinterlands and dCity.
Again, no one stops anyone. Everything is open for everyone.
---
#4: Development of dapps
Once again the community sees the benefits of creating new decentralised apps on top of the Hive blockchain. No one dictates anyone. It is all volunteer work to build the entire ecosystem.
---
#5: Local communities
The community has created micro communities. It happened naturally due to the diverse culture. To name a few, you can find @bdcommunity @teammalaysia @indiaunited @hiveph @hive-naija and @hive-india.
---
#6: Diverse interest groups
The diversity is not just limited to languages but also interests. I am always surprised to discover new communities involved in topics I have no clue about. It simply shows the depth that exists.
---
#7: True globalization
Because the entire community is together, it feels home. And if that's not enough, there is true globalization where everyone gets along just fine.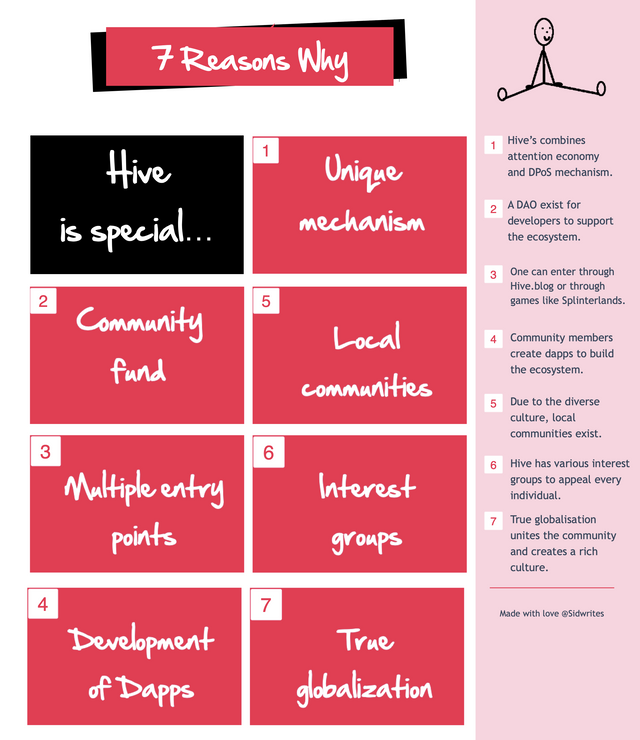 ---
Hive Humanizes Blockchain
---
I have been fortunate to know so many of you. And behind every DP is a soul with an intention to achieve something out of this platform.
It could be rewards, networking, or building something new — everybody comes together to do something.
There is not a SINGLE community like this that has been so positive. Focussing on growth. And continuing to pat each other's back.
Simply because the mission is strong: to make Hive the foundation of Web 3.0.
And this is what makes Hive different from everything out there.
Cheers,
Sid
---
If you liked this article? Feel free to comment and upvote and reblog.