This week I'm offering to the LMAC Image Gallery, LIL, pictures that mostly have a water theme. Although the Supreme Court of the U.S. ruled once that Long Island is technically not an island, our little bit of land is surrounded by water :) In summertime especially, this presents wonderful opportunities to observe nature.
Many of the images I show today were taken from the vantage of a bridge that is within walking distance of my local library. If you look at the map below, that bridge would approximately be located near where the A is indicated.
Map Showing Distribution of Water Bodies Around Long Island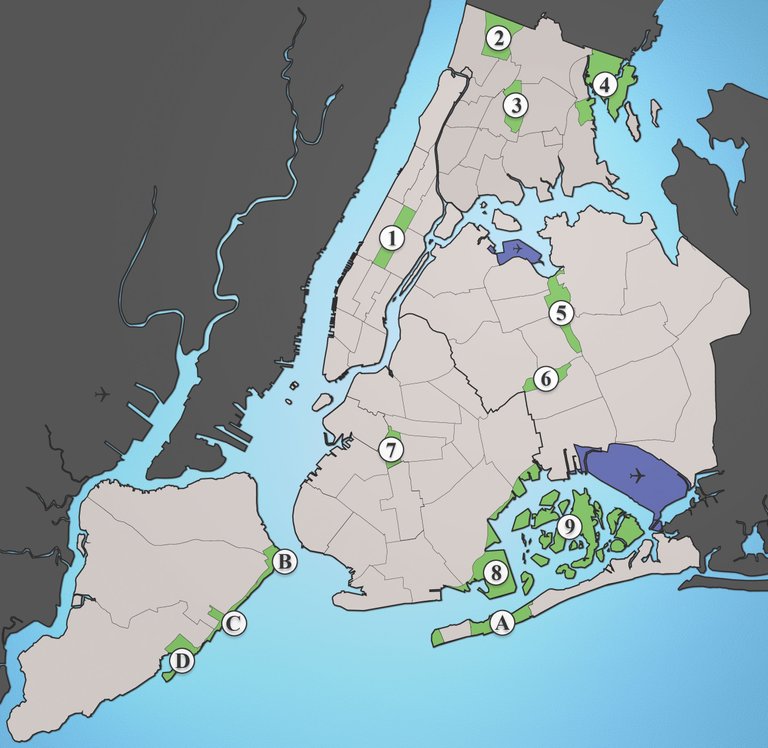 Credit: Julius_Schorzman. CC 2.5 license.
Udall Mill Pond is featured in my pictures, as is Little Neck Bay (in the distance.) The historic Mill Pond House is also featured. The Mill Pond is also known as Udall Pond. This pond feeds into Little Neck Bay, which feeds into Long Island Sound. The Sound feeds into the Atlantic Ocean. Both Little Neck Bay and Long Island Sound are estuaries, which means they blend salt water with fresh water.
Some pictures I snapped in this area of Long Island didn't make it into the gallery, but are interesting nonetheless. Here is one shot of two children chasing after ducks.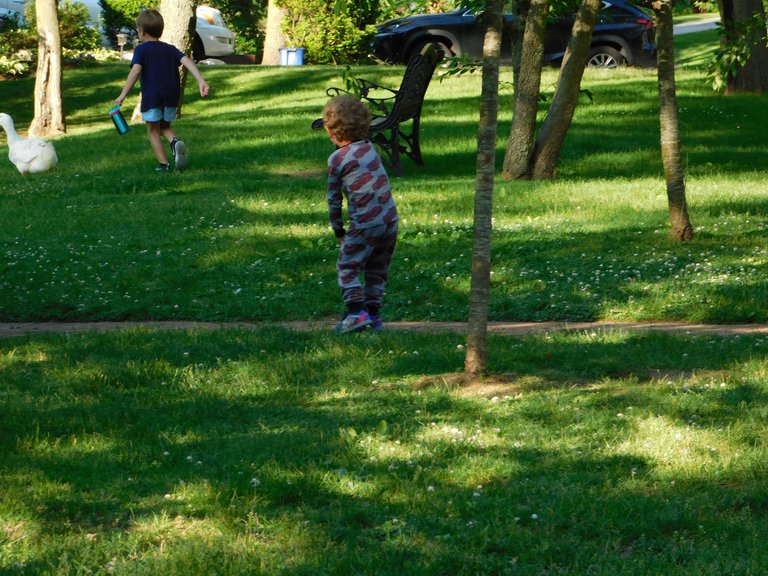 The boys, and the ducks, were moving too fast for me to get a steady image.
If you haven't borrowed from LIL yet, or better yet, contributed to it, please do. This is a resource open to everyone in the Hive community. Rules and procedures for borrowing/contributing are spelled out here.
As I write this blog I'm planning for my next blog, which will present (I hope) a collage for the LMAC collage contest. The contest runs till Monday night, and there are prizes for the best entries. Join us! Rules and procedures may be found here.
The contest, and LIL, were the inspiration of @shaka. He not only created these two projects, but has guided their growth for some time now. Recently, he received hands-on support from a dedicated team: @quantumg (our magician coder and developer), and @mballesteros (our bilingual curator/moderator).
I hope you enjoy my pictures, and hope you will check out the gallery in a few days to see if these pictures have found a comfortable place there.
Thank you for reading my blog. Hive on!
Swan Family
Swans, Cygnets, Pond, Ripples
Swan Pair and Swan Babies
Swans, Swan Family, Pond, Swanlings
View of the Pond and Swans
Pond, Reeds, Swans
Two Swans and Young
Pond, Swans, Reflection, Ripples
Homes on Pond Shore
Pond, Shore, Houses, Reflection, Buildings
Reeds on the Shoreline
Pond, Reeds, Nature, Reflection
Setting Sun on Little Neck Bay
Sun, Sky, Bay, Water, Trees, Shoreline
Distant View of Little Neck Bay
Bay, Pond, Sky, Shoreline
Pond and Distant Shore
Pond, Shore, Water, Trees, Reeds, Nature
Tree Branch in a Pond
Tree, Branch, Pond, Shore, Trees
Shoreline With Reeds
Pond, Trees, Reeds, Shore
Shore View With Mill House
Shore, Water, Mill, Pond
Throgs Neck Bridge on Little Neck Bay
Horizon, Bridge Profile, Bay
House Among the Trees
Trees, House, Building
Flowers on a Bridge Rail
Bouquet of Flowers, Bay
Bridge
Trees, Shrubs, Bridge
Bird on a Limb Silhouette
Bird Silhouette, Leaves Silhouette
Bird Profile in Silhouette
Bird Silhouette, Branch Silhouette
Bird on Branch Silhouette
Bird Profile, Silhouette, Animal
Memorial Bridge Sign
Sign, Memorial Bridge Sign
No Parking on Bridge Sign
Sign, No Parking Sign, Bridge Sign
Golden Bridge Seal
Seal, Emblem
Bird on a Wire
Bird, Bird on Wire, Animal
Bird
Bird, Animal
Three Birds in Silhouette
Birds, Silhouettes, Animals
Elderly Man With Umbrella
Man, Person, Human, Elderly Man, Umbrella
Elderly Man Walking With Umbrella
Man Walking, Elderly Man, Human, Person, Umbrella
Man in Black
Man, Person, Human
Two Swans
Birds, Swans, Animals
White Dented Car
Transportation, Automobile, Car, Dented Car
Statue With Classic Theme
Statue
Row of Ornamental Statues
Statues, Statues of Urns
Face in a Rock
Rock, Rock With Eyes