I have seen people introducing publishox before but I did not take the initiative to find out more or read about it.
I happened to notice that @vlemon from @hodlcommunity has an account there recently.

It is definitely a place where content creators can publish their articles but it is quite different from Hive or Steem.
I have just recently decided to join it but I am not planning to post any of my content there for now.
There is total no cost in joining it to earn so there is absolutely no risk except the use of our time.
As a member, there is no such thing as one has higher voting power than the other.
Everyone is given a certain amount of tips each day to select the authors that they want to support with how many percent of reward for author and how percent reward for ourselves using the slider below of each article.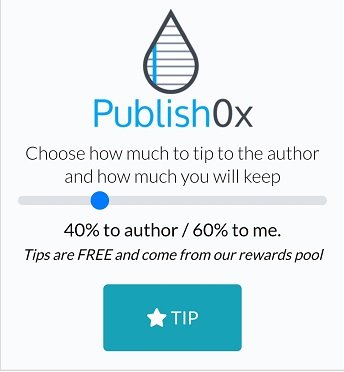 Readers are equal regardless of how long one is on the publishox platform.
To become an author, we have to apply for it separately after becoming a basic member.
Currently in July, one is able to earn DAI, BAT or LRC. It is a platform that allows users to earn different types of cryptocurrencies.
Below is a screenshot of my earning after a day as a reader.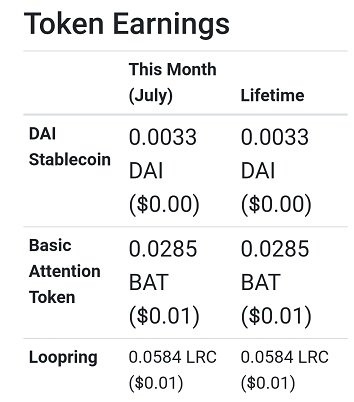 Image Source
Since the types of cryptocurrencies may be different each month, publishox suggested us to have an Atomic wallet.
By entering a promotion code like 1AK3QY, the promoter and new member would both earn extra 5 AWC tokens from the Atomic wallent but there is a catch.
Both promoter and new sign-up must both have $50 worth of popular asset in the wallet to qualify for the extra 5 AWC. (We can simply put in the promotion code and see whether we can accumulate this amount when we earn for free)
Nevertheless, I believe if I understand correctly, I can get 10 AWC for my first transaction and 10 AWC for the registration of my email account when I have a balance of $10 in the wallet. (Total of 20 Free AWC)
The best thing is the staking function available that allows us to earn up to 20% for staking AWC. Each AWC was around a dollar at the point when I was preparing for this post.
Atomic wallets have other cryptocurrencies like Atom, XTZ, TRX, Band, Neo, Algo and Vet for staking too.
From publishox, I was led into staking at Atomic Wallet for AWC.
I was also lured into buying Tron as 100 TRX allows us to get free airdrop of Just and Wink tokens. I bought more than 100 TRX and I staked them as well.
Joining publishox does not need us to invest a single cent or power up so no one is special there or more powerful there.
The amount of tips we get to give away would be coming from the reward pool so it is free money to earn even if we do not post a single article.
As for Atomic Wallet, we can actually get 20 AWC for free which worth more than $20 actually but I understand that I may only get these free tokens at the beginning of next month after they do a verification.
Joining publishox provides me with a referral link that allows us to earn 5% of every tip generated by our referrals under the Ambassador Program.
https://www.publish0x.com?a=y5eVOykzaE
As mentioned, Atomic Wallet also has its referral program where both promoter and referral get 5 AWC but the need for $50 asset may not be achieved by some of us since we are simply trying to earn for free.
https://atomicwallet.io/join?kid=1AK3QY
I am still trying out this platform to earn free cryptocurrencies.
Maybe some of you would be interested to know that it may be introducing ETH as one of the cryptocurrencies that we can earn next month.
I personally feel that it is still better than the fake clouding mining online as we can gather cryptocurrencies during our free time on Publishox.
You can join too if you find this Publishox interesting since we can definitely earn some free cryptocurrencies by tipping articles.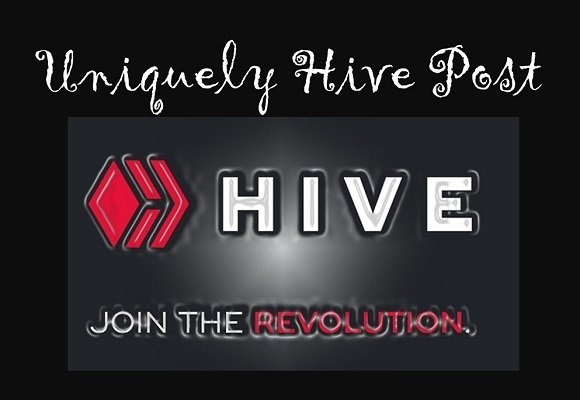 Disclaimer: This is my personal reflection and I am not in any position to instruct anyone what they should do. I am not responsible for any action taken as a result of this post. My post can only be a reference for your further research and growth.