Hello Community, I hope you are all very well, this time I bring to you a publication that will undoubtedly be a little long, but I will do it with all the intention that you can see in detail the process of this business model within the DeFi (Decentralized Finance) environment.
In this case I am talking about YIELDNYAN.COM, it started to work and it really comes with everything. Many are wondering what benefits DeFi brings to those of us who are in the Crypto world, stay with me until the end of this post and know what you need to know to enter to earn. Besides, I want to say that all DeFi projects work in a similar way, and if you learn to operate in one, you will have a path to understand the others, now yes, let's start.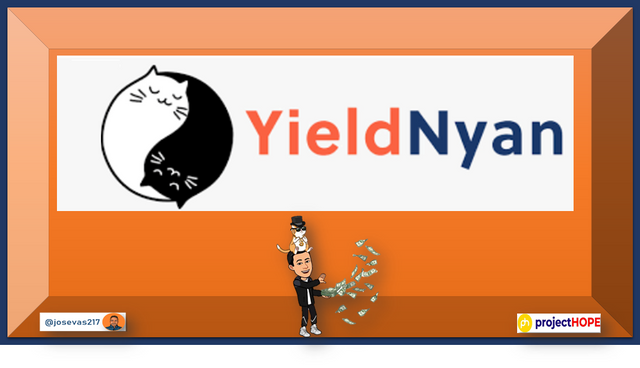 Imagen edited /Source / Bitmoji APP
This project is based on Binance Smart Chain (BSC), the reason why it is in BSC and not in Ethereum, for example, is basic, first the speed is much higher, and something important, the cost of transactions is much lower, this alone is already a great advantage.
I should point out that this DeFi System is paired with Binance's crypto, BNB, which by the way has had a great increase in its price in recent days, in addition to occupying an important place within the crypto market capitalization. Backed by the world's leading exchange house, which leaves us with a little more peace of mind going in.
Well, how do we start trading in this system?
The first thing we should do is go to the following page, which is the main one.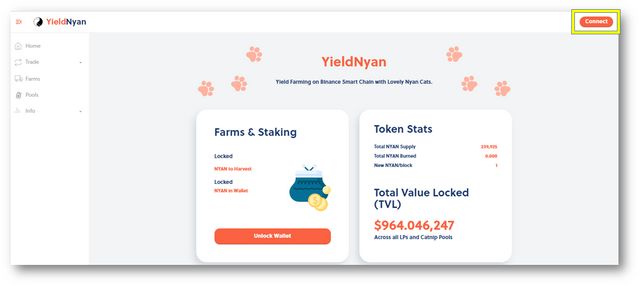 Source
In this one we see in first instance what we can do: STAKE, FARM, ADD LIQUIDITY... to proceed we must click where it says Connect (upper right border), to connect this platform with our wallet. But wait a minute, which Wallet?..... Do not despair, follow step by step what I present and you will not have any complications, let's go to the next image.

SourceSource/My Wallet
Image 1, when you click on connect, it will show you those Wallets options, from which you must choose one. I have in my PC Metamask and Wallet Binance Chain, this last one was the one I used. If you don't have any of them, it is very easy to download them to your PC, like Browser, if you don't know how to do it, here is a link to a tutorial on how to do it

Image 2, chrome web store, where you can download your Binance Chain Wallet from.

Image 3, Wallet appearance, like any other, has the possibility to send and receive different cryptos. This is a crypto wallet that you can use in the Binance Chain, Binance Smart Chain and Ethereum.
The next step would be to have balance in the wallet, in this case I made the BNB transfer from Binance, with the intention of being able to operate in this DeFi YIELDNYAN system, and show you the steps in detail.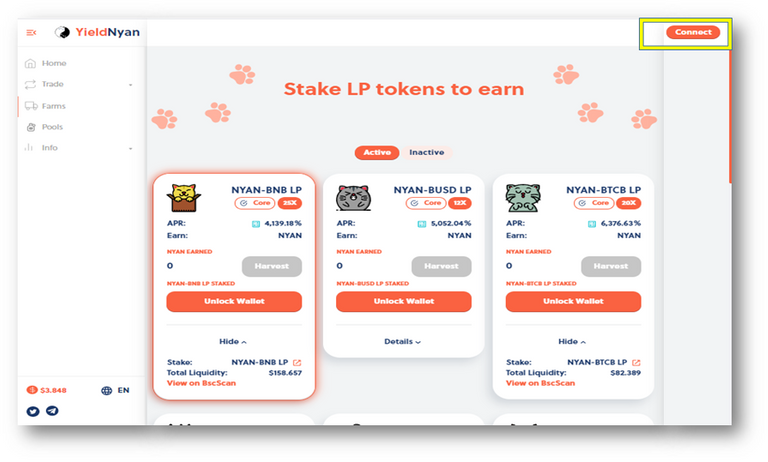 Source
Already having balance in the Binance Chain Wallet, the next step is to connect the wallet with YIELDNYAN, very easily. Click on connect.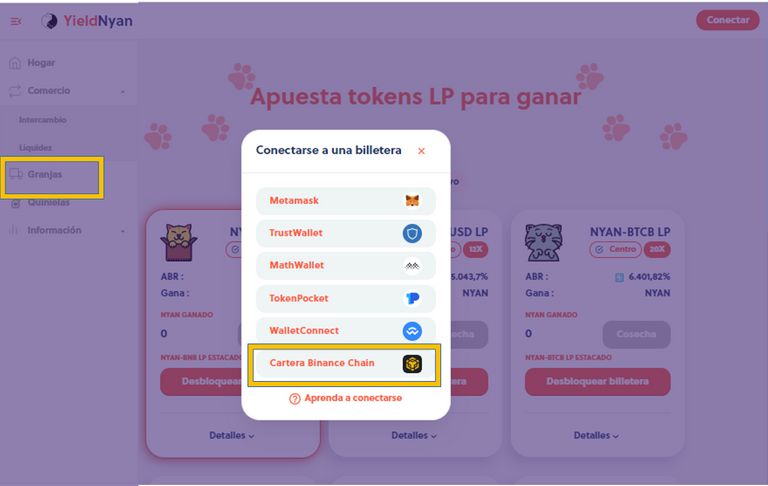 Source
Afterwards click where it says Wallet Binance Chain.
The image on the right will appear, in which we must authorize by clicking on connect, and ready, process done, this way we can have access to our funds from the Yieldnyan. platform.
At this point it is important to keep in mind the following: when we are going to add liquidity in any DeFi project, always go in pairs, ie, there will be two tokens, one that is the project and another that is usually a currency of the most popular, in this case there are options to pair with Bitcoin, Ethereum, EOS, among others how BNB, which was the one I used in this opportunity.
I have BNB in my Wallet, so I need the other component of the PAR, and it is the NYAN coin, then it would be the pair NYAN-BNB LP. This currency (NYAN) I buy it on the platform directly, I pay it with BNB.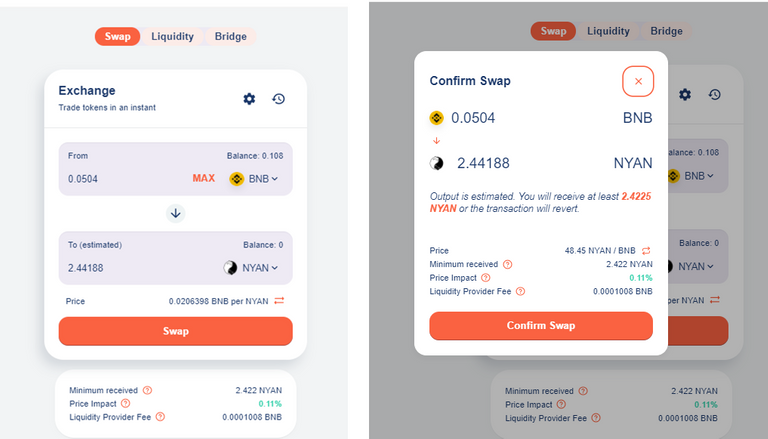 Source
It is really very simple to buy NYAN, on the left side edge of the platform there is a tab that says trade, being there you get to SWAP, which is where you will make the purchase, very quickly, choose the currency you want to buy, and in seconds, after performing the processes of the images that I show you, you will have the NYAN.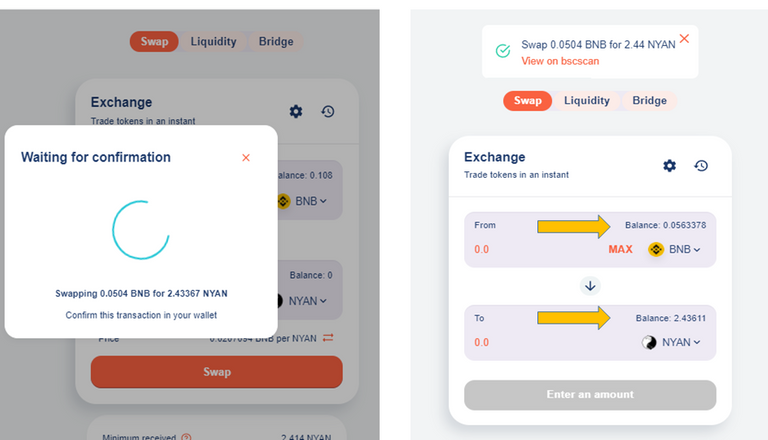 Source
As you see in the image above -pointed with arrows-, it has NYAN and BNB available, I suggest that, if for example you transfer for this investment 20 dollars in BNB, use half (10 dollars) to buy NYAN, and the other 10 leave them in BNB, since the NYAN-BNB LP pair should be in similar amounts.
We are almost ready, but we still need to have the currency pair, because we have it separately. Sorry, but at the beginning of the post I said it would be a bit long, and I hope it will serve as a guide for all those who want to enter the project with investors.
Let's easily convert our currencies into the NYAN-BNB LP pair.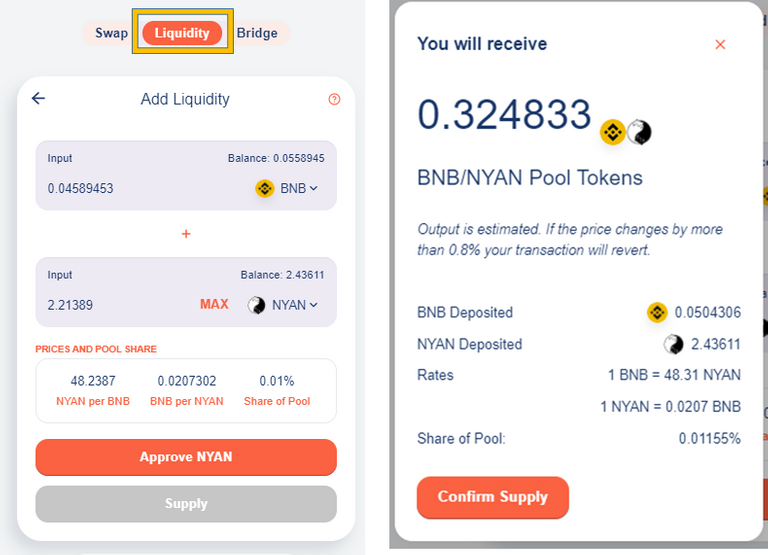 Source
In the same place where we buy NYAN we are going to convert them into the pair. Just click on "LIQUIDITY, then select BNB at the top and NYAN at the bottom. And that's it, we have our currency pair.
Next and last step to start earning passively:
Make STAKE of our pair of coins in a mining farm..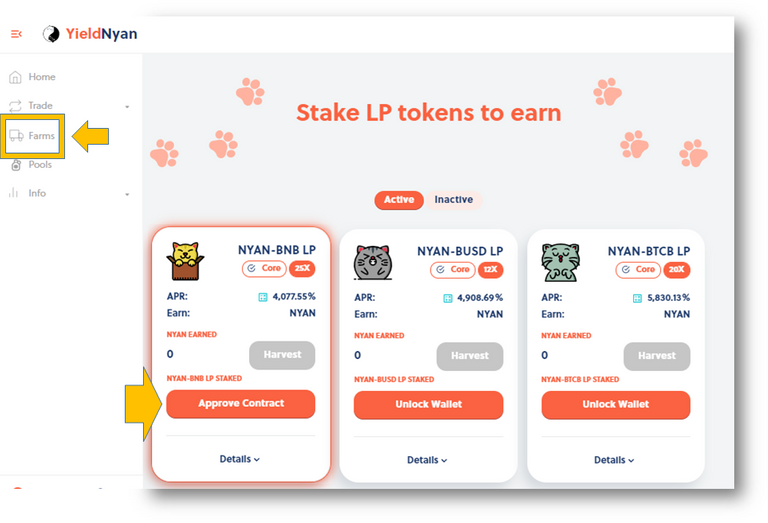 Source
We go to the right side of our screen, where we will see the word FARMs, click there, and then on aprove contract. We continue with the next step. Which is to confirm, as seen in the image below.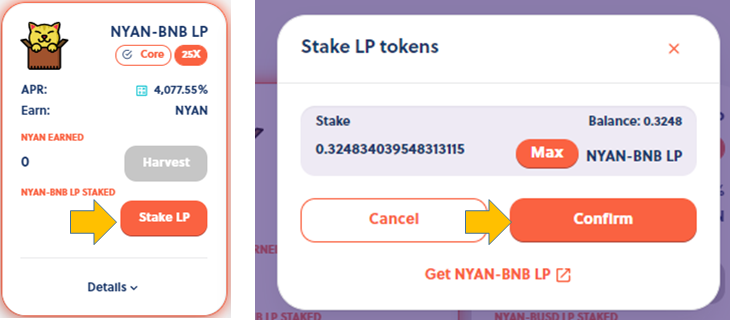 Source
And that's it, the process is finished, from here on what we have to wait for is for it to start producing our profits automatically. In the following image you can see that I started mining at 4.44a.m on February 18th of the current year, and at 4.53am I already had a profit of 0.547 NYAN, just after 24 hours of having started the process, which represents approximately 10% of my initial investment...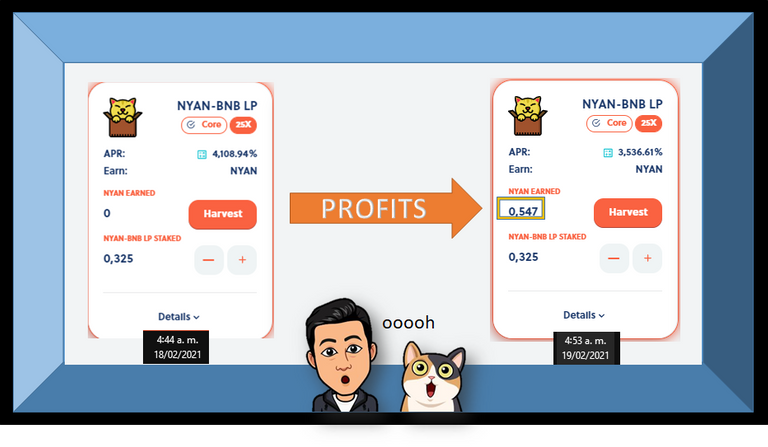 Source
Now yes, I HAVE CONCLUDED, I hope this post will be of great help to all of you. I will leave below some links where you can have more detailed information about this project:
Note: this is not financial advice, DON'T FORGET TO DO YOUR OWN RESEARCH BEFORE INVESTING.
---
cc:
@achim03,
@machnbirdsparo,
@gandhibaba,
@karamyog,
@mintymile,
@majes.tytyty,
@uyobong,
@ajewa,
@oluwatobiloba,
@josediccus,
@vlemon,
@awah,
@bala41288,
@unbiasedwriter,
@janettyanez,
@paragism,
@reeta0119,
@valchiz,
@tomoyan,
@mynima,
@joelagbo,
@wiseagent,
@shortsegments,
@munawar1235,
@fijimermaid,
@besticofinder,
@ritxi,
@deathcross,
@sumit71428,
@oredebby,
@belemo,
@qsyal,
@chesatochi,
@tolustx,
@mauromar,
@resiliencia,
@engrsayful,
@great-a,
@blockchainfo,
@culgin,
@monz122,
@eliorrios,
@sholly1,
@mccoy02,
@joseph1956,
@ifgiaa,
@kamranrkploy,
@gifxlove,
@filotasriza3,
@videoaddiction,
@carapthian,
@churchangel,
@rarej,
@aderyn,
@foxicoreviews,
@knowledgefruit,
@vimukthi,
@doppley,
@adesojisouljay,
@metzli,
@nonsowrites,
@talktofaith,
@tanhunter254,
@mllg,
@elgranpoeta,
@pablo1601,
@certain,
@lebey1,
@kenny-writes,
@taiwo-writes,
@hawk-eye,
@retaliator,
@mato445,
@emimoron,
@davidgutre,
@anacristinasilva,
@funmiakinpelu,
@lanzjoseg,
@fucho80,
@juanmolina,
@alokkumar121,
@gbenga,
@thetimetravelerz,
@josevas217,
@hardaeborla,
@reinaldoverdu,
@carlos84,
@samminator,
@luckyali,
@franyeligonzalez,
@adityajainxds,
@mandate,
@tfame3865,
@ramsesuchiha,
@rbalzan79,
@amestyj,
@emiliomoron,
@trabajosdelsiglo,
@menoski,
@lupafilotaxia,
@madridbg,
@sandracarrascal,
@jadams2k18,
@tocho2,
@yusvelasquez,
@roronoa07,


I authorize the use of this banner to everyone who wants to do it.