¡Hola Hive!
Holis, hoy les quería hablar de aquellas agrupaciones de los años 90 para abajo. Personalmente me gustan mucho las canciones de esas épocas, incluso en ocasiones paso meses escuchando solo música de esos tiempo, realmente son muy buenos y tienen ese toque particular que actualmente no se encuentra fácilmente. Sin más, comencemos con el post.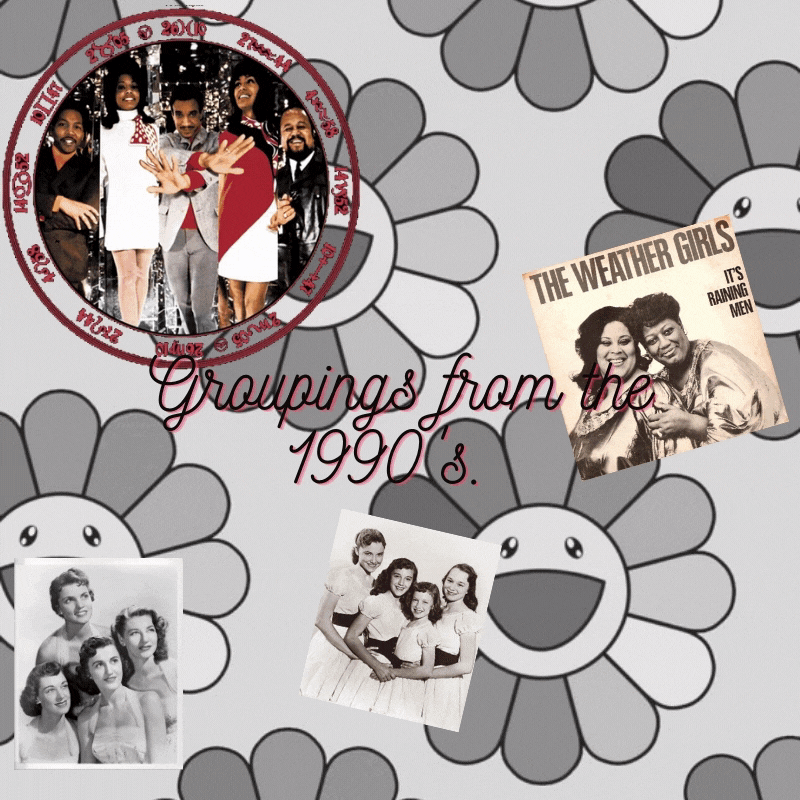 ---
The Chordettes.
Esta fue una de las primeras agrupaciones que descubrí hace unos cuantos años ya, y desde entonces no he podido parar de escuchar sus canciones. Todo comenzó cuando estaba viendo la serie de "Netflix" llamada "Riverdale" donde una de las protagonistas llamada "Betty" que cada que recibía una llamada pude notar que tenía un tono de teléfono particular el cual me llamó la atención así que inmediatamente lo busqué para darme cuenta de que la canción que se escuchaba se llamaba "Lollipop".
Al escuchar esta canción me di cuenta de que la armonía que existía en las voces de las cantantes era sumamente sublime y me llamó mucho más la atención por lo que comencé a escuchar más de sus canciones y déjenme decirles que fue una gran decisión. Aquí les dejaré una muestra de una de sus canciones, la que más me gusta.
---
The Lennon Sisters.
Esta agrupación me parece muy tierna en la forma que comenzó, cuatro hermanas que deleitaban al publico con sus armonías, la primera canción que escuché de estas hermanas fue "Que Será Será". Fue muy curioso la verdad, yo estaba escuchando mis canciones viejitas y vi este nombre en las sugerencias y sin pensarlo dos veces entré sin más, y lo que escuché me gustó, luego de esto comencé a buscar algo más acerca de las cantantes y pude observar que tenían varias versiones de canciones que ya había escuchado anteriormente pero de otros artistas y sinceramente me gustaron mucho las versiones de estas 4 hermanas, aquí les dejaré una muestra de su talento para que las escuchen.
---
The Weather Girls.
Estas dos mujeres me llenaron mucho de alegría con sus letras, en serio, las amo. The Weather Girls es una pareja de 2 mujeres que tiene unas canciones un tanto... ¿Extrañas? no sabría como expresarlo, pero simplemente me encantan. Aun recuerdo la primera vez que escuché una de sus canciones, fue un día como hoy hace 3 años, estaba colocando los adornos de Navidad y el reproductor de Youtube estaba en automático y de pronto comenzó a sonar "Dear Santa (Bring Me A Man This Christmas)" Y al prestarle atención a la letra pensé "Dios mio, esto es grande" y me comencé a reír, sin más aquí les dejaré la primera canción que escuché de ellas, disfruten.
---
Baccara.
Al escuchar las canciones de este duo de mujeres solo algo me viene a la cabeza "icónico" es lo que pienso al ver sus vídeos y escuchar sus canciones. Todo comenzó con la serie "La Casa de las Flores" donde en varias ocasiones colocaron una canción llamada "Yes Sir, I Can Boogie" que me llamó un tanto la atención, yo no conocía a estas chicas hasta que busqué acerca de ellas y comencé a escuchar sus canciones, y simplemente las amé, muy buenas sus canciones, las escucho todo el tiempo, y aveces hasta me pongo a bailar con sus canciones. Aquí les dejaré una para que puedan apreciar su música disco.
---
The 5th Dimension.
Aunque aun tengo muchas otras agrupaciones que me gustaría mostrarles, voy a terminar este post con esta agrupación que apenas conocí el día de hoy, pero tuvieron un gran impacto en mi, con su canción "Aquarius" y desde esta mañana no he dejado de escucharla, me gustó mucho y me transmite mucha alegría. La armonía de sus voces y simplemente grandiosa, cada que escucho la canción nuevamente me doy cuenta de muchas cosas en cuanto a registro vocal de los cantantes, me gustó muchísimo esta agrupación. Aquí les dejo el link para que se deleiten con esta gran canción.
---
Hasta aquí llega el post de hoy, espero les gustaran estas agrupaciones y sus canciones tanto como a mi. Sin más, me despido, gracias por llegar al final del post.

---
Hi Hive!
Holis, today I wanted to talk to you about those groups from the 90s on down. Personally I like a lot the songs of those times, even sometimes I spend months listening only music from those times, really are very good and have that particular touch that currently is not easily found. Without further ado, let's start with the post.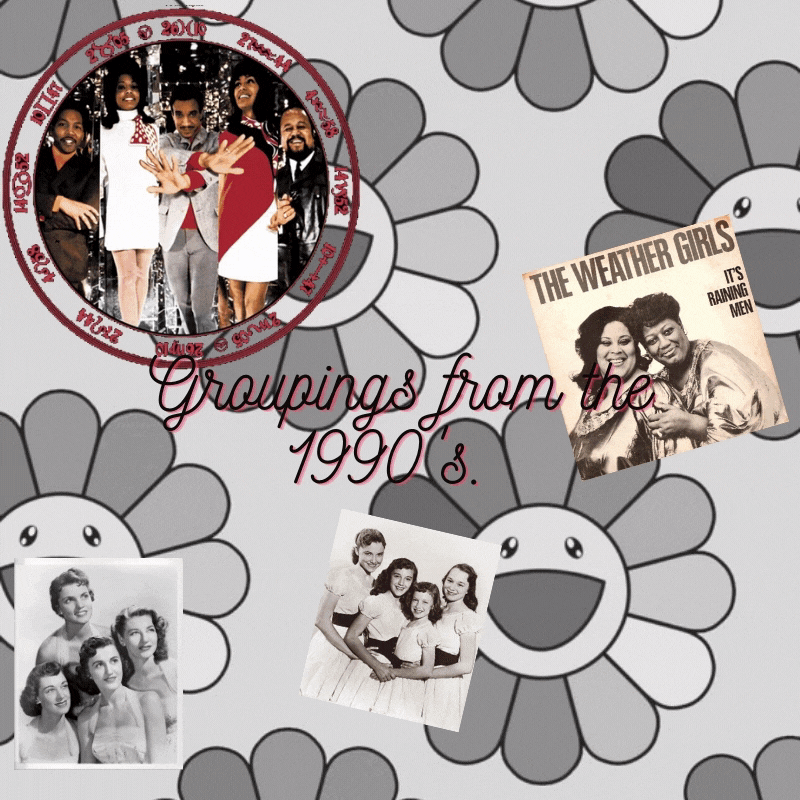 ---
The Chordettes.
This was one of the first groups I discovered a few years ago, and since then I have not been able to stop listening to their songs. Everything began when I was watching the series of "Netflix" called "Riverdale" where one of the protagonists called "Betty" that every time I received a call I could notice that she had a particular phone tone which caught my attention so I immediately looked for it to realize that the song that was heard was called "Lollipop".
Listening to this song I realized that the harmony that existed in the voices of the singers was extremely sublime and called my attention much more so I began to listen to more of their songs and let me tell you that it was a great decision. Here I will leave you a sample of one of their songs, the one I like the most.
---
The Lennon Sisters.
This group seems to me very tender in the way it began, four sisters who delighted the public with their harmonies, the first song I heard from these sisters was "Que Será Será". It was very curious the truth, I was listening to my old songs and I saw this name in the suggestions and without thinking twice I entered without more, and what I heard I liked, after this I began to look for something more about the singers and I could observe that they had several versions of songs that I had already heard before but from other artists and I sincerely liked the versions of these 4 sisters, here I will leave you a sample of their talent so you can listen to them.
---
The Weather Girls.
These two women filled me with so much joy with their lyrics, I really love them. The Weather Girls is a couple of 2 women who have some songs a little... Do you miss them? I wouldn't know how to express it, but I just love them. I still remember the first time I heard one of their songs, it was a day like today 3 years ago, I was putting the Christmas decorations and the Youtube player was on automatic and suddenly began to play "Dear Santa (Bring Me A Man This Christmas)" And when I paid attention to the lyrics I thought "My God, this is great" and I began to laugh, just here I will leave the first song I heard from them, enjoy.
---
Baccara.
Listening to the songs of this duo of women only something comes to mind "iconic" is what I think when I see their videos and listen to their songs. It all started with the series "La Casa de las Flores" where on several occasions they played a song called "Yes Sir, I Can Boogie" that caught my attention a little bit, I didn't know these girls until I looked up about them and started listening to their songs, and I simply loved them, very good their songs, I listen to them all the time, and sometimes I even start dancing to their songs. Here I will leave you one so you can appreciate their disco music.
---
The 5th Dimension.
Although I still have many other groups that I would like to show you, I am going to finish this post with this group that I barely knew today, but they had a great impact on me, with their song "Aquarius" and since this morning I have not stopped listening to it, I liked it a lot and it transmits me a lot of joy. The harmony of their voices and simply great, every time I listen to the song again I realize many things about the vocal register of the singers, I liked this group very much. Here I leave the link for you to enjoy this great song.
---
So far today's post has arrived, I hope you will like these groups and their songs as much as I do. Without further ado, I say goodbye, thanks for coming to the end of the post.