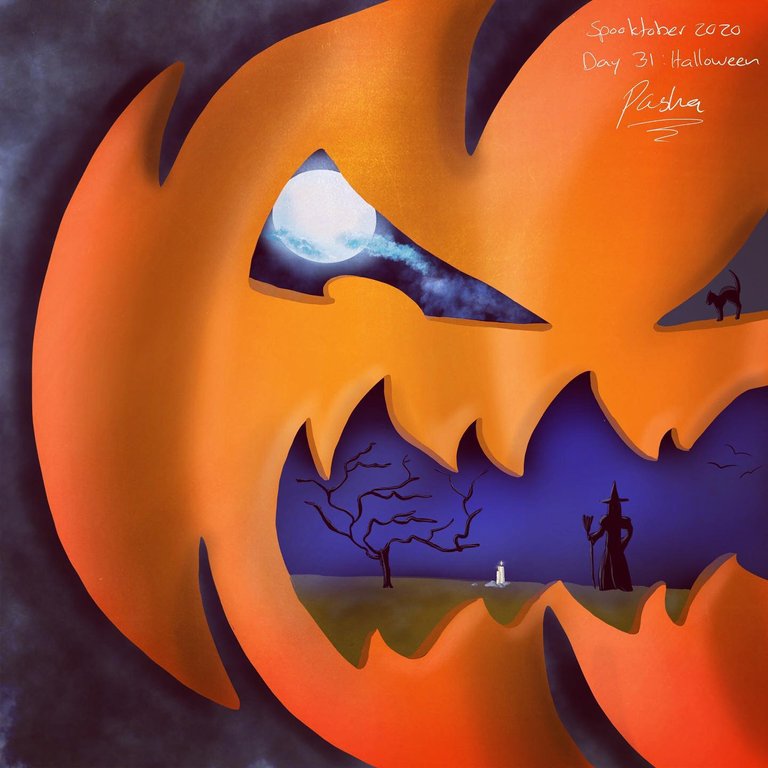 Illustration made by me for last year's spooktober challenge / Ilustración hecha por mi para el reto del spooktober del año pasado.
As a response to @hivebuzz team's trick or treat challenge I wanted to add a short story.
Como respuesta al reto de dulce o truco del equipo de @hivebuzz quise añadir una corta historia.

Halloween's day arrived, although I've had it present longer due to decorations all over the neighborhood making it feel like Halloween almost all month.
My neighbor and I always had a competition to scare each other but this year he's no longer here. Last year an innocent prank went out of control.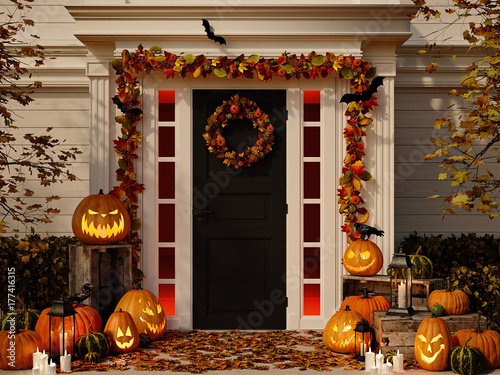 Source
Last Halloween started normally, streets were filled with decoration and candy stores were selling at all times, I was coming back after buying my costume for this year and while driving through my street I was looking at the kids, they were starting to come out in disguise, all thrilled with huge bags and plastic pumpkins hoping to get them filled with delicious candies with the traditional trick or treat.
I should be more focused on the road ahead of me instead of the little kids because I felt I hit something, I climbed down the car to check it out, I was relieved to see I accidentally hit a big box that was placed by my garage's entrance and not a kid.
There was no labels on the box, if it was a delivery I didn't know where it came from or whom it was for.
As I could I managed to drag it out of the way, it was heavy but didn't hear something broken inside.
Parked my car in the garage and got into the house to get ready for tonight when my friends come to have fun.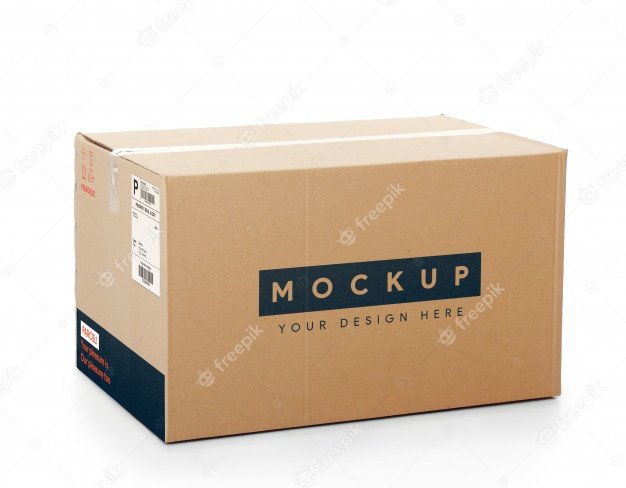 source
I waited for my neighbor to arrive, I wanted to scare him with a childish prank making a cheap clown's mask popping out from a cooler when I offer him a cold drink.
My neighbor never arrived, the mask in the cooler ended up surprising someone else and after many laughs and stories my guests started to leave late at night.
Next morning I saw the party's photos and many commented that the bloody box decorating the entrance was a nice touch, I had completely forgotten about that box...
I went out to see and in fact, the box had blood stains on the bottom, it wasn't like that when I pushed it aside to get it out of the way. Unsure of its contents I opened it, inside was my neighbor's motionless body, his whole body barely fit the box and now it looked stiff and in bad posture, almost as if he were a contortionist.

Source
I called the authorities, they made me know I was the one who killed him without knowing when I hit the box with my car; it wasn't a hard crash due to the speed I was driving, but it was enough to hurt his head, knocking him unconscious and blood pouring from the wound without necessary medical attention or not even enough ventilation.
They let me go because it was all an accident but ever since that horrific stain has stayed in my conscience.
This year there's no jump scares between neighbors, I barely talk to the one that moved in next door, we just politely say hi, but today to his hello when he saw me coming back home he added "you got a package", I felt myself went numb because I don't expect any package and when I took a glance to my entry I saw a box with considerable size.
I thanked the neighbor and fearfully approached the box, I feel silly for being so scared by a simple box, I think I've never been so scared as I am now but I can't remove from my mind the memory of last year's events.
When I opened the box I found my belongings, things I left behind at my parent's house, relieved I let out the breath I was holding and confidently pushed the box inside my house, I couldn't help but think that even without being here, my neighbor managed to give me a big Halloween scare, a scare that will be impossible to forget.
Llegó el día de Halloween, aunque lo he tenido presente por más tiempo ya que las decoraciones del vecindario han hecho que se sienta el Halloween por casi todo el mes.
Mi vecino y yo siempre competíamos por asustarnos mutuamente pero este año el ya no está. El año pasado una inocente broma salió de control.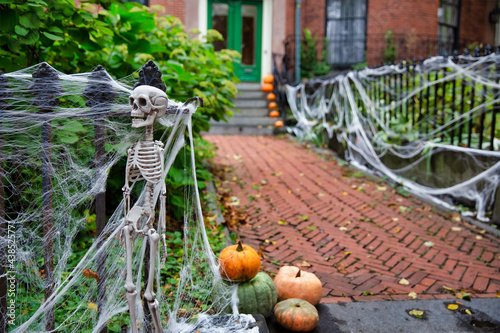 Fuente
El último Halloween transcurría de forma normal, las calles se llenaban de decoraciones y las tiendas de dulces vendían a toda hora, yo venía regresando de comprar mi disfraz para este año y al conducir por mi calle veía a los niños que ya comenzaban a salir con sus disfraces, todos emocionados con enormes bolsas y calabazas de plástico esperando ser llenadas de deliciosas golosinas con la tradición de dulce o truco.
Debí poner mas atención al camino frente a mi y no a los pequeños disfrazados ya que sentí que impacté con algo, me bajé del coche para revisar, suspiré de alivio al ver que pegué a una enorme caja que estaba colocada a la entrada de mi garage y no a un pequeño niño por accidente.
La caja no tenía nada de etiquetas, si era algún envío no sabía su procedencia ni para quien era.
Como pude la arrastré fuera del camino, era pesada pero no escuchaba que algo sonara roto adentro.
Metí mi coche al garage y entré a mi casa a prepararme para la noche que vengan mis amigos y divertirnos.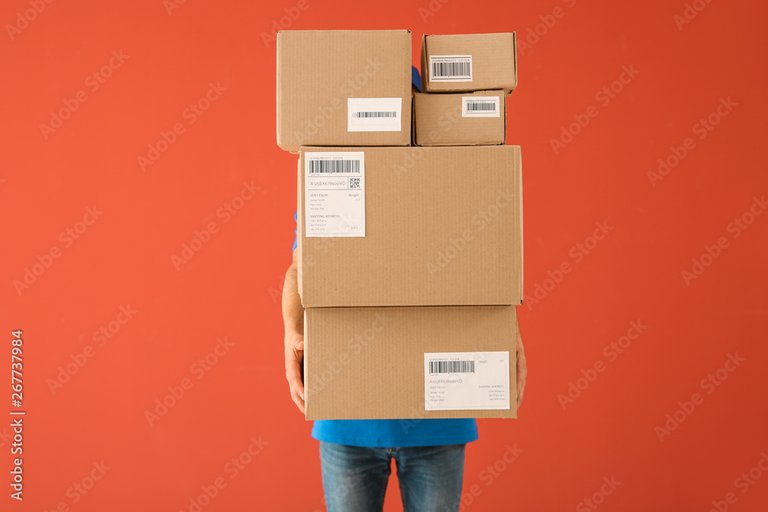 fuente
Esperé la llegada de mi vecino, lo quería asustar con una infantil broma de una barata máscara de payaso saliendo de una hielera cuando le ofreciera una bebida helada.
Mi vecino nunca llegó, la máscara de la hielera terminó por sorprender a alguien más y luego de varias risas e historias mis invitados comenzaron a irse avanzada la noche.
A la mañana siguiente vi las fotos de la fiesta, y muchos comentando que la decoración de la caja ensangrentada a la entrada fue buen toque, por completo me había olvidado de esa caja...
Salí a revisar y en efecto, la caja estaba manchada de sangre en la parte inferior, no estaba así cuando la empujé a un lado para que no estorbara. Insegura de su contenido la abrí, dentro estaba el cuerpo inmóvil de mi vecino, todo su cuerpo apenas si cabía en la caja y ahora lucía rígido en mala postura que pareciera se tratara de un contorsionista.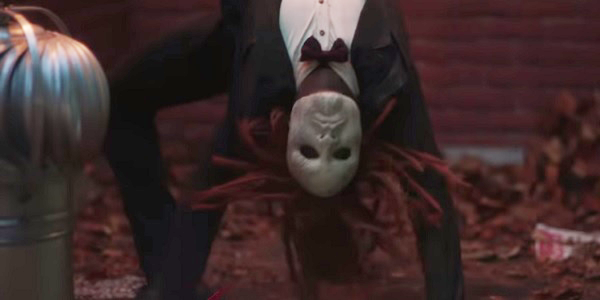 fuente
Llamé a las autoridades, me hicieron saber que fui yo quien lo maté sin saberlo cuando impacté la caja con mi coche; no fue un golpe muy fuerte dada la velocidad con la que iba, pero fue suficiente para atinadamente haber pegado a su cabeza, dejarlo inconsciente y con la sangre derramando del golpe sin atención necesaria o siquiera ventilación suficiente.
Me dejaron ir ya que todo fue un accidente pero desde entonces me ha quedado esa horrenda mancha en mi consciencia.
Este año no hay intentos de susto entre vecinos, al vecino que se mudó al lado luego de ese evento casi ni le hablo, solo nos saludamos por cortesía al pasar, pero hoy a su saludo al verme regresar a casa agregó un "te llegó un paquete", sentí palidecer ya que no espero ningún paquete y al mirar a mi entrada vi una caja de tamaño considerable.
Agradecí al vecino y temerosa me acerqué, me siento ridícula por sentir tanto miedo por una simple caja, creo que nunca he sentido tanto temor como ahora pero no puedo quitar de mi mente el recuerdo del año pasado.
Al abrir la caja me encontré con pertenencias mías, cosas que había dejado en casa de mis padres y recién me las enviaron, suspiré de alivio y con confianza metí la caja a mi casa, no pude evitar pensar que aún sin estar, mi vecino se las arregló para darme un buen susto de Halloween, un susto que me será imposible de olvidar.