Reading is an important virtue and It has helped in so many ways. To me, picking up a book to read its one of the most confident thing to do because it requires a lot of patience to concentrate on the book so knowledge can be acquired. It has developed so many minds, gives us endless knowledge and lesson to keep our mind active. Reading has help to improve communication skills, increase intelligence and also helped in research.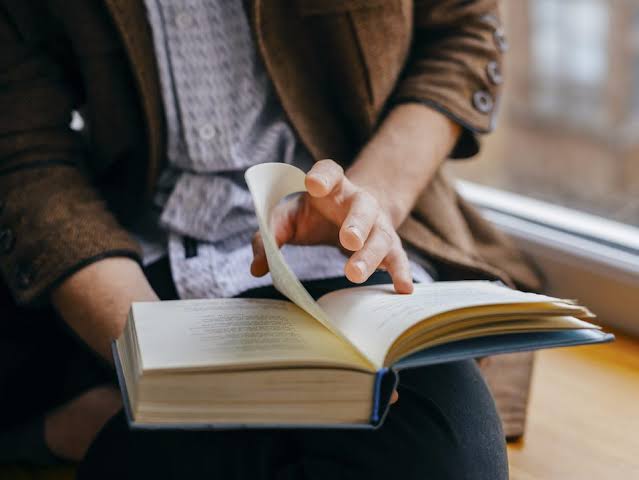 source
MY FAVOURITE TIME TO READ
I can read anytime, anywhere, be it morning, afternoon, evening or night. But my favourite time of reading is when I am less busy, right inside my room knowing I won't be hearing the echoes of my name coming from my parents room and ensuring my siblings wouldn't be seeking for my attention anytime soon. And I love it more when it's evening time, with my windows wide open inviting the wind in.
I love it more if its under a tree or a garden rather than the comfort of my room, cause it gives me clear imaginations of things and characters in a book.
REASON WHY I ENJOY A BOOK
The First thing that interest me in a book is the writer's introduction, setting and summary of the book. Because it gives me little or more ideas of what the book is about, and then the characters, especially when it has to do with the relationship of the protagonist and antagonist of a novel.
I also enjoy a book when there's romance and suspense and especially when it's more of comedy or tragic-comedy than tragedy, and I enjoy a book more when it's a nonfiction novel and has to deal with more of reality, highly motivated with inspiration and of course lessons to be learnt.
MY BEST PLACE TO READ.
I can read anywhere, be it before bed, on the bus on my way to work or outdoors. but it depends on the contents of the book, if its interesting and especially if I am enjoying the book, and yes, I love and prefer reading outdoors most times when it's evening or night with the comfort of the wind, moon and stars.but my very own favourite is indoor, having the whole house to myself and total quiteness.
I FOCUS MORE ON THE THOUGHTFUL MESSAGES AND THE LEVEL OF INTRIGUE A PLOT GENERATES
Yes, I focus on character development, thoughtful messages, the level of intrigue a plot generates in me, suspense, romance, Excellent characterization, settings, contents of the book, new words and especially lessons learnt from a book. Example," attitude is everything, think big, Lord of the flies, e.t.c.
But I focus more on thoughtful messages, and the level of intrigue a plot generates in me because that increases my interest, enjoyment and knowledge in the pages of a book. When a writer includes real life experience filled with challenges and positive outcome at the end, it gives me ideas, strategy and answers if I have the same situation of the character, be it first person Narrative or the usual.
When a book is without thoughtful messages, intrigue, character development, suspense, and lessons to be learnt, I find it less enjoyable and boring but still turns and read the pages to the end.
Reading has done more good than harm in the world. I'm inviting @rufans, @emeka4 to join the @hive-180164 Community Contest #3 All About Readers