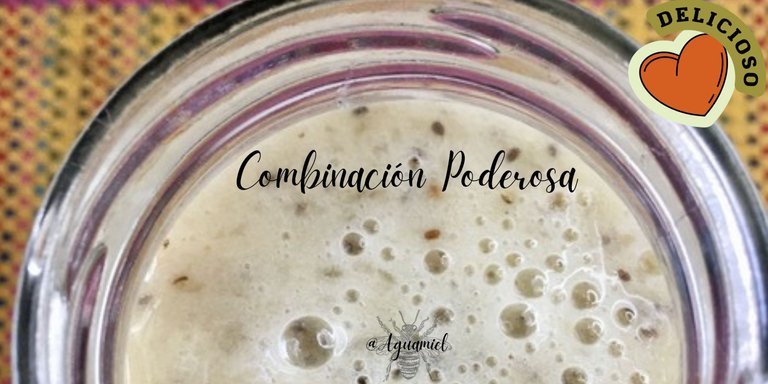 Querida comunidad gusto en saludarles, hoy les presento otra receta sencilla y poderosa, solo con dos ingredientes. Esta vez se trata de un jugo, batido o smoothie para la merienda.
𝙀𝙡 𝙘𝙖𝙥𝙞́𝙩𝙪𝙡𝙤 𝙙𝙚 𝙝𝙤𝙮 𝙨𝙚 𝙩𝙞𝙩𝙪𝙡𝙖: 𝘾𝙤𝙢𝙗𝙞𝙣𝙖𝙘𝙞𝙤́𝙣 𝙋𝙤𝙙𝙚𝙧𝙤𝙨𝙖
El cambur manzano fue escogido para esta deliciosa bebida. Esta fruta muy consumida en mi país Venezuela. Es pequeño, gordito y con un sabor particular, entre dulce y acido muy rico. Esta fruta cuenta con un alto contenido de potasio y es fácil de digerir.
Las semillas de Chía le brindan el poder a esta mezcla por sus múltiples beneficios, entre ellos podeos mencionar; su contenido en proteína vegetal, rica en antioxidantes, favoreciendo a los intestinos por su fácil absorción. Se puede consumir secas en ensaladas, tortillas, o hidratadas en jugos y es un sustituto del huevo.
Recomendación: evitar si presentas una condición con los niveles de azúcar en sangre o si practicas ayuno prolongado. En ambos casos la fruta, puede elevar el índice glicémico. Consulta a tu médico tratante.
---
𝑰𝒏𝒈𝒓𝒆𝒅𝒊𝒆𝒏𝒕𝒆𝒔 𝒚 𝒑𝒓𝒆𝒑𝒂𝒓𝒂𝒄𝒊𝒐́𝒏:
---
4 cambures manzanos
2 cucharitas de semillas de Chía
2 tazas de agua
Hielo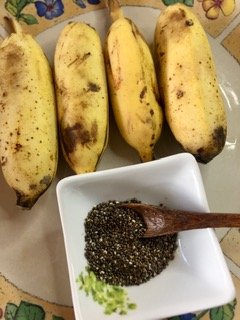 ---
Hidratamos las semillas de Chía en 2 taza de agua, dejándola en remojo durante 5 minutos.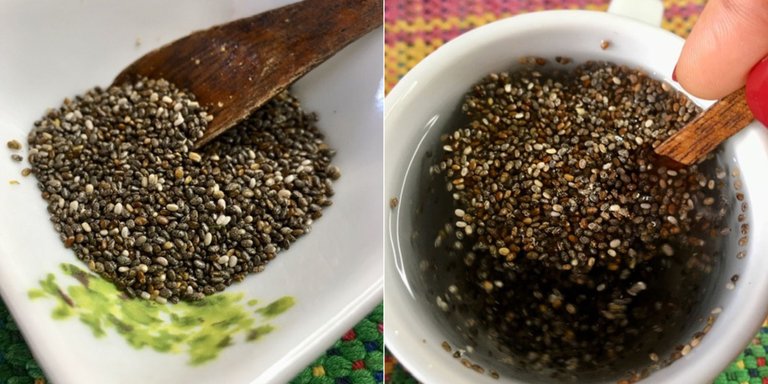 Pelamos los cambures lo llevamos a la licuadora, agregamos la chía hidratada y licuamos. Colocamos el hielos y volvemos a licuar hasta granizar, la mezcla se torna un poco más espesa.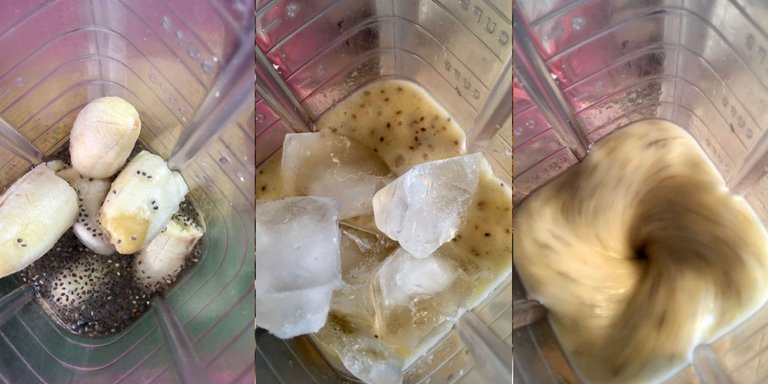 Tips: si es de tu agrado le puedes agregar canela, esencia de vainilla o endulzante. Además, puedes colocar de esta bebida en la hielera y hacer heladitos.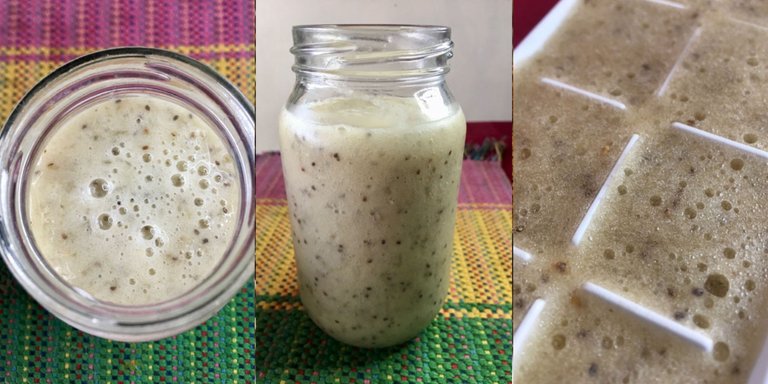 !Listo!. a disfrutar de esta delicia, mientras cae la tarde en en algún lugar de Caracas...
Sencillamente, delicioso ❤️

Dear community, today I present to you another simple and powerful recipe, with only two ingredients. This time it is a juice, shake or smoothie for a snack.
𝑻𝒐𝒅𝒂𝒚'𝒔 𝒄𝒉𝒂𝒑𝒕𝒆𝒓 𝒊𝒔 𝒆𝒏𝒕𝒊𝒕𝒍𝒆𝒅: 𝑷𝒐𝒘𝒆𝒓𝒇𝒖𝒍 𝑪𝒐𝒎𝒃𝒊𝒏𝒂𝒕𝒊𝒐𝒏.
The apple camburano was chosen for this delicious drink. This fruit is very consumed in my country Venezuela. It is small, plump and with a particular flavor, between sweet and sour very rich. This fruit has a high potassium content and is easy to digest.
Chia seeds provide the power to this mixture for its multiple benefits, among them we can mention; its vegetable protein content, rich in antioxidants, favoring the intestines for its easy absorption. It can be consumed dry in salads, omelets, or hydrated in juices and is an egg substitute.
Recommendation: avoid if you have a condition with blood sugar levels or if you practice prolonged fasting. In both cases the fruit may raise the glycemic index. Consult your treating physician.
---
𝑰𝒏𝒈𝒓𝒆𝒅𝒊𝒆𝒏𝒕𝒔 𝒂𝒏𝒅 𝒑𝒓𝒆𝒑𝒂𝒓𝒂𝒕𝒊𝒐𝒏:
---
4 apple camburs
2 teaspoons chia seeds
2 cups of water
Ice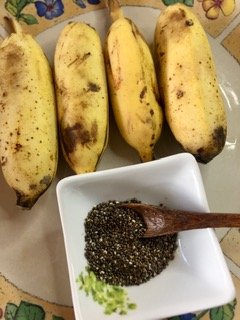 ---
Hydrate the chia seeds in 2 cups of water, leaving it to soak for 5 minutes.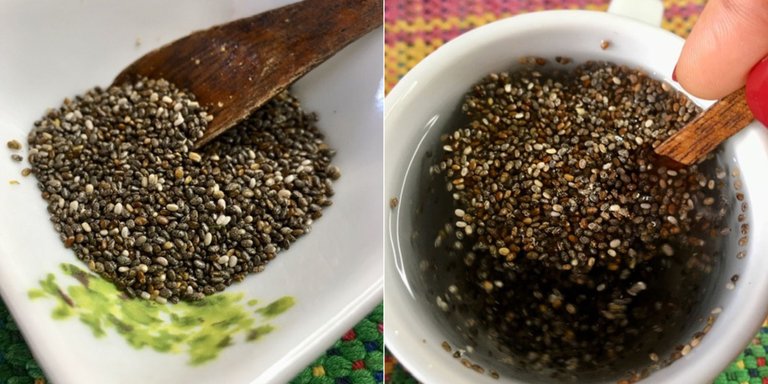 We peel the camburs, take them to the blender, add the hydrated chia and blend. Add the ice and blend again until the mixture becomes a little thicker.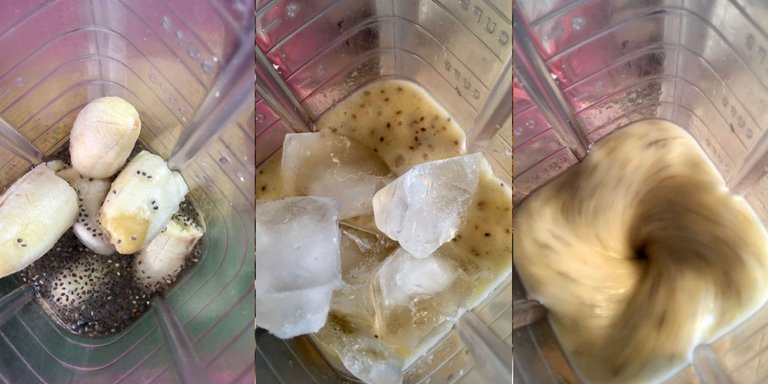 Tips: if you like you can add cinnamon, vanilla essence or sweetener. You can also put this drink in the cooler and make ice cream.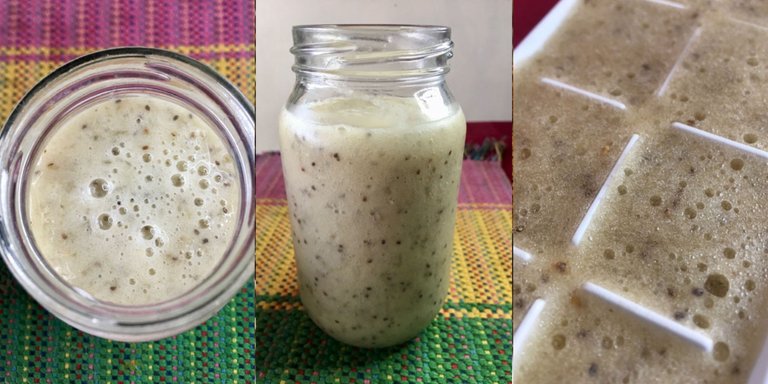 Ready! to enjoy this delight, while the evening falls somewhere in Caracas...
Simply delicious ❤️

Fotografía de mi galería personal
https://www.deepl.com
Twitter: @soyaguamiel