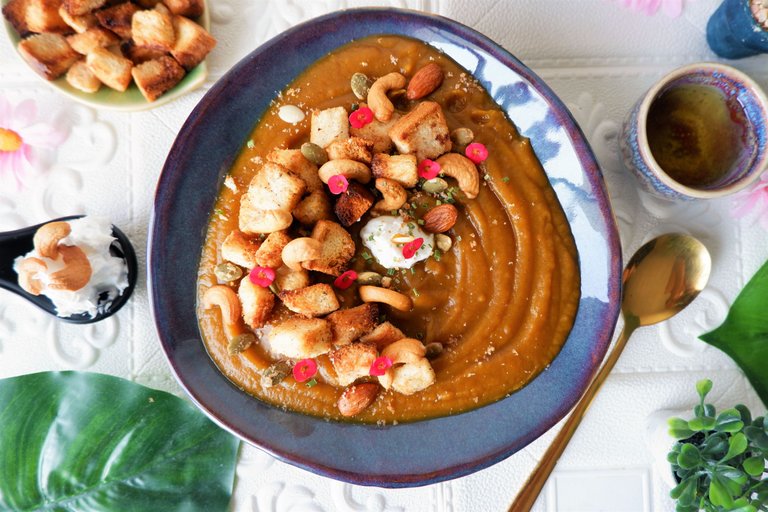 Introduce you guys to my favorite pumpkin soup recipe. It's super creamy, delicious, and healthy too. It's full of various ingredients combine for this hearty soup, but I'm guaranteed 100% that the pumpkin flavor will shines above all.
Stay warm with this Creamy Pumpkin Soup with Cinnamon Croutons and Nut bites. This recipe can be completed in just half an hour. The soup is easy and requires just a few basic ingredients plus some spices to complete.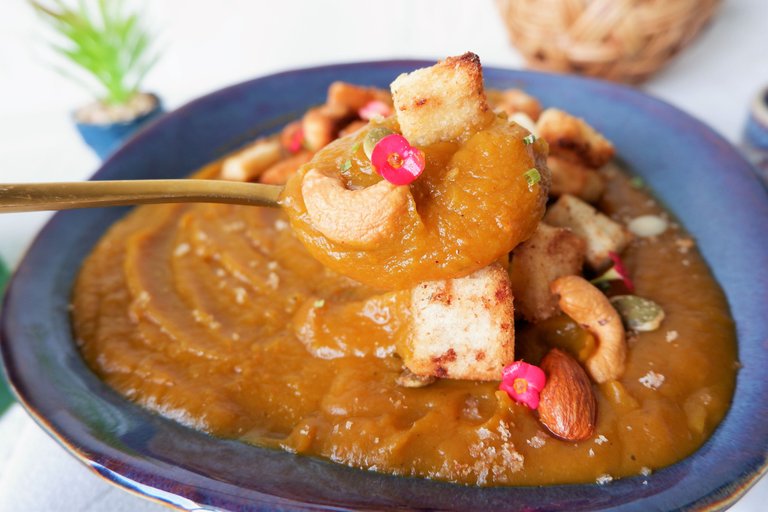 Talking About the Pumpkin Soup
Start with the pumpkin first, I use one medium sugar pumpkin for this recipe. I also tried this recipe with butternut squash but the flavor was not deep as I want so I highly recommend using pumpkin instead of butternut squash.

I did add the sweet potato both Japanese purple potato and Japanese orange potato to thicken the texture and make the soup more creamy but there is also a purpose for color.

Next, sauté onion, garlic, and ginger in a pan until release aroma. I highly recommend adding celery and carrots for a natural base soup. Then season with salt, ground black pepper, and a good pinch of cinnamon and nutmeg.

Finally, to add richness and make the soup super creamy, stir it with non-dairy cream. I didn't use coconut cream for this recipe because I don't want to overwhelm the flavor of coconut cream in the soup. It's the secret to getting the real flavor of pumpkin soup!

Top with crispy and aromatic croutons plus the various type of nuts to take the soup to another level!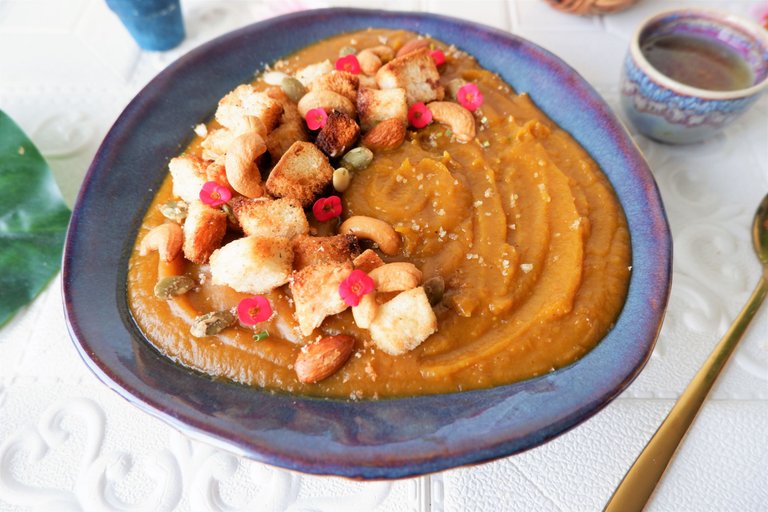 Now comes the crispy croutons over the pumpkin soup!
Cut a couple of slices of bread into cubes and coat them with olive oil, salt, and rosemary.

To add the aromatic fragrance croutons I went with a mix of cinnamon powder and nutmeg, as both of them fit well with pumpkin soup.

Once all the ingredients are coated all over the bread cubes, then bake for 5 minutes in the air flyer, or until crispy and golden brown.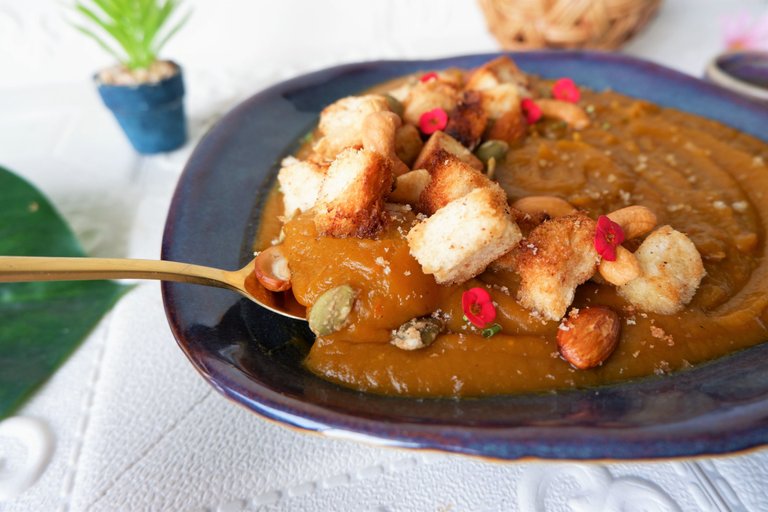 INGREDIENTS - FOR PUMPKIN SOUP
2 Kg Pumpkin
1 Carrot
3 Japanese Purple Potato
3 Japanese Orange Potato
5 Clove Garlic
1 Onion
1/2 Teaspoon Ginger
1 Tablespoon Frozen Celery
1 Tablespoon Olive Oil
1 Cup Non-Diary Cream
1 Tablespoon Organic Seasoning Nutrition Powder
1 Teaspoon Nutmeg
1 Teaspoon Cinnamon Powder
1 Teaspoon Black Pepper
1 Teaspoon Himalayan Pink Salt
Various types of Roasted Nuts for Garnish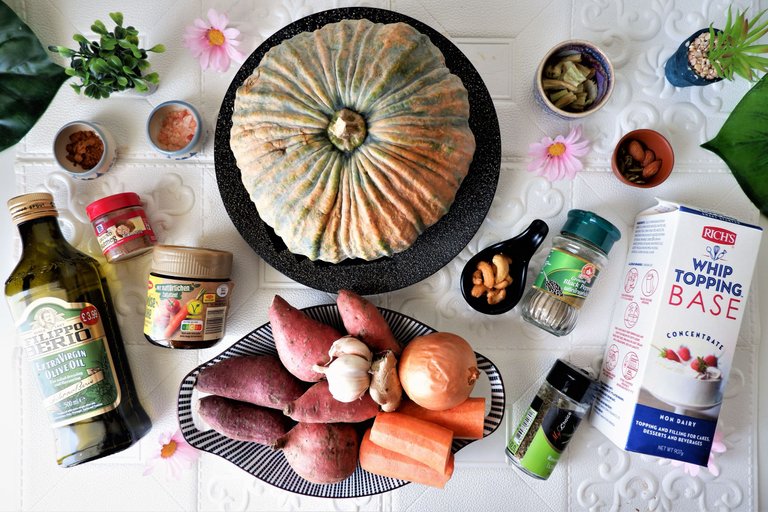 INGREDIENTS - FOR CINNAMON CROUTONS
2 Cup Cube of Bread
3 Tablespoon Olive Oil
1/4 Teaspoon Salt
1 Teaspoon Rosemary
1 Teaspoon Cinnamon Powder
1 Teaspoon Nutmeg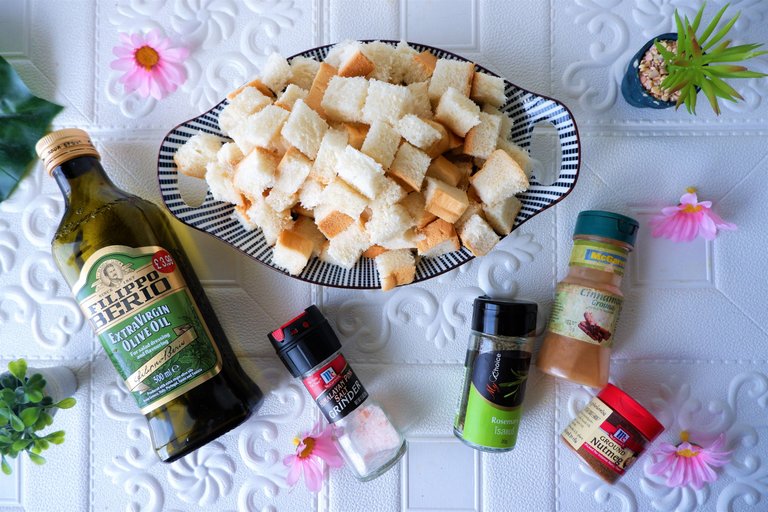 HOW TO MAKE PUMPKIN SOUP
STEP 1
Prepare the pumpkin, carrot, and pumpkin by washing all of them first, then peeling off the skin. Chop them into even square cubes. And safe the pumpkin guts which are so delicious to use in a base broth.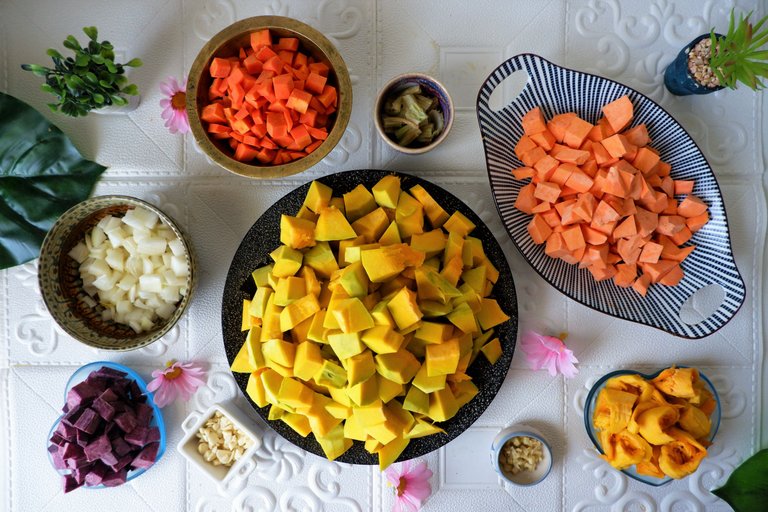 STEP 2
Heat the olive oil in the pan over medium heat and add garlic, then stir until the garlic starts to turn light golden yellow. Follow with onions to the pan. Sauté them and keep stirring for about 2 minutes.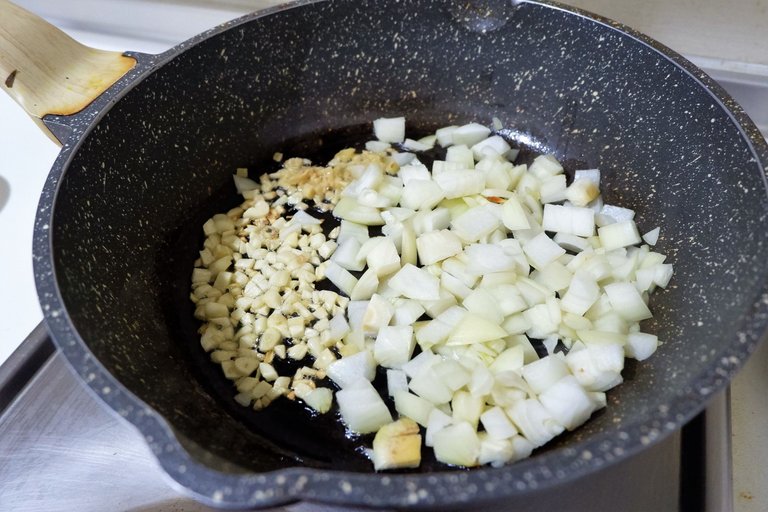 Once garlic and onion are cooked and translucent, then add the carrots and celery. Stir them all together and let all the ingredients sit without stirring for about 2-3 minutes.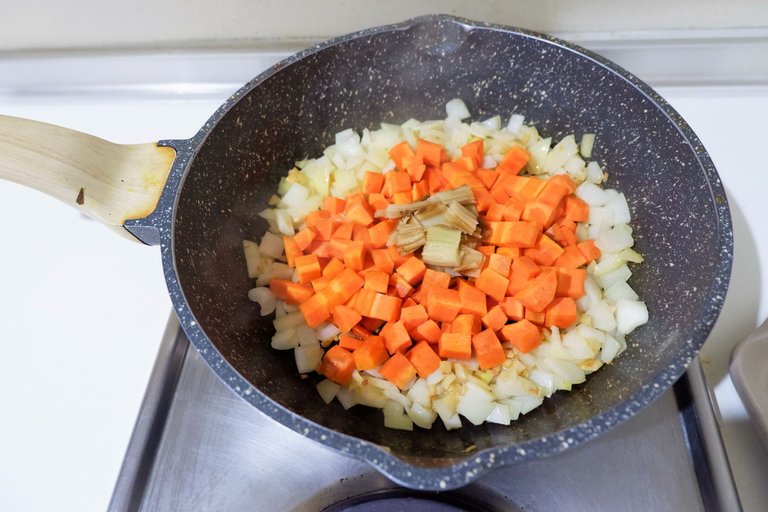 Add the Japanese purple potato, Japanese orange potato, and pumpkin guts into the pan and stir to combine.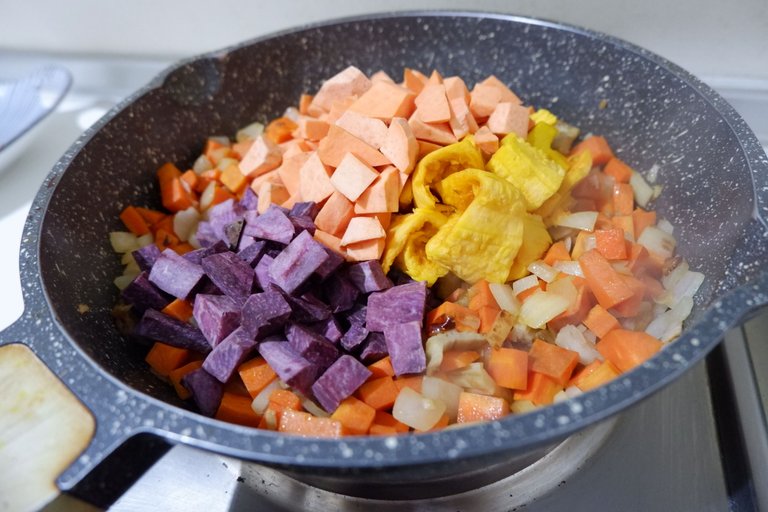 STEP 3
Add Himalayan Salt, Cinnamon Powder, Nutmeg, Black Pepper, Rosemary, and Organic Seasoning Nutrition Powder into the pan.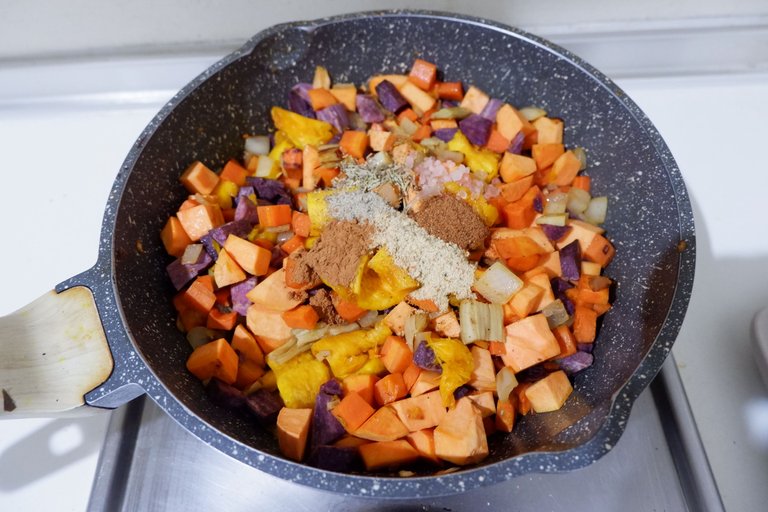 Continue whisk by using the wooden stirring spoon to combine all the spices in the pumpkin guts.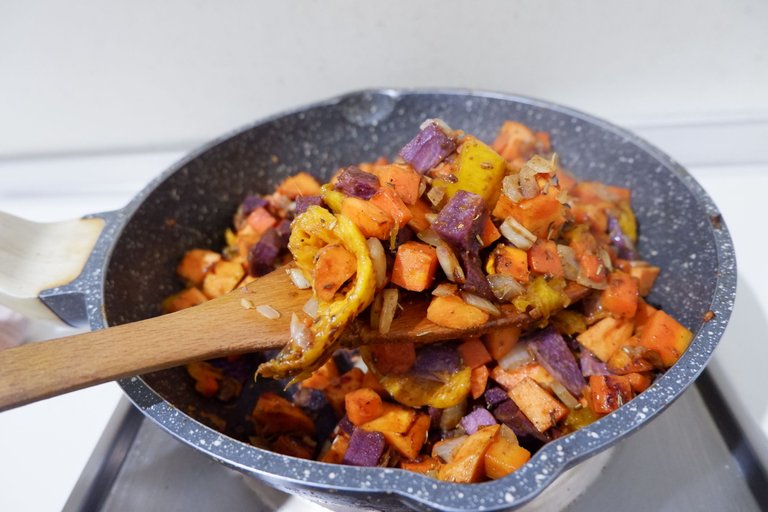 STEP 4
Pour in the water and bring the mixture to a boil.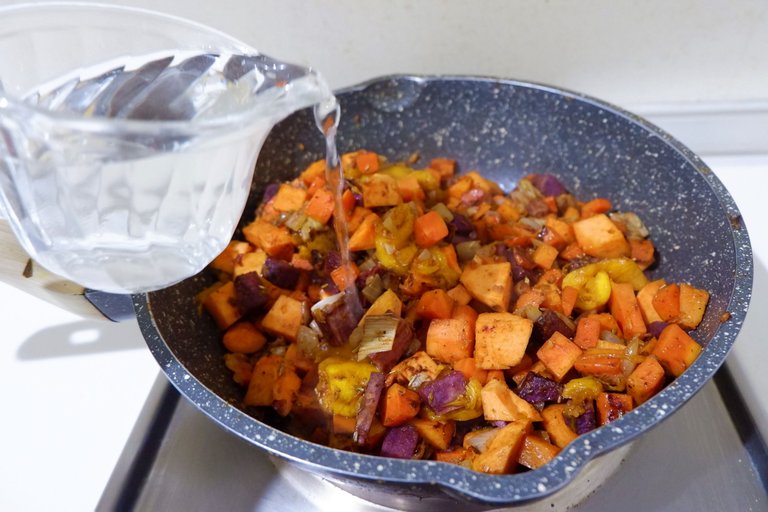 Reduce the heat and simmer for about 5 minutes to give the flavors time to combine.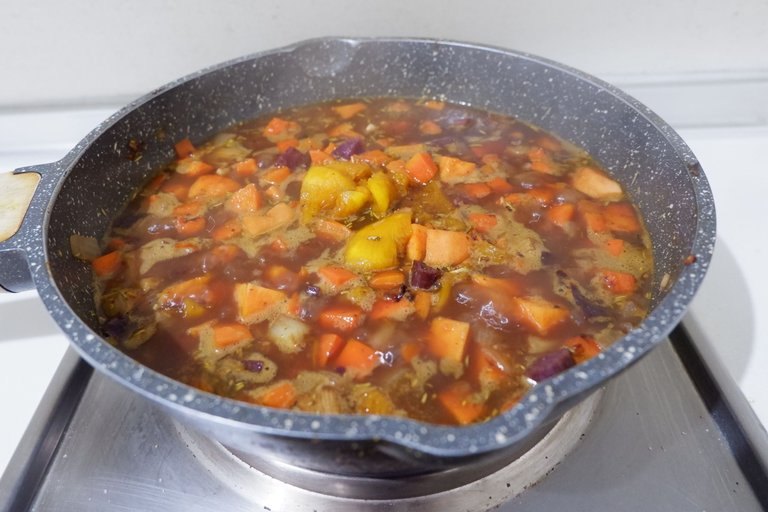 Then move the mixture into the big pot.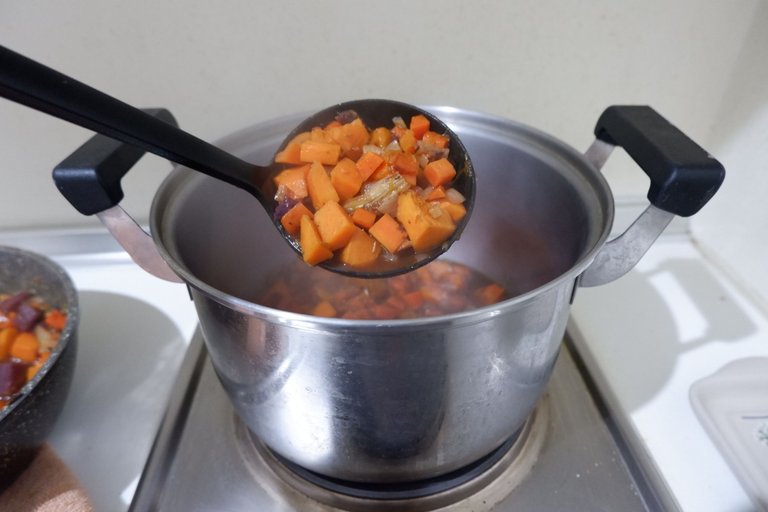 STEP 5
Lower the heat and add the pumpkin flesh into the pot.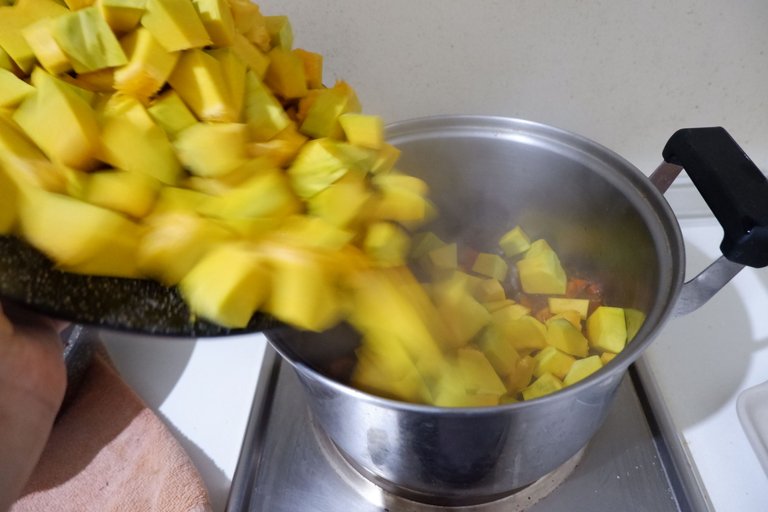 STEP 6
Add more water until cover all the pumpkins and bring to a boil again. Then simmer for 15 minutes or until the potato and the pumpkin is very soft.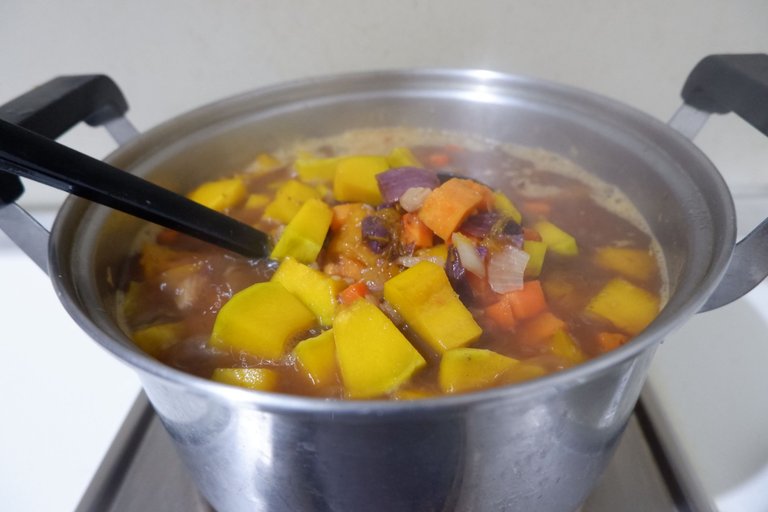 Carefully blend by using an immersion blender until finely smooth.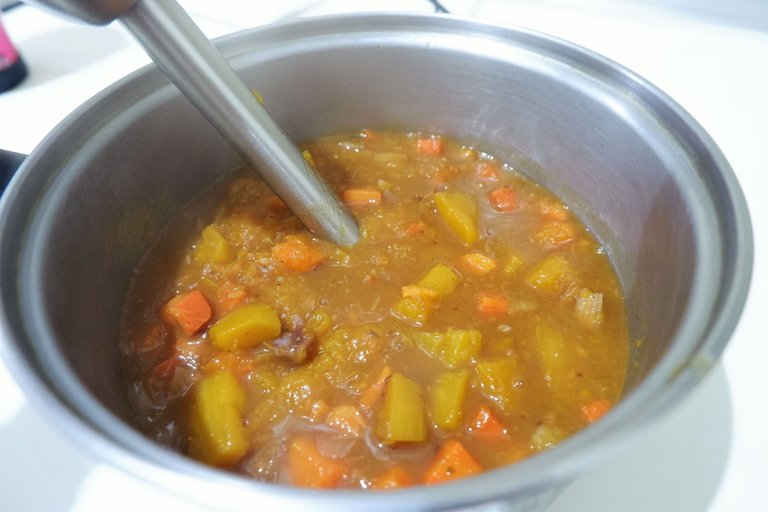 Once the pumpkin soup is done blending, then add the non-dairy whip cream into the pot.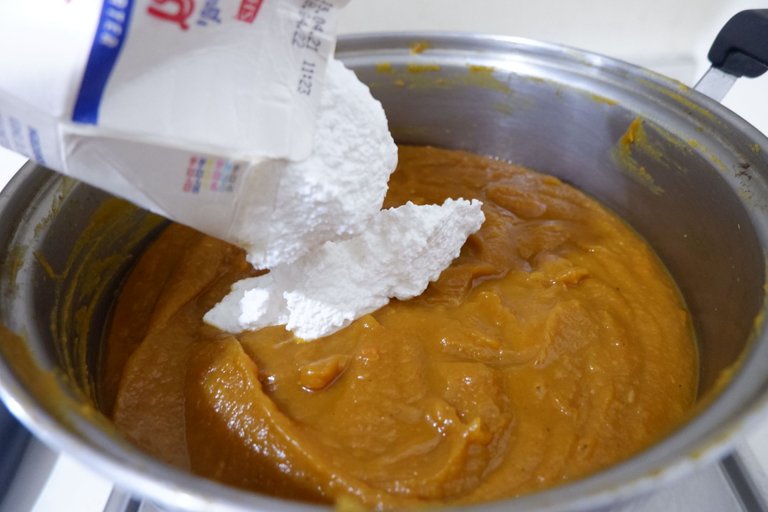 Stir in the non-dairy cream and the soup together. Simmer with low heat for about 3 minutes and stir occasionally to avoid the soup from burning. Once the pumpkin soup is done, turn off the heat, and let's prepare the croutons.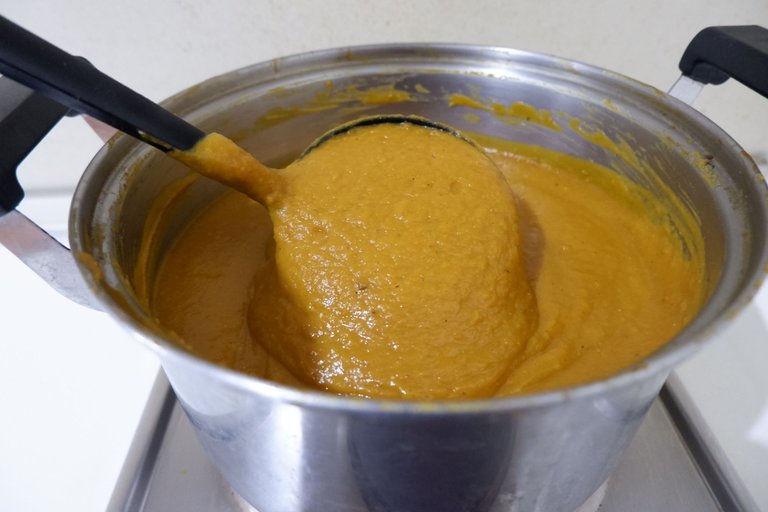 HOW TO MAKE CINNAMON CROUTONS
Spread the bread cubes out in a pan and drizzle the olive oil over the bread over medium heat.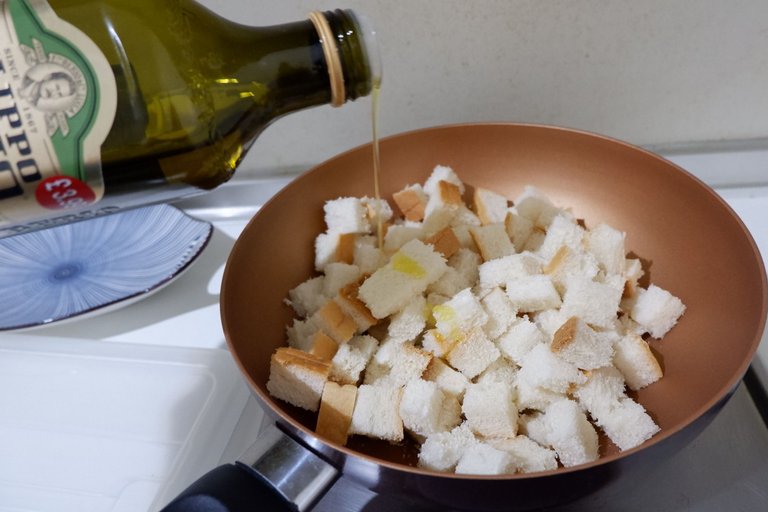 STEP 2
Gently mix them together. Then evenly sprinkle the salts, rosemary, cinnamon powder, and nutmeg over the bread.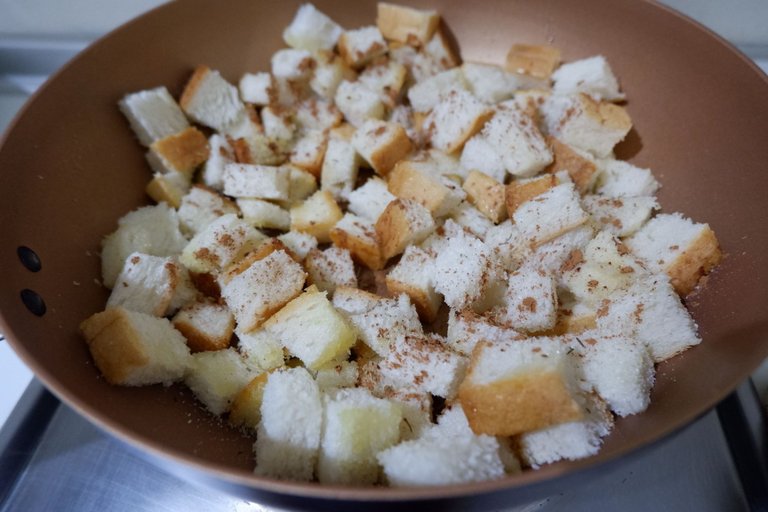 Then toss gently until well combined.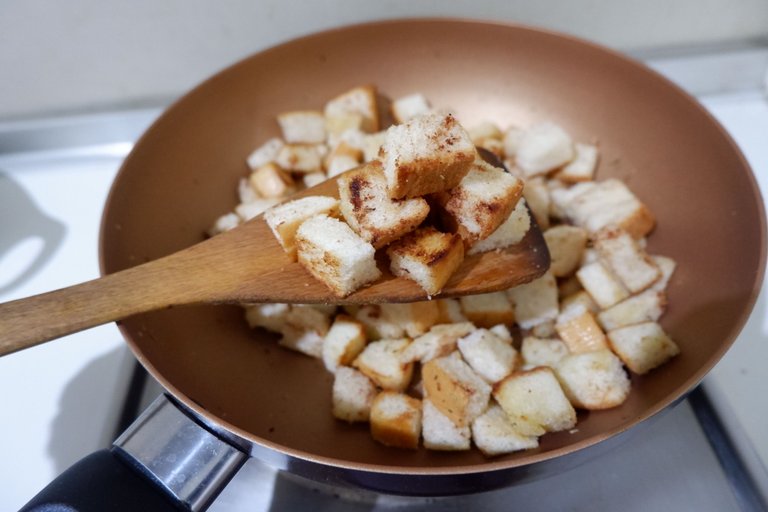 STEP 3
Move the bread cubes into the air-flyer to 160°C and bake until golden crispy for about 5 minutes.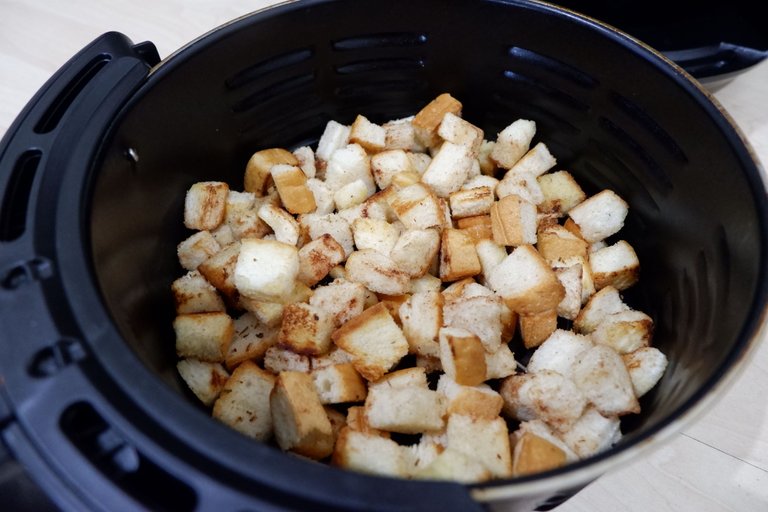 ALL THE COMPONENTS ARE READY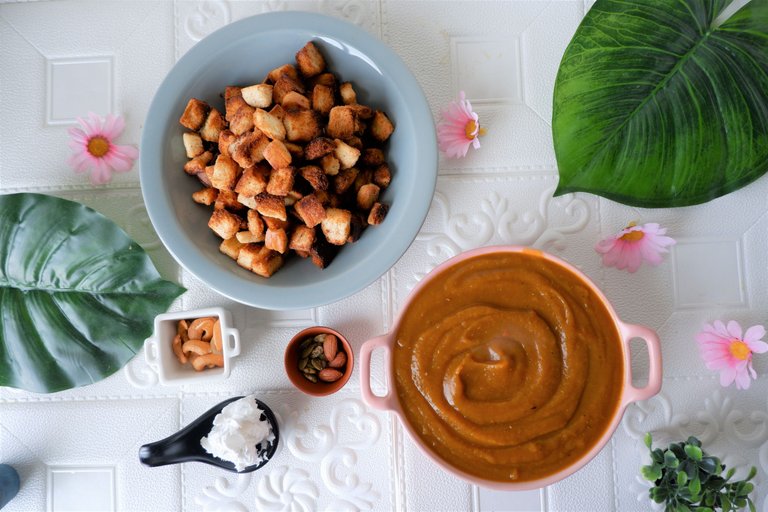 PLATTER
Divide the pumpkin soup between serving bowls, top with crunchy croutons, cashew nuts, almond nuts, pumpkin seeds, a sprinkle of chopped chives, and a spoonful of non-dairy cream, and serve!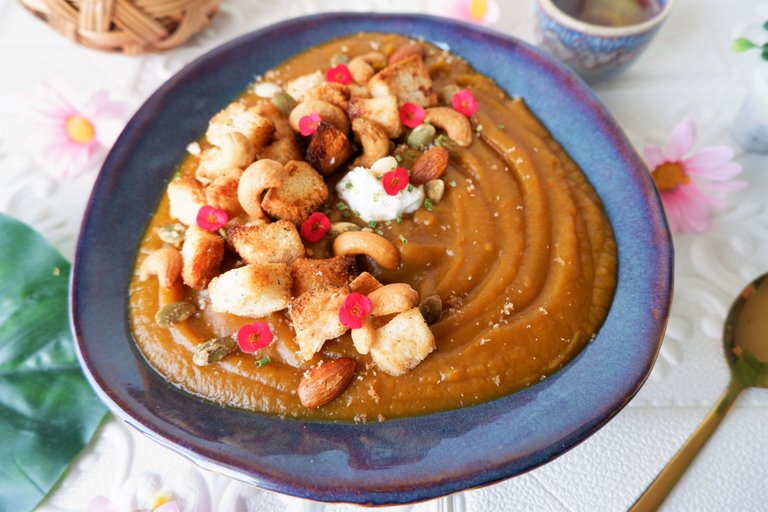 This Creamy Roasted Pumpkin Soup with Cinnamon Croutons and Nut bites is even better to taste if it's made in advance. Just refrigerate with a glass airtight container, and reheat on the stove when you wanna serve them.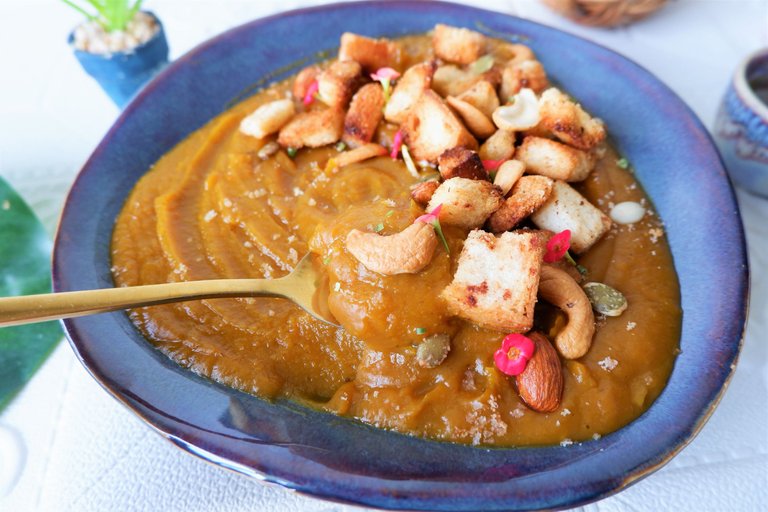 I loved the outcome of this recipe and also possible to substitute the non-dairy cream with almond milk, soy milk, or your favorite plant-based cream.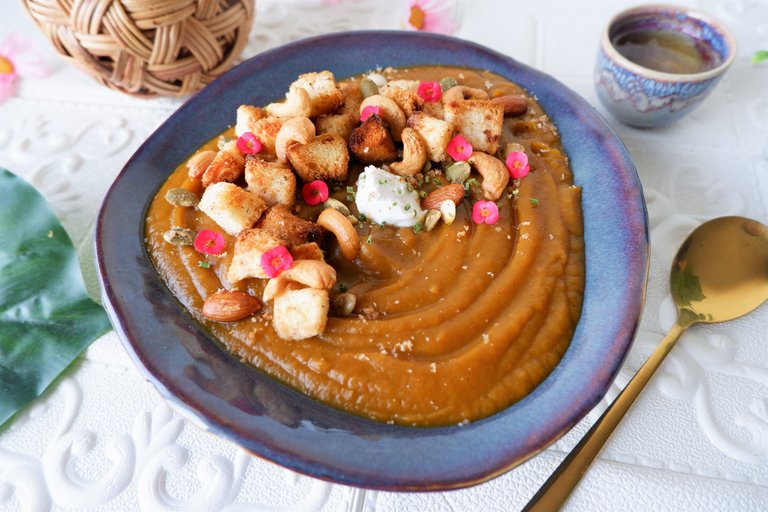 This pumpkin soup is also rich in vital vitamins and minerals. Such a hearty soup to comfort our tired bodies on the midweek day. Hopefully, you enjoy this recipe and give them a try.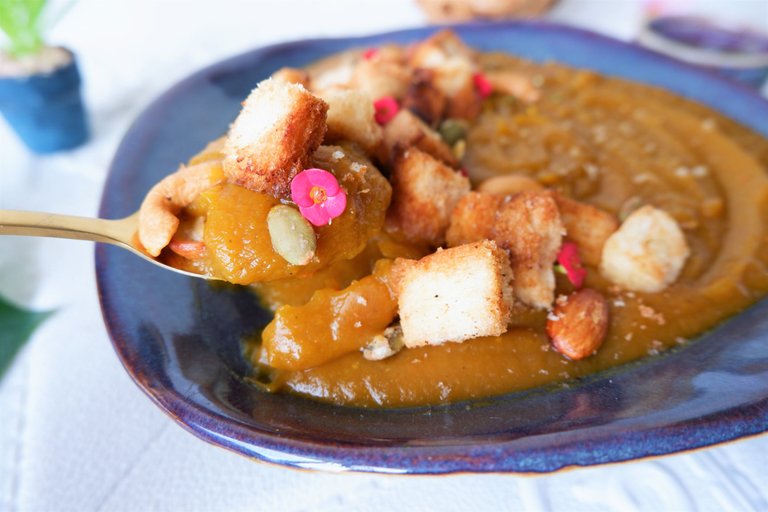 Hope you guys have a happy day! ✨💛🙇