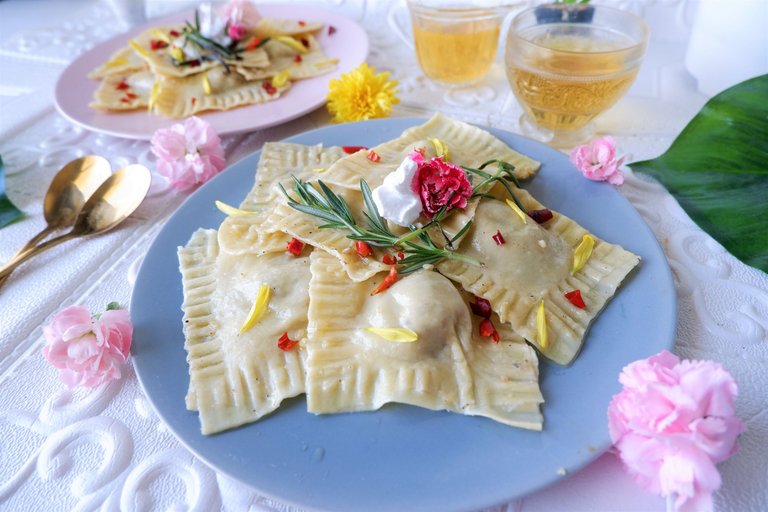 I love spending time during the weekend making homemade ravioli. It is really fun and relaxing to create this cute little pasta and bring them to the table for an incredible dinner night. In this recipe, I start with an easy vegan ravioli dough and my delicious ravioli filling plus my simple favorite sauce. And this vegan ravioli is fit perfectly with this week's challenge on Plant Power Community is "Pasta Festival"
These vegan ravioli are super easy to make and taste amazing. For a long time, I assumed ravioli wasn't food for me to make at home. Not just because it's not quite familiar for my usual food consumption and usually needs a pasta roller. It's TOO far complicated!!! But everything has changed since last year, my daughter gave me this pasta roller for my birthday, which makes me roll out the pasta sheets so much easier!
 
Making My Own Vegan Ravioli Dough Without Eggs
Unlike other pasta noodles which are possible to make by hand, I do need a pasta roller for this Ravioli recipe. I really wouldn't recommend using a rolling pin because it's hard to get the dough thin at the perfect point, and I'll always end up with a sheet of pasta that is too thick.

As I mentioned above, It's super easy to make vegan eggless ravioli pasta.
Just simply mix the ingredients of semolina flour, salt, water, and olive oil. Then mix with a silicone spatula until a dough starts to form. Then, switch over to my hands and knead until the dough feels smooth and springy.

Lastly, roll the dough with the pasta roller until the dough is spread into the pasta sheet. Later on, place about 1 tablespoon of the ravioli filling. Then cover with a second pasta round and cut with the sharp knife in an evenly square sheet, then press the edge of the ravioli with the fork to seal all the stuff filling inside.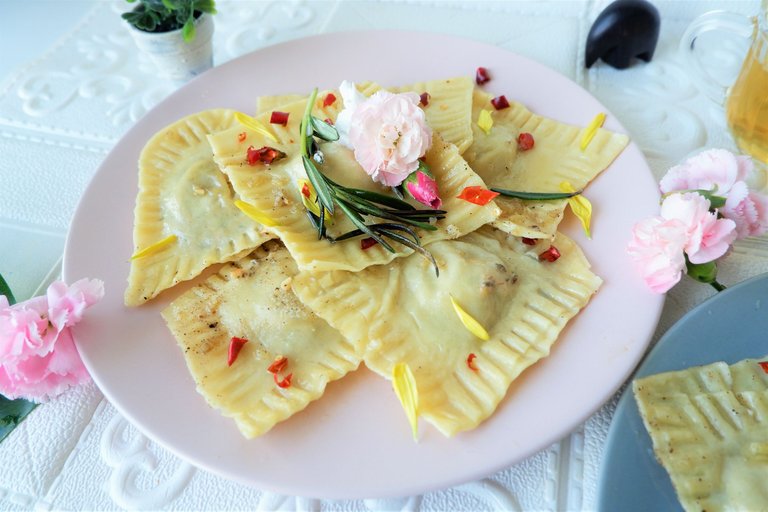 Talk About The Vegan Ravioli Filling and Sauce
I stuffed these vegan ravioli with a delicious cashew cream filling which it's creamy, rich, and tangy.

In this recipe. I created my version of vegan cream cheese by mixing the non-dairy cream and rice vinegar. These are very delicious and very useful for vegan cream cheese options. Then I add the ground peanut for a crunchy texture and seasoning with salty Miso, it's a kind of healthy Japanese fermented soybean. Plus minced garlic and dried Italian basil for a fragrant and delicious taste.

To cook the vegan ravioli, simply boil them for 3 minutes in boiled water or until they float.

And topped them with a Rosemary garlic sauce by sautéing garlic, rosemary, salt, and black pepper in a pan and tossing with the ravioli to combine. Lastly, garnish with chili flake and a spoonful of vegan cream cheese.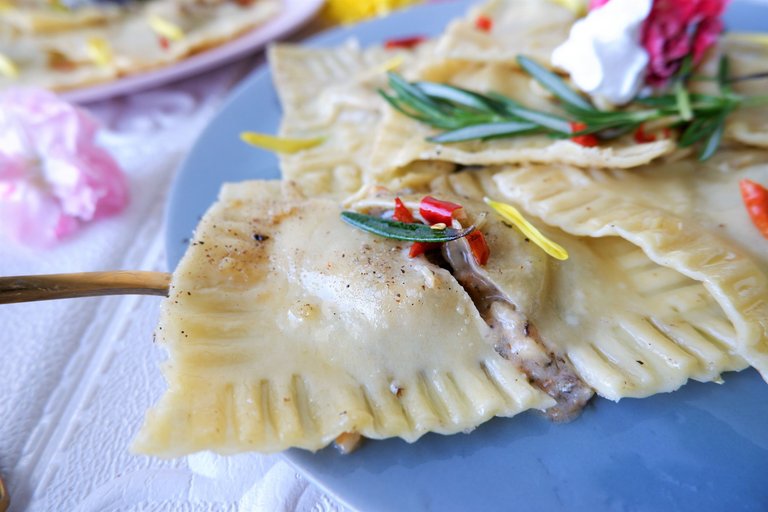 Ingredients - For Making Ravioli Sheet
200 Gram Semolina Flour
100 Gram Water
20 Gram Olive Oil
1/3 Teaspoon Salt
 
Ingredients - For Making Ravioli Filling
120 Gram Non-Dairy Cream
1 Tablespoon Rice Vinegar
100 Gram Cashew Nuts
1 Tablespoon White Miso
3 Cloves Garlic
2 Tablespoon Dried Italian Basil
Pinch of Black Pepper
 
Ingredients - For Making Ravioli Sauce
3 Tablespoon Olive Oil
3 Cloves Garlic
4 Rosemary
1/4 Teaspoon Salt
1/4 Teaspoon Black Pepper
2 Tablespoon Vegan Cream Cheese
4 Dried Red Chili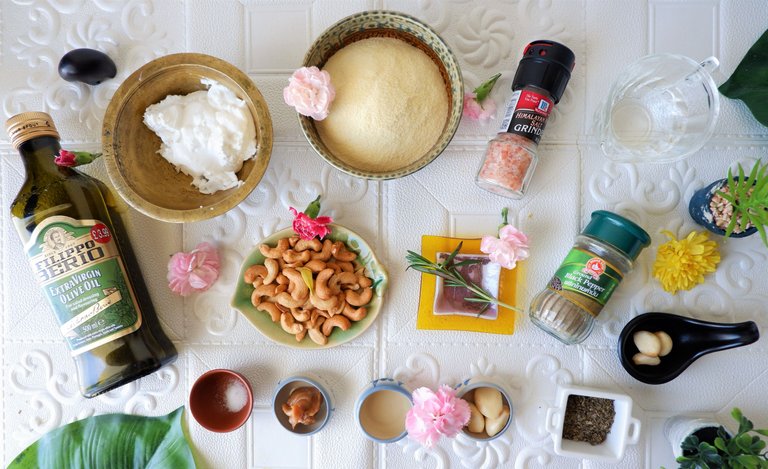 ---
---
HOW TO MAKE RAVIOLI PASTA
STEP 1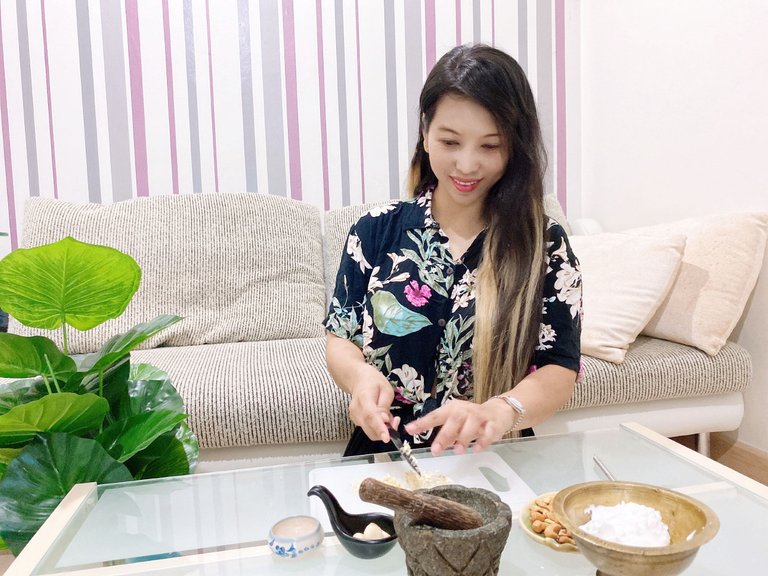 I recommend chilling the metal bowl of non-dairy in the freeze first and whisking by hand for at least 2-3 minutes until smooth. Continue whipping the cream until stiff peaks form. This can take around 2 minutes more.
Crush a clove of garlic and then give it a rough chop until finely minced.
Use a rocking mortar to pound the cashew nut until finely ground.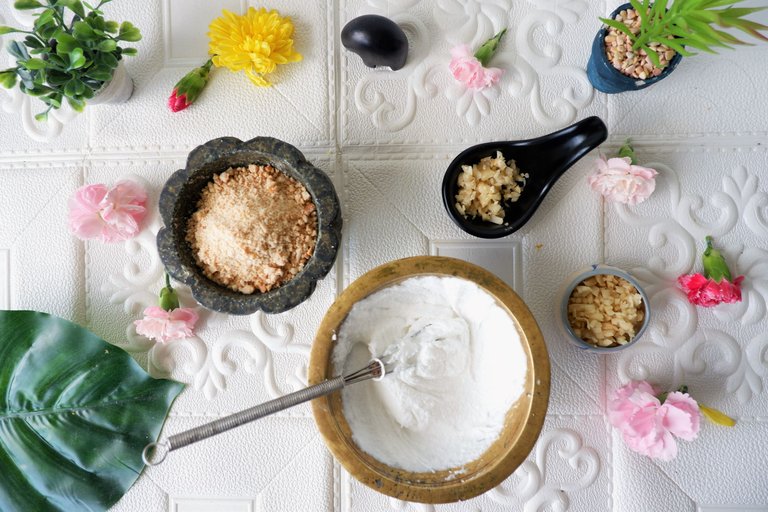 ---
---
STEP 2
Add semolina flour, salt, olive oil, and water to a large bowl.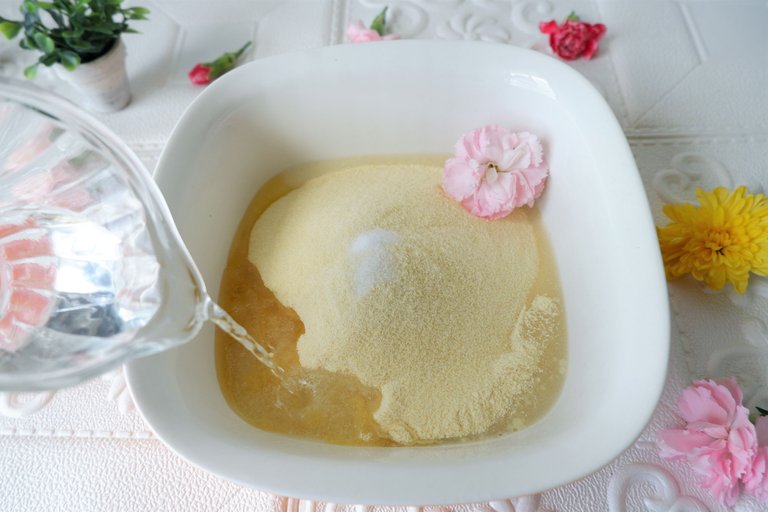 Then mix all the four ingredients together with a silicone spatula and try to distribute all the ingredients throughout the semolina flour.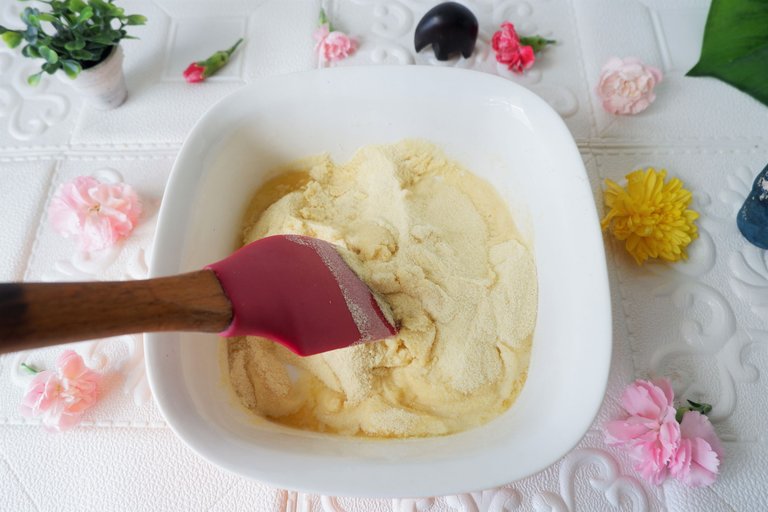 Once all the ingredients start to rough combine. For the next step, I use my hand to help bring the dough together and better control the mix rate and moisture levels. The dough will take some time before it turns smooth.
If the dough is too dry and can't form the ball shape, feel free to add more water by increasing little by time, approximately a teaspoon more. By the way, if the dough is too wet, add small amounts of flour and continue to knead.
But from my experience with I do this recipe so many times, no need to adjust more water or flour to this recipe.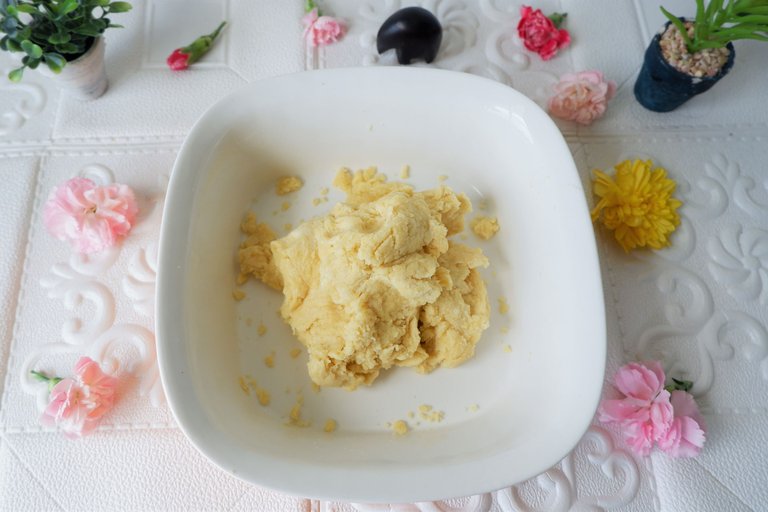 STEP 3
Sprinkle the surface with flour and move the ravioli dough out of the bowl to a clean surface onto the countertop. Begin kneading the ravioli dough, pushing it down, and then outward, only using the palm of your hands. Then fold the dough in half toward you and press down. Repeat the process and knead the dough for about 10 minutes.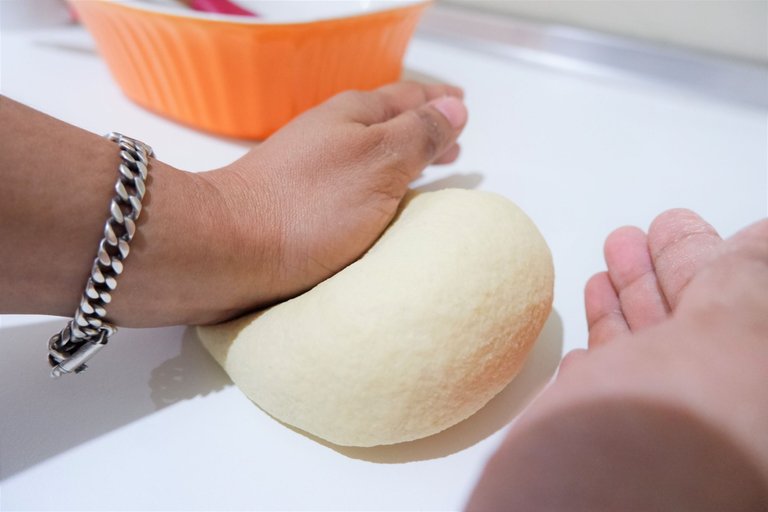 Once the dough has been kneaded enough, the dough will be smooth and springy
Then form the dough with your palm with both hands and shape them into a ball shape.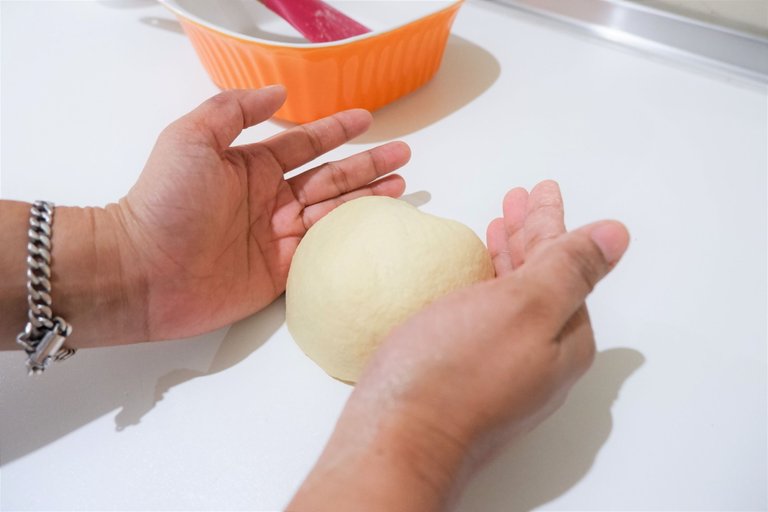 Move the dough into the mixing bowl and cover with a kitchen towel, just have to let the ravioli dough rest for 30 minutes at room temperature.
If you aren't using the dough right away, place it in the refrigerator until ready to use. When ready to use, remove from the fridge and bring it to room temperature before rolling it out.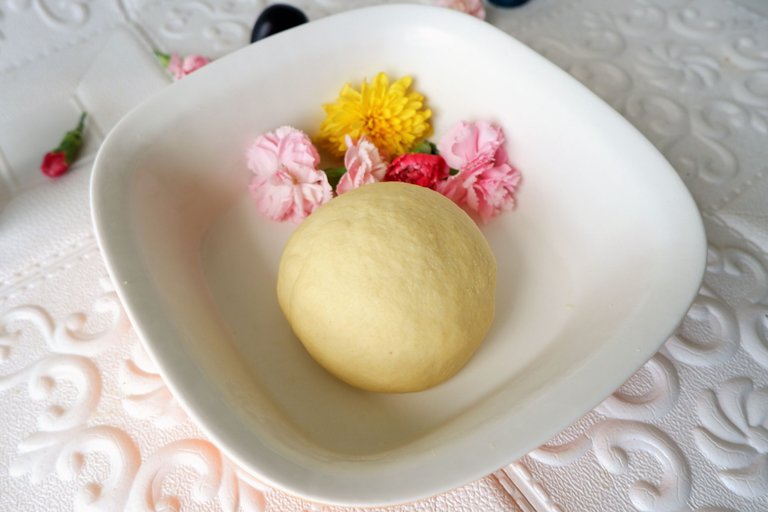 STEP 4
Once the dough rests for 30 minutes. move the dough to the clean surface again and dust the top with flour. Then separate the ravioli dough into 2 separate balls with a sharp knife of roughly the same size.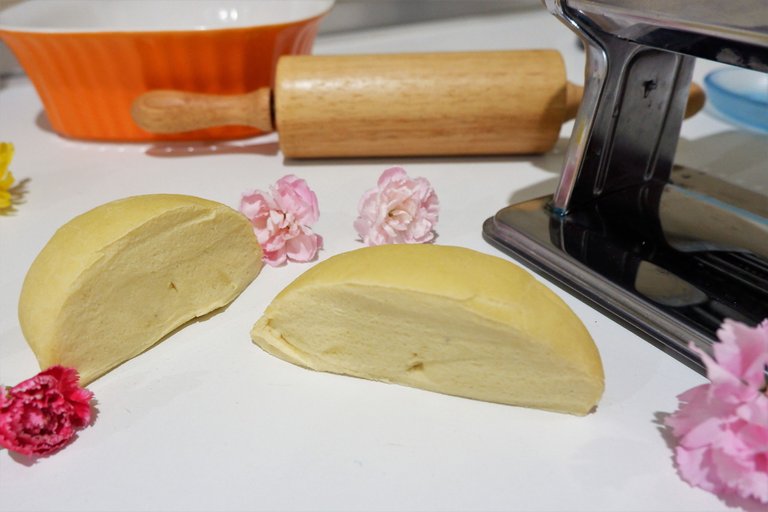 I place one of the dough balls into the center of my working area and place the other dough to another size and cover it with a kitchen towel. Form the dough with the hand to a rough square shape.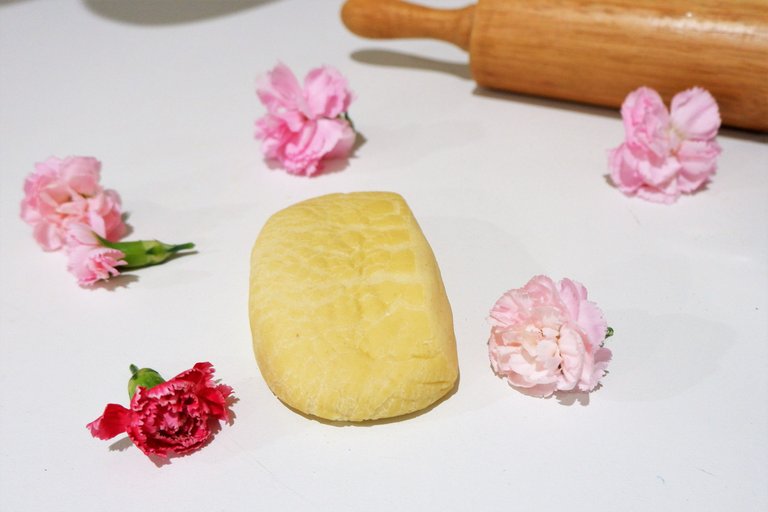 Using a wooden rolling pin, Then begin to start rolling out my ravioli, being sure to flour the dough and rolling pin as needed to avoid sticking. Roll out the ravioli dough at the stage of not too thin and not too thick. Then cover both sides with a dusting of flour.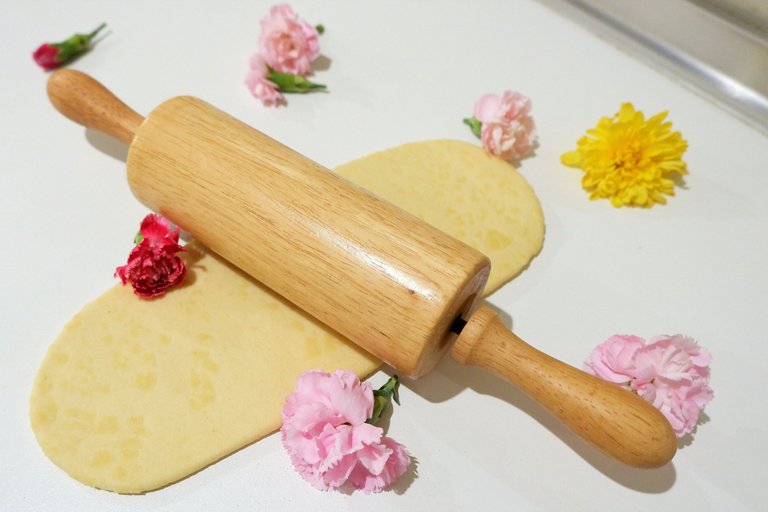 STEP 5
Gently place the pasta sheet roller on the pasta maker and set it to Number 1. Roll the pasta maker to speed setting 1 or 2 and run the ravioli pasta dough through the pasta sheet roller.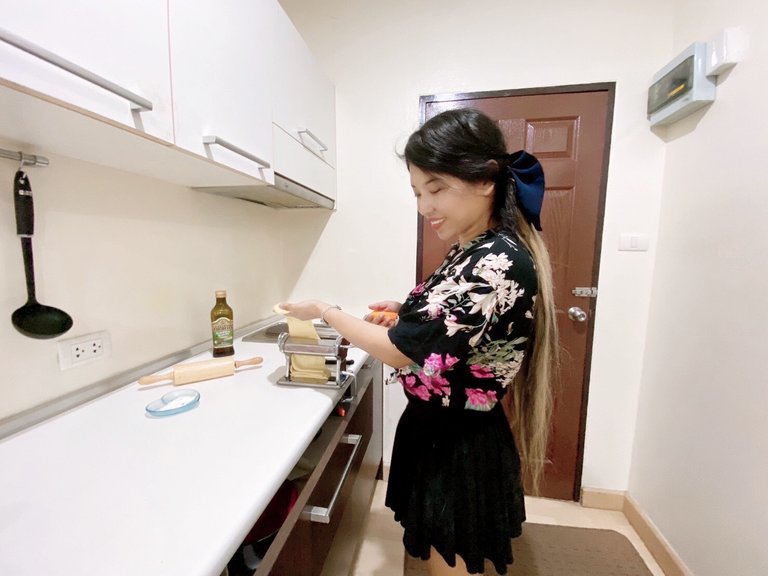 While on Number 1, fold the dough in half and run it through again. Repeat at least 4 more times by folding the dough in half and running it through a pasta sheet roller again.
 
Change the setting to Number 3 and run it through 1 time. Then change the setting to Number 4 and run it through 1 time more. I prefer the ravioli at this stage and I also recommend starting thinner than thicker.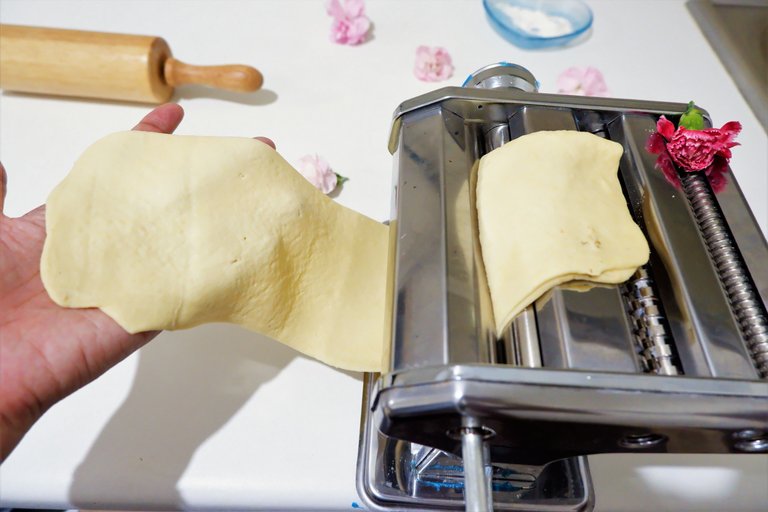 Gently spread the ravioli sheet on the clean surface and dust the flour on both sides. And cover with the kitchen towel. In the meantime, let's prepare the filling.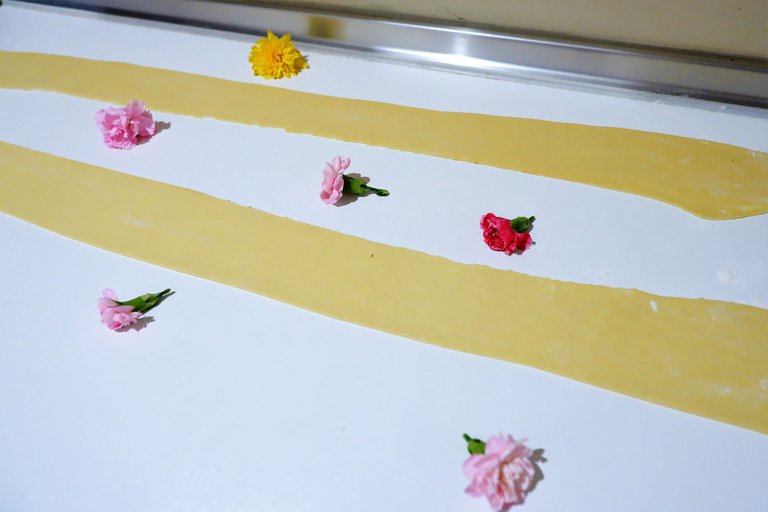 HOW TO MAKE VEGAN RAVIOLI FILLING
STEP 1
Make the vegan cream cheese first by mixing the non-dairy cream and rice vinegar together. Then combine them together and you can adjust the sour taste following your preference by adding more rice vinegar.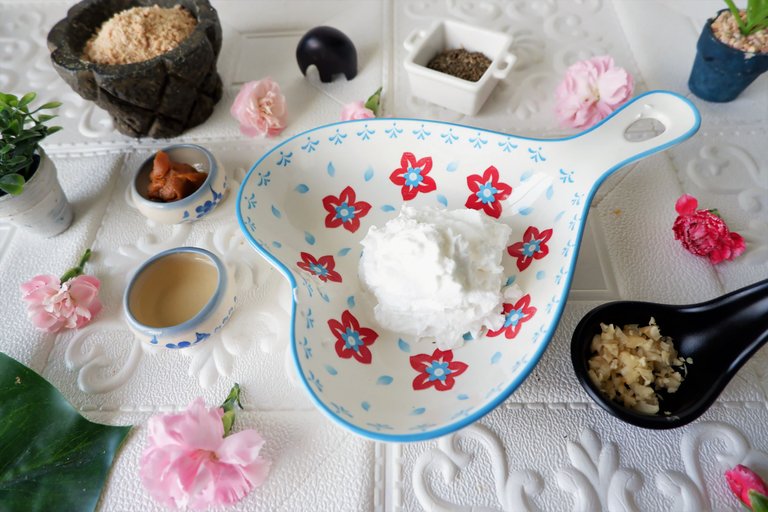 STEP 2
Add the ground cashew nuts, Japanese white miso, minced garlic, black pepper, and dried Italian basil.
 
Mix through all the ingredients with the utensil until everything combines well. For this recipe, no need to put them in the freezer before using them because they are already in form and ready to scoop out to fill the ravioli.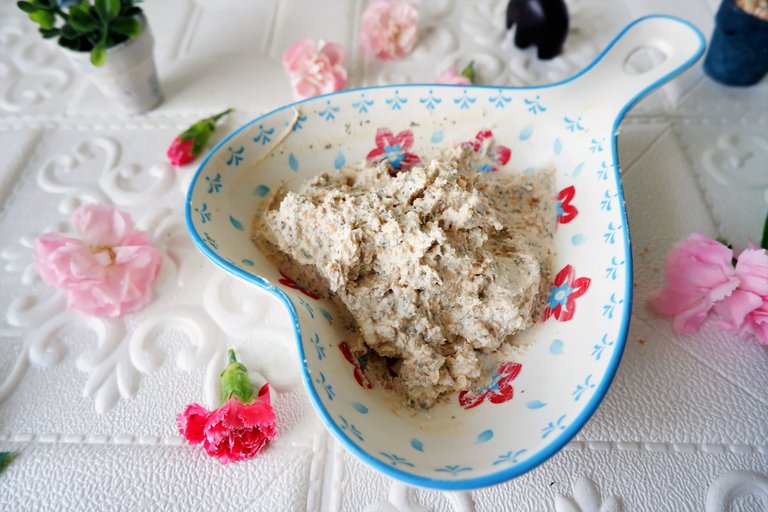 COMBINE THE RAVIOLI
STEP 1
Using a spoon and scoop the filling and place around 1 Tablespoon of filling in the center of the evenly square.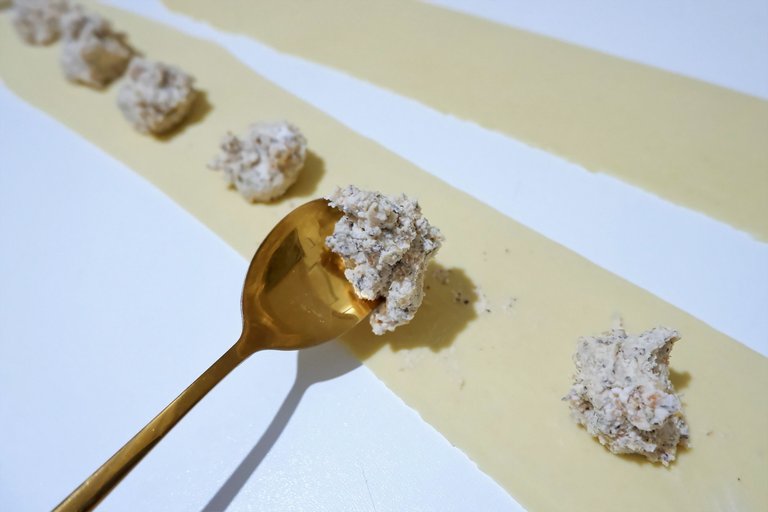 STEP 2
Cover with a second pasta round. So please use the shorter pasta sheet as the bottom layer and use the longer pasta sheet as the cover sheet.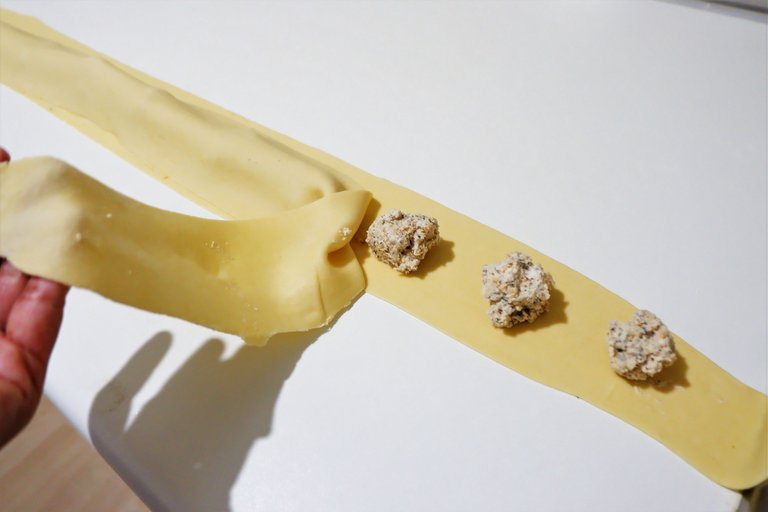 Pull the cover sheet while covering each filling and do a gentle and soft mark at each filling.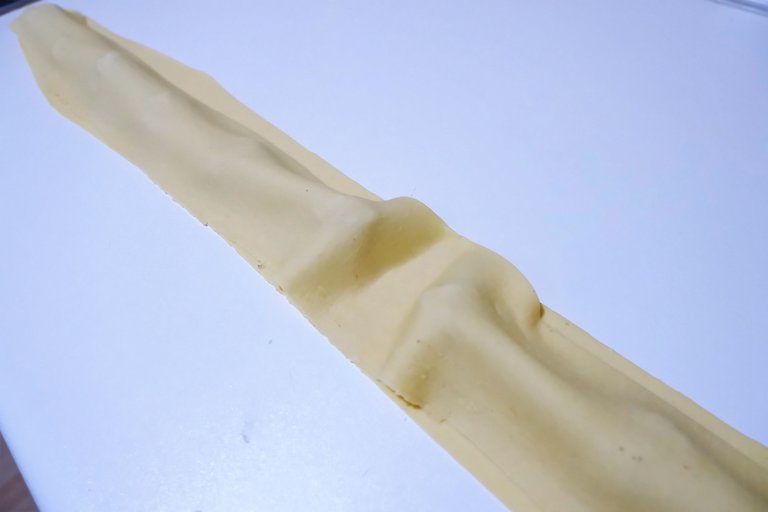 Press the edges firmly to make sure they are sealed. I found that using a hand stamp was much better, just be sure not to over-put the filling to the edges of ravioli as you want a clear space around each filling for the next step of dealing with the fork.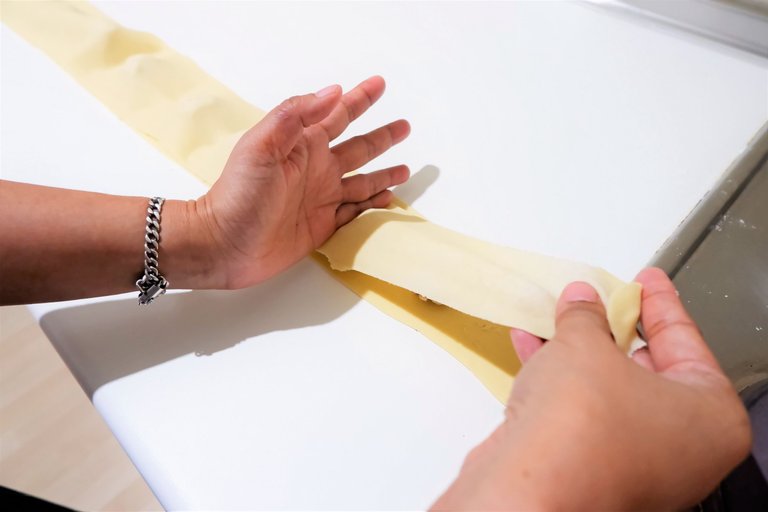 Do a very slow and gentle to make sure that push out any air bubbles from the ravioli. Because air bubbles will expand and easy to explode when boiling the pasta which will lead to messy and lost filling.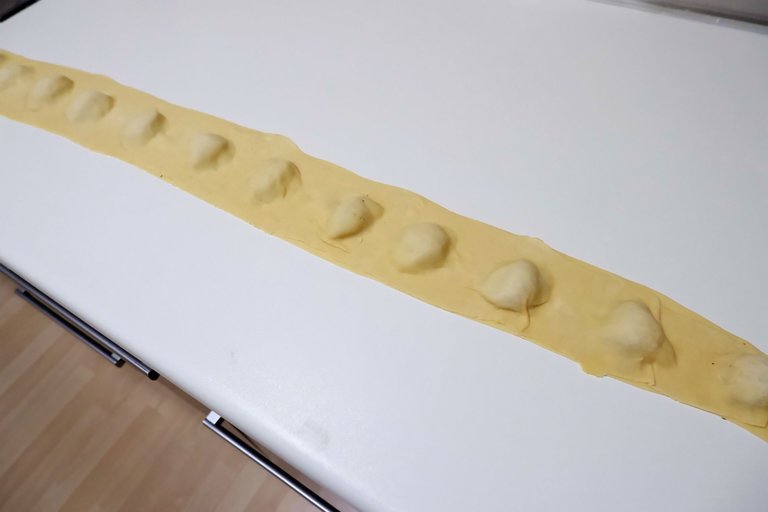 Once completed this step, take out the sharp knife and cut it all the way through to the ravioli into a square shape.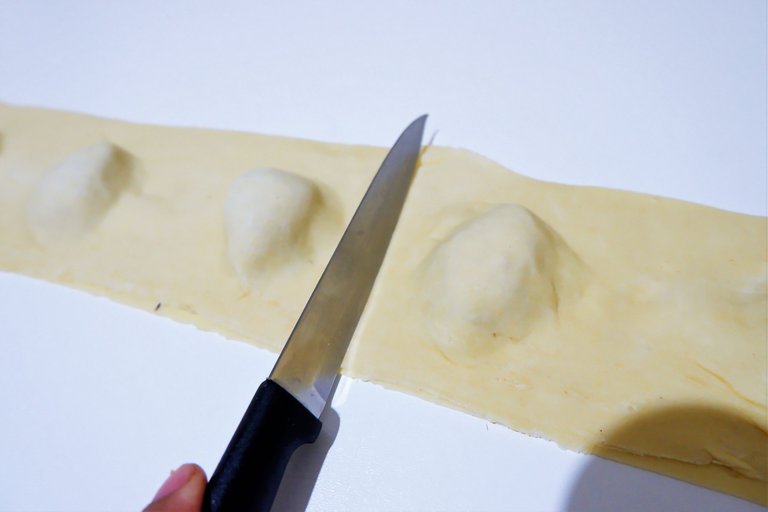 STEP 3
Gently free each ravioli and be sure to place a single sheet of ravioli on a surface counter. Do not let them touch together. Otherwise, they will stick together and dust the flour on both sides.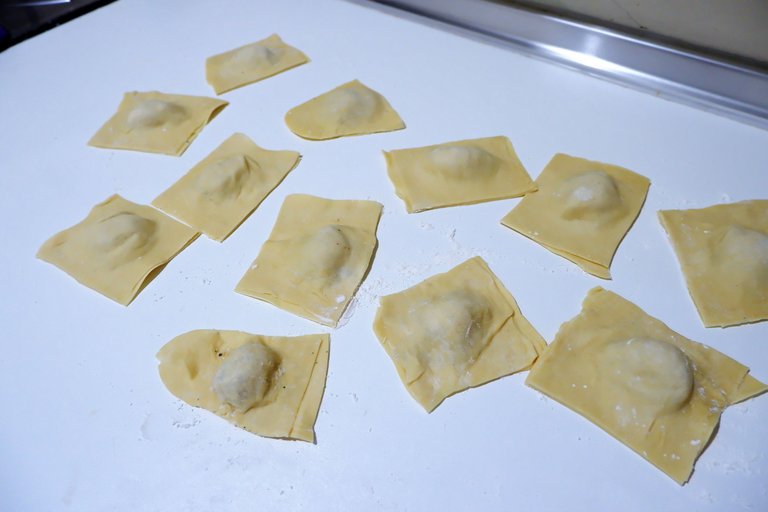 STEP 4
Grab a fork and start double sealing the ravioli by gently pressing the fork into the ravioli at the edge.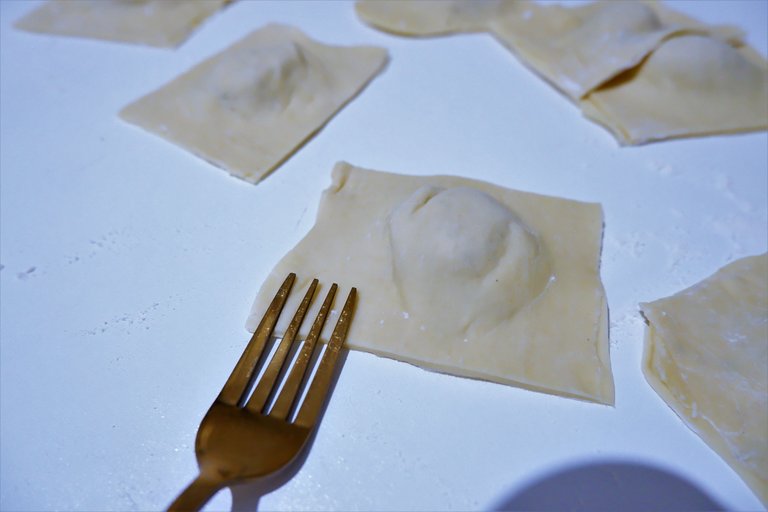 It's possible to make round ravioli shapes too by using a cookie cutter to cut around each ravioli. But make sure that the cookie-cutter leaves enough room to press the ravioli edges together. In my opinion, I don't want to lose any edible ravioli pasta so I prefer a square shape because we can consume it all.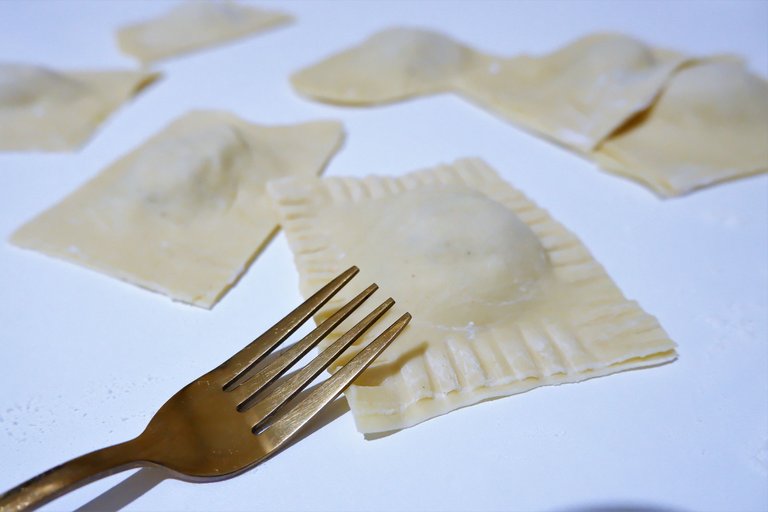 It's possible to refrigerate the finished uncooked ravioli until ready to boil them. Which I recommend you do within 15 minutes of plating. I never freeze them in the freezer because I always wanted the maximum freshness so I do them fresh at the time. I think if we freeze them in the freezer, the filling will easily tear apart and the ravioli will explode when boiling them.
 
HOW TO BOILED RAVIOLI
To boil the ravioli simply take a large pan. Then add water and bring to boil. Add the ravioli one at a time and stir the pan gently. When the ravioli float to the surface of the water, they are done and can be cooked for another step.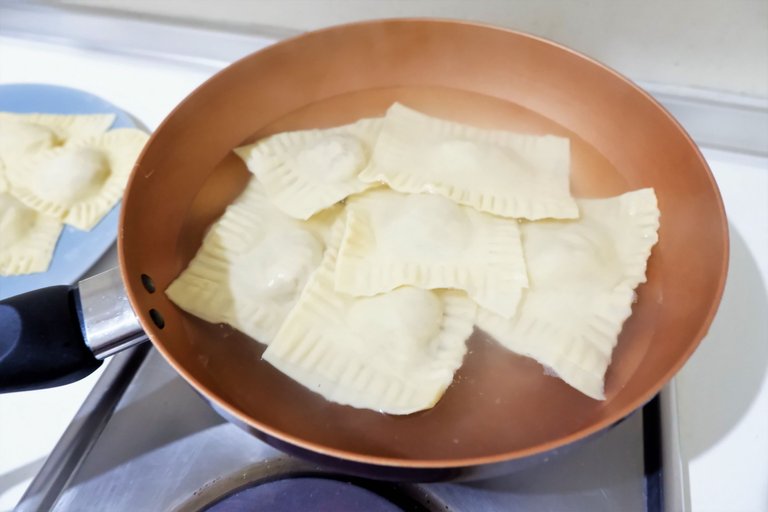 Once the ravioli are cooked, place them on a clean plate and sprinkle a bit of olive oil to prevent them from sticking together.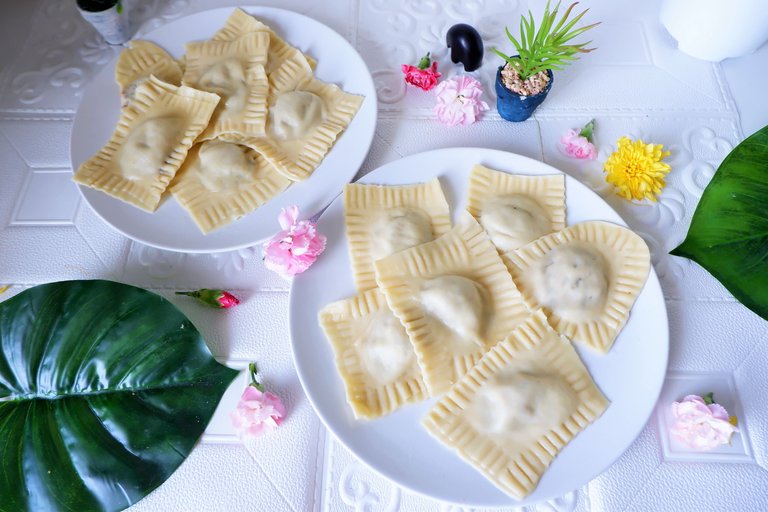 HOW TO MAKE RAVIOLI SAUCE
Heat the olive oil in the pan and add garlic to a pan over low heat and stir until the smallest pieces of garlic start to turn golden yellow. Then add the salt and pepper to the pan. Sauté them and keep stirring for about 1 minute.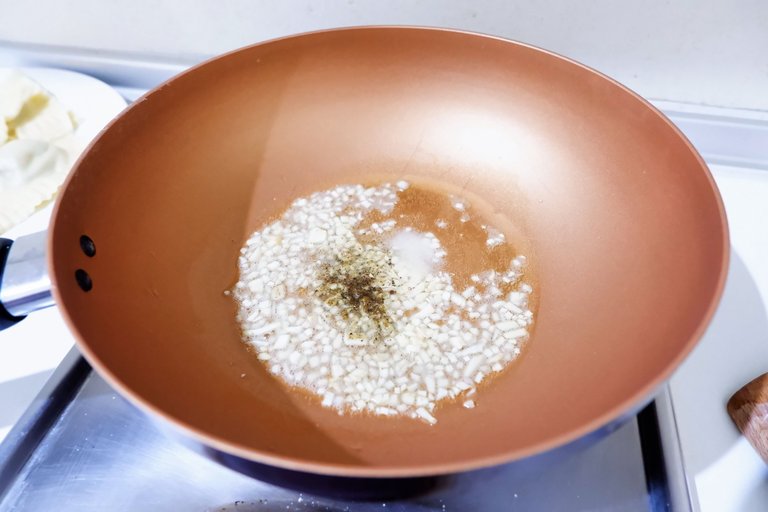 Once the garlic releases its aroma then add the ravioli and rosemary, then toss them for a couple of seconds until combined and fully coated.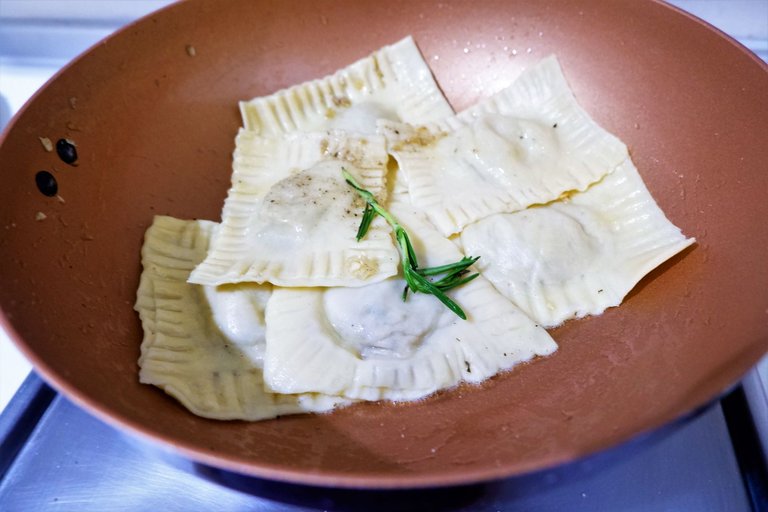 PLATTER
To plate, I recommend 6 ravioli for the main course. Add ravioli to the plating with rosemary garlic sauce and topping with a spoonful of vegan cream cheese and garnish with dried chili.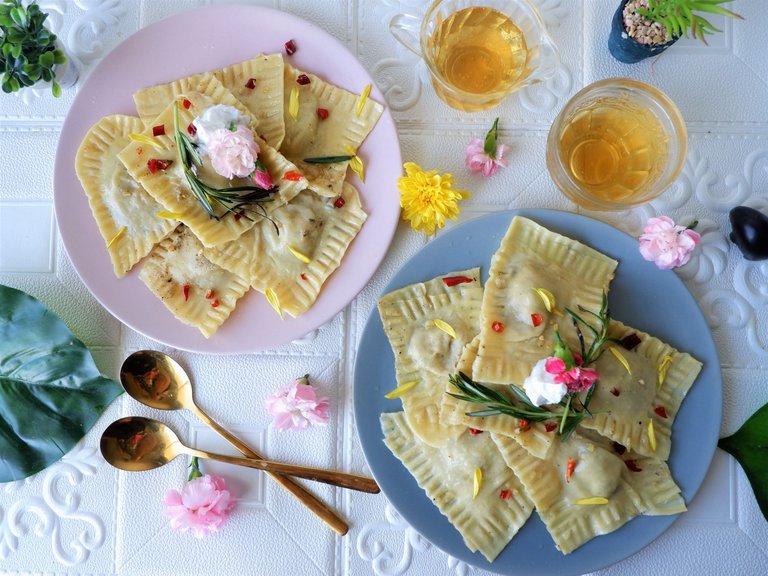 This vegan ravioli recipe is stuffed with delicious vegan cashew cream and topped with rosemary garlic sauce. It's possible to customize the vegan ravioli filling with whatever you want if you don't like what I show you here! Of course, same with the sauce!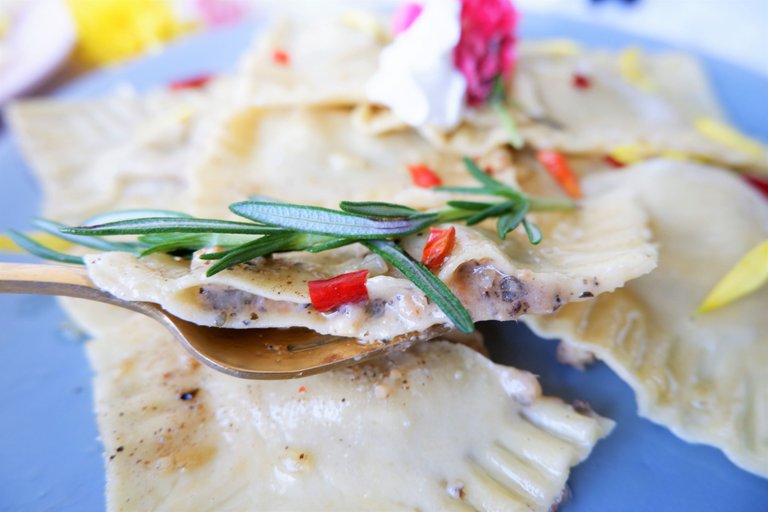 Here is my beautiful and heartwarming delicious ravioli pasta recipe that surely satisfies everyone in my family. It seems hardcore to make ravioli from starch but trust me, it's not hard as it looks, just putting together the vegan ravioli is quite easy and yet super delicious.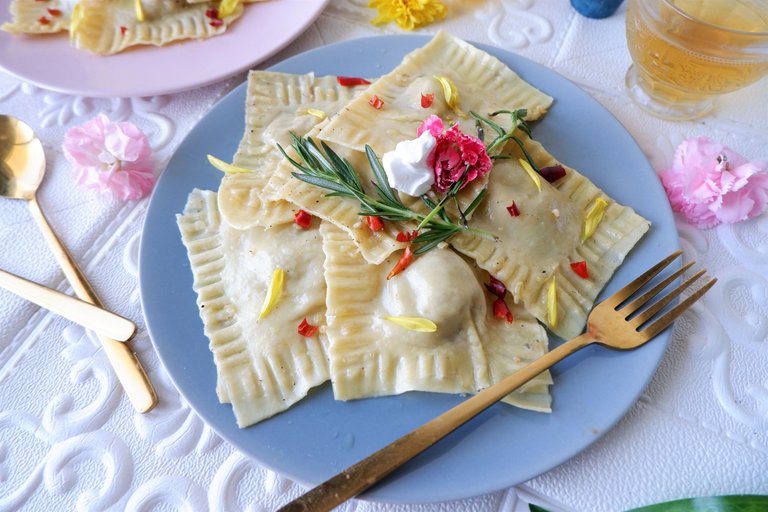 I love sharing my food with you, it seriously gives me so much happiness! I hope you enjoy reading my blog and giving them a try.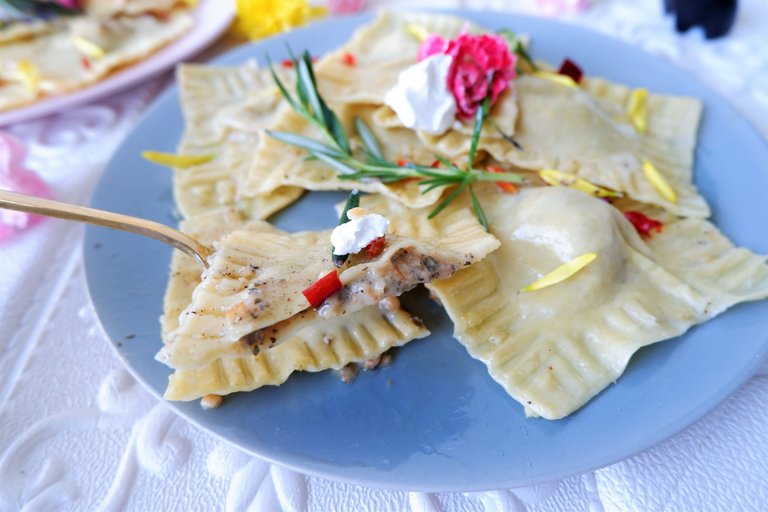 Hope you guys have a great week! 😀🌸🙏