Raviolis rellenos de tofu con salsa de tomillo
---
Hello, vegan foodies! This journey with vegan food has taught me a lot about balancing flavor since some notes on vegan ingredients are very different from regular cuisine. I love experimenting with simple dishes and presenting them to not vegan people, I ask them if they like it or dislike it sometimes before, sometimes after telling them what it is, and usually, they only say "I don't like it" if they know what it is before trying haha they eat with their preconceptions and not with what's in their plate.
These ravioli did not have a person against, though; so I'm very pleased to share the recipe with you as we continue to grow this huge stack of delicious vegan options to everyone. Let's do it.
¡Hola, amantes de la comida vegana! Este viaje con la comida vegana me ha enseñado mucho a equilibrar el sabor ya que algunas notas de los ingredientes veganos son muy diferentes a la cocina normal. Me encanta experimentar con platos sencillos y presentárselos a personas no veganas, les pregunto si les gusta o no les gusta a veces antes, a veces después de decirles lo que es, y normalmente, sólo dicen "no me gusta" si saben lo que es antes de probar jaja comen con sus preconcepciones y no con lo que hay en su plato.
Dicho eso, estos raviolis no tuvieron una sola persona en contra, así que estoy muy contenta de compartir la receta con usted mientras seguimos alimentando esta enorme pila de deliciosas opciones veganas para todo el mundo. ¡Vamos ello!
---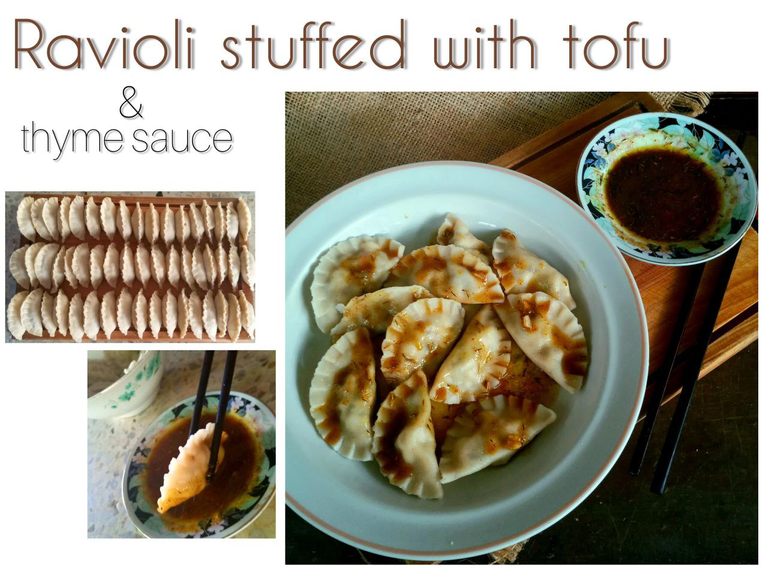 ---

---
INGREDIENTS | INGREDIENTES
---

---
Pasta
| Wheat flour | 200gr |
| --- | --- |
| Soy whey or water | 100ml |
| Oil | 1 tbsp |
| Salt and pepper | 1/4 tsp |
Filling
| Tofu | 200gr |
| --- | --- |
| Spinach | 1 cup |
| Onion, scallion, aji, celery, and garlic | 1 cup, each at taste |
| Salt | 1 tbsp |
| Fennel | 1/4 tbsp |
Pasta
| Harina todo uso | 200gr |
| --- | --- |
| Suero de soya o agua | 100 ml |
| Aceite | 1 cuch |
| Sal y pimienta | 1/4 cuch |
Relleno
| Tofu | 200gr |
| --- | --- |
| Espinaca | 1taza |
| Cebolla, cebollín, ajú, celery y ajo | 1 taza, cada uno al gusto |
| Sal | 1 cuch |
| Hinojo | 1/4 cuch |
---

---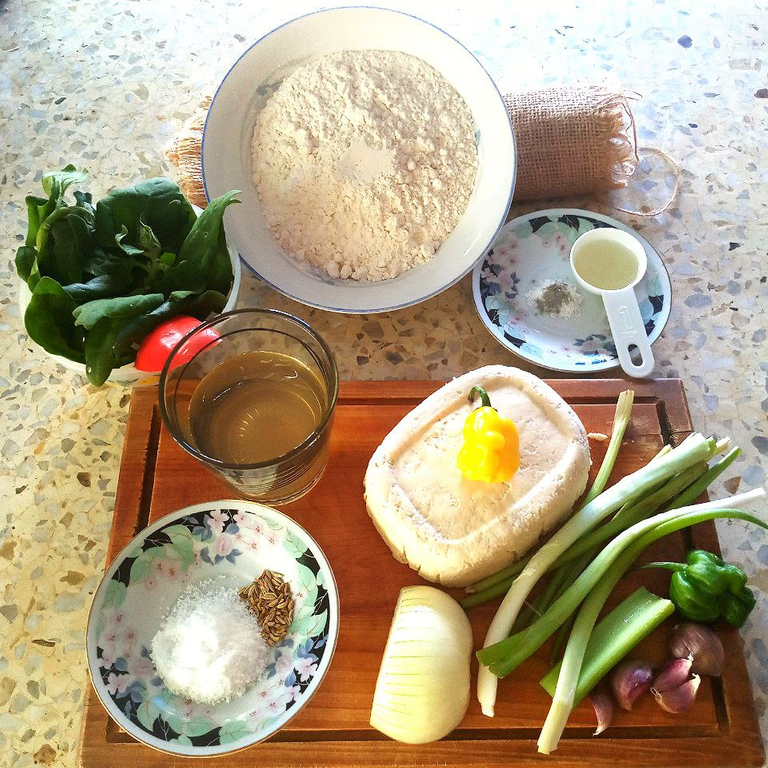 ---

---
PREPARATION | PREPARACIÓN
---

---
For pasta:
Make a volcano with the flour, in the middle, put the rest of the ingredients and mix with a fork until you can't use it anymore, then knead by hand, don't add more water until the flour is fully integrated, if you reach the point when is too hard, add more water but just about 1/4 tbsp, the dough is very sensitive to water. Once is smooth let it rest for at least 30 minutes.
I chose using the soy whey because the eggs have protein so to take them out from the recipe, I found it good to use the soy whey which has it too.
Para la pasta:
Hacer un volcán con la harina, en el centro poner el resto de los ingredientes y mezclar con un tenedor hasta que no se pueda más, luego amasar a mano, no añadir más agua hasta que la harina esté totalmente integrada, si se llega al punto en que está demasiado dura, agregar más agua pero solo como 1/4 de cucharada, la masa es muy sensible a esta. Una vez que esté lisa déjala reposar por lo menos 30 minutos.
Elegí usar el suero de soya porque los huevos tienen proteínas así que para quitarlos de la receta, me pareció bueno usarlo ya que también las tiene.
---

---

---
Una vez reposada, utilizar una máquina de pasta para extender la masa, o utilizar un rodillo pero será mucho más difícil, hasta que tenga un grosor de 1 milímetro. Cortar círculos y reservar. Si utilizas un molde como el de la foto, no utilices el círculo del reverso del molde, utiliza el siguiente más grande u otro cortador, así tendrás espacio suficiente para trabajar sin preocuparte al cerrarlos.
Once rested, use a pasta machine to extend the pasta dough, or use a rolling pin but it will be way harder until it's 1 millimeter thick. Cut circles and reserve. If using a mold like in the picture, don't use the circle on the reverse of the mold, use the next bigger one or another cutter, that way you will have enough space to work without worrying while closing them.
---

---

---
Para el relleno:
Esto se puede hacer echando todo en un procesador de alimentos, eso es lo que quería hacer pero hubo un corte de luz y no iba a esperar más de tres horas, cortar todos los ingredientes en cubos muy pequeños funciona muy bien, aplastar el tofu con un tenedor y mezclar todo en un bol con sal.
A continuación, añadimos aceite a una sartén u olla, freímos un poco el hinojo para que suelte sabor y cocinamos la mezcla de tofu durante tres minutos, no hace falta que se cocine del todo, sólo estamos ayudando a que se integre el sabor.
For stuffing:
This can be done by throwing everything into a food processor, that's what I wanted to do but there was a power outage and I wasn't going to wait three plus hours, cutting all the ingredients into very small cubes works really well, smash the tofu with a fork and mix everything in a bowl with salt.
Then, add oil to a pan or a pot, fry the fennel a little bit to release flavor and cook the mixture of tofu for three minutes, we don't need to fully cook, we are just helping the flavor to integrate.
---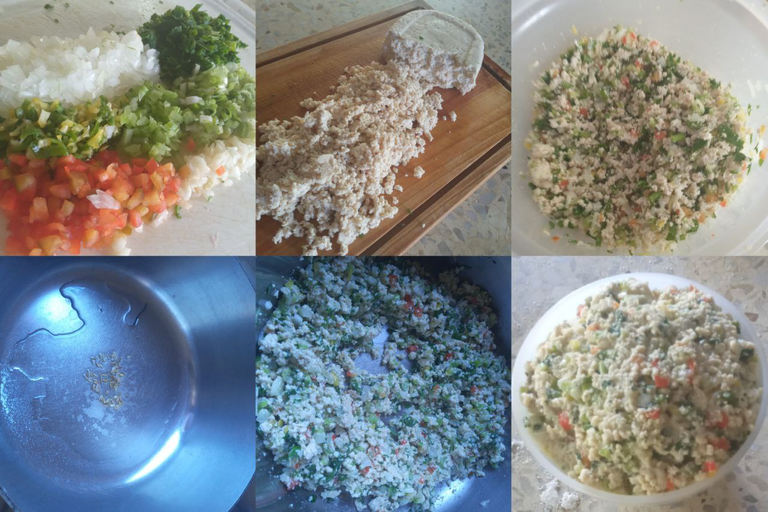 ---

---
Assembling the ravioli | Armando los raviolis
---

---
Use the circles we cut before, place them in a mold for ravioli or close it with your hands, moist the edges, add the filling, just a little bit in the middle, and close the mold. By hand just pinch the edges, you can decorate with a fork or folding like a zigzag while you close. Also, there are several options of cutters and molds for ravioli.
Don't overfill them so they don't break.
Utiliza los círculos que hemos cortado antes, colócalos en un molde para raviolis o ciérralo con las manos, humedece los bordes, añade el relleno, sólo un poco en el centro, y cierra el molde. Con las manos sólo hay que pellizcar los bordes, se puede decorar con un tenedor o doblando como un zigzag mientras se cierra. Además, hay varias opciones de cortadores y moldes para raviolis.
No los llenes demasiado para que no se rompan.
---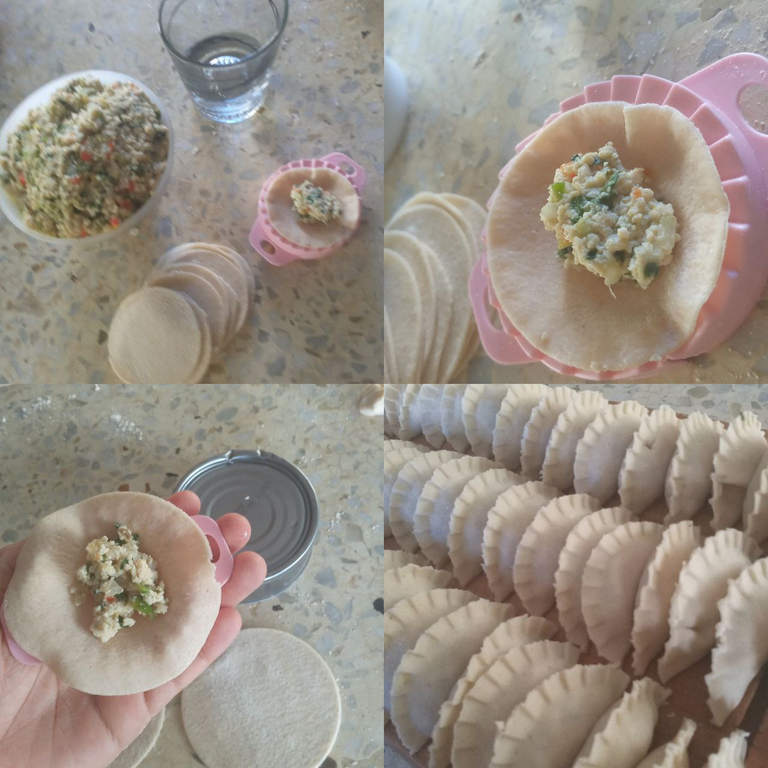 ---

---
The sauce will be very easy. They are meant as ravioli but I was inspired by the sauce used for the Japanese gyoza. We'll need:
| Margarine | 1.5 tbsp |
| --- | --- |
| Soy sauce | 2 tbsp |
| Thyme | 1/2 tsp |
| Turmeric powder | 1/2 tsp |
| Garlic | 3 cloves |
Melt the margarine, add the rest of ingredients inside and cook for 2 minutes and you are done.
La salsa será muy fácil. Están pensados como raviolis pero me inspiró en la salsa de las gyozas japonesas. Necesitaremos:
| Margarina | 1.5 cuch |
| --- | --- |
| Salsa de soya | 2 cuch |
| Tomillo | 1/2 cucharadita |
| Cúrcuma en polvo | 1/2 cucharadita |
| Ajo | 3 dientes |
Derrite la margarina, añade el resto de los ingredientes dentro y cocina durante 2 minutos y listo.
---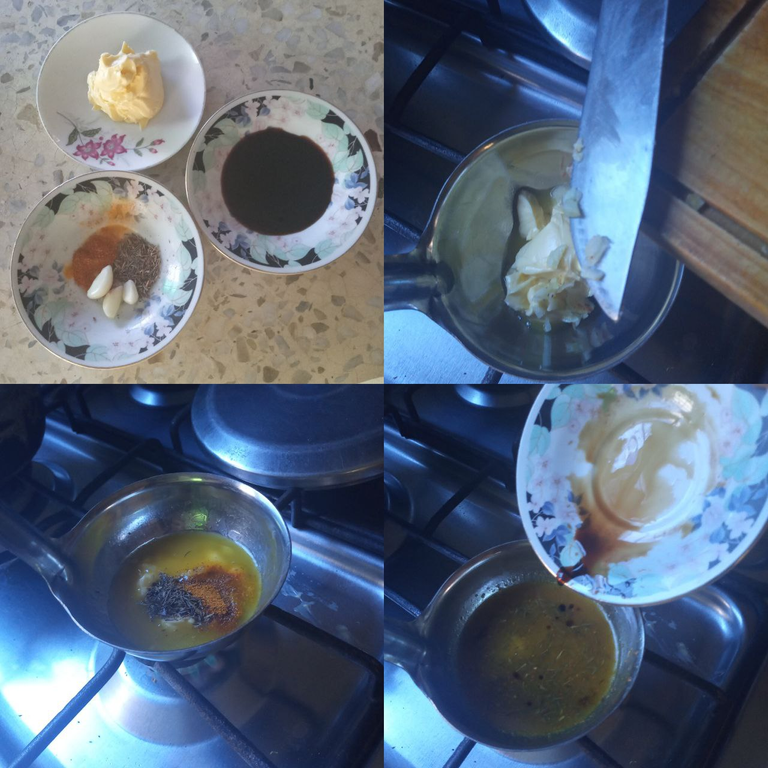 ---

---
Finally, boil the ravioli for three minutes and serve.
The sauce is a punch of flavor, so add it gently. You can also serve it in a little plate on the side to dip.
This recipe is easy to make, just the dough takes a while, is delicious, and this time I wasn't trying to fake flavors, I just used tofu as itself and the result was great.
Por último, hierve los raviolis durante tres minutos y sírvelos.
La salsa es un golpe de sabor, así que añádela con cuidado. También puedes servirla en un platito aparte para mojar.
Esta receta es fácil de hacer, sólo la masa tarda un poco, es deliciosa, y esta vez no intenté fingir sabores, sólo usé tofu como tal y el resultado fue genial.
---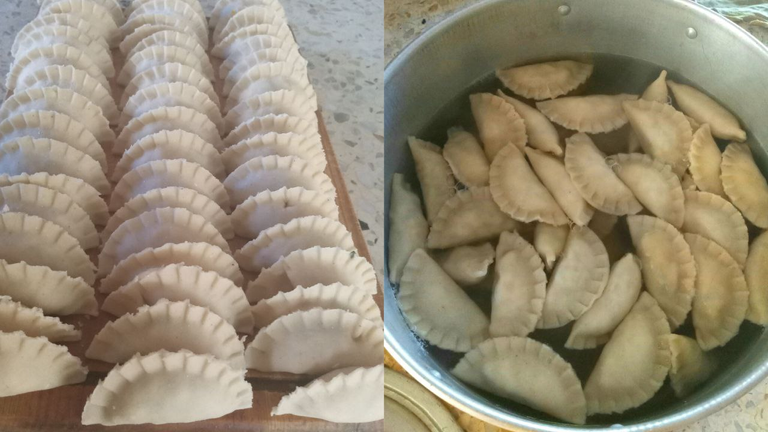 ---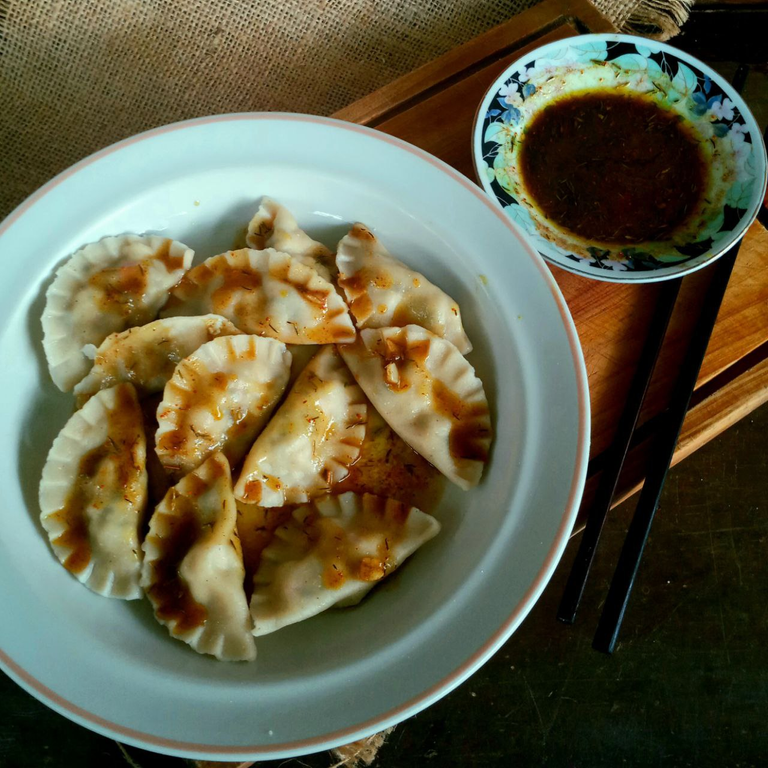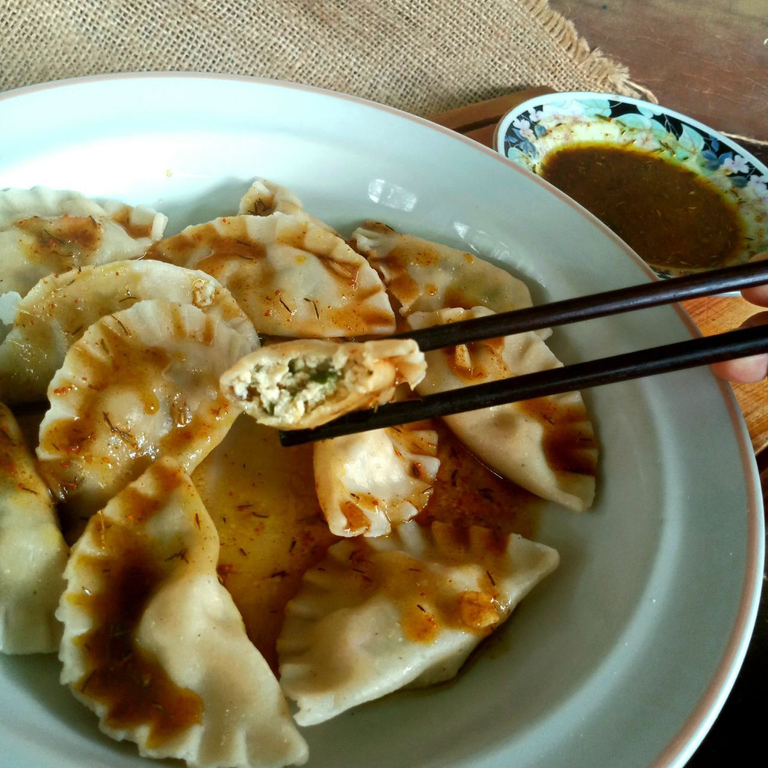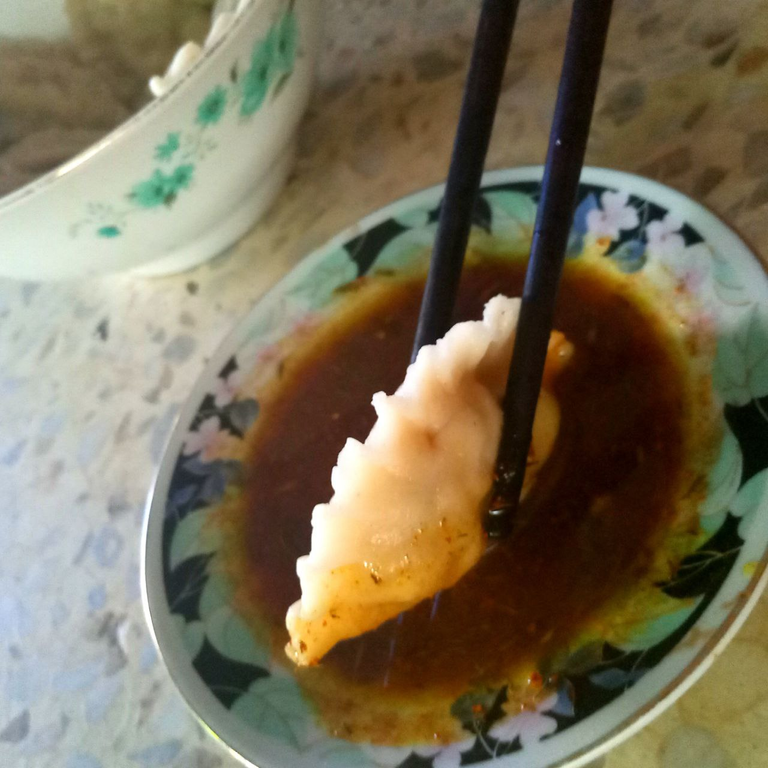 ---

---
Espero les haya gustado, hasta la próxima publicación
Muchas gracias por leer
Hope you liked it, until the next time
Thanks for reading
---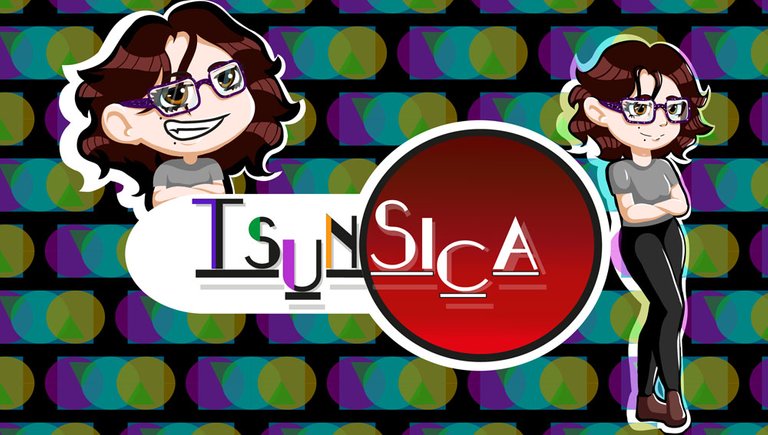 Designed by @jes.seth
---
Designed by @pashinni
---