For more than 60 years, associations have played a fundamental role in protecting the environment:
In understanding economic mechanisms
In measuring biodiversity
As a warning agent in pollution
To find solutions to problems
Today @cleanplanet goes one step further by paying participants for waste collection. This is possible thanks to the properties of the D.Tube, Hive and Telos blockchains.
The greater the capital stored in the blockchain, the more @cleanplanet has the capacity to create new tokens.
Your best bet is to try! make a 2 min video showing that you collect trash and post it on D.tube. Write an article in Hive. @cleanplanet pays you for this eco-citizen act.
We need all the active forces of the associations to support our action, the very large ones like WWF, GreenPeace or Sierra Club, but there are hundreds of small very active associations. At European level, the grouping of the 10 largest associations represent 54 million supporters.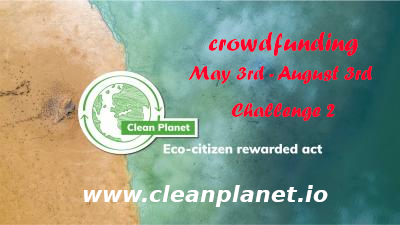 Challenge 2/9
Send this article to your favorite association!
You can easily find a contact in your area.
Reply to this post indicating which association you contacted and the twitter account of your contact. @cleanplanet will upvote your answer to 100%
An easy way to earn your first tokens.
Previous articles:
https://hive.blog/hive-150210/@chrisaiki/cleanplanet-is-starting-its-crowdfunding-campaign-challenge-1-9
Take part in our campaign:
Payment in cryptos:
The Hive CLEANPLANET account is @cleanplanet.
The D.tube CLEANPLANET account is @cleanplanet.
The Seeds CLEANPLANET account is clean4planet.
BTC address: 1N9mvXdUVp6FKc7uZtsz6hpkc9BbauMVJr
Ethereum address: 0xC0b92055Aa0CE4c4727dE5104a78cA52c1Dc5030
Payment in $, euro or CHF:
Use the Paypal app on https://www.cleanplanet.io
Join us on our Discord https://discord.gg/qdUR4KA