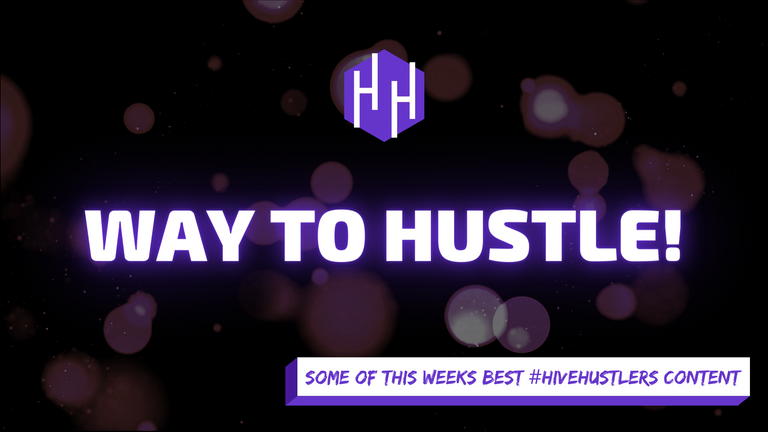 Welcome to the first edition of our new weekly curation series showcasing quality content for entrepreneurs, by entrepreneurs!
Hey everyone! @thatsweeneyguy here. I've recently joined the @hivehustlers team as a manual curator for the growing community and I'm honored to be the one who gets to bring you a weekly dose of entrepreneurial hustles, motivation, opportunity, and updates. I've got some amazing posts to tell you about in the pilot of this series, and it's great to start showcasing some of the work our community members are putting in to make their dreams come true!
Without further ado, let's dive into this!

2020 has been really crazy to say the least...
What's an entrepreneur to do with the current state of the world? With the Covid-19 pandemic causing millions of people to lose their jobs, and a global economy teetering on the brink of collapse, how can we ensure that we don't get burnt in a world seemingly on fire?
@michaelruiz writes that times like this actually offer numerous opportunities for those bold enough to reach out and take advantage of them, and that's absolutely right!
"There's a old saying that the best time to make millions is during a recession, and I intend to highlight them to anyone that is willing to listen and take action in order to bring themselves into a better place than before." - michaelruiz

You'll need to be a problem solver to succeed!
All too often we can get an idea about our business that may not connect with what our customer base wants or needs. Business is all about providing a solution to a problem, but it's key that the problem you're solving is one that your potential customers actually have.
@jangle explains that
"You can have all the thought out designs, blueprints, concepts, and graphs you want. You can have the most expensive beautiful, professionally designed website on the inter-webs. Guess what?…..
….it all means NOTHING if your business is not meeting the needs of its customers. They simply will have no reason to stick around."

A good hustle and hard work can overcome any economy!
@knowhow92 is from Greece, which has seen an overwhelming amount of economic turmoil. Situations like this put a lot of stress on the everyday worker and might leave some feeling hopeless and without options. It's exactly that sort of pressure, though, that can trigger the right sort of people to think outside the box, and create opportunity where others see none.
"As soon as I understood Hive's full potential, I quit my job, started hustling with my content and building my own "business" on-chain."
SkateHive is THE Hive community for everything skateboarding, and they're already creating opportunities for skateboarders to get new gear by hustling their skate clips, photos, blogs and more!
This is something I can personally get behind, as I've spent nearly two and a half decades pushing the wood myself! I'll definitely be keeping an eye on this community, and if you're a skater or just enjoy watching others skate, I encourage you to do the same!

Not sure how to start your hustle? Unsure what you'd do?
Entrepreneurship is a balance of so many things. You have to provide a solution to a problem, but in order to keep up the motivation to succeed, you'll probably want to choose a problem you're interested in solving.
@hivelist gave some amazing advice about how to start your search for the perfect side hustle!
"Ideally, what you want to do is to choose a side hustle that you're passionate about (preferably a hobby), is relatively easy for you to do, and is something you're deeply interested in."
Motivation and interest are very important tools in the entrepreneur's repertoire. If you choose a side hustle simply because you think you could make money doing it, but you're not really interested in the subject matter or the work, it's very likely you'll get bored, and your motivation to keep going will slide. A wise man I once knew used to tell people 'Find something you love to do, and you'll never have to work a day in your life!'

Entrepreneurship doesn't always mean running a "formal" business.
@tukes-mtn-ent ("Bill") knows how to hustle up some money! He's been selling classic sports cards on E-Bay and raking it in!
"I had these both since I took them out of the pack nearly 50 years ago as a kid."
Some might be surprised just how important taking care of something over time can be. Bill has had these cards his whole life, and they're still in great condition! Even if they just sat in storage, this just goes to show the care he put into making sure they were safe for fifty years!!
That's the same level of care you're going to need to put into your hustle if you want to succeed. Dedication and persistence will take you far all on its own no matter what you do!
By the way, if you've never seen a 50-year-old Wilt Chamberlain basketball card, @tukes-mnt-ent has immortalized it on the blockchain!

We would like to take just a second to remind everyone that posting to the #hivehustlers tag and especially the Community page should be reserved for content related to business, entrepreneurship, incubation, startups, etc. We're making connections with much larger curation groups in an effort to reward those who deserve it, and we would like people interested in our niche to be able to readily find the content they're looking for.

Come join the hustle!
Our community is growing by the day, and we invite you to join us as well! If you're an entrepreneur yourself, our community is all about mutual leverage of knowledge to help everyone propel their businesses to succeed in an ever-changing world. If you're just a fan of the ecosystem and want to watch and support new HIVE projects as they spring to life before your eyes, this will be the place to be! Join our discord and come chat with us!

Thanks for reading! If you enjoyed this post, share it to spread awareness of our humble community, and the amazing people who make it all possible!