This portion of my story takes place in Canada. It starts in Vancouver where we board the Rocky Mountaineer Train and travel to The Canadian Rockies where we explore Banff and Jasper
---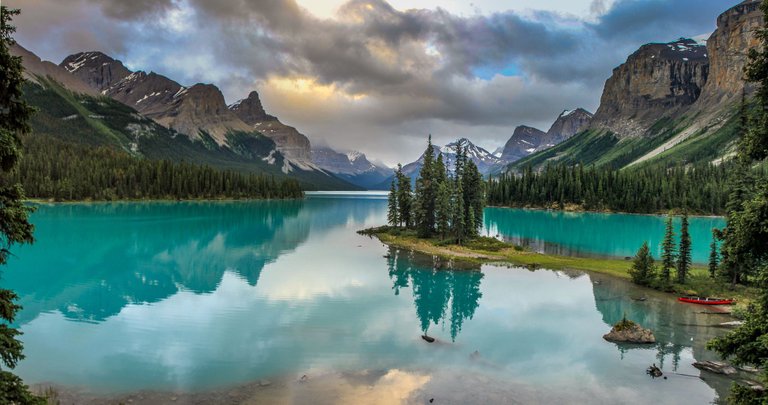 (Maligne Lake, Jasper, Canada)
---
Day Eleven
We caught a taxi to the Rocky Mountaineer train station near Science World in Vancouver. Once we boarded Ryan and I felt very out of place. It was just a sea of grey hair.
I spent the first few hours of the trip extremely anxious. I had a job interview at Vancouver Aquarium booked in for 11am and I was hoping I didn't run out of phone reception. I googled how long it takes to get out of Vancouver on the train and it said we should still be in reception. But, low and behold, at 11am they called and at 11:05am I ran out of reception. I called back and within another 5mins I was out again. I called back three times in total and ended up having to reschedule until the next day. I was silly to think a train interview would be a good idea. After my interview I had a well-deserved, extra-large glass of wine (side note: I ended up getting the job).
We spent the rest of the day being wined and dined, reading and looking out the window. There was so much food. We took all our entertainment on the train with us (movies, books, tablets, laptops etc) and never used any of it (except our books).
That afternoon we arrived at our first stop, Kamloops, where we disembarked and got on a bus to our hotel. After checking into our hotel (The Sandman) we decided on the Red Collar Brewing for dinner and a drink. It was just down the road from the hotel and it had delicious food. After dinner we walked back to the hotel via the park to work off our beers and food.
---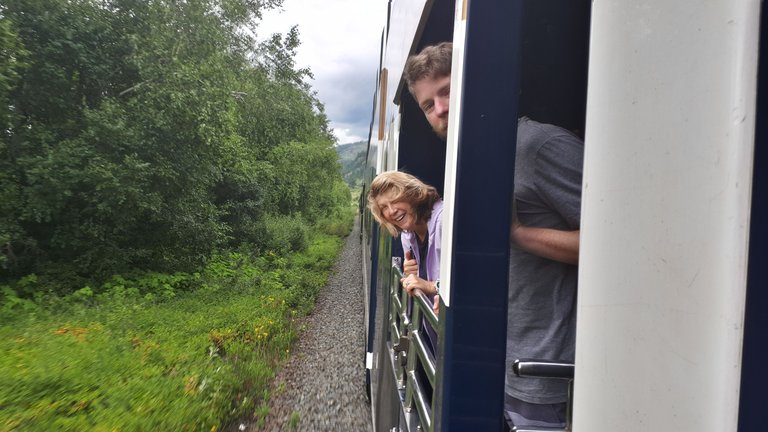 (Having fun on The Rocky Mountaineer)
---
Day Twelve
We boarded the train in the morning for the second half of our trip. Not much happened but we did travel past Pyramid Falls at one point on the journey. It was big and pyramid-like (surprise!), but beautiful.
We arrived in Jasper in the afternoon and checked in at our cute hotel: Patricia Lake Bungalows. I chose it because it had lake views and was super cute.
Ryan and I ended up going down to the lake to have a drink and a sit. It was very relaxing. A couple pulled up in a kayak they had hired from the bungalows and said they had about 10mins left of their hire if I wanted to go for a paddle. Of course I said yes. I was so happy out on the lake. I had wanted to go kayaking for such a long time. After my quick paddle around the lake I gave the kayak back and we decided on a place to go get dinner. Surprise! We chose another brewery: Jasper Brewing.
---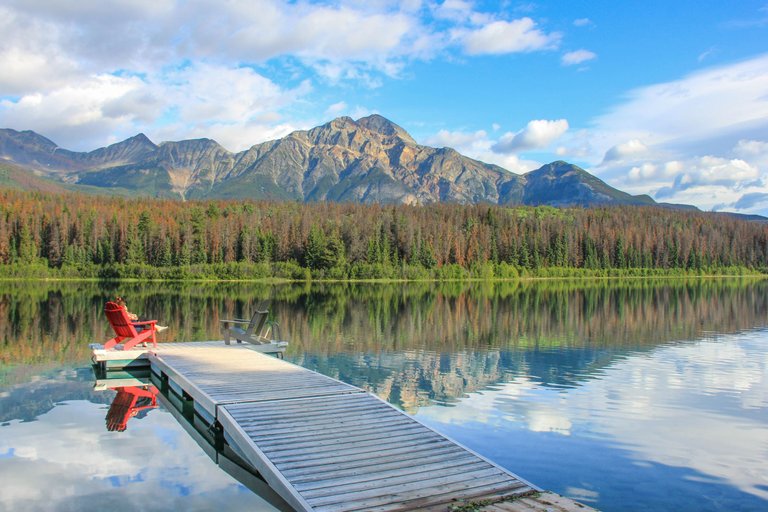 (Patricia Lake, Jasper)
---
Day Thirteen
On the morning of day thirteen we drove to Maligne Lake to do a little day cruise that we had got Ryan's mum for Christmas. It was beautiful as always. We took the second boat of the day and we had good weather; a bit cloudy but warm and no rain. We were lucky because it started raining just as we pulled back into the dock. If you haven't been to Maligne Lake it is a must see when visiting The Canadian Rockies.
We got back to our hotel at Patricia Lake in the late afternoon with enough time to sit down by the water and read with a few bevvies. I hadn't quite gotten my kayaking fix yet so I went and hired one. The guy at the counter said because he was going to close down hiring soon he wanted to get me out rowing ASAP so he said I could pay when I got back. I got my gear and walked down to the kayaks. I paddled almost the perimeter of the lake (it's a lot bigger than it looks on land). It was so peaceful. I passed a family of ducks. The ducklings were so tiny and spent their time ducking and diving under the water while mum swam around trying to keep track of them all. I paddled for the full hour and just enjoyed the valuable time to myself. The sun was out, it was warm and the water was like glass. Upon returning the kayak the host at the desk seemed to have forgotten that I didn't pay. I just got a $25 kayak ride for free! woot woot!
---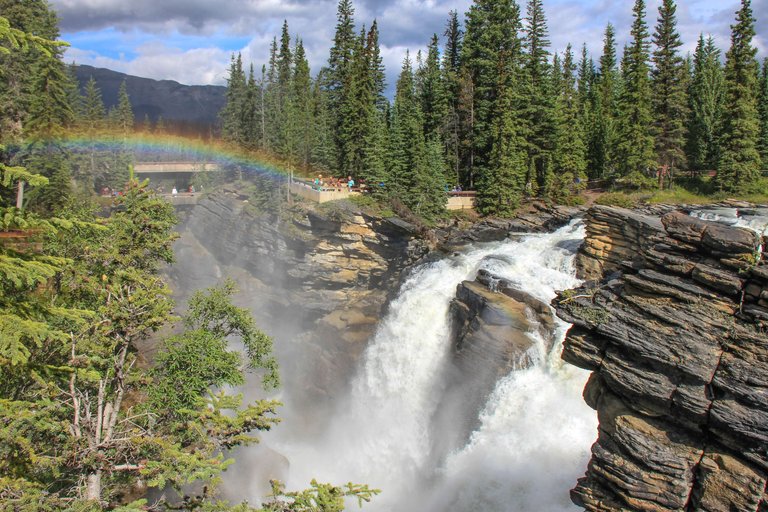 (Athabasca Falls, Jasper)
---
Day Fourteen
We checked out of our Patricia Lake Hotel and headed on our way down the Icefields Parkway. Along the way we stopped at Athabasca Falls. We spent a while there taking photos and enjoying the view. It was a lovely sunny day and there was a rainbow across the falls. Stunning!
Further down the Icefields there was a bear spotted. A cinnamon bear! Ryan and Bernie jumped out to get some photos while I stayed in the car. I did get out briefly to try and get a look at him but I could only see his ears. Once everyone had their fill we drove along some more. Another bear sighting: a black bear this time. There were so many people pulled over here. I sat in the car while Ryan and Bernie took photos before we set off again.
We made it to the Columbia Icefields Centre just in time for lunch. We found a table and bought some burgers.
After lunch we continued our journey down to Lake Louise where we took a couple of photos and then went into The Chateau Lake Louise for cocktails and dinner, just so we could feel fancy. After cocktails we drove to Moraine Lake for sunset.
---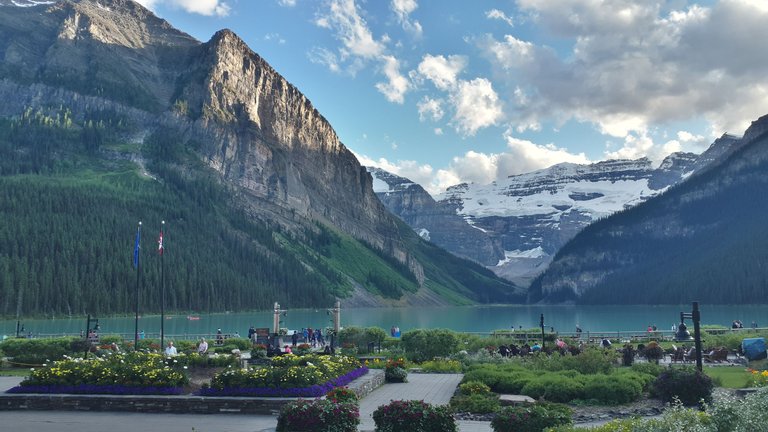 (Lake Louise, Banff, Canada)
---
Day Fifteen
This was our last day in civilization before heading out into the backcountry. We spent most of the day relaxing, did a bit a shopping, and had lunch at Banff Brewing Co (surprise! another brewery!).
---
I have split this story into four posts; the first being Alaska, the second being our cruise, the third being The Rockies, and the fourth being our Mount Assiniboine backcountry adventure. I will post the fourth leg of this journey in a couple of days, so keep an eye out for it.
---
All images in this post were taken by and remain the Copyright of Bree Plater unless stated otherwise.

You can see more photos at:
website: https://saultphotography.com/
Instagram: @roaming.rammie and @saultphotography
Twitter: @sault_photo

If you'd like to learn a bit more about some of the photography featured on our page you can read an interview Ryan did with Photofeed here.