It is Summer and high season in Europe and travelling isn't all the easiest due to all covid measures. Although, I have crossed several borders now by car and haven't been checked once on anything, which I had expected to be a lot more difficult.
But still, all schools have Summer holiday and that makes travelling without any plans when you have your dog with you a little less easy.
Luckily there are enough gems to be found!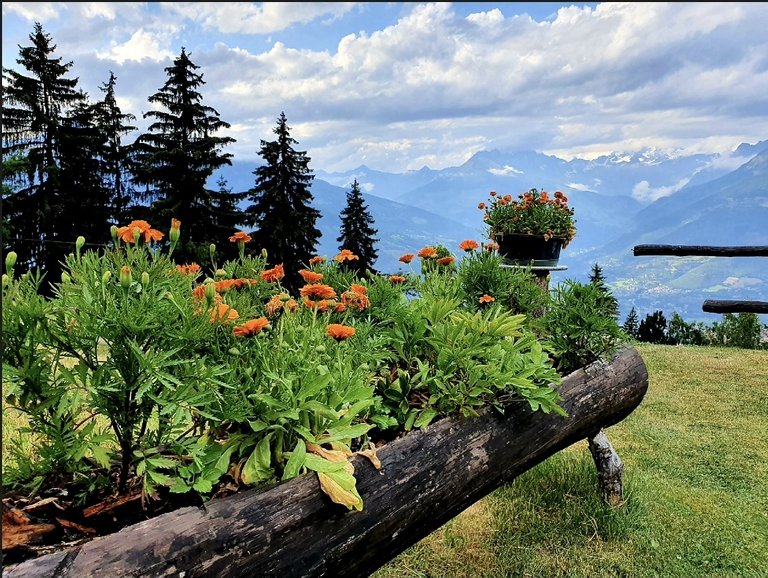 Somewhere deep the Aosta valley in Italy I found a farmhouse on a hill which was owned by a super nice old lady. With hills around you and aome fantastic views there was almost nothing more what you could really need.
Maybe working one my Italian language a little bit..That surely would have helped! Now we were speaking a mix of French and Spanish to understand each other, but isn't thst the real charm of travelling even.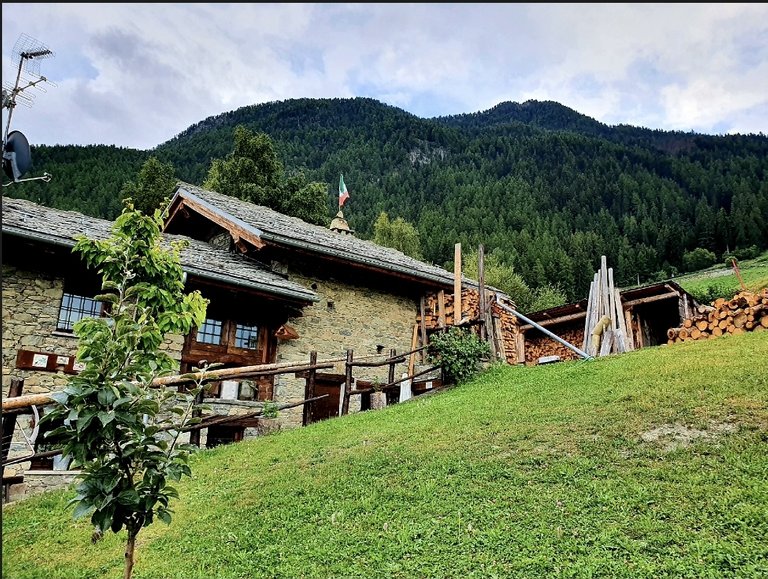 The lady was showing me around the farm where she had a lot of rabbits which she was using foe her own dinner, and some geese and chickens for the eggs.
On landscaping way she had tomatoe plants (a lot of them) some potatoe plants and strawberry plants.
In these kinds of remove places self preservation is way easier is you have the land and the time.

The weather in the Alps is currently quite unstable which means a bit of thinking about you safety as well with thunderstorms and flash floods everywhere. But on the other hand is does give you some beautiful sights and rainbows here and there!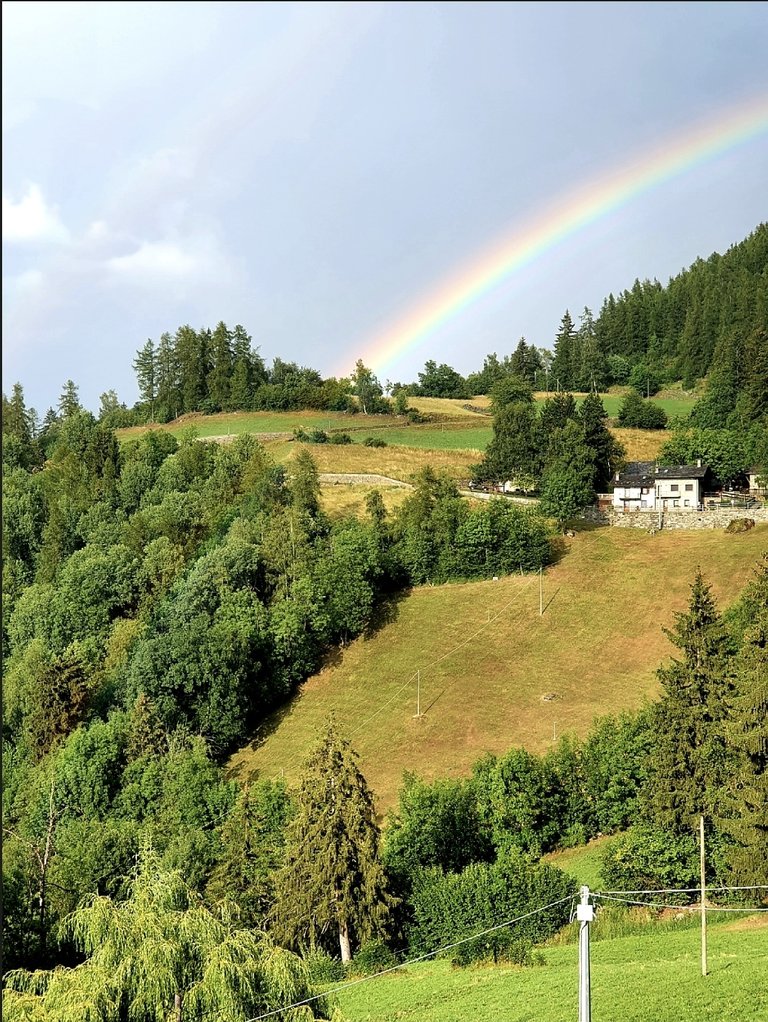 But the mountains have claimen some victims over the last couple of weeks with extreme weather, so I am glad that this rainbow with only some drizzle was the main issue here. Nothing to worry about.

Imagine being here in winter time when the snow is falling. The roads up are so steep that with snow on the roads you really want to go up and down so much. I guess the owners used to have some cattle for the milk here as well, but I could understand as well that with winter snow, this is also kind of a hassle to have.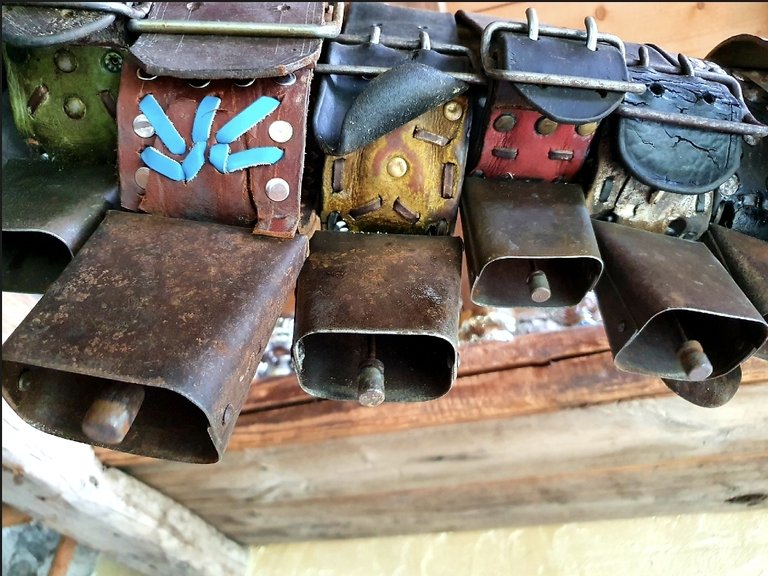 The souvenir for this are the cowbells hanging around in all rooms! And yes, when you ring them, you sounds like an Alpine cow passing by haha.

Sleeping was in the dark rooms from the farm, but there was also a sitting room a little bit away from the main building with this view. Imagine reading a book here in a rocking chair with the mountains on the background.
I need one of these!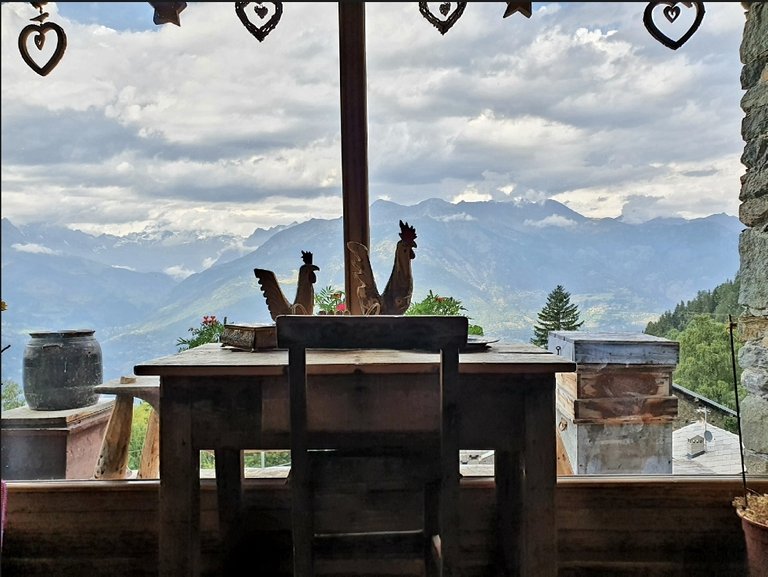 Travelling in high season isn't always so easy but when looking a bit better there is enough to find which is actually quite cool.
Farmhouses on hills, my advice is to never say no to them ;) you never know what you migh find!