Good afternoon, Street Art Lovers!
Here is my entry for the CCC's Street Art Contest #32, hosted by @digi-me.
This beautiful piece of art was created by the Portuguese artist Bordalo II, which is the artistic name of Artur Bordalo, a creative youngster with an unique style. He incorporates pieces found in junkyards in his Graffiti works, achieving incredible images like this one.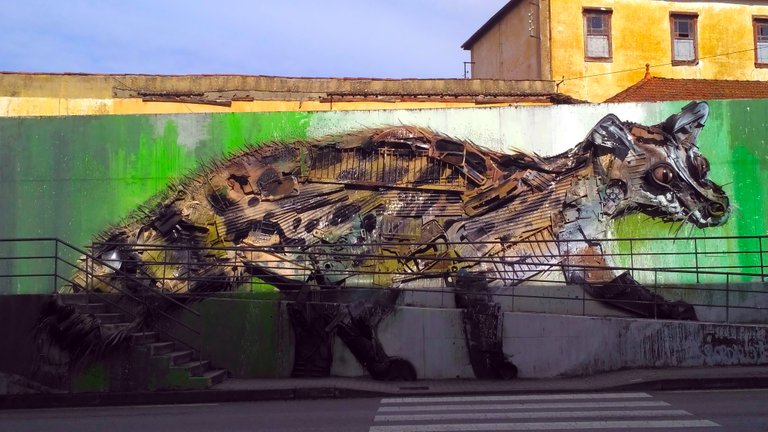 Open Full Sized Photo In New Window
This is a creature named Genet, which I have to confess, I had never heard about before... it is a small carnivore that is very common in Africa. One of the subspecies can also be found in Portugal, Spain and France, even though there are not many of them around.
This piece is right outside the Shopping Mall in the city of Bragança, in the Northeast of Portugal, near the Spanish border. It's a very picturesque town and a very relaxing spot for everyone willing to take a break from the busy city lifestyle. 😉
I hope you like this shot.
---
| | |
| --- | --- |
| Location | Bragança - Portugal |
| Camera | Xiaomi Redmi 3 |
| Photo | Edited with GIMP |
---
If you want to to participate, here's the link again: CCC's Street Art Contest #32
---