Hello my beer loving friends, I hope you are all keeping well. It's been a little while since I've posted anything and I have to say it's good to be back. There's no meaningful reason for my absence, other than real life taking over any spare time I have. Still, the longer I'm inactive the more uncomfortable I feel and seeing the date of my last post nags at me like a creaking door hinge.
So, here I am, and what better excuse could there possibly be to write a post than #beersaturday?
As I type, I'm sat comfortably in my local micro pub supping a very nice pale ale, and one that is very reasonably priced considering the ABV. Good taste, price, and ABV is a welcome combination and one that very rarely partners up, so my visit to the Bird Hide is so far a success.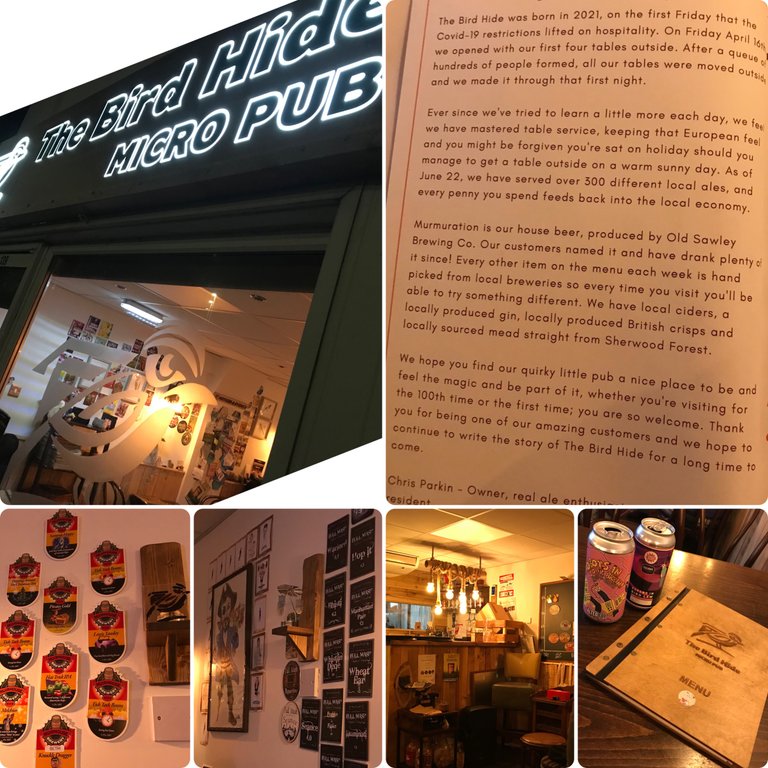 This micro pub has been on my door step for some time, but until very recently the only beer they offered was the usual watery unremarkable British beers. It was only after a tip-off from a barmaid who works at my regular micro pub that I learned that the Bird Hide had installed a fridge packed with PROPER beer. Well, hats off to the Bird Hide as they have really raised the bar and not only have they indeed installed a fridge packed with tasty ale but they have also gone the extra mile to stock it with beers that are quite unusual, even in the micro pub community!
First up is a great beer from Alter Ego, named "Robots in your brain". This is a DIPA boasting "Norwegian kveik yeast strain Voss with everyone's favourite Citra hop". Honestly, this is a beautiful beer and with an ABV of 8% it really does warm you up. And if that wasn't enough, this Derbyshire brewery have not forgotten about the presentation of their product, adding some beer art which is punchy and more than worthy of a place on my tool box.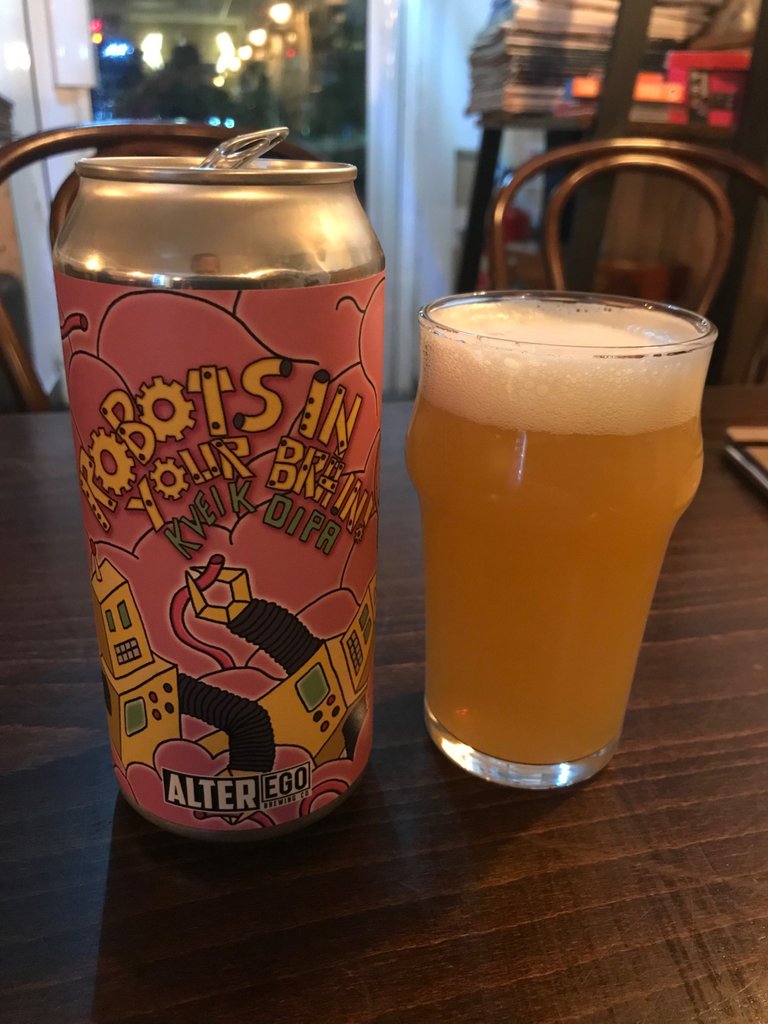 Being that this is my second consecutive night at the Bird Hide, I'm hoping I won't get the same weird look from the staff as I did last night when they see me take away my empty cans. In fact, being that tonight I'm treating myself to more than one, they may need to offer me a carrier bag to help take them all home 😂🤣
Second up is the appropriately named "Expert in bird law", from the Squark brewery (another Derbyshire brewery taking the spotlight). A refreshing IPA hosting a medley of hops. Mosaic, Mosaic cryo, Lorals, and Talus, all come together in a blend of tropical loveliness. However, the loveliness does step aside to allow for a whoppingly brutal 7.4% abv which hides itself like a salt water crocodile.
Personally, this is how I think all beers should present themselves, so bravo to Squark brewery for producing such a great example.
The third and final beer is real random find and proof that stepping into the unknown often has its rewards.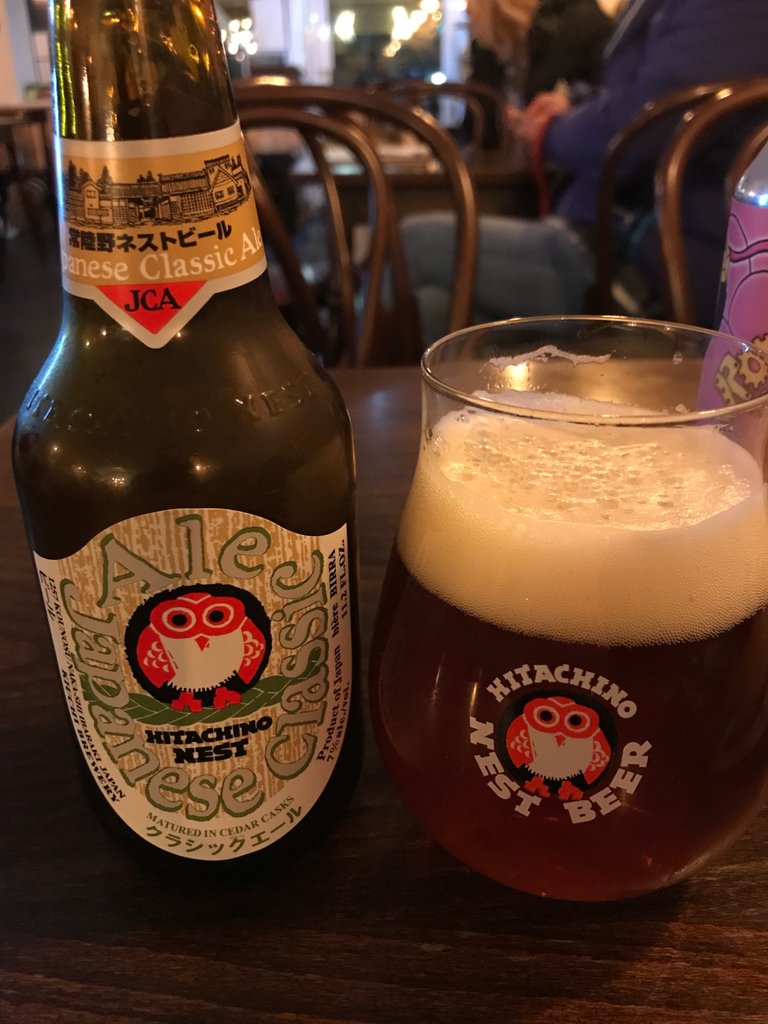 If you can tell me what a "JCA" is, besides being a Japanese Classic Ale, that would be enlightening. Until then, I'll offer up my description of a JCA…
If a Duvel beer had a baby with a Trappist Rochfort, this Hitachino Nest is what you'd get. Sweet candy sugar with a fresh bitter edge. 7% ABV with this one and you know it's there. Unlike the Squark, this beer's ABV wants you to know it's there, like a nightclub bouncer.
If this is what A JCA is, I'm all in.
A great show from my Japanese beer-brethren and also by my local micropub, as I'd of had no idea that Japan served anything other than Isashi if it wasn't for this weekend's venture to the Bird Hide. Hats off to them for stepping up and selecting some brilliant beers (along with some fantastic pheasant flavoured crisps). I'll most definitely be spending more time here and hopefully they will give me good reason to do so.
Anyway, that's me done for this #beersaturday. It's time for me to waddle off home and dig into some slow-cooked beef stew. Mmmmmmm, beef stew 🤤
Have a great weekend, folks!