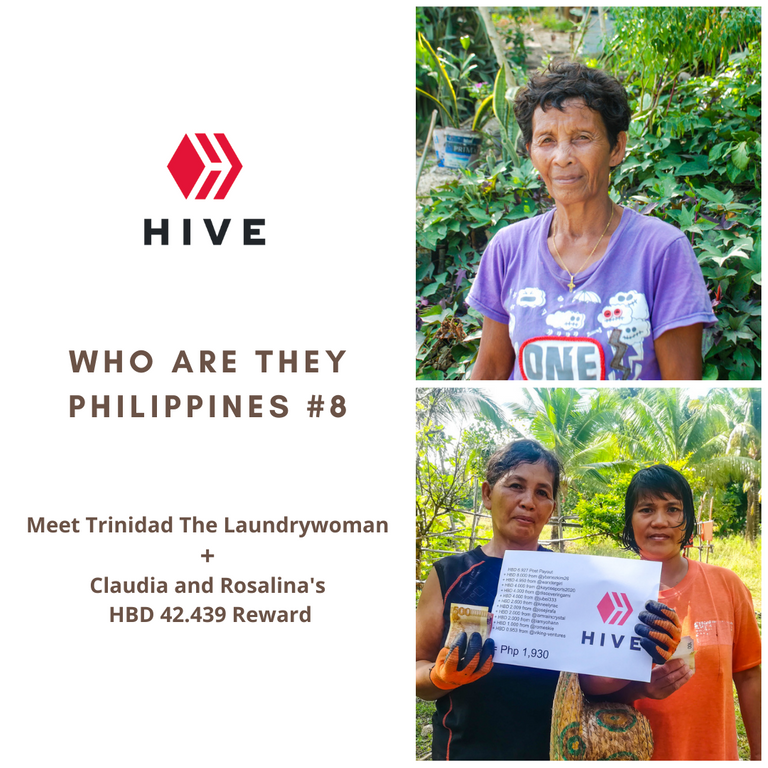 Hello #Hive,
This is @discoveringarni presenting the 8th Edition of #WhoAreTheyPhilippines. 🙂
I was invited by @whoaretheyph to do this feature as a test. The vision is to expand WATP's reach beyond the South Cebu area by involving some of the major contributors to this project and have them create a feature about a person from their area. It will however be very important to retain the integrity and authenticity that this initiative strives for.
For today's #WhoAreTheyPhilippines (WATP) feature, we are meeting Trinidad, the laundrywoman from Moalboal, Cebu.
---
Each week, @whoaretheyph drives to a different location and randomly selects one person. Like him, I am an introvert who finds it challenging to engage with strangers. This week, he accompanied me, merely to oversee things, but he left all decisions and responsibilities to me in selecting the destination and the person to be interviewed.
The 4 Hours Search
At 10:30 am, we started our scooter journey from Moalboal Park behind the Municipal Hall. We drove south towards the mountains of Badian. After driving for almost an hour in the middle of nowhere unable to find anyone around, it was already lunch time. This meant we had to wait before resuming our search.
By half past one in the afternoon, we were back on the road towards the scenic hills of Barangay Busay between Moalboal and Badian. The remote concrete road turned into a narrow and steep limestone path and I still hadn't found anyone that ignited a feeling of peace and soulful recognition.
I asked @whoaretheyph to head back to Moalboal towards Barangay Bugho instead. We drove through paths bordered by jungles and steep cliffs which later opened up to rice and corn fields. In my mind, I kept wishing to find someone whom I was really meant to meet.
I spotted a woman watering her plants. I introduced myself and explained the initiative. While I was doing so, I sensed her reservations through her demeanor and true enough, she declined to be interviewed.
How I Met Trinidad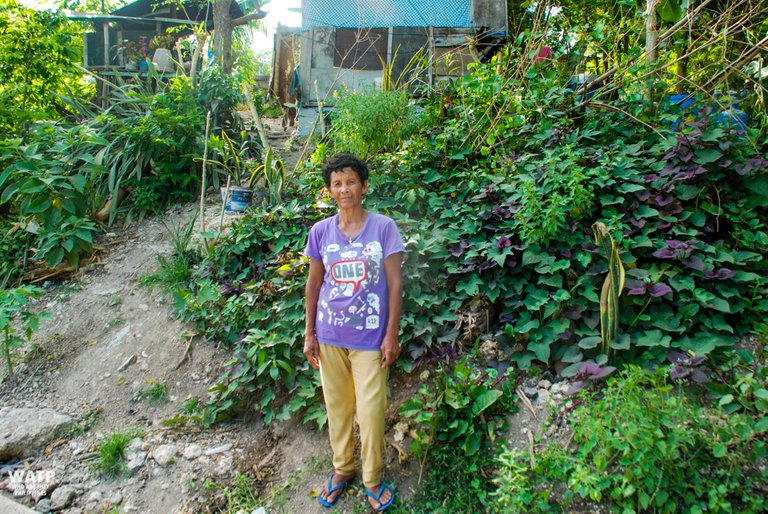 At that time, we had been driving around for close to four hours and I was still looking for someone that felt right. It was getting late and it was almost time for us to pick up our daughter at her friend's place. We headed back towards town.
A woman on the side of the road wearing a purple t-shirt captured my attention. We drove past her while she was harvesting sweet potato leaves in front of her house. I asked @whoarethyph to turn the scooter around.
I immediately greeted her, introduced myself and explained what #WhoAreTheyPhilippines is about as well as asked for her permission to be interviewed. She warmly smiled at me and said yes.
I can get by understanding and speaking a bit of Cebuano but because I am not fluent, I asked her if it was okay if I spoke in Tagalog instead. We both understood each other 90% of the time.
Shortly after we began the interview, her friendly neighbors, driven by curiosity, joined us and enthusiastically offered to jump in to translate whenever needed.
Who is Trinidad?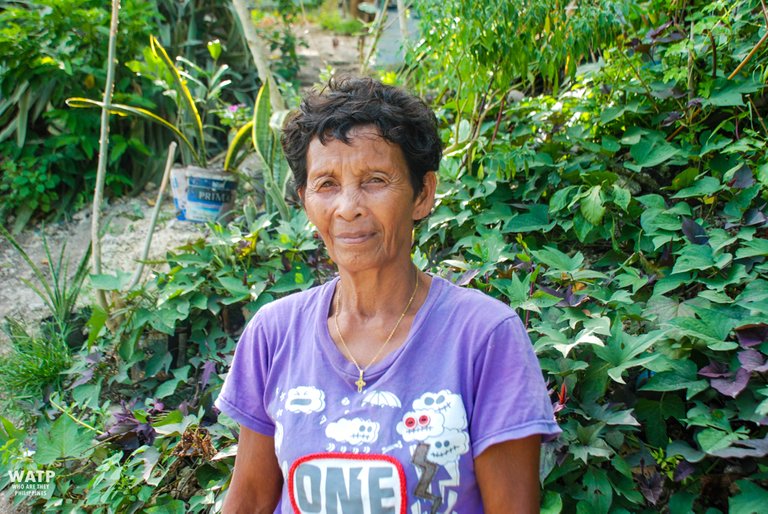 Trinidad, fondly called by her neighbors as Trining is a 60-year old laundrywoman and a mother of 6 kids. 3 girls and 3 boys. The oldest one is 32 years old and the youngest is 23. Five of them are already married living in different parts of Cebu. Her eyes lit up when she mentioned she has 12 grandchildren.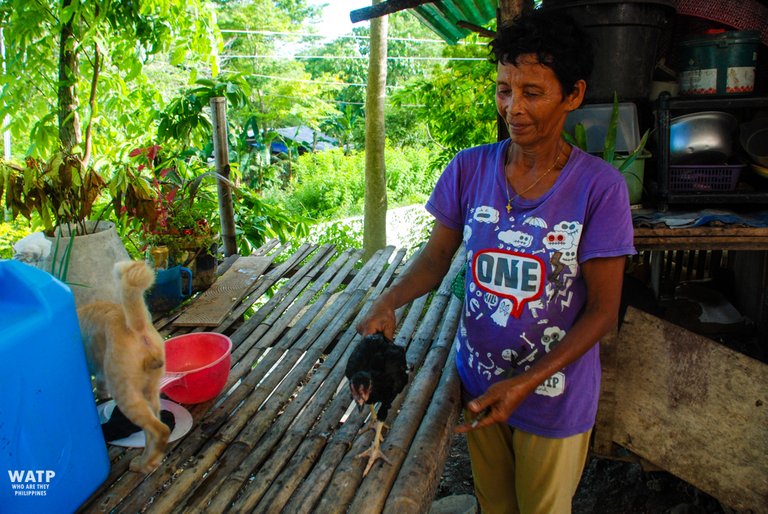 She has long been separated from her husband and has been living with her youngest son in their tiny house perched on top of a rock overlooking the road.
She was born in Badian and moved to Moalboal after getting married. Her ex-husband is a native of Barangay Paramayon in Poblacion East, where she has been living for the last 19 years.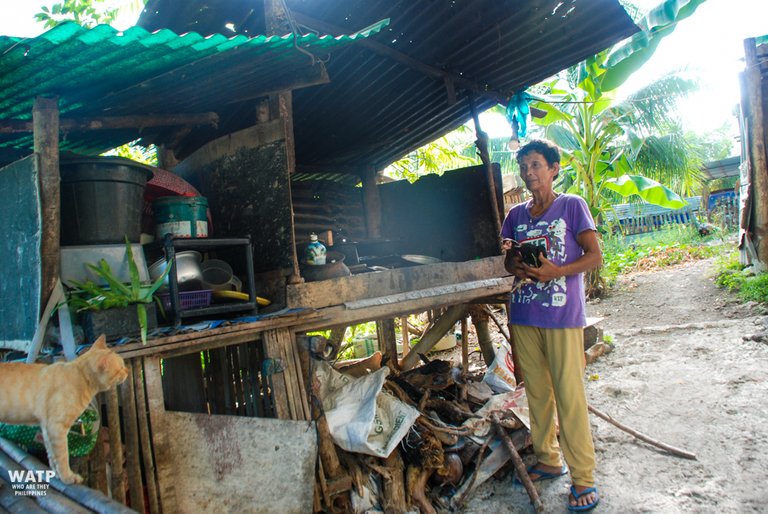 Throughout her life, her main livelihood is doing laundry by hand for various households. I asked her if there were other types of jobs she toiled in. Trining nonchalantly shared that when she was younger around her 40s, she drove a trisikad part-time, in between laundry jobs in order to make ends meet.
She has lost her main source of income when Covid19 struck. She was forced to stay at home since the beginning of the quarantine. Her youngest son sometimes contributes to pay the bills at home.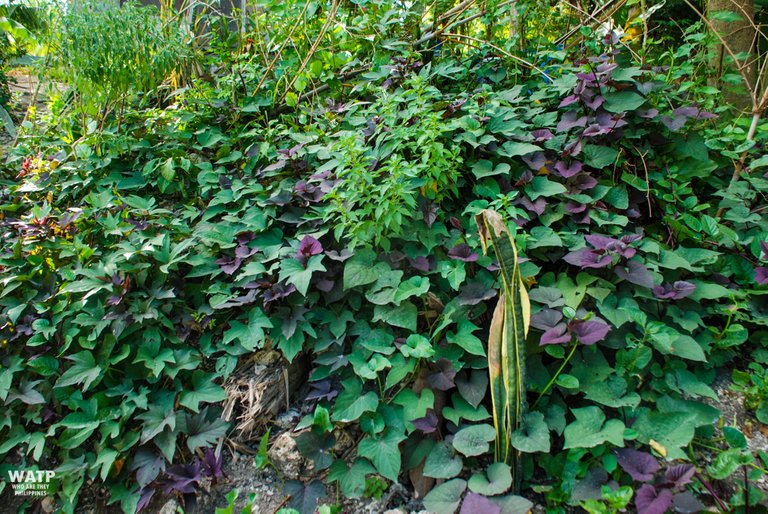 Talbos ng Kamote - Sweet Potato Leaves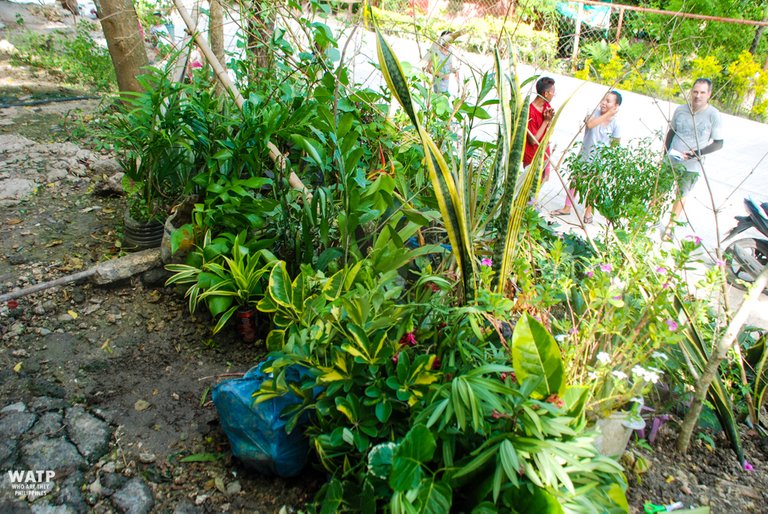 She happily showed me around her garden during the interview.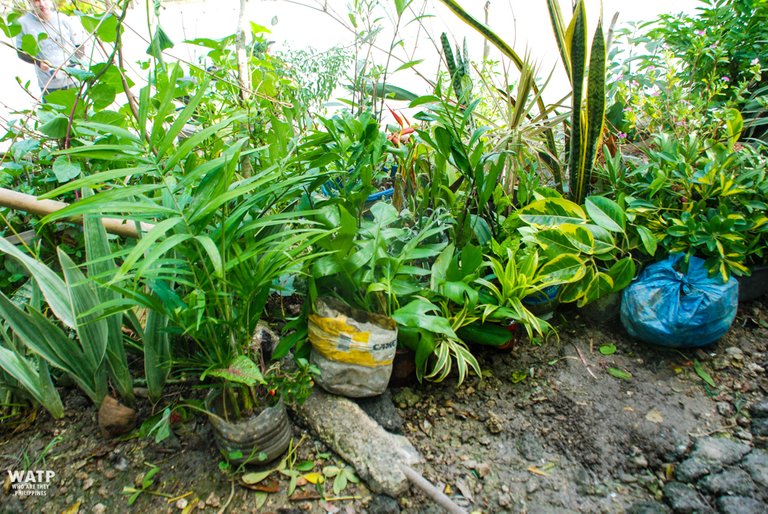 She finds joy in gardening daily and tending to her cats and chickens who were running around her house. Here is a picture of her camera-shy cat in her kitchen.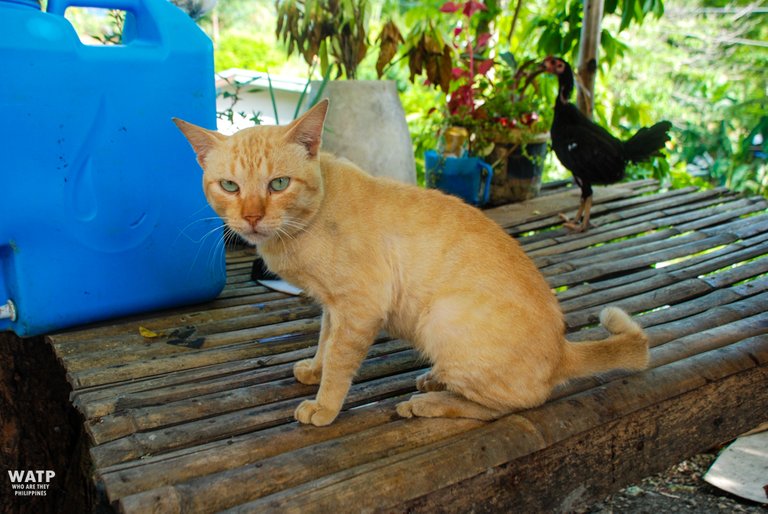 When I asked her what her dreams were, she smiled at me and said in the local dialect that she is contented with life for as long as she could eat three times a day. I asked her twice what her favorite food is and both times her answer was corn.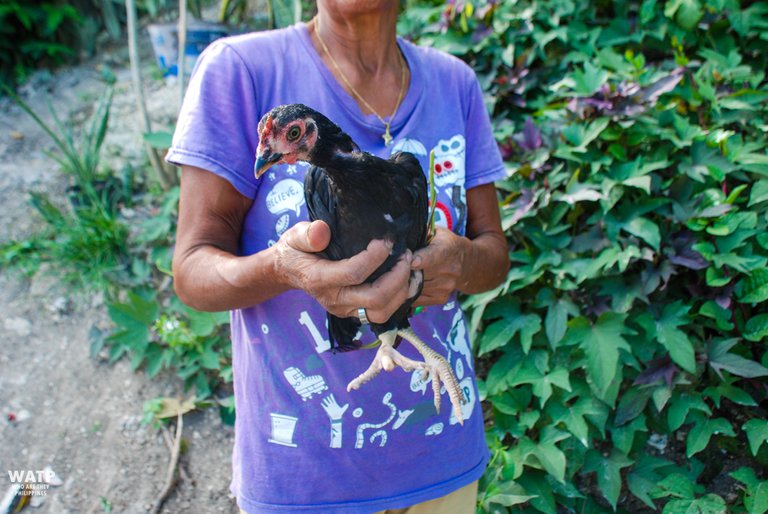 For my final question, I asked her what was the happiest moment in her life, an event that she would never forget.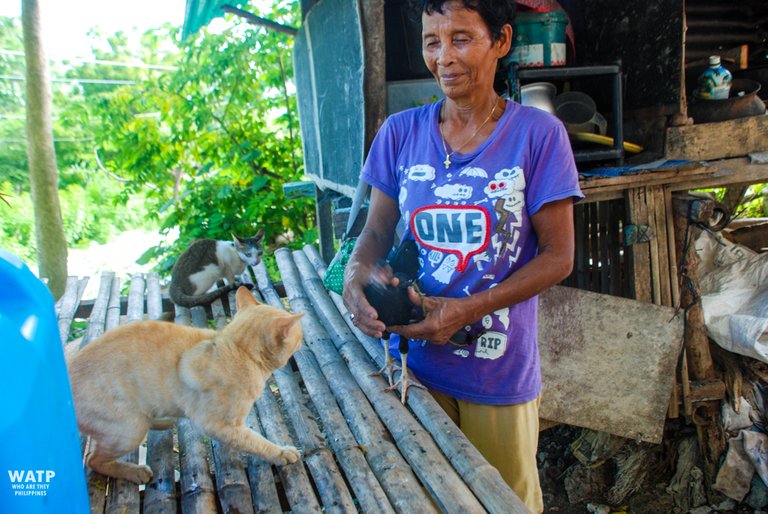 Without a second thought she replied, "My birthday."
It was only after delving a bit deeper into the subject that I understood that she was specifically referring to a week ago when all of her family and grandchildren came home to celebrate her 60th birthday.
This concluded my interview with Trining. We said our goodbyes and I promised to return next week.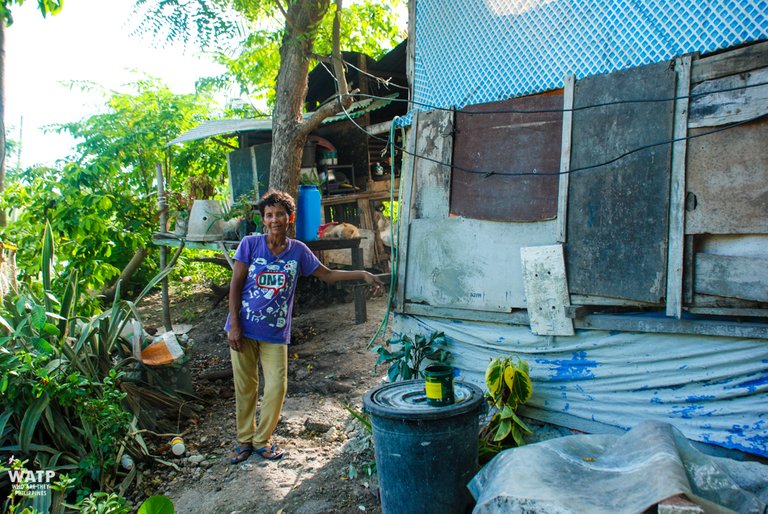 To contribute to her reward, please upvote this post and share it with your followers by reblogging it.
Thank you all again for your support and see you next week for another feature including Trinidad's reward.
---
Time for Claudia's & Rosalina's HBD Reward
Claudia and Rosalina were the feature of WATP #7 and the author reward came in last night.
So here is the breakdown for their reward:
   HBD 6.927 from post payout
+ HBD 8.000 from @ybanezkim26
+ HBD 4.950 from @wandergirl
+ HBD 4.000 from @kayceeports2020
+ HBD 4.000 from @discoveringarni
+ HBD 4.000 from @jubei333
+ HBD 2.600 from @kneelyrac
+ HBD 2.009 from @josejirafa
+ HBD 2.000 from @iamraincrystal
+ HBD 2.000 from @iamyohann
+ HBD 1.000 from @romeskie
+ HBD 0.953 (HIVE 4.000) from @viking-ventures
= HBD 42.439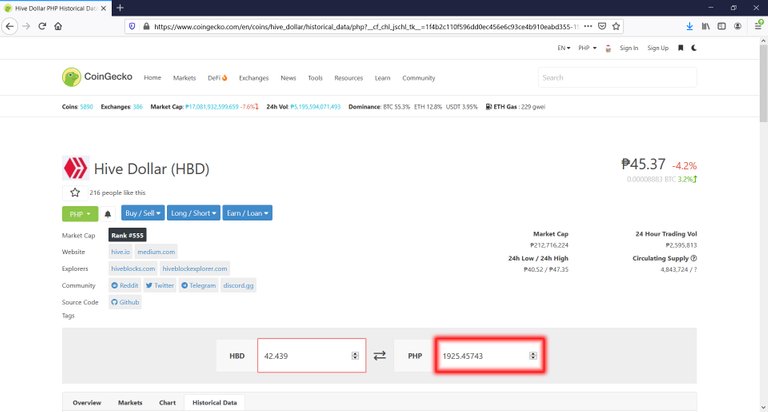 This amount converted into the local currency is PHP 1,925.46 so let's round it up to PHP 1,930 to make it easier. This means that they each receive PHP 965.
Here is the picture of Claudia and Rosalina receiving their reward.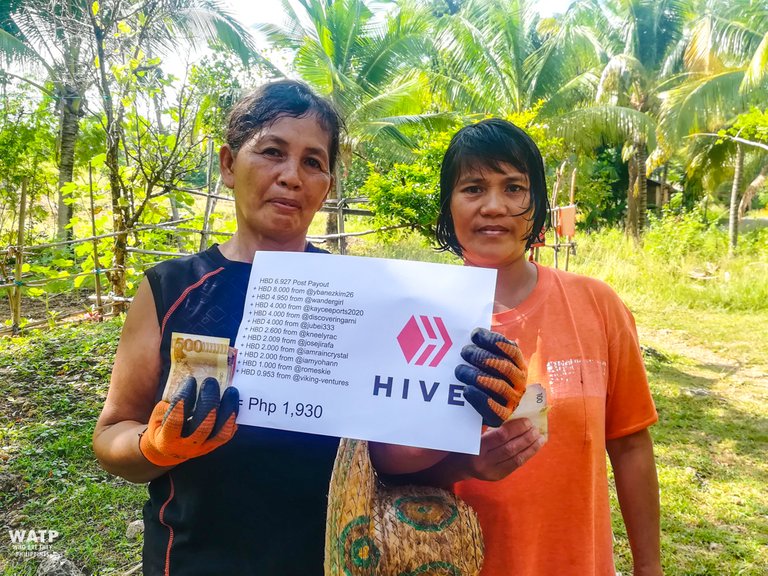 Thank you to everyone who participated to her reward and especially the above mentioned persons for their contributions as well as @darthknight for his big contribution through an upvote.
---
#WhoAreTheyPhilippines is a weekly project where I randomly select a person in the area where I live or work. I interview that person, take a few pictures and then post about him/her on the Hive PH Community. After 7 days, when the author reward can be claimed, I convert the whole HBD amount to the local currency (PHP) and hand it over to him/her along with some contributions from some of you.
I am very thankful to all of you for your support, upvotes and contributions. I am glad this initiative is well received.
---
Check out the previous editions here:
WATP #1 - Ernesto The BladeSmith and Ernesto's HBD Reward
WATP #2 - Marito The Trisikad Driver
WATP #3 - Pampilo The Vulcanizer
WATP #4 - Virgilia The Sari-sari Store Owner
WATP #5 - Eliza the Plant Seller
WATP #6 - Kris the Street Food Seller
WATP #7 - Claudia & Rosalina the Homemakers
---
Status on the current contributions: