Hola a todos mis queridos lectores de Hive❤️, en especial a mi comunidad de Full deportes.
Espero se encuentren de maravilla el día de hoy🌥️, en esta ocasión me gustaría compartir con ustedes mi experiencia haciendo acompañamiento🚴‍♀️🚴 a mi amigo Jesús y a padre🤝, quienes estaban empezando en el mundo del ciclismo este año⏳.
Este recorrido lo realizamos el 14 de enero📆 con un gran ánimo y entusiasmo😊, espero lo disfruten, un abrazo.
Hello to all my dear Hive❤️ readers, especially my Full Sports community.
I hope you are wonderfully today🌥️, this time I would like to share with you my experience accompanying🚴‍♀️🚴 my friend Jesus and father🤝 , who were starting in the world of cycling this year⏳.
We made this tour on January📆 14 with great encouragement and enthusiasm😊, I hope you enjoy it, a hug.




Para el inicio de esta aventura partimos de la casa de mi amigo Jesús a eso de las 7am🌤️ con nuestra respectiva protección solar🧴;
For the beginning of this adventure we leave the house of my friend Jesus at about 7am🌤️ with our respective sun🧴 protection;




Fuimos a un ritmo tranquilo los primeros tramos para ir calentando las piernas y lubricando las articulaciones🔥🦵.
El destino de esta ruta era la entrada de lo que se conoce como el Bike Park🚲⛰️;
We went at a quiet pace the first sections to warm up the legs and lubricate the joints🔥🦵.
The destination of this route was the entrance of what is known as the Bike Park🚲⛰️;



Ubicado en el camino de la Casa de la Moneda💱, unos cuantos kilómetros de la casa🏠 de mi amigo.
Esta ruta tanto para el padre de Jesús como para el era la más larga🥵 que hacían y me alegro mucho que me pidieran que los acompañara en esta🤝;
Located on the road to the Casa de la Moneda💱, a few kilometers from my friend's house🏠.
This route for both Jesus' father and him was the longest🥵 they did and I am very happy that they asked me to accompany them on this🤝;




Ya que ellos me comentaron que me admiraban mucho por los largos recorridos🛣️🚴‍♀️ que ya he hecho antes y querían experimentarlos por ellos mismos😎.
Y de verdad que para mi no hay cosa más bonita que el ciclismo😍;
Since they told me that they admired me a lot for the long tours 🛣️🚴‍♀️ that I have done before and wanted to experience them for themselves😎.
And really for me there is nothing more beautiful than cycling😍;



Ya que es un mundo🌎 totalmente alterno a la realidad, te enseña de tu cuerpo🦵, de ubicaciones📍, de las personas👀, de la naturaleza e incluso de las bicicletas🚲🔧.
Yo propuse esta ruta porque el camino🛣️ a la entrada es totalmente mágico;
Since it is a totally alternate to reality world🌎, it teaches you about your body🦵, locations📍, people👀, nature and even bicycles🚲🔧.
I proposed this route because the road🛣️ to the entrance is totally magical;




Te puedes enamorar y ensimismar con la naturaleza que te rodea⛰️🏞️.
Y a ellos les encantó muchísimo;
You can fall in love and become absorbed with the nature that surrounds⛰️🏞️ you.
And they loved it very much;




Tanto así que me pidieron que los acompañara a seguir compartiendo y desayunar🍽️ con ellos para seguir planeando otras rutas futuras juntos🗓️📆.
Esta foto nos la tomo la mamá de Jesús📸;
So much so that they asked me to accompany them to continue sharing and having breakfast 🍽️ with them to continue planning other future routes together🗓️📆.
This photo was taken by Jesus' mother📸;



En una de las paradas técnicas🛑🚏 que realizamos.
Por último les comparto el registro de nuestra actividad física🚴‍♀️🚴;
In one of the technical🛑🚏 stops we made.
Finally I share the record of our physical🚴‍♀️🚴 activity ;



El cual realice con la aplicación de Strava📲, la cual les puede servir para medir su rendimiento🔥, el tiempo🕓 y la velocidad de sus recorridos⚡.
Which you do with the Strava📲 application, which can be used to measure your performance🔥, time🕓 and speed of your journeys⚡.
🚴‍♀️📸🚏🌤️🧴🦵🔥⛰️🚲🏠🥵🛣️🌎📍👀📆
Muchas gracias por leer y por llegar hasta aquí❣️, espero les haya gustado este post y se hayan motivado a hacer sus propias aventuras en bici con amigos🤝.
Recuerdan usar casco🚲⚠️, tomar agua💧, llevar herramientas🔧🧰 y ponerse siempre protector solar☀️. Aquí para ustedes @Carlitazulay.
Thank you very much for reading and for getting here❣️, I hope you liked this post and have been motivated to do your own cycling adventures with friends🤝.
They remember to wear a🚲⚠️ helmet, drink water💧, carry tools🔧🧰 and always put on sunscreen☀️. Here for you @Carlitazulay.

Estas fotos fueron tomadas y editadas con mi teléfono📸 Redmi Note pro 9
These photos were taken and edited with my Redmi Note pro 9 phone📸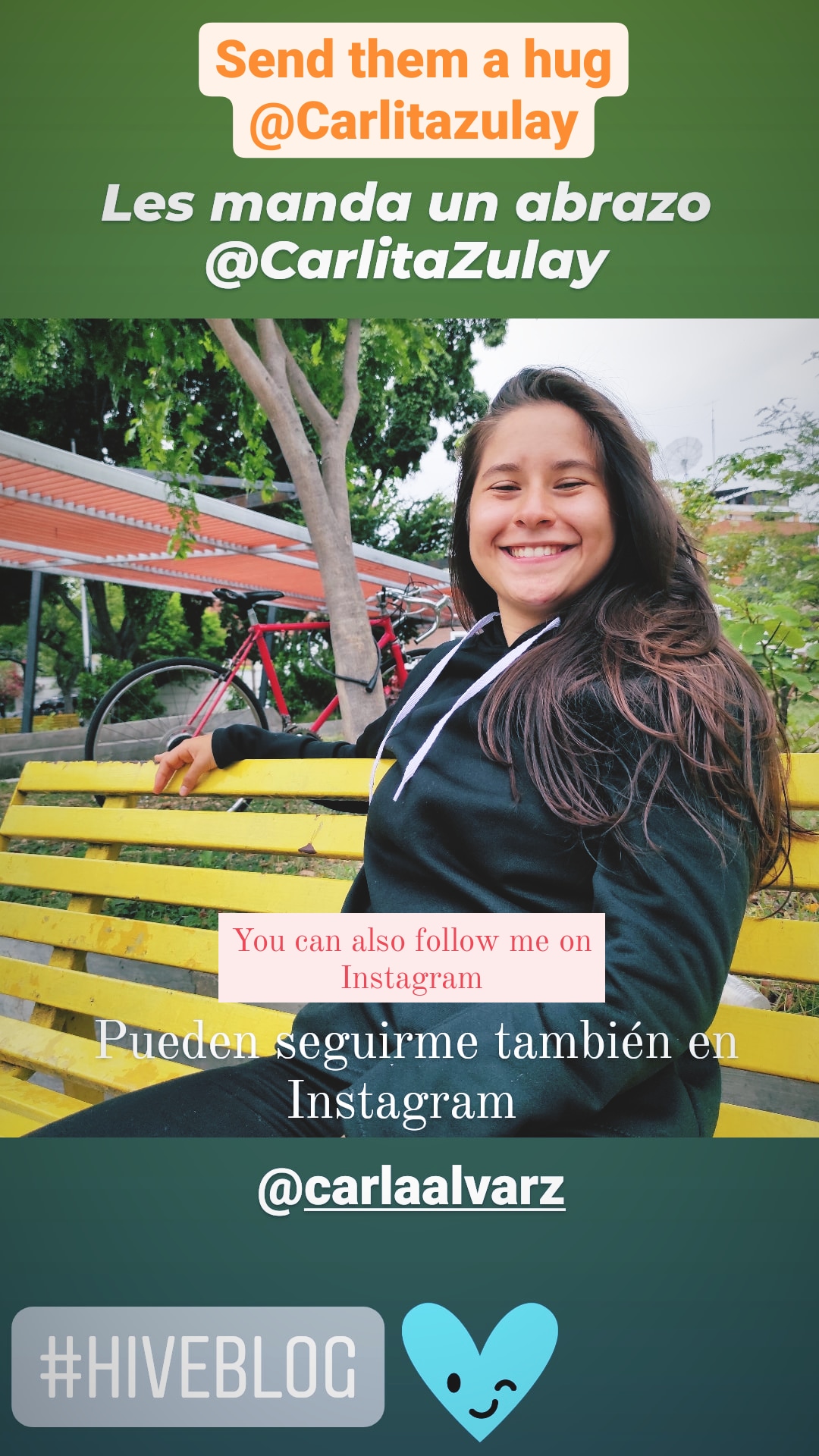 Hasta una próxima oportunidad
Until next time